Each week Lone Star Literary profiles a newsmaker in Texas books and letters, including authors, booksellers, publishers.

Kay Ellington has worked in management for a variety of media companies, including Gannett, Cox Communications, Knight-Ridder, and the New York Times Regional Group, from Texas to New York to California to the Southeast and back again to Texas. She is the coauthor, with Barbara Brannon, of the Texas novels The Paragraph RanchA Wedding at the Paragraph Ranch.
ABOUT THE AUTHOR
Amanda Johnston earned a Master of Fine Arts in creative writing from the University of Southern Maine. She is the author of two chapbooks, and Lock & Key, and the full-length collection Another Way to Say Enter (Argus House Press). Her poetry and interviews have appeared in numerous online and print publications, among them Callaloo, Poetry, Kinfolks Quarterly, Puerto del Sol, Muzzle, Pluck!, No, Dear and the anthologies Small Batch, Full, di-ver-city, The Ringing Ear: Black Poets Lean South, and Women of Resistance: Poems for a New Feminism. The recipient of multiple Artist Enrichment grants from the Kentucky Foundation for Women and the Christina Sergeyevna Award from the Austin International Poetry Festival, she is a member of the Affrilachian Poets and a Cave Canem graduate fellow. Johnston is a Stonecoast MFA faculty member, a cofounder of Black Poets Speak Out, and founding executive director of Torch Literary Arts. She serves on the Cave Canem Foundation board of directors and currently lives in Austin.
4.15.2018  Award-winning poet Amanda Johnston talks about Texas roots and her work for social justice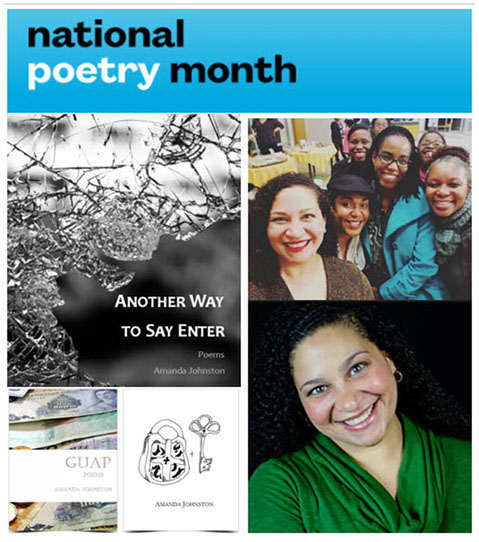 Last April when Moyers & Co., the news website for Bill Moyers's team of writers and journalists, decided to write about National Poetry Month, they chose to celebrate the occasion by featuring examples of "civic" poetry from new and familiar voices. Throughout the month they discussed what it meant to be civic through the art of words. One of the first poets they interviewed was Austin poet Amanda Johnston. This week, we spoke with Johnston via email about her path to poetry and publishing and how she turned the focus of her poetry toward social justice.
Where did you grow up, Amanda, and how do you think that experience influenced your work?
I was born in East Saint Louis, Illinois, and raised in Austin, Texas. Being of those two cities has made me interested in origin stories and the identity of place. My poetry is greatly influenced by family and social / regional issues.
Have you always written poetry? How did you come to poetry?
My mother gave me copies of Shel Silverstein's books as a child and I was hooked. I couldn't read them fast enough. There was something naughty and daring about the work and fell into the playfulness of the language. Later, in my early twenties, I came back to poetry and discovered I was a poet, too. The intrigue and mystery of each line leading to the next and the risk of committing one's truth to the page still grounds me in the work today.
You attended college at the University of Southern Maine. What
influenced that choice?
Location, faculty, price, and freedom. Growing up in central Texas, as beautiful as it is here, I wanted to see something different. The snow in the winter and sharp green of everything in summer snuggled up to the Atlantic coast was a definite draw. I took advantage of their study abroad opportunity and spent one of my residencies in Dingle, Ireland. I got to work with incredible faculty members like Joy Harjo, Alexs Pate, Ted Deppe, Tim Seibles, and Annie Finch. I'm excited to be back at Stonecoast now as faculty
working alongside accomplished writers like David Anthony Durham, Cate Marvin, Martín Espada, Aaron Hamburger, JJ Amaworo Wilson, and others.
The cost of the program was very affordable compared to that of other MFA
programs. I knew exactly what I was paying for and could budget accordingly. And finally, I found a certain freedom at Stonecoast. It's a low-residency program that meets twice a year for a ten-day residency. The schedule worked well for my lifestyle and offered me dedicated intensive writing time to tackle the semester plan I crafted with my faculty mentors.  Stonecoast was a gift of freedom to concentrate on my work and strengthen my voice as a poet.
What was your first big break as a poet?
Receiving my first Artist Enrichment grant from the Kentucky Foundation for Women. It was the first substantial monetary award I'd received, and it validated my work in a way I needed to prove to myself and my family that the work I do is important and deserving of support. That support allowed me to study poetry in New York and planted a seed in me to continue to cultivate and grow as a writer.
Tell us about your latest book, Another Way to Say Enter.
Another Way to Say Enter has been more than ten years in the making.
The poems in this collection speak to issues of womanhood, relationships, social justice, and the nuances of power and how these experiences intersect in our everyday life. When I started pulling poems together for the collection, the book originally had a different title. My publisher, Teneice Durrant, suggested a line from the poem "Lock" to use instead. I agreed and the body of the work began to situate itself around the idea of how we enter into spaces, moments, ourselves. I come back to the book and find new entry points with each reading as I hope my readers experience, too.
You've written and published poetry for more than a decade. What is
your creative process like?
I try to be obedient to the muse. When inspiration strikes, I send
myself a quick email with a line or two so that I can come back to it
later, sometimes months later, to draft a poem. Then I begin the long
process of listening and crafting the language as it informs me until
I see the poem take shape.
What brought you to Austin?
My mama. We moved to Austin in '81 when I was a small child and she
worked for the phone company, Southwestern Bell. Remember Ma Bell?
That was a long time ago.
You are the founding director of Torch Literary Arts. Describe
that program, if you will, for our readers.
I founded Torch Literary Arts in 2006 to provide a safe place for
black women writers to submit their work. It was important, and still
is, to reserve space for marginalized women so that their work and
unique voices can be shared, read, and studied. It's also important to
offer professional publishing opportunities for these women to support
their careers. Since those early years, TORCH has grown to provide
additional programs for black women and girls beyond publication. We
host the TORCH Wildfire Reading Series in Austin at BookWoman
Bookstore, as well as Wordy Girl Events focused on literacy activities
for black girls and their friends. Readers can learn more about TORCH
online at TorchLiteraryArts.org and subscribe to our e-newsletter for
information about upcoming events and opportunities.
What pulls some people to poetry, and some to prose?
I can't speak for others, but I enjoy the ability to step into a poem
as a complete offering that somehow still expands over the pages of a
full-length collection. I come to long prose when I'm looking for
extended time to sit and immerse myself in the world and people the
author has created. Whatever you prefer, read it and challenge
yourself to read something different, too.
What Texas poets do you enjoy reading, yourself?
Sasha West, Ebony Stewart, Cyrus Casseslls, Cristin O'Keefe Aptowicz, Sequoia Maner, Naomi Shihab Nye, Jonathan Moody, Kelene Blake-Falon,  Mónica Teresa Ortiz, Abe Louise Young, Joe Brundidge, Lisa L. Moore, Tomás Q. Morín, and so many more.
Finally, will you share one of your Texas poems with us?
              When My Daughter Wasn't Assaulted
She shook with fear, or was it guilt,
at the officer's unraised hand and smile.
How she leaned away, slowly, when he called
a tow truck instead of backup.
How her tears fled when he showed mercy
over rage for the couple on the side of the highway,
flat tire wasted against asphalt. She couldn't help
but look at her white boyfriend pacing
along this strip of road and wonder, what if
this was a different part of Texas?
What if this hero was a different shade of power?
Would she be so lucky, or was it luck,
if the absence of a known pain
is just a heavy hand in repose?
From Amanda Johnston, Another Way to Say Enter (Argus House Press, 2017); reprinted with permission of the author.
* * * * *