Lone Star Reviews
Michelle Newby, NBCC,
Contributing Editor
CHILDREN'S FICTION
Mary Pope Osborne (author), AG Ford (illustrator)
Hurricane Heroes in Texas (Magic Tree House #30)
Random House Books for Young Readers
Hardcover, 978-1-5247-1312-6 (also available as an e-book and an audio-book), 112 pgs., $13.99; August 7, 2018
Mary Pope Osborne's beloved Jack and Annie return to Texas, landing in a backyard oak tree in Galveston on September 8, 1900, just in time for the Great Galveston Hurricane, the deadliest natural disaster in the history of the country.  >>READ MORE

LONE STAR INDIE REVIEWS
12.30.2018
FICTION
Bennett Donovan
Devil's Sinkhole
Independently published
Paperback, 978-1-981-
08909-3, 141 pages, $8.99; October 2018
Bennett Donovan's first book, Devil's Sinkhole, is an intelligent, entertaining short novel with two key settings, Austin's famed hipster-slacker scene and, 170 miles to the southwest, the Devil's Sinkhole State Natural Area near Rocksprings, Texas.
Without giving away how Devil's Sinkhole unfolds or ends, there are pointed debates over what is real and what isn't. There is a death under suspicious circumstances, plus some drugs, a gun and a sheriff's investigation that could bring big trouble. And love tries to bloom.
The book's two main characters, Conor Kemp and Emma Vega, are young creatives attempting to find their artistic voices, as well as sort out their beliefs and bearings within the fragile cocoon of contemporary "Austin cool."
Conor, Donovan writes, is a struggling poet who sometimes felt certain "that life was the cruelest of practical jokes, and, in these moments, he wished he could exist outside of consciousness, like moss hanging from a limestone ledge, drenched by rain and dried by sunlight." >>READ MORE

LONE STAR INDIE REVIEWS
FICTION
Sylvia Sánchez Garza
Cascarones
Floricanto Press
Paperback, 978-1-724-62288-4, 162 pages, $20.95
July 2018
Cascarones are colorfully decorated chicken eggs whose contents have been replaced with confetti or even small toys. In Mexican-American culture, cascarones are used in Easter egg hunts, and they symbolize not only the resurrection of Jesus but also spring, family togetherness, and good luck.
Edinburg, Texas, writer Sylvia Sánchez Garza's Cascarones is an entertaining, informative short novel best classified as a bildungsroman, a coming-of-age story focused mostly on one character's formative years.
Set in South Texas in the 1960s, 1970s, and present, Cascarones is written for young-adult readers. However, older readers also can enjoy it and learn more about Mexican-American Easter traditions and family life, plus some of the impacts of racial discrimination.
In the book's flashback portions, Garza's main character, Suzy, is growing up within the protective shell of being among many relatives.
"Being part of a close-knit Mexican American, Rio Grande Valley family," Suzy recalls, "my brothers, sisters, and I grew up with the privilege of always being surrounded by loved ones regardless of where we were. Our fifty-plus first cousins on Mommy's side, and almost thirty first cousins on Daddy's side, were like brothers and sisters to us. All of the family celebrations included them."  >>READ MORE


Texas Reads
Glenn Dromgoole
Texas Reads columnist Glenn Dromgoole is taking a break during the past two weeks of December. We're leaving his Dec. 16 column posted here in case you missed it.
First Ladies featured in new children's book
Three former First Ladies from Texas are included in the new children's book, Have You Heard About Lady Bird? Poems About Our First Ladies by Marilyn Singer and illustrated by Nancy Carpenter (Disney/Hyperion, $17.99 hardcover).
The poem about Lady Bird Johnson, who is featured on the cover, deals with beautification: "She loved things that flew. She loved things that grew."
Barbara Pierce Bush, Singer writes, "Made fun of her weight, her age, her looks. Strongly believed in the power of books."
The verse about Laura Lane Welch Bush notes that she loved libraries and books and promoted family literacy while in office, as did her mother-in-law.
Every First Lady, from Martha Dandridge Curtis Washington to Melania Knauss Trump is portrayed in verse as well as in a biographical summary at the end of the book.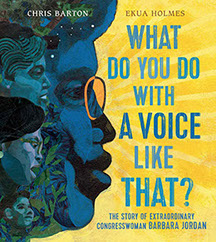 Barbara Jordan: Acclaimed Austin children's author Chris Barton reflects on the life of the late Barbara Jordan in his new picture book, What Do You Do With a Voice Like That? The Story of Extraordinary Congresswoman Barbara Jordan (Beach Lane Books, $17.99 hardcover, illustrated by Ekua Holmes).
He begins with her growing up in Houston's Fifth Ward, reciting poetry and memorizing speeches, and follows her as she becomes a lawyer,  runs unsuccessfully for political office, gets elected to the Texas State Senate, then to the U.S. Congress where she makes a name for herself during the Nixon impeachment hearings, and finally becomes a college professor.
Barton — who writes that he sometimes asks himself, "What would Barbara Jordan do?" when dealing with contemporary issues — concludes the book with a biographical time line from her birth in 1936 to her death in 1996.
He recommends several other books about her, especially the adult biography by Mary Beth Rogers, Barbara Jordan: American Hero.
Nutcracker: A Texas writer and a Texas artist – Jennifer Coleman and Wade Dillon -- teamed up to produce The Texas Nutcracker (Pelican, $16.99 hardcover), a tale set in Fort Davis in the late 1800s.
The Texas version of the popular holiday story includes rattlesnakes, a Bluebonnet Fairy, chili con carne, horned toads, and dancing the "Cotton Eyed Joe."
Holiday break: I'm taking a short break from the Texas Reads column but will be back in January with more Texas books.
* * * * *
Glenn Dromgoole's most recent book is The Book Guy: One Author's Adventures in Publishing. Contact him atg.dromgoole@suddenlink.net.



Twig's Top Ten Bestsellers
November 2018
What are Texans reading these days, you ask? Lone Star Lit's newest regular feature is a monthly list of trending titles at the Twig Book Shop, a leading independent bookseller in San Antonio. Click on any title for the Buy link. And we'll also include a hotlink to related content in Lone Star Literary Life.
Hugh Fitzsimons, III,A Rock Between Two Rivers: The Fracturing of a Texas Family Ranch, 978-0-524763138
Michelle Obama,Becoming, 978-0-524763138
Paulo Coelho,The Alchemist (Harper Perennial), 978-0-062315007
Neil DeGrasse Tyson,Astrophysics for People in a Hurry,978-0-393609394
Heather MorrisThe Tattooist of Auschwitz, 978-0-062797155
Jen SinceroYou Are a Badass: How to Stop Doubting Your Greatness and Start Living an Awesome Life, 978-0762490547
Harvard Business Review,HBR's 10 Must Reads on Mental Toughness, 978-1-633694364
Yuval Noah Harari,Homo Deus: A Brief History of Tomorrow,978-0-062464347
Liane Moriarty,Nine Perfect Strangers,978-1-250069825
Sarah Pekkanen,The Wife Between Us, 978-1-250130945

LONE STAR CLASSIFIED LISTINGS
>>READ MORE CLASSIFIED LISTINGS

WHERE IN TEXAS?
Don't miss a reading or a good read! Sign up for our FREE weekly
e-newsletter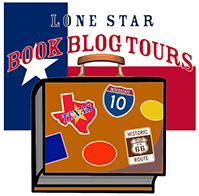 Meet our bloggers
Bookmark them so you can return again and again!
All the Ups and Downs, Heather Cranmer
Bibliotica, Melissa Bartell
Book Fidelity, Celia Medrano-Ortiz
The Book Review, Julie Whiteley
#Bookish, Erin Decker
Books and Broomsticks, Belle Whittington
Carpe Diem Chronicles, Maida Malby
Chapter Break Book Blog, Lynn Poppe & Julia Smeltzer
The Clueless Gent, Michael O'Connor
Forgotten Winds, Christena Stephens
Hall Ways Blog, Kristine Hall
Kelly Well Read, Kelly Moore
The Librarian Talks, Tabatha Pope
The Love of a Bibliophile, Kristen Mouton
Margie's Must Reads, Margie Longoria
Max Knight Blog, Max Knight
Missus Gonzo, Lorilei Gonzales
Momma on the Rocks, Jenn Belden
Nerd Narration Blog, Taylor Sebring
The Page Unbound, Becca Cahill & Haley Ringer
Rainy Days with Amanda, Amanda Borroel
Reading by Moonlight, Ruthie Jones
Rebecca R. Cahill, Rebecca Cahill
StoreyBook Reviews, Leslie Storey
Story Schmoozing Book Reviews, Marissa Marroquin
Sybrina's Book Blog, Sybrina Durant
Syd Savvy, Sydney Young
Tangled in Text, Kelli Quintos
Texas Book Lover, Michelle Newby
That's What She's Reading, Jenn Zavaglia
COMING UP ON TOUR: YA FICTION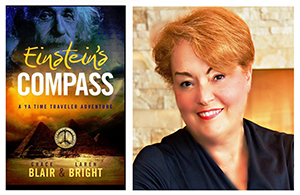 Einstein's Compass: A YA Time Traveler Adventure by Grace Blair & Laren Bright
Visit with Grace January 2–11, 2019
1/2/19 Guest Post All the Ups and Downs
1/2/19 Theme Song Hall Ways Blog
1/3/19 Review That's What She's Reading
1/4/19 Book Trailer Story Schmoozing Book Reviews
1/4/19 Author Spotlight Chapter Break Book Blog
1/5/19 Review Reading by Moonlight
1/6/19 Review Forgotten Winds
1/7/19 Excerpt Max Knight
1/8/19 Review StoreyBook Reviews
1/8/19 Author Interview Book Fidelity
1/9/19 Character Spotlight The Book Review
1/9/19 Character Spotlight Rainy Days with Amanda
1/10/19 Review The Clueless Gent
1/11/19 Author Interview Sybrina's Book Blog
1/11/19 Review Missus Gonzo
COMING UP ON TOUR: PICTURE BOOK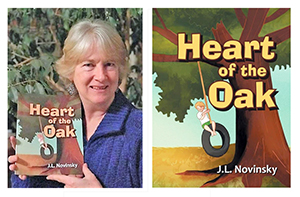 HEART OF THE OAK by J. L Novinsky
Visit with the author January 3–12, 2019
1/3/19 Book Trailer Reading by Moonlight
1/4/19 Review All the Ups and Downs
1/5/19 Review Missus Gonzo
1/6/19 Guest Post Rainy Days with Amanda
1/7/19 Review That's What She's Reading
1/8/19 Sneak Peek The Clueless Gent
1/9/19 Character Interview Forgotten Winds
1/10/19 Review StoreyBook Reviews
1/11/19 Notable Quotable Story Schmoozing Book Reviews
1/12/19 Review The Page Unbound

Lone Star Literary Life Facts and FAQs
• Event and resource list policies
Lone Star Literary Archives
• Lone Star Listens Interviews

WHAT TEXANS ARE READING
LONE STAR LISTENS interviews  
>> archive
Author interviews by Lone Star Lit staff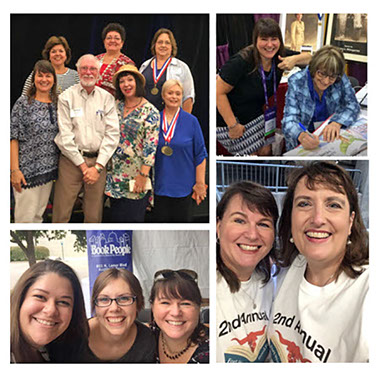 Kristine T. Hall has criss-crossed the state pursuing her love of books. From attending the TLA conference in Houston, to volunteering at the Fort Worth Book Festival, to meeting up with authors in events in Dallas and Austin, she has pursued her love of Texas literature in person and online — as the blog tour coordinator of Lone Star Book Blog tours. Starting in January 2019 she takes this literary appreciation to a new level as owner and publisher of Lone Star Literary Life. She talked with us via email during this holiday week about her thoughts and plans for Lone Star Lit.
LONE STAR LITERARY LIFE: Where were you born, Kristine? Where did you grow up, and how would you describe those days?
I am a Fort Worth girl and have lived more than forty of my fifty-one years there and around Tarrant County. I was (am?) the much-spoiled youngest of three children and have wonderful memories of those days. My parents were big on cultural experiences, so we never missed going to Oktoberfest, the Fort Worth Stock Show and Rodeo, and Mayfest, visiting museums (my favorite was the FW Museum of Science and History), or seeing live theater at Casa Manana or the Hip Pocket Theater. My siblings are a bit older than me, but I was always included and was singing along with them to "The Age of Aquarius" as a two-year-old and learning how to do the Hustle at age seven. It was a wonderfully rich childhood.
Have you always been an avid reader, and what books influenced you as you were coming of age?
I have! Our house was full of books, as were my grandparents' houses. When I was a child, someone was always sharing a favorite story with me and often, I was gifted those hand-me-down copies. Dad shared his Old Mother West Wind and Bobbsey Twins books, and my first Nancy Drew books were my mom's or sister's copies (In them, Nancy wore a frock, and her "special friend," Ned Nickerson, drove a Roadster!). We had all the Funk & Wagnalls encyclopedia volumes, so I often plopped down on the floor and read those, too. I was lucky enough to be able to order most any book that I wanted from the Scholastic Book Club order forms at school, but I had to use my own money for posters or activity kits. Harsh!
I don't recall ever being restricted with what content I wanted to read, but I do recall that there was a certain Harold Robbins book that I found on someone's shelf (not naming names), and I read it in secret at much too young an age. YOWSA. As a teen, I jumped on the V.C. Andrews bandwagon, and there were other titles that were passed between friends that I gobbled up. I am sure those books influenced me, but I'd like to think that the influence was that books can be an escape and a (guilty?) pleasure and that any reading is better than no reading. >>READ MORE

SPECIAL EVENTS THIS WEEK
No special events this week
ONGOING EVENTS
Finding Sophie Blackall Exhibition,

Abilene, October 11-February 1

30 Poems for the Tricentennial: A Poetic Legacy,

San Antonio, December 3-April 25, 2019
MONDAY, DEC. 31, 2018   SEND OUT THE OLD YEAR AND RING IN A BOOKISH NEW YEAR AT MIDNIGHT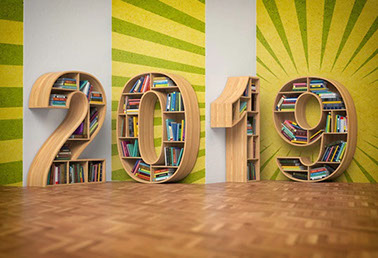 TUESDAY, JAN. 1, 2019HAPPY NEW YEAR
AUSTIN  Tues., Jan. 1  Spiderhouse Ballroom, Austin Poetry Slam First Slam of 2019: New Sh** Slam, 7:15PM
FORT WORTH  Tues., Jan. 1  The Dock Bookshop, Open Mic Poetry Night, 8PM
SAN ANTONIO Tues., Jan. 1  The Mix, PuroSlam, 9:30PM
AUSTIN  Wed., Jan. 2  Bullock Museum, High Noon Talks: Liz Clare discussing Austin Dam Disaster of 1900, 12PM
HOUSTON  Wed., Jan. 2 Avant Garden, Write About Now: New Year, New Sh*t Poetry Slam , 7:30PM
DALLAS  Thurs., Jan. 3 The Wild Detectives, Story Hour with Peace Corps: a night of stories told by returned and currently serving Peace Corps Volunteers from around the world (Theme: Transformation Through Service), 7:30PM
HOUSTON  Fri., Jan. 4 Inprint House, First Friday Poetry Reading Series featuring Outspoken Bean, 8:30PM
AUSTIN Sat., Jan. 5   Malvern Books, The Lion & the Pirate Unplugged: an inclusive (mic-less) open mic for writers and musicians (in association with VSA Texas (The State Organization on Arts and Disability) and the Pen2Paper Creative Writing Contest (a project of the Coalition of Texans with Disabilities), 7PM
EL PASO  Sat., Jan. 5   Memorial Park Public Library, Tumblewords Project workshop: "Out With the Old, In With the You: Write Your Inner Child" with Dr. Miguel Juárez, 12:45PM
HOUSTON  Sat., Jan. 5   Katy Budget Books, New Year, New YA: a pizza party with beloved favorites Sophie Jordan, CC hunter, and Mary Lindsey, and new favorite Cheyanne Young, sign their latest releases, 3PM
DALLAS  Sun., Jan. 6 Dallas Museum of Art, Arts & Letters Live presents Elaine Pagels discussing Why Religion? A Personal Story (moderated by Rena Pederson), 2:30PM
SAN ANTONIO  Sun., Jan. 6The Twig Book Shop, Conrad M. Gonzales, Jr. discussing and signing 10-96: We're on the Way, 12PM

News Briefs 12.30.18
Bess W. Scott Scholarship Fund marks 28 years of scholarships for journalists and writers

AUSTIN — Since the Bess W. Scott Scholarship Fund's first scholarship in 1991, $72,800 has been granted to sixty promising reporters, writers, and authors. The three $2,000 scholarships awarded for 2017 are Cecille Marcato; Warren Wilson MFA Program for Writers, Scott Scribes Scholarship; Mary O. Parker, Bread Loaf Environmental Writers' Conference, Scott Scribes Scholarship; and Corrie Coleman, Baylor University, BWS Journalism Scholarship. >>READ MORE

Author James Patterson's Holiday Bookseller Bonuses for 2018 include eight Texas recipients
NEW YORK — James Patterson has renewed a most welcome holiday publishing tradition — bonuses for independent bookstore employees.
The best-selling author announced Tuesday that 333 workers each will receive $750. The winners, nominated by customers and colleagues among others, are listed on the web site of the American Booksellers Association. Patterson has given more than $1 million to individual book sellers over the past five years and has donated millions to libraries and literacy programs.
In a statement Tuesday, Patterson said book sellers have used the money for everything from fixing a car to paying a dental bill. He said he was happy to make "a small difference" in the lives of people who had helped so many in their communities.  >>READ MORE

Submissions open for Writers' League of Texas 2019 Manuscript Contest
AUSTIN — Have you been working hard on an unpublished manuscript that's finally ready to see the light of day? Are you looking for some constructive feedback on your work-in-progress? Would you like the chance to sit down with a literary agent in person to discuss your project?
If so, you're invited to submit a short synopsis and the opening pages of your unpublished work to the Writers' League of Texas's (WLT) nineteenth annual manuscript contest. It's not necessary to live in Texas in order to enter this contest.
Winners of the 2019 manuscript contest will:
Win a free registration to the WLT's 2019 Agents & Editors Conference (June 27-30, 2019, in Austin)
Meet one-on-one with a literary agent in your category or genre (in person at our annual conference or via phone call) if you're one of our ten winners
Be recognized during the opening session of the 2019 Agents & Editors Conference and in the printed program (if you're a winner or a finalist)
Receive valuable, specific written feedback on your work. 

>>READ MORE

 

——­——— A D V E R T I S E M E N T —————
Lone Star Listens compilation available fall 2018, for readers, fans, and writers everywhere
The present generation of Texas authors is the most diverse ever in gender, age, and ethnicity, and in subject matter as well.
Week in, week out, Lone Star Literary has interviewed a range of Texas-related authors with a cross-section of genre and geography. To capture this era in Texas letters, we're pleased to bring you
Lone Star Listens:
Texas Authors on Writing and Publishing
edited by Kay Ellington and Barbara Brannon; introduction by Clay Reynolds
Available in trade paper, library hardcover, and ebook Summer 2018
360 pages, with b/w illustrations and index
Featuring novelists, poets, memoirists, editors, and publishers, including:
Rachel  Caine • Chris  Cander • Katherine  Center • Chad S. Conine • Sarah  Cortez • Elizabeth  Crook • Nan  Cuba • Carol  Dawson • Patrick  Dearen • Jim Donovan • Mac Engel • Sanderia  Faye • Carlos Nicolás Flores • Ben Fountain • Jeff  Guinn • Stephen  Harrigan • Cliff  Hudder • Stephen Graham Jones • Kathleen Kent • Joe R. Lansdale • Melissa Lenhardt • Attica Locke • Nikki  Loftin • Thomas  McNeely • Leila  Meacham • John  Pipkin • Joyce Gibson Roach • Antonio  Ruiz-Camacho • Lisa  Sandlin • Donna  Snyder • Mary Helen Specht • Jodi  Thomas • Amanda Eyre Ward • Ann  Weisgarber • Donald Mace Williams
As a collection of insights into the writing and publishing life, the book will be useful in creative writing classes (not just in Texas alone) and other teaching settings, as well as for solo reading and study—and a great Texas reference volume.
Examination and review copies will be available fall 2017 in watermarked pdf format.