Texas libraries named Star Libraries for 2017
Eleven Texas Libraries were chosen by Library Journal and Baker & Taylor as Star Libraries for 2017. This is tenth year that this selection process has occurred. Nationwide, there were 259 Star Libraries, each receiving three-Star, four-Star, or five-Star designations.
From 2009 through 2015, the four measures included were circulation, library visits, program attendance, and public Internet computer use. LJ Index scores are produced by measuring the proportional relationships between each library's statistics and the averages for its expenditure ¬category. Last year, circulation of electronic materials, or e-circ, became the fifth statistic to contribute to a library's LJ Index score.
 Eligible libraries are grouped by total operating expenditures and, within each group, rated based on their differences from the means, or averages, of the five per capita statistics.
For example, in Texas, the Springlake-Earth library has an annual budget of only $50,000 to $99,999, but averages 16.7 visits to the library per capita and is ranked a five-Star library.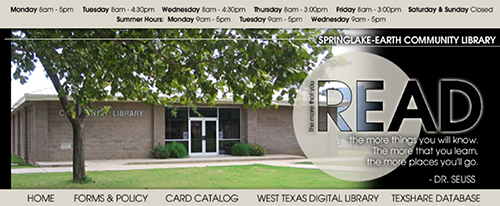 For the complete list, visit http://lj.libraryjournal.com/2017/12/managing-libraries/lj-index/class-of-2017/all-the-stars-2017-state-by-state
(Compiled from Library Journal reporting)

Texas Writes at the Alvarado Public Library in Alvarado Jan. 13, 2018
Texas Writes is a statewide program that brings accomplished authors to rural libraries for a half day of presentations and panel discussions. Each event is free and open to the public.
This event will feature presentations from authors Jeramey Kraatz and Karen Witemeyer at the Alvarado Public Library in Alvadaro, Texas, Jan. 13, 2018, from 10 a.m. to 1 p.m.. More information on the presentations will be posted prior to the event. To pre-register for this event, contact the library at (817) 783-7323.
KidLit: Writing for Children and Teens
Writing for kids is a terribly rewarding endeavor, but can be tricky; How do you know what age group your story is for and ensure that your work is resonating with your audience? In this talk Jeramey Kraatz breaks down the differences between Middle Grade and Young Adult novels and focuses on strategies to make your kidlit stories as dynamic as possible.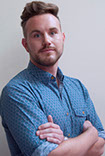 Jeramey Kraatz is the author of The Cloak Room series and The Space Runners series from HarperCollins. He lives in Texas, where he writes scripts for the cartoon industry and teaches.
Tapping Into Personal Emotions to Create Unforgettable Characters
No matter what genre you write, the key to creating a memorable experience for your reader is to tap into that universal element that makes us all human—emotion. The good news is that you've already done all of the necessary research. You lived! This workshop will teach you how to take personal emotion and turn it into powerful prose that will grab a reader's attention and capture their heart by developing a genuine author voice, utilizing a deep point of view with your characters, and mastering the aspects of narrative pacing.

Karen Witemeyer is a life-long bookworm, living her dream by writing historical novels. Her books have consistently hit bestseller lists and garnered numerous awards. She lives in Abilene with her family. www.karenwitemeyer.com
(Compiled from organization's press release)
* * * * *

Bess W. Scott Scribes Scholarship open to applications Feb. 1
Application deadline is March 25, 2018
The Bess W. Scott Scribes Scholarship was established in 2000 to honor Bess Whitehead Scott, a pioneer Texas journalist and writer who died at age 107. She had a long career as a newspaper reporter and editor, publicist, teacher, ad agency manager and magazine writer. The $2,000 award (as of 2018) is granted annually to an individual age 40 or over pursuing study or a degree in journalism, writing or a related field. The scholarship program is intended to provide financial assistance to further educational objectives of individuals either employed or making career transitions in these areas.
All scholarship applications are submitted online. Applications are accepted from February 1 to March 25, 2018. Instructions and tips for making online submissions (PDF) may be downloaded from http://www.bwsfund.org/scribes-scholarship/
Eligibility requirements
Current resident of the State of Texas.
Demonstrate interest in pursuing study toward degree or career advancement in journalism, writing or a related field.
Age 40 or over on day, month and year of application deadline.
Demonstrate financial need
Fields of study
Journalism/Mass Communication
Creative writing
English composition/writing skills
Public relations/advertising
Accredited course work for professional development/career advancement in journalism/writing/related field, including Internet-based activities.
Use of Scholarship
Work toward accredited college/university degree, continuing education, writing residencies/internships, college/university accredited online or liberal studies programs not requiring on-site attendance. Winner may use the award in stages for classes, seminars, workshops, etc., so long as all funds are expended within 24 months of the Committee's selection of Scribes recipient.
The Bess W. Scott Fund is affiliated with the Austin Community Foundation. For more information visit
http://www.bwsfund.org/scribes-scholarship/
(Information and photo from organization's press release)

* * * * *