Each week Lone Star Literary profiles a newsmaker in Texas books and letters, including authors, booksellers, publishers.

Kay Ellington has worked in management for a variety of media companies, including Gannett, Cox Communications, Knight-Ridder, and the New York Times Regional Group, from Texas to New York to California to the Southeast and back again to Texas. She is the coauthor, with Barbara Brannon, of the Texas novels The Paragraph RanchA Wedding at the Paragraph Ranch.
12.31.2017  Dallas writer and NYT best-seller Sarah Hepola tells it like it was, in her breakout memoir BLACKOUT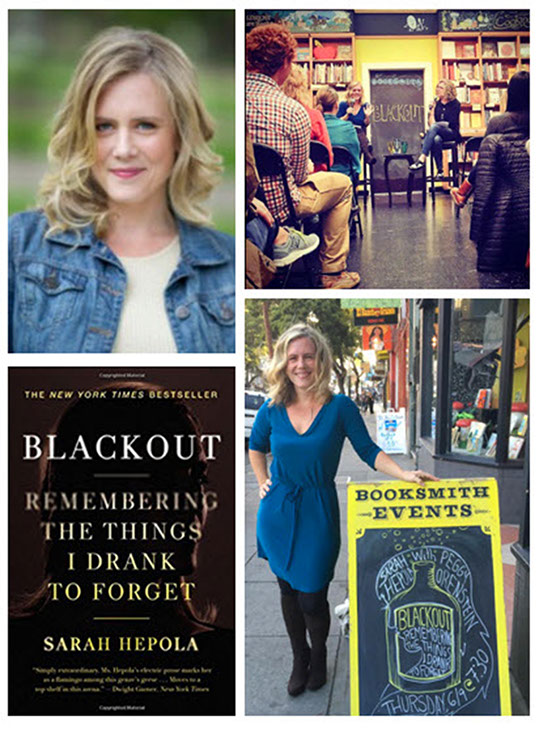 A new year is always timely for taking a step back and looking at what we'd like to change. In today'sedition we talk with Dallas author Sarah Hepola,New York Times bestselling author of the memoir Blackout: Remembering the Things I Drank to Forget Hepola talks with us about her memoir, her road to recovery, and her newest writing interests.
LONE STAR LITERARY LIFE: Where did you grow up, Sarah, and how did that location influence you?
SARAH HEPOLA: I grew up in Dallas, Texas. My family moved from the East Coast when I was three, and we were middle-class outsiders in an upper-class neighborhood, and probably one of the most influential aspects of my childhood was that I became an observer, someone living in her own mind and watching the party from the sidelines. That's part of why alcohol called to me so powerfully — booze pulls you into the center of the action. But Dallas shaped me in other ways. Take a look at my makeup collection and hair products, for example. Dallas is a city of constant real-estate development, and you see a similar spirit in women's attitude toward beauty: renovation, reshaping, fixing.
When did you know that you wanted to be a writer?
When I was in second grade, I won a writing contest. We were given the class period to write some Christmas story, and somehow mine was three times as long as everyone else's, and it got me all this attention, so of course I kept writing. I spent a lot of my childhood wanting things I didn't have: popularity, money, attention. But the greatest gift of my life just showed up one day. I could string words together in a way that marked me as special. By the time I was in sixth grade, I was obsessed with Stephen King, and I knew I was going to be a writer — although I also thought I might be a pop star, because I was also obsessed with Michael Jackson. Clearly I had parents who encouraged me to dream big. Pop star, novelist, sure. I didn't realize what a privilege that was. A lot of kids, their parents would be like: No way, you're going to med school.
You went to college at the University of Texas and then moved to New York City. What was your life like in New York?
I moved to New York at thirty-one, and I'd been drinking for several years at that point, and when I moved, I thought: Okay, I'm going to finally get ahold of my drinking. Good luck with that one, honey. New York takes the bumpers off your drinking habits. The bars stay open till four a.m., and you can buy beer all night long. It was terribly exciting — and then it was simply terrible. I was a blackout drinker, which means I suffered from these periods of alcohol-induced amnesia (a fairly common side effect of excessive drinking, especially for women), and I would wake up the next morning and have no idea what I'd done the night before, which gave me such anxiety. Did I have sex with someone? Lash out at a stranger? Strip in public? I had no idea. Sometimes I think the worst part was simply not knowing.
What made you decide to stop drinking? How long did your ultimate recovery take? And what made your decide to write your memoir?
The first time I decided to stop drinking I was twenty years old. I was in college, and I'd had this hideous blackout where I'd lost three hours in an afternoon and I couldn't remember what happened but my friends were mad at me. Everyone drank back then, but my drinking had an extra dose of darkness. I spent the next fifteen years circling that same doomed collection of facts: I love drinking, and everyone I know drinks, but drinking keeps leading me into a ditch. People often ask when I quit drinking as though I only did it one time. I quit drinking every Sunday — but then I took it back. On Wednesday, I'd be like: That was very dramatic. And things would be fine for a few days, or a few months, and then I'd end up in the ditch again.
It took a hundred false starts to stay quit. Two years of truly floundering. I was beat down, and worn out from the fight. There is a saying in recovery: When the pain outweighs the fear, change happens. For so long I became scared of a life without drinking — who would I be? who would want to hang out with me? who would want to date me? — but I started to become MORE scared of a life where I never stopped drinking. That same ditch, over and over again.
As for why I wrote the memoir, writing instructors always tell you to write the book you needed. That's what I did, and the hope is that someone else might need it, too.
How long did it take to find an agent/publisher for your book, and what was that process like?
This is a very mysterious, maddening process, and I sympathize with people trying to navigate it for the first time. About six months after I quit drinking, I decided to write a book. I met a fancy agent through a friend, and she signed me, and I thought I had it made. And then six months after that, she dropped me, and I thought I was finished. The whole debacle turned out to be good for me, though — I wasn't ready yet. I was trying to write the book too fast; I didn't have the insight and the wisdom and, frankly, the sobriety. It took a while for me to understand my own story.
I spent the next year writing a lot of personal essays for Salon, where I was an editor at the time, and one piece caught the eye of a publisher, who wrote me a note and asked if she could help me with anything. Talk about a lucky break. Actually, I told her, I need an agent. She gave me several names, and I ended up signing with Amy Williams, who is like the soulmate version of an agent for me. It's just ridiculous how perfect she is for me and particularly that book. So it all worked out, but I spent many months biting my nails, not knowing where any of this would lead. I almost quit so many times. "Blackout" was bought by Hachette in June 2013, and funny enough, I met the editor who would buy it, the amazing Helen Atsma (who is now at Houghton Mifflin), three years to the day after getting sober.
Can you tell our readers about your book, Blackout: Remembering the Things I Drank to Forget?
Well, it's about a little boy during the war in France. No, kidding, it's about all this stuff I've been rambling on about. The book follows me from my first sips of beer at four, which I found to be so magical I can still remember the smell, and the experimentation of my teen and college years, to the explosive fun of adulthood and its incumbent damage. I was particularly interested in how booze had become fashionable for women like me, an "empowerment" posture that mistakes excess for bravado. There's a lot of social collateral in being a woman who drinks, and not so in being a sober woman. After I quit, I felt boring, and fearful, and marooned in my own sadness, and about a third of the book tracks my rise out of that shaky place in early sobriety.
Addiction memoirs usually end when the protagonist gets sober. Yay, the dragon is slain, the end! But if you've ever quit anything you love, then you know the dragons are still lurking. So I wanted to take the reader along with me as I learned to re-enter the world — open up to people, date men, take risks. I think of it like alcohol taught me what confidence and freedom was supposed to feel like, and then I had to find it on my own.
You've been very generous with your time and supportive of a cross-section of people with addiction issues. But what advice would you give to someone who thinks they may need to seek recovery from an addiction?
I don't tend to give advice, because I don't usually take advice. What was useful for me was knowing other people like me — who had loved alcohol, depended on alcohol, shaped their lives around alcohol — had given it up. And they didn't die. In fact, they often flourished. When I saw how happy people could become in sobriety, how joyful and real and connected to other people they could be, how their work and their health and their relationships flourished, that's what made the light bulb flicker on for me. Maybe I could do this. Until then, I just didn't think it was possible. But it is possible. It is very, very possible.
The other thing I do like to tell people is that it's easier on this side. SO much easier.
Are you working on a new book or project, and can you tell us about that?
I'm working on a memoir about travel, and I'm trying not to talk about it too much. It will cover some of the trips I took alone as a young woman — to South America, and later a five-month road trip around the country — and then follow me into my forties, where I find myself without a husband and without a family and struggling to make sense of how that happened. My singlehood is probably the greatest ambivalence of my life, and my forties really placed me nose-to-nose with that.
A new year is almost here. Do you have any resolutions for 2018?
I don't tend to make resolutions for New Year's, but I always have goals for my own well-being. I want to ride my bike more. I want to walk more around my neighborhood. Fewer devices, fewer hours lost to social media, fewer cupcake binges. The usual stuff. I think most of my writing is trying to answer the question of how we can live more deeply, how can we love better and more honestly, as well as how can we be grateful for the things we have. Okay, that's my resolution for 2018: Gratitude. Thanks for asking.
* * * * *
Praise for Sarah Hepola's BLACKOUT
"You don't need to be a reformed problem drinker to appreciate Hepola's gripping memoir about the years she lost to alcohol — and the self she rediscovered once she quit." ―People, "Summer's Best Books"
"Brutally funny and alarmingly honest." ―Entertainment Weekly, "Must List"
"Hepola unstintingly documents both her addiction's giddy pleasures and its grim tolls. Her account will leave you breathless-and impressed." ―People, "Smart New Memoirs"
"Alcohol was the fuel of choice during Hepola's early years as a writer, but after too many nights spent falling down staircases, sleeping with men she didn't remember the next day, and narrowly surviving countless other near disasters, she fought her way clear of addiction and dared to face life without a drink in hand." ― Magazine, "The Season's Best Biographies and Memoirs"
"Wry, spirited. . . . Hepola avoids the tropes of the 'getting sober' confessional and takes us into unexplored territory, revealing what it's like to begin again — and actually like the person you see in the mirror. ― Magazine
"Hepola is an enchanting storyteller who writes in a chummy voice. She's that smart, witty friend you want to have dinner with. . . . Like Caroline Knapp's powerful 1996 memoir Drinking: A Love Story, Blackout is not preachy or predictable: It's an insightful, subtly inspiring reflection by a woman who came undone and learned the very hard way how to put herself back together." ―Washington Post
"A memoir that's good and true is a work of art that stands the literary test of time and also serves a purpose in the present. It mines intimate, personal experiences to raise bigger questions, tell a bigger story, help readers understand themselves, their circumstances, their world. Like the best sermon, the best memoir comforts the disturbed and disturbs the comfortable. This rare bird is the Southern belle of literature: forceful, punctilious, beautiful. Blackout, the debut memoir by Salon editor Sarah Hepola, is one such memoir. It's as lyrically written as a literary novel, as tightly wound as a thriller, as well-researched as a work of investigative journalism, and as impossible to put down as, well, a cold beer on a hot day." ―Chicago Tribune
"Hepola refuses to uncomplicate the complicated, one of her memoir's greatest strengths. Yes, we see the familiar recovery story arc — I drank too much, I hit bottom, I found AA-but with it comes a deep dive into the shame, fear and perfectionism that tilt so many women toward defiant self-destruction with the goal of annihilating the confused flawed self to emerge different, better. Invincible. Reflecting on the fantasies that suffused her drinking years, a newly sober Hepola comes to see that they 'all had one thing in common: I was always someone else in them.'" ―Los Angeles Times
* * * * *