Above: authors Melissa Lenhardt, Don Graham, Vanetta Chapman
Burnet Library expands; kicks off
Coffee Talks Series VII for 2017–18
BURNET— The Herman Brown Free Library in Burnet will be hosting the Grand Opening of their new Library Expansion Project -- Wednesday, Nov. 8 at 10:30 a.m. with a new genealogy research room and a quiet, restful reading and public computer area.
The Burnet Library continues to offer its monthly Author Coffee Talks series, bringing to Burnet some of Texas's leading authors. Here's the organization's slate for the upcoming year:
Nov. 9, 2017  Denzel Holmes
Author of seven Western novels set in Texas, inspired by tales from his great-grandfather. His latest book, Little Stone Mountain, is a modern-day adventure Western.
Dec. 14, 2017  Cinda Adams Brooks
Heartprints of Africa. Being a child of missionaries and growing up in rural East Africa.
Jan. 11, 2018    Vanetta Chapman
Shipshewana Amish Mystery Series and the Pebble Creek Amish Series will introduce her mysteries and their Amish setting.
Feb. 8, 2018  Vicki Tongate
Another Year Finds Me In Texas. Life in Texas during the Civil War from the diary of Lucy Pier Stevens.
March 8, 2018  Karen Casey Fitzjerrell
Forgiving Effie Beck. Set in central Texas during the Great Depression.
April 12, 2018    Melissa Lenhardt
Sawbones female western series & Jack McBride small town Texas mystery series.
May 10, 2018  Don Graham
Giant: The Making of a Legendary Texas Film, to be published in early 2018
Events are free and open to the public; light refreshments are served, and books are available for sale and signing following authors' presentations.
(Information from organization's press release)

Odessa Council for Arts & Humanities hosts "An Evening with David Sedaris" Tues., Nov. 7
ODESSA — David Sedaris, award-winning author and critic, will appear at the Wagner-Noël Performing Arts Center in Midland Tues., Nov. 7, 2017, at 7 p.m.
With sardonic wit and incisive social critiques, Sedaris has become one of America's preeminent humor writers. The great skill with which he slices through cultural euphemisms and political correctness proves that Sedaris is a master of satire and one of the most observant writers addressing the human condition today. Sedaris is the author of the collections of personal essays Naked, Me Talk Pretty One Day, Dress Your Family in Corduroy and Denim, When You Are Engulfed in Flames, Squirrel Seeks Chipmunk: A Modest Bestiary, and Let's Explore Diabetes with Owls, all of which have become bestsellers. Sedaris's pieces appear regularly in the New Yorker and have twice been included in Best American Essays. Since 2011, he can be heard annually on a series of live recordings on BBC Radio 4 titled "Meet David Sedaris."
Sedaris's new book is a collection of his diaries, titled Theft By Finding: Diaries (1977–2002).
Reserved tickets are still available at the Wagner-Noël website, ranging from $11 to $52.

McAllen Book Festival to feature eighteen authors in fourth year, Nov. 11
McALLEN — Benjamin Alire Sáenz, the winner of the PEN/Faulkner Award and the American Book Award, will be among 18 authors at the Fourth Annual McAllen Book Festival to be held Saturday, Nov. 11 at the McAllen Public Library, 4001 N. 23rd.
A free event sponsored by the McAllen Public Library the festival will also feature Rachel Caine, a multiple New York Times bestselling author of books in a wide variety of genres, including thriller, mystery, paranormal romance, urban fantasy, science fiction, and young adult. She has published more than fifty novels to date. Her notable series are Stillhouse Lake (thriller), The Great Library (young adult), Morganville Vampires (young adult), and Weather Warden (urban fantasy).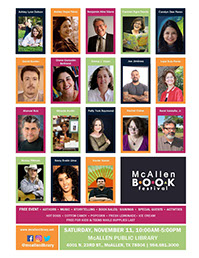 Other authors include Xavier Garza, author, artist, teacher, and storyteller whose work is a lively documentation of life, dreams, superstitions, and heroes in the larger-than-life world of South Texas. Garza has exhibited his art and performed his stories in venues throughout Texas, Arizona, and New Mexico. He is the author and illustrator of several children's and young adult books, including Maximilian and the Lucha Libre Club and The Donkey Lady Fights La Llorona and Other Stories. Garza lives in San Antonio, Texas, with his family.
Ashley Hope Perez, author of the award-winning historical fiction for young adults, Out of Darkness, also joins a diverse group of author who will appeal to children, young adults and parents.
The McAllen Book Festival will also have music, storytelling, hot dogs, lemonade and more—all at the McAllen Public Library.
McAllen's Main Library is a reclaimed former Walmart big box store. Opened in December 2011, it is the largest single-floor library in the United States, occupying 125,000 square feet, or two and a half times the area of a standard U.S. football field.
The design, by Meyer Scherer & Rockcastle Ltd. of Minneapolis, won the International Interior Design Association 2012 Library Interior Design Competition. In 2013, the design also won the Honor Award for Interior Architecture, which is the highest honor for interior design awarded by the American Institute of Architects. In July 2016, McAllen's Main Library was chosen as the most beautiful library in Texas by tech, science, innovation and culture digital publication Tech Insider.
For more information, visit www.mcallenlibrary.net
(Information and image from organization's press release)
* * * * *
Texas Book Festival 2017 Highlights
Nov. 4–5, 2017, Austin
While most of the Lone Star Literary team were back in West Texas this weekend producing our annual Holiday Gift Guide and our regular Sunday issue, book review editor Michelle Newby was on the ground in Austin — checking out all the action at the annual Texas Book Festival, hobnobbing with authors, and even moderating a session. We'll share more on social media, but for now, here are a few highlights from Saturday and Sunday.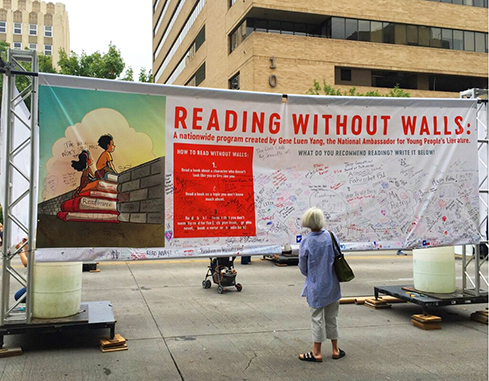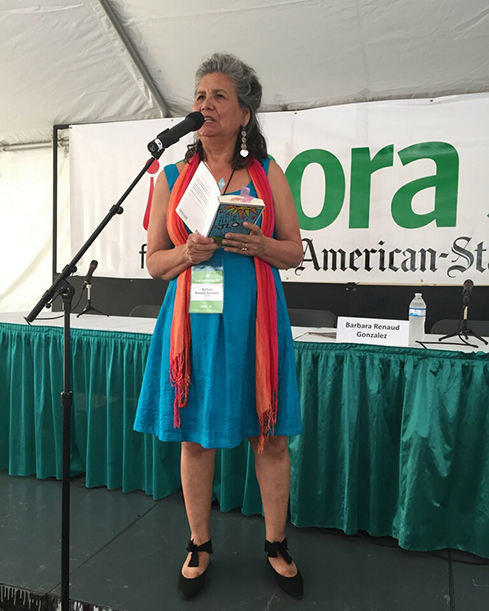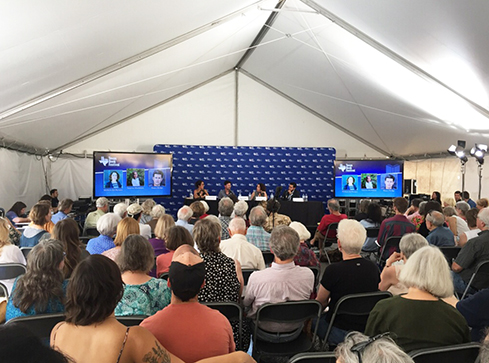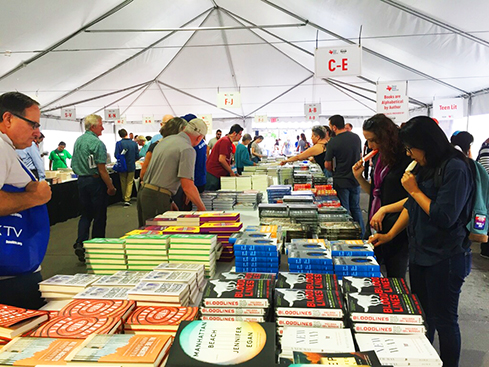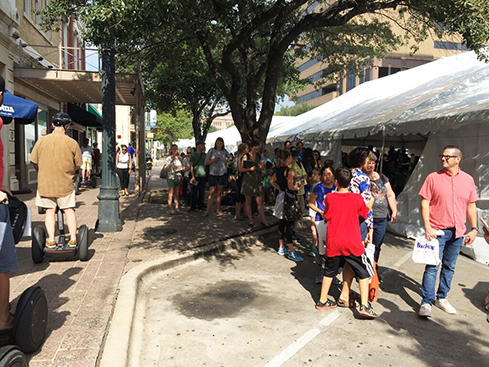 (Photos from Michelle Newby)

* * * * *