Hank the Cowdog on ranch security, romance and his five-year plan to get that barn cat's goat
John R. Erickson has written and published 75 books and more than 600 articles and is best known as the author of the Hank the Cowdog series of books, audiobooks, and stage plays.
His stories have won a number of awards, including the Audie, Oppenheimer, Wrangler, and Lamplighter Awards and have been translated into Spanish, Danish, Farsi, and Chinese.
The Hank the Cowdog series began as a self-publishing venture in his garage in 1982 and has endured to become one of the nation's most popular series for children and families. Through the eyes of Hank the Cowdog, a smelly, smart-aleck Head of Ranch Security, Erickson gives readers a glimpse of daily life on a ranch in the West Texas Panhandle. USA Today calls the series "the best family entertainment in years."
Is there a Texas kid (of any age) who doesn't recognize Hank's muzzle in the bookstore, in the library, or in the newspaper? John R. Erickson's long-running Hank the Cowdog series of children's books (illustrated by Gerald L. Holmes) follow canine Hank, self-appointed "Head of Ranch Security." In each book Hank and other characters must deal with events, issues, and mysteries that occur at their Texas Panhandle home, the M-Cross Ranch. Hank has been a part of the life of Texas schoolchildren for more than four decades.
As a part of our special showcase of Texas children's literature on June 7 and 14, Hank the Cowdog conveyed his willingness to be interviewed by email, as did his creator. In a two-part series, Hank "speaks"—well, barks—with us today, and Erickson's interview will run on June 14.
LONE STAR LIT: Hank, it is quite the honor to talk with you in person, er, in dog. As a former newspaperwoman, I have worked from coast-to-coast and have followed your career wherever I lived, and I want to compliment you on helping a generation of children appreciate—and have fun with—reading, and thank you for taking time out of your busy schedule as "head of ranch security" to be a part of this interview.
First, a little personal background. What is your back story? How did you arrive at the ranch? Will there ever be a "pre-quel" to the Hank story?
HANK: We already have a prequel, "The Case of the Homeless Pooch." In it, we learn that I was born in a beef box outside the little town of Twitchell, Texas. Notice that is was a beef box, not a box for shipping grapefruit or lettuce. I ran into Slim Chance at the Twitchell Livestock Auction and when he got a ranch job, I went with him. That's where I met Drover, Loper, and Sally May. Oh, and Sally May's rotten little cat. Pete.

How has technology affected your position as "Head of Ranch Security?"
Our Security Division stays on the cuddling edge of technology. When I'm on patrol, I'm armed with barkolasers and tooth canons. I carry snifforadar and ear-o-scanners as standard equipment, and utilize fifteen different calibers of barking. It's pretty impressive.
You've been mentoring Drover for quite awhile, yet he doesn't seem to quite share your passion for leadership. What do you think his ideal career path is?
Drover has a passion for eating, sleeping, and staring into empty space. He's on track to maintain his position as the King of Slackers.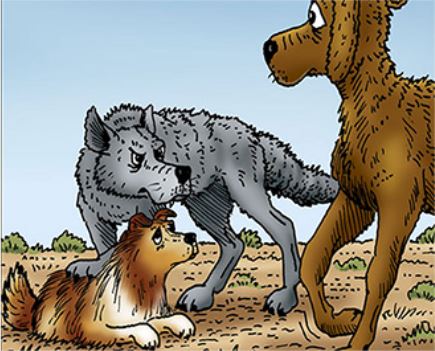 Do you think that Beulah, the collie, will ever realize that you're the best dog for her? Might Hank have a little romance in his future?
Beulah is…what can I say? She has this weird affection for Plato the Bird Dog, and it drives me nuts. I've tried every trick in the book and nothing works on that woman. I even rolled on a dead skunk to give myself a deep manly aroma. I don't get it, but I dream about her almost every night.
What's one secret that you can share with your loyal readers about your "family"-- High Loper, Sally May, Little Alfred, and Little Molly?
They're fine people, but to be honest, sometimes I get the feeling that they don't take my job as Head of Ranch Security as seriously as they should. And about the food around here…hey, I don't expect a steak for every meal, but Co-op dog food? It tastes like sawdust and grease. Actually, a steak for every meal sounds like a great idea.
Are you currently hatching a new plan to get the best of Pete the Barn Cat?
One of my most important jobs on this outfit is humbling the local cat, and I take it very seriously. We've seen varying levels of success over the years, but I'm working on a new Five Year Plan for dealing with the little snot. I'll get him.
LAST QUESTION: Any thoughts or insights you'd like to share with your thousands of readers?
I'm often comforted by Wise Old Sayings. Here are a couple. "It's always darkest before it gets any darker." And, "Do unto others, but don't take trash off the cats." Wow. The mind of a dog is an awesome thing!
* * * * *
This story is a two-part series. In next week's edition, Lone Star Listens will feature John R. Erickson, the author of the Hank the Cowdog series, which now has 64 books and has sold more than 8 million books worldwide. His books have been published in several languages, including Spanish, and the Hank the Cowdog story was adapted into an animated segment for CBS Storybreak.
Teaching programs are available for the series via Maverick Books, and the stories have been serialized in newspapers through Newspapers in Education.
* * * * *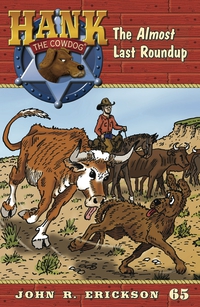 Hank the Cowdog: The Almost Last Roundup
Book #65 in the Hank the Cowdog series
John R. Erickson; illustrated by Gerald L. Holmes
March 2015
144 pages; 13 B/W illustrations. Bonus activities in back of book.
Hardcover, 978-1-59188-265-7, $15.99
Paperback, 978-1-59188-165-0, $5.99
Audiobook (CDs), 978-1-59188-665-5, $19.99
Ebook version also available
About the book
Hank the Cowdog has seen dry summers in his years as the Head of Ranch Security, but nobody on the ranch has seen a drought like this. Ponds have dried up, the creek is down to a trickle, pastures have turned to burned toast, and the cows are kicking up clouds of dust.
Then, to top it all off, Pete the Barncat hatches a dastardly plot to ruin Loper's birthday! The last thing the cowboys need is a prairie fire, but that's what they get, and it begins to look like the next roundup might be their last. What the ranch really needs is a good rain to bring back the grass . . . and Loper's good mood!