A sparkling new literary anthology and its companion exhibition celebrate the ever-flowing bonds between Texas rivers and writers.
"Viva Texas Rivers! brings you as close to the living nirvana of a Texas river as you can get."
Viva Texas Rivers! Adventures, Misadventures, and Glimpses of Nirvana along Our Storied Waterways collects treasured writings by many of the state's leading authors. The book is graced by literary luminaries Carmen Tafolla, Sandra Cisneros, John Graves, Stephen Harrigan, Naomi Shihab Nye, Joe Nick Patoski, Benjamín Alire Sáenz, Pat Mora, Joe R. Lansdale, Paulette Jiles, Attica Locke, S.C. Gwynne, Américo Paredes, and many more notables.
Ranging from the desert canyonlands of the Río Grande to the swampy Big Thicket, from crystal clear Hill Country streams to the Red River's treacherous quicksand, Viva Texas Rivers! showcases many classic writings along with brand new essays written especially for this volume. The literary nonfiction is complemented by flashes of poetry that brilliantly reflect these curving ribbons of light.
The contemporary accounts are interspersed with selected historical nuggets: dispatches from Spanish explorers, John James Audubon's early glimpse of Buffalo Bayou, and a 19th century view of the Comal River's "unexcelled" beauty in New Braunfels.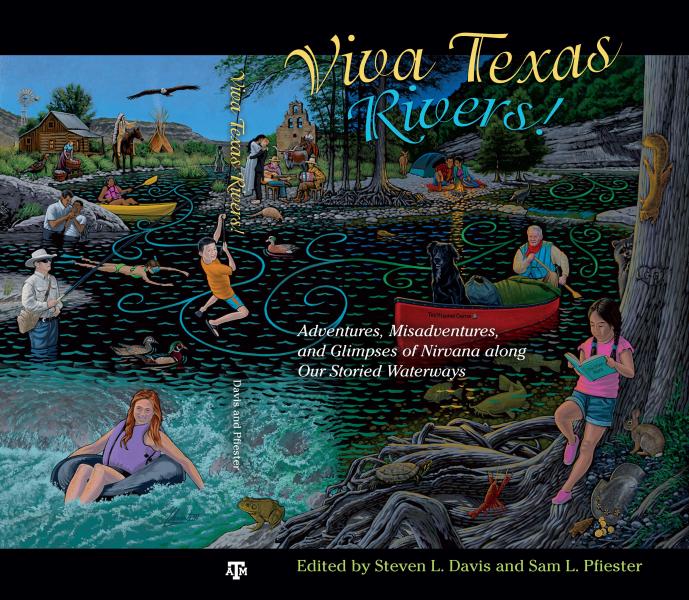 Viva Texas Rivers! is published by Texas A&M University Press in a unique partnership with Texas State University, which is represented by the Wittliff Collections Literary Book Series and the Meadows Center River Books Series.
The anthology's co-editors are Steven L. Davis and Sam L. Pfiester, who share deep connections to Texas rivers and the state's literary scene. Davis is the longtime literary curator at the Wittliff and an award-winning author who has received the PEN Center Prize for Research Nonfiction. Pfiester, who chairs the Wittliff's Advisory Council, has authored four novels and in 2018 created the hit indie movie, Blanche, set in Alpine, Texas.
Authoritative and expertly edited, Viva Texas Rivers! offers shimmering accounts of hidden paradises, as well as searing exposés of abuse and despoliation. Yet even in the bleakest times, as these acclaimed writers have found, Texas rivers can bestow a sacred grace — and unexpected redemption.
Viva Texas Rivers! brings you as close to the living nirvana of a Texas River as you can get without launching yourself into a canoe and following a great blue heron as it glides just above the breaking rapids, leading you around the bend as the river flows onward toward the best places in our hearts.
Accompanying the book is a stellar new exhibition at the Wittliff Collections that features 58 contributors to Viva Texas Rivers! On display are vintage photographs, original manuscripts, and prized artifacts. Several writers have contributed video readings from their works, which play on a continuous loop in the gallery.
Among those featured in the exhibition is Andrew Sansom, who contributes the book's Afterward. Founder of the Meadows Center (formerly Aquarena Springs) at Texas State University, Sansom is regarded as one of our leading conservationists. (That's him paddling the canoe on the front cover of Viva Texas Rivers!) 
The exhibit also pays homage to artist Clemente Guzman, whose cover painting for Viva Texas Rivers! is the 2021 Texas Book Festival Poster Art. Spectacular riverscape photos by noted photographer Kenny Braun complement the literary displays, along with watercolor-based river maps created by Molly O'Halloran.
Viva Texas Rivers! is on exhibit through May 31, 2021. The book will be published October 15, 2021. For more visit www.thewittliffcollections.txstate.edu