Writing Quotes for Writing Struggles
Saturday, September 24, 2022
"Writing quotes can make us laugh or cry, try or quit, cheer or inspire, but they always speak to our hearts."
Writing quotes inspire, educate, and encourage us to keep working on our craft. Over the years, I've collected writing quotes to read and reread during struggling times. The following quotes just might lift you from the woes that come from a calling and career that requires many long hours alone. 
"I write for the same reason I breathe – because if I didn't, I would die." Isaac Asimov 
"Write like you're in love. Edit like you're in charge." James Scott Bell 
"Remember: plot is no more than footprints left in the snow after your characters have run by on their way to incredible destinations." Ray Bradbury   
"Don't tell me the moon is shining; show me the glint of light on broken glass." Anton Chekhov 
"It is perfectly okay to write garbage—as long as you edit brilliantly." C. J. Cherryh 
"Writers possess only four tools: research, experience, empathy, and imagination. Fortunately, whole worlds can be built from them." David Corbett 
"I can shake off everything as I write; my sorrows disappear, my courage is reborn." Anne Frank 
"Fairy tales are more than true: Not because they tell us that dragons exist, but because they tell us that dragons can be beaten." Neil Gaiman 
"A writer is a person who cares what words mean, what they say, how they say it. Writers know words are their way towards truth and freedom, and so they use them with care, with thought, with fear, with delight. By using words well they strengthen their souls. Story-tellers and poets spend their lives learning that skill and art of using words well. And their words make the souls of their readers stronger, brighter, deeper." Ursula K. Le Guin 
"We are all apprentices in a craft where no one ever becomes a master." Ernest Hemingway 
"I would advise anyone who aspires to a writing career that before developing his talent he would be wise to develop a thick hide." Harper Lee 
"You are a WRITER. The 'normal' ship sailed without you long ago." Terri Main 
"I want a story to take me to a place that I've never been to before and make it come vividly alive for me." George R. R. Martin 
"The job of the writer is to get your main character up a tree and then throw rocks."  Vladimir Nabokov 
"You don't write about the horrors of war. No. You write about a kid's burnt socks lying in the road." Richard Price 
"I'm always pretending that I'm sitting across from somebody. I'm telling a story, and I don't want them to get up until I'm finished." James Patterson 
"A writer begins by breathing life into his characters. But if you are very lucky, they breathe life into you." Caryl Phillips. 
"Writing is perhaps the greatest of human inventions, binding together people, citizens of distant epochs, who never knew one another. Books break the shackles of time- proof that humans can work magic!" Carl Sagan 
"So the writer who breeds more words than he needs is making a chore for the reader who reads." Dr. Seuss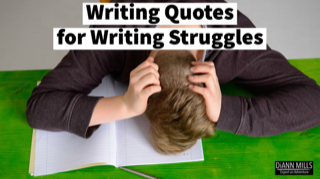 A few personal writing quotes that came from trying to figure it all out: 
"A writer looks at the colors of each new day and creates a breathless moment." DiAnn Mills 
"Don't be afraid to tackle the tough issues with grace and truth in the pages of a great story." DiAnn Mills 
"Writing is a sacred adventure." DiAnn Mills 
"To write well, one must first experience life." DiAnn Mills 
"When life scrapes and scars your heart, it's just a future plot twist." DiAnn Mills 
"Writing romantic suspense is like putting together a puzzle with pieces shaped like hearts and daggers." DiAnn Mills 
"Writing quotes can make us laugh or cry, try or quit, cheer or inspire, but they always speak to our hearts." DiAnn Mills 
DiAnn Mills is a bestselling author who believes her readers should expect an adventure. She weaves memorable characters with unpredictable plots to create action-packed, suspense-filled novels. DiAnn believes every breath of life is someone's story, so why not capture those moments and create a thrilling adventure?
Her titles have appeared on the CBA and ECPA bestseller lists; won two Christy Awards, the Golden Scroll, Inspirational Reader's Choice, and Carol Awards contests.