Polishing the Writing Project
Polishing a writing project is an opportunity to make the finest work shine. This isn't a process to overlook or skim, but a conscientious effort to ensure every word, paragraph, and page is expertly crafted.
When we believe a manuscript is complete, let the writing project sit for at least two weeks. If the work can rest longer, do so. This waiting time allows the writer to then view it through fresh eyes and edit more effectively. Now we're ready to shine it up.
Work through the following polishing tips:
Active Voice
Strive to make sentences active. Remember "as" and "ing" words tend to make a sentence
passive.
Adverbs
Use sparingly and not with dialogue tags.
Do a global search in your manuscript for:
"ly" with a space after it.

"ly" with a period after it.
Avoid Clichés
Create your own metaphors and similes.
Beginnings
Strong hook.
Does your story begin with the lead character's name and his/her current situation?
Chapter and Scene Hooks
Does every chapter and scene begin and end with a hook?
Characterization
Hero, heroine, or protagonist:
What is it about them that you like or dislike?
Is there a positive and negative trait that is not yours?
If you were to spend a vacation with the hero or heroine, what about them would appeal to
you?
Villain or antagonist:
Is the character truly evil or badly behaved?
What is the one trait that gives the antagonist redeeming quality?
Sol Stein states that no villain can attract victims unless he has charm, charisma, position, or
wealth.
Chronology
Use a calendar to keep track of your chapters' timeline. http://calendarhome.com/tyc/#calendars
Conflict and Tension
              Include in every sentence.
Consistency
Spelling Numbers - written or spelled out
Cut Extra Words
Be clear and concise.
Dialogue
Clear and tight.
Punctuated correctly.
Do you need a tag?
Do you need a beat?
Emotional Conflict
Have you made it your goal to have emotional conflict in every paragraph?
Every line?
Show emotions.
Examine Plot
Have you asked the four crucial questions about every chapter?
1. What is the POV character's goal or problem to solve?
2. What does the POV character learn that is new information?
3. What backstory is revealed?
4. How are the stakes raised?
Genre
Have you written with a clear genre in mind?
How do you want the story to "feel" to the reader (creepy, brooding, inspirational, etc.)?
Grammar
Invest in a grammar guide or English book.
Eliminate dangling participles.
Hyphen, En-Dash, and Em-Dash
Learn the differences, application, and correctly type the proper punctuation.
Consult publisher guidelines or The Chicago Manual of Style.
Plot
Is it tight?
Are there no holes?
Loose threads?
Pronoun Preference
Make sure the reader knows which noun the pronoun stands for.
Redundancy
Avoid repeated phrases.
Don't insult the reader by telling more than once.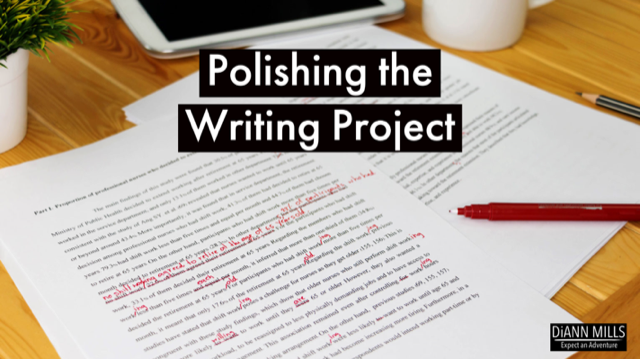 Click to get the PDF of these Polishing Tips by subscribing to DiAnn Mills's newsletter.
Scenes
Rate every scene in your book. Each one should propel the story forward, constantly
building conflict and tension.
Make sure the first and last lines in each scene are strong.
Smooth transitions.
Sensory Perception
Does each scene use all the senses?
Sentence Order
Count the number of syllables: beans, cabbage, and tomatoes instead of huckleberries,
pear, and a banana.
Count the number of words. He enjoyed green beans, deep-fried onion rings, and buttered
corn on the cob.
If all the items have the same number of syllables, then consider their position in the alphabet.
An exception to this is chronological order, obvious sequence, familiar sequence, and
unintended modifiers.
Sometimes the way we are accustomed to hearing items in a list contradicts the above
guidelines. If the items in your list do not sound appropriate when you adhere to the above
rule, change them so they are acceptable.
Tea with lunch, dinner, and breakfast should be tea with breakfast, lunch, and dinner.
Cream and peaches should be peaches and cream.
The bees and the birds (alphabetical sequence) should be the birds and the bees.
Gold, myrrh, and frankincense should be gold, frankincense, and myrrh.
Setting
Research more than you think you will ever use.
Fictitious towns are best.
Map out your town ahead of time, filling in street names, residential, business, etc.
Telling Words
Think
Know
Understand
Realize
Believe
Want
Remember
Imagine
Desire
Need
Text to Voice Software
Research software for what works best for you.
Scrivener has text to voice.
GhostReader is a text to voice app.
Vary Sentence Length
Do the sentences have rhythm?
Weasel Words and Phrases
Absolutely
Actually
All of
All right
As a matter of fact
As being
As yet
At all times
Basically, essentially
Beginning sentences with "There" or "It"
Being that
Cell phone cliches: pull out, scroll across, hang up
Completely
Definitely
During the course of
Each and every
Extremely
For all intents and purposes
For the most part
I mean
In order
In the process of
Just
Literally
Okay
Of course
Point in time
Pretty
Quite
Rather
Really
Shrugged
Simply
Smiled
So
Some
Somebody
Somehow
Someone
Something
Sometimes
Somewhat
Somewhere
Suddenly
That
Then
Thing
Totally
Up, down
Very
Which
Word Choice
William Shakespeare said: "Suit the action to the word, the word to the action."
Word Frequency Finder and Phrase Frequency Finder.
http://www.writewords.org.uk/word_count.asp 
Unintended Modifiers
Make sure all modifiers modify what is intended.
Online Resources:
Word and Phrase Frequency Counter
Final notes: print the writing project and read line by line. Send to a beta reader(s). This isn't the writer's mother, sister, or close friend but a person who can give honest feedback. Read the project one last time before sending it to an agent or editor.
Now relax. Tomorrow you can begin the next masterpiece.
 

DiAnn Mills is a bestselling author who believes her readers should expect an adventure. She weaves memorable characters with unpredictable plots to create action-packed, suspense-filled novels. DiAnn believes every breath of life is someone's story, so why not capture those moments and create a thrilling adventure?

Her titles have appeared on the CBA and ECPA bestseller lists; won two Christy Awards, the Golden Scroll, Inspirational Reader's Choice, and Carol Awards contests.

DiAnn is a founding board member of the American Christian Fiction Writers, an active member of the Blue Ridge Mountains Christian Writers, Advanced Writers and Speakers Association, Mystery Writers of America, the Jerry Jenkins Writers Guild, Sisters in Crime, and International Thriller Writers. DiAnn continues her passion of helping other writers be successful. She speaks to various groups and teaches writing workshops around the country.

DiAnn has been termed a coffee snob and roasts her own coffee beans. She's an avid reader, loves to cook, and believes her grandchildren are the smartest kids in the universe. She and her husband live in sunny Houston, Texas.

DiAnn is very active online and would love to connect with readers on: Facebook, Twitter, Instagram, Pinterest, Goodreads, BookBub, YouTube, LinkedIn, or her website: diannmills.com