Choosing a writing conference
How do writers choose which conference works best for them?
Writers are encouraged to attend writing conferences, but are there guidelines? How do writers choose which conference works best for them? How does genre or one's level of writing affect the learning?
Why Attend a Writing Conference?
To learn the craft.

To add publishing-business knowledge to the writer's storehouse.

To network with agents, editors, and other writers.

To pitch a project to an agent or editor.

To find a home for a writing project.

To build a writer's self-confidence and enthusiasm.

To explore other genres.

To receive constructive feedback.

To secure a critique partner or writers' group.

To possibly place or win a contest.
What are a Few Considerations in Choosing a Conference?
Budget.

Faculty—teachers and speakers.

Size of the conference that fits the writer's needs.

Location of conference and accessibility.

Focus: craft, platform, social media, publishing, or all-inclusive.

Genres represented.

Classes offered and the method of instruction.

Level of writer's skill.

Contest for unpublished and published writers.

Opportunities to pitch writing projects.

Reputation in the industry.

Classes recorded and available to purchase at the conference.

Award ceremony or banquet.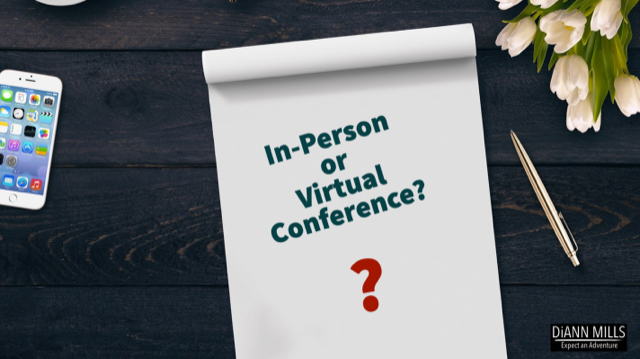 Types of Conferences
1. Face-to-face conferences can be large or small. This involves travel, lodging, meals, and time away from home. But the interaction and meeting professionals face to face can mean a potential contract. Writers find critique partners and forge new relationships with those who share the same desire for learning the craft and seeking publication. One-on-one critiques are valuable for relationships and learning. The length of a conference can be from two days to nearly a week.
Large conferences are designed for writers who prefer a variety of agents, editors, and workshops. This setting allows writers to mingle with more of the successful names in the industry. The larger conferences often include a preconference and/or post-conference at an additional charge. The buzz and excitement are contagious.
Smaller conferences are for writers who are embarking on an adventure with writing. New writers may prefer a smaller number of people until they feel more comfortable in larger settings. A local or smaller conference may appeal to a writer's budget.
2. Retreats are shorter, and registration is limited to a smaller number of writers. The format is a lecture and hands-on learning, and often includes time for writers to practice what has been taught. Retreats create an atmosphere of mentoring and personal attention.
Some instructors will travel to a writer's home for a personal retreat and work with that writer for a day or weekend.
3. Virtual conferences and retreats are exactly what the name implies. Presenters are streamed live or prerecorded and scheduled through various platforms. Presenters are mindful of convenient viewing times for live presentations, offer recordings for on-demand viewing, or both.
Writers can attend in the privacy of their own homes or with a small group. Some virtual conferences allow writers to pose questions and have them answered immediately. The online model is less costly—travel expenses, lodging, and meals are eliminated from the budget. Appointments with professionals may be included in the virtual setting.
Virtual conferences are popular for specific niches in developing a writer's craft, platform, social media, branding, marketing, and promotion. They can also be instructional in demonstrating software applications that benefit from show and tell. In short, a virtual conference can be a valuable alternative to the busy writer, but the writer needs to be disciplined and not easily distracted.
Many conferences are choosing to have in-person and virtual options.
Reputation is Everything
What do agents, editors, publicists, and writers say about the event? Who's attended in the past? Are there endorsements? What classes are being offered? If the event is new, who is directing the conference? What is the caliber of the instructors? How is the event promoted? How will it benefit you?
Where Can I Learn About Conferences?
Edie Melson and I direct the Blue Ridge Mountains Christian Writers Conference held at Ridgecrest, North Carolina, May 30 – June 3, 2021. We deliver on our mission of Changing the world … one writer at a time. We believe in providing writers virtual and in-person conferences and retreats to fill specific needs.
What tip can you offer to help writers choose a writing conference?
DiAnn Mills is a bestselling author who believes her readers should expect an adventure. She is a founding board member of the American Christian Fiction Writers, director of the Blue Ridge Mountains Christian Writers Conference, and a member of Advanced Writers and Speakers Association, Mystery Writers of America, Sisters in Crime, and International Thriller Writers.
DiAnn is passionate about helping other writers be successful and speaks to various groups and teaches writing workshops around the country. She and her husband live in sunny Houston. DiAnn is very active online and loves to connect with readers on social media and at www.diannmills.com.