J. Frank Dobie among Christmas cowboys, football, O. Henry Prize Stories, poetry, history, mysteries and monsters
Sunday, September 1, 2019
September is finally here! It's only ninety-five degrees on the Rolling Plains, and we're in the mood to celebrate, y'all. So 'tis the season for Christmas cowboys, all things football, the 100th anniversary of the O. Henry Prize Stories, poetry, history, mysteries and monsters, and J. Frank Dobie to explain it all to us. Enjoy your September Lone Star Lit!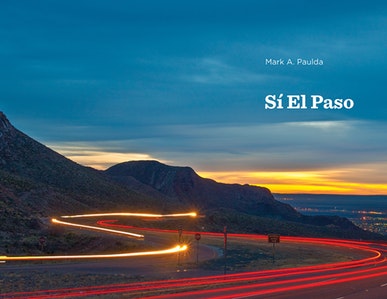 Mark Paulda
El Paso is living proof of the vitality that blooms when Hispanic and Anglo cultures freely enrich each other. Sí El Paso is a celebration of this splendid border city in stunning photographs by Mark A. Paulda and evocative bilingual text by El Pasoans who cherish their city in all its diversity.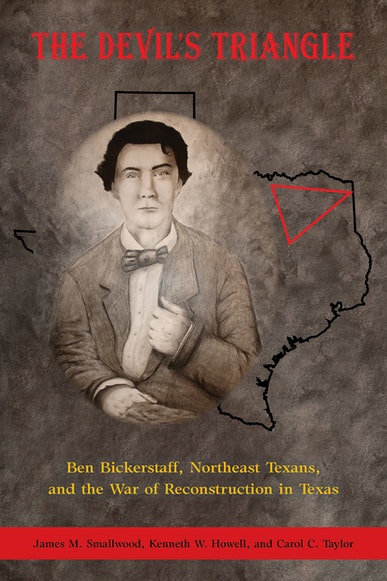 The Devil's Triangle: Ben Bickerstaff, Northeast Texans,
and the War of Reconstruction in Texas
James Smallwood, Kenneth W. Howell, and Carol C Taylor
In the Texas Reconstruction Era (1865–1877), many returning Confederate veterans organized outlaw gangs and Ku Klux Klan groups to continue the war and to take the battle to Yankee occupiers, native white Unionists, and their allies, the free people. This study of Benjamin Bickerstaff and other Northeast Texans provides a microhistory of the larger whole. Bickerstaff founded Ku Klux Klan groups in at least two Northeast Texas counties and led a gang of raiders who, at times, numbered up to 500 men. He joined the ranks of guerrilla fighters like Cullen Baker and Bob Lee and, with their gangs often riding together, brought chaos and death to the "Devil's Triangle," the Northeast Texas region where they created one disaster after another.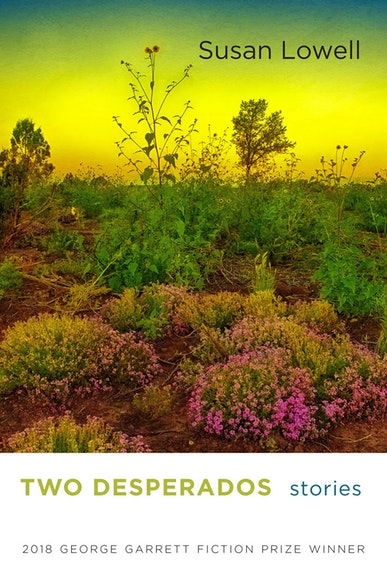 Susan Lowell
Winner of the George Garrett Fiction Prize, Susan Lowell's Two Desperados is a collection of southwest-flavored stories that feature a blacksmith, several smugglers, a mule, a jaguar, a runaway groom, a murderess, a witch, a basket weaver, a Gremlin, three cowboys, and a ghost. Settings range from a grand university library to a construction site, from an apocalyptic dream world to the coyote-haunted banks of the Rio Grande. A novella called "Captain Death" traces a journalist's odyssey along the U.S.-Mexico border. Another novella, "Two Desperados," follows a prodigal daughter's return to her eccentric Arizona home. And although they grapple with love and death, many members of this motley gang still manage to find sparkles in the darkness and a few crazy moments of grace.

Earl Campbell: Yards after Contact
Asher Price
Earl Campbell was a force in American football, winning a state championship in high school, rushing his way to a Heisman trophy for the University of Texas, and earning MVP as he took the Houston Oilers to the brink of the Super Bowl. An exhilarating blend of biography and history, Earl Campbell chronicles the challenges and sacrifices one supremely gifted athlete faced in his journey to the Hall of Fame. The story begins in Tyler, Texas, and features his indomitable mother, a crusading judge, and a newly integrated high school, then moves to Austin, home of the University of Texas (infamously, the last all-white national champion in college football), where legendary coach Darrell Royal stakes his legacy on recruiting Campbell. Later, in booming, Luv-Ya-Blue Houston, Campbell reaches his peak with beloved coach Bum Phillips, who celebrates his star runner's bruising style even as it takes its toll on Campbell's body.
Shaun Hamill
Noah Turner see monsters. His father saw them—and built a shrine to them with The Wandering Dark, an immersive horror experience that the whole family operates. His practical mother has caught glimpses of terrors but refuses to believe—too focused on keeping the family from falling apart. And his eldest sister, the dramatic and vulnerable Sydney, won't admit to seeing anything but the beckoning glow of the spotlight . . . until it swallows her up.
Noah Turner sees monsters. But, unlike his family, Noah chooses to let them in . . .
The Deception (Maximum Security)
Kat Martin
After searching for her sister for two long years, Kate Gallagher is devastated when she's called to the morgue to identify Chrissy's body, the runaway teen the victim of a brutal attack. Guilt and grief send Kate into a tailspin. She failed Chrissy once … she won't do it again. Even if finding her sister's killer means following a lethal bounty hunter into the heart of darkness, placing both their lives in danger. 
Heather Harper Ellett
Still reeling from the scandal that cost him his badge, Randy Mayhill―fallen lawman, dog rescuer, Dr. Pepper enthusiast―sees a return from community exile in the form of a dead hog trapper perched on a fence. The fence belongs to the late Van Woods, Mayhill's best friend and the reason for his spectacular fall. 
Determined to protect Van's land and family from another scandal, Mayhill ignores the sheriff who replaced him and investigates the death of the unidentified man. His quest crosses with two others: Birdie, Van's surly, mourning daughter, who has no intention of sitting idly by and leaving her father's legacy in Mayhill's hands; and Bradley, Birdie's slow, malnourished but loyal friend, whose desperation to escape a life of poverty has him working with local criminals and possibly a murderer.
Jennifer Mathieu
Every year, summer begins when the Callahans arrive on Mariposa Island. That's when Elena Finney gets to escape her unstable, controlling mother by babysitting for their two children. And the summer of 1986 promises to be extra special when she meets J.C., the new boy in town, whose kisses make Elena feel like she's been transported to a new world. Joaquin Finney can't imagine why anyone would want to come to Mariposa Island. He just graduated from high school and dreams about going to California to find his father and escape his mother's manipulation.
The Liars of Mariposa Island follows siblings Elena and Joaquin, with flashbacks to their mother's experience as a teenage refugee fleeing the Cuban revolution.
Lara Prescott
At the height of the Cold War, two secretaries are pulled out of the typing pool at the CIA and given the assignment of a lifetime. Their mission: to smuggle Doctor Zhivago out of the USSR, where no one dare publish it, and help Pasternak's magnum opus make its way into print around the world. Glamorous and sophisticated Sally Forrester is a seasoned spy who has honed her gift for deceit all over the world—using her magnetism and charm to pry secrets out of powerful men. Irina is a complete novice, and under Sally's tutelage quickly learns how to blend in, make drops, and invisibly ferry classified documents.
The Secrets We Kept combines a legendary literary love story—the decades-long affair between Pasternak and his mistress and muse, Olga Ivinskaya, who was sent to the Gulag and inspired Zhivago's heroine, Lara—with a narrative about two women empowered to lead lives of extraordinary intrigue and risk. From Pasternak's country estate outside Moscow to the brutalities of the Gulag, from Washington, D.C. to Paris and Milan, The Secrets We Kept captures a watershed moment in the history of literature—told with soaring emotional intensity and captivating historical detail. And at the center of this unforgettable debut is the powerful belief that a piece of art can change the world.
Thanhha Lai
In the final days of the Việt Nam War, Hằng takes her little brother, Linh, to the airport, determined to find a way to safety in America. In a split second, Linh is ripped from her arms—and Hằng is left behind in the war-torn country. Six years later, Hằng has made the brutal journey from Việt Nam and is now in Texas as a refugee. She doesn't know how she will find the little brother who was taken from her until she meets LeeRoy, a city boy with big rodeo dreams, who decides to help her.
Hằng is overjoyed when she reunites with Linh. But when she realizes he doesn't remember her, their family, or Việt Nam, her heart is crushed. Though the distance between them feels greater than ever, Hằng has come so far that she will do anything to bridge the gap.
Attica Locke
Nine-year-old Levi King knew he should have left for home sooner; now he's alone in the darkness of vast Caddo Lake, in a boat whose motor just died. A sudden noise distracts him—and all goes dark. Darren Matthews is trying to emerge from another kind of darkness; after the events of his previous investigation, his marriage is in a precarious state of rebuilding, and his career and reputation lie in the hands of his mother, who's never exactly had his best interests at heart. Now she holds the key to his freedom, and she's not above a little maternal blackmail to press her advantage. 
An unlikely possibility of rescue arrives in the form of a case down Highway 59, in a small lakeside town where the local economy thrives on nostalgia for ante-bellum Texas—and some of the era's racial attitudes still thrive as well. Levi's disappearance has links to Darren's last case, and to a wealthy businesswoman, the boy's grandmother, who seems more concerned about the fate of her business than that of her grandson. 
Jodi Thomas
Cooper Holloway would take nature over people any day—especially visiting relatives. That's why he's headed for a rustic cabin in remote Winter Valley, where he'll care for a herd of wild mustangs. But Cooper's plans are quickly thwarted by the arrival of two unexpected guests: one, a stranger in desperate need of his help, and the other, a very attractive young veterinarian. Elliott is busy trying to keep Maverick Ranch running smoothly with Cooper gone, which is no easy task with family visiting. And when a long-lost love suddenly reappears in his life, Elliott knows he'll have more than just books to balance this season.
With a big, chaotic family Christmas around the corner and love blooming in surprising ways, the Holloway men will have to make big choices about the future—just in time for the holidays.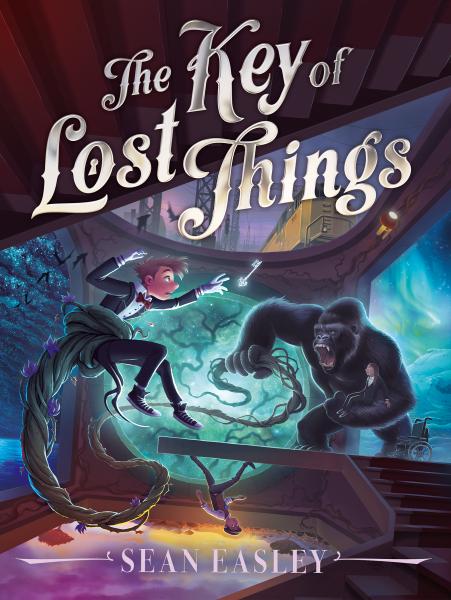 Sean Easley
Ever since Cam was named concierge-in-training, he's been struggling to keep up with the pace of the Hotel Between. It doesn't help that his missing friend Nico keeps unleashing pranks—you try finding fifty-two cats scattered all over the world. When a grand party goes horribly wrong, Cam learns his twin sister, Cass, may also be up to no good. Now Cam must set out to prevent Cass and Nico from endangering the hotel and keep it from falling into the hands of Mr. Stripe and his horrible magic. If he fails, the Hotel Between could be lost. Forever.
Leigh Greenwood, Rosanne Bittner, Linda Broday, Margaret Brownley, Anna Schmidt, Amy Sandas
Fall in Love with Christmas: Whether it's a widower finding an unexpected new start, a former outlaw and his new wife welcoming their very own Christmas miracle, a long-lost lover returning just in time for a special holiday celebration, a second chance at love between two warring hearts given peace at last, an unlikely pair working together to bring joy to a small Texas town, or a cowboy and his dark-eyed beauty snowed in one unforgettable wintry eve ... every Christmas with a cowboy is filled with light, laughter, and a forever kind of love.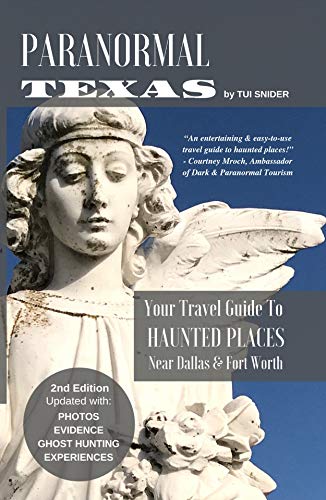 Tui Snider
More haunted places and true ghost stories! The second edition now includes photos, ghost-hunting tips, more haunted places, and firsthand accounts. All of that, PLUS a paranormal activity evidence database: readers can access an online database with links to EVPs, ghost photos, videos, and other evidence gathered by paranormal investigators who have visited the haunted sites in her book. This database will be continually updated with EVPs, anomalous photos, videos, and other data gathered at haunted places featured in Paranormal Texas, 2nd edition. You can even add your paranormal activity: readers can contact the author if they have paranormal evidence to add.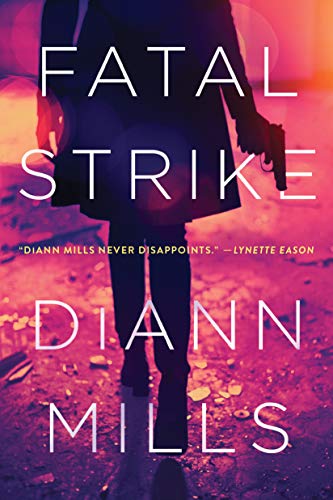 DiAnn Mills
There's a killer on the loose in Galveston, targeting law enforcement officials and using a fatal injection of snake venom to take them down. Authorities have reasons to believe the Veneno gang is behind the hits, and FBI Agents Leah Riesel and Jon Colbert team up to track down those responsible. Their best lead is an eyewitness who identifies a young man dumping the third body on a church doorstep. But their suspect has gone into hiding, and those closest to him are reluctant to reveal anything that might help investigators find him.
As Leah and Jon check connections among the victims and dig deeper into motives, they discover appearances may be deceiving. Someone is desperate to keep their secrets hidden, and Leah and Jon must face their greatest fears in order to stop the next fatal strike.
Steven L. Davis (Editor)
Setting out to create a collection of J. Frank Dobie's writing that "brings him alive and makes him relevant to current generations of readers," Steven L. Davis has combed through the works of this renowned Texas author, gathering together in one volume Dobie's most vital writings. Dobie's stories and essays here are meticulously edited to "prune away some of the brushy undergrowth" and bring Dobie's folksy, erudite voice bounding back to life.
The result is The Essential J. Frank Dobie, a treasury that introduces new readers to Dobie—and reminds older ones that Dobie captured priceless social history while producing some of the most fascinating, best-informed writing about Texas. Dobie bore eloquent witness to the passing of ancient pastoral lifeways and was decades ahead of his time in championing civil rights and protecting the environment. Davis, a Dobie biographer, has found the stories only the master himself could tell—those enriched by his matchless personal adventures, from Mexico to wartime Europe to the remote outback, where he joined wandering seekers on their quests for lost treasures. (All of the author's royalties from The Essential J. Frank Dobie will go to the J. Frank Dobie Library Trust to help small Texas libraries purchase books.)
Rachel Ashwell
Think Marie Antoinette in jeans and a cowboy hat—that is Rachel Ashwell's prairie style.
Rachel Ashwell Couture Prairie takes her signature pastels, ruffles, and whimsical prettiness right to the heart of cowboy country. This is a journey in pictures and words, following Rachel through the fields of a little town called Round Top, home to one of the largest, most eclectic and vibrant antiques and flea markets in the world, and then back to Rachel's bed-and-breakfast in Texas. Here Rachel's inspired finds, her creative imagination, eye for detail, and her commitment to beauty, comfort, and function have finally come together in one location: The Prairie by Rachel Ashwell—an irresistible destination. This book takes Rachel in a new direction, bringing her eye for cherished patinas and pastel prettiness into the endless landscapes and diverse architectural styles of Texas. Here you will see how her style adapts to corrugated metal sheeting and weathered timbers, and how it brings new life to elegant period mansions. Chapter by chapter, the book leads you through Rachel's little houses on the prairie, from the Ranger's Lounge where hearty breakfasts are served, to the Pearl Barn, scene of wedding parties and celebrations, stopping off at the evocatively named guest accommodation: Blue Bonnet Barn, Cornflower Cottage, Meadow Manor, Faith Cottage, and Liliput Lodge.
Esteban Rodríguez
Set along the US-Mexico border, Dusk & Dust introduces the voice of a "boy straddled on the valley of two geographies." With a keen eye, gentle humor, and great empathy, Esteban Rodríguez's debut collection explores the lives of the generations who have made their homes in a landscape too often neglected and forgotten. Like the region they portray—relentless, unsympathetic, singed with uncertainty—these poems are marked with a visceral beauty. The aroma of cattle mingles with steaming tamales, and carnival organs play behind telenovelas in this richly conjured and mercurial world. Through the eyes of his luchador mask, with a foot planted firmly on either side of the fence, the young speaker grapples with a host of cultural and familial expectations, a tenuous grasp on his family's language, and his own burgeoning identity. Funny and poignant, Dusk & Dust lays out a labyrinth of cultural expectations, and, with a voice as clear as it is unique, illuminates a world that seeks to be remembered and lived.
Tillie Walden
  Bea is on the run. And then, she runs into Lou.
This chance encounter sends them on a journey through West Texas, where strange things follow them wherever they go. The landscape morphs into an unsettling world, a mysterious cat joins them, and they are haunted by a group of threatening men. To stay safe, Bea and Lou must trust each other as they are driven to confront buried truths. The two women share their stories of loss and heartbreak―and a startling revelation about sexual assault―culminating in an exquisite example of human connection.
Jackson Bird
When Jackson Bird was twenty-five, he came out as transgender to his friends, family, and anyone in the world with an internet connection. Assigned female at birth and having been raised a girl, he often wondered if he should have been born a boy. Jackson didn't share this thought with anyone because he didn't think he could share it with anyone. Growing up in Texas in the 1990s, he had no transgender role models. He barely remembers meeting anyone who was openly gay, let alone being taught that transgender people existed outside of punchlines.
Today, Jackson is a writer, YouTuber, and LGBTQ+ advocate living openly and happily as a transgender man. So how did he get here? In this remarkable, educational, and uplifting memoir, Jackson chronicles the ups and downs of growing up gender confused. Illuminated by journal entries spanning childhood to adolescence to today, he candidly recalls the challenges he faced while trying to sort out his gender and sexuality and worrying about how to interact with the world. With warmth and wit, Jackson also recounts how he navigated the many obstacles and quirks of his transition––like figuring out how to have a chest binder delivered to his NYU dorm room and having an emotional breakdown at a Harry Potter fan convention. From his first shot of testosterone to his eventual top surgery, Jackson lets you in on every part of his journey—taking the time to explain trans terminology and little-known facts about gender and identity along the way. Through his captivating prose, Bird not only sheds light on the many facets of a transgender life, but also demonstrates the power and beauty in being yourself, even when you're not sure who "yourself" is.
Gerri Hill
Workaholic Erin Ryder was on the fast track to self-destruction. Reeling after her lover walked out on her, she turned to booze and caffeine to make it through each day. After a family intervention, she finds herself on a remote ranch in New Mexico―on womyn's land―to detox and heal. No cell service, no Internet―she's convinced she won't last three days, much less for the three-month sentence her father has mandated. 
Running from the chaos that had become her life, Melanie West moved to Eagle Bluff Ranch seven years ago. By far the youngest there, she embraced the compassionate, peaceful life that the elders espoused. Living off what her garden produced, her chickens and goats became her friends and confidants. Exposure to the outside world was limited to the handful of guests who stayed a few days at the ranch each year. This summer would be different. Melanie found herself hosting a young woman for three months. A young woman who wanted to be anywhere but there. As the days and weeks passed, their animosity turned to friendship as they helped the other heal from their past failures. 
Eddie Jackson
There's nothing like day full of football and great food. While many fans tailgate on game days—gathering in the stadium parking lot to grill and eat with family and friends—the real fun of the weekend for former pro-football star and celebrity chef Eddie Jackson is "homegating": throwing a party in your own living room or den. With homegating, the party doesn't have to stop once the game starts.
Game-Day Eats combines Eddie's two greatest passions—cooking and football—in one hearty cook's playbook. Eddie gives you more than 100 recipes centered around eating, drinking, and spending time with friends while enjoying the game at home. The key to a great homegate is food that can be cooked while spending time with your guests. Because you're cooking in your own kitchen, you can go way beyond brats, chili, and cheeseburgers. With Game-Day Eats you can enjoy mouthwatering roasted tomatillo nachos and spicy pesto wings as well as fun surprises like citrus beer floats and Eddie's patented savory pizza bombs.
Laura Furman (Editor)
The O. Henry Prize Stories 2019—continuing a century-long tradition of cutting-edge literary excellence—contains twenty prize-winning stories chosen from the thousands published in magazines over the previous year. The winning writers are an impressive mix of celebrated names and new, emerging voices. Their stories evoke lives both near and distant, in settings ranging from Jamaica, Houston, and Hawaii to a Turkish coal mine and a drought-ridden Northwestern farm, and feature an engaging array of characters, including Laotian refugees, a Colombian kidnap victim, an eccentric Irish schoolteacher, a woman haunted by a house that cleans itself, and a strangely long-lived rabbit. The uniformly breathtaking stories are accompanied by essays from the eminent jurors on their favorites, observations from the winning writers on what inspired them, and an extensive resource list of magazines.
Audrey Vernick  and Liz Garton Scanlon, illustrated by Olivier Tallec
A one-of-a-kind, laugh-out-loud picture book, perfect for any kid who has ever begged or bemoaned, "Five more minutes?!" 
Families everywhere will recognize themselves in this clever, hilarious, and completely irresistible picture book. Five minutes is a lot of time ... or is it? Well, it depends on what you're doing, of course! Follow one little boy and his family on a very busy day, as he discovers that sometimes five minutes feels like forever—like when you're finishing up at the dentist's office or waiting in line for the bathroom or in the backseat on a long car ride—and sometimes five minutes feels like no time at all—like when you're playing your favorite game or at the tippy top of a roller coaster or snuggling up with a book before bedtime.
***
BUT WAIT, THERE'S MORE! 
There are so many Texas books publishing in September that we couldn't feature all of them. The following books also publish in September:
Christmas
A Country Christmas (Heart of Texas) by Debbie Macomber
A Coldwater Christmas (A Coldwater Texas Novel) by Delores Fossen
Cowboy Christmas Homecoming (Dark Horse Cowboys) by June Faver
Christmas with a Cowboy: Includes a bonus novella (Longhorn Canyon) by Carolyn Brown
Silver Town Wolf: Home for the Holidays by Terry Spear
An Amish Christmas Love: Three Stories by Beth Wiseman, Amy Clipston, Kelly Irvin
Cooking & Lifestyle
All the Houses Were Painted White: Historic Homes of the Texas Golden Crescent by Rick Gardner, Gary Dunnam
Entertaining at Home: Inspirations from Celebrated Hosts by Ronda Carman, India Hicks, Matthew Mead, Michael Hunter
The Well Adorned Home: Making Luxury Livable by Cathy Kincaid, Chesie Breen, Bunny Willams, John Rosselli
Beautiful Boards: 50 Amazing Snack Boards for Any Occasion by Maegan Brown
Culture & Criticism
Staging Black Fugitivity (Black Performance and Cultural Criticism) by Stacie Selmon McCormick
The Political Arrays of American Indian Literary History by James H. Cox
Faith & Inspiration
Now Is the Way: An Unconventional Approach to Modern Mindfulness by Cory Allen
What If . . . God Has Other Plans?: Finding Hope When Life Throws You the Unexpected by Charles R. Swindoll
Football
Bebes and the Bear: Gene Stallings, Coach Bryant, and Their 1968 Cotton Bowl Showdown by Ron J. Jackson, Jr.
Football at Historically Black Colleges and Universities in Texas by Robert C. Fink
You Saw Me on the Radio: Recollections and Favorite Calls as the Voice of Aggie Athletics by Dave South
General Fiction
Odd Birds by Severo Perez
Happy Birthday Dear Darrell and Other Stories by Robert Lacy
El Paso Sunrise by Louis Bodnar
Opioid, Indiana by Brian Allen Carr
Weird Wild West: True Tales of the Strange and Gothic by Keven McQueen
Listening to Love (An Amish Journey Novel) by Beth Wiseman
The Light Here Changes Everything: A Novella by Patrick Stockwell
Comfort Songs by Kimberly Fish
General Nonfiction
 The Fightin' Texas Aggie Band: 125th Anniversary Edition by Mary Jo Powell
Conflict and Cooperation: Reflections on the New Deal in Texas by Milton S. Jordan, George Cooper
Seeking Justice for the Holocaust: Herbert C. Pell, Franklin D. Roosevelt, and the Limits of International Law by Graham B. Cox
Fort Worth (Images of America) by Dawn Youngblood, PhD
Unwanted Witnesses: Journalists and Conflict in Contemporary Latin America by Gabriela Polit Dueñas
The Last Card: Inside George W. Bush's Decision to Surge in Iraq by Timothy Andrews Sayle, Jeffrey A. Engel, Hal Brands
The Evening Star: The Rise and Fall of a Great Washington Newspaper by Faye Haskins
How to Build Your Baby's Brain: A Parent's Guide to Using New Gene Science to Raise a Smart, Secure, and Successful Child by Gail Gross 
Graphic Novels
Army of Darkness/Bubba Ho-Tep TP by Scott Duvall, Vincenzo Federici
Kid Lit
All Aboard Texas by Haily Meyers
The Buddy Bench by Patty Brozo, Mike Deas
Pavi Sharma's Guide to Going Home by Bridget Farr
The Hidden Code by P.J. Hoover
Douglas by Randy Cecil
Ella McKeen, Kickball Queen by Beth Mills
Lab Mice Heist (What Happened?) by Verity Weaver, Courtney Huddleston
Library Buddy (Doggie Daycare) by Carol Kim, Felia Hanakata
Mr. Gringle's Magical Wheelchair by Natalie Gonchar, Eduard Kotz
Monsterstreet #3: Carnevil by J.H. Reynolds
When a Kid Like Me Fights Cancer by Catherine Stier, Angel Chang
The Woods by R.L. Toalson
Look for our October preview on Sunday, September 29!