Texas men of mystery, memoir
If Rick Treon writes about the life he knew as a newspaperman, John Bishop does the same with his physician-hero 
Let's take a walk on the other side of the street this month and look at some genre fiction by Texas men.
Spur Award-winning western author Preston Lewis, of San Angelo, has a new and smart approach for getting his novels before an audience. He has compiled five books into each of two volumes: Preston Lewis Western Collection I (March 2020) and Preston Lewis Western Collection II (April 2020). The collections include Spur-Award winner Blood Country, finalist Lone Survivor, and the comic nonfiction Bluster's Last Stand. They deal with everything from the Texas Revolution to the Battle of Yellowhouse Canyon and are available now on Kindle Unlimited.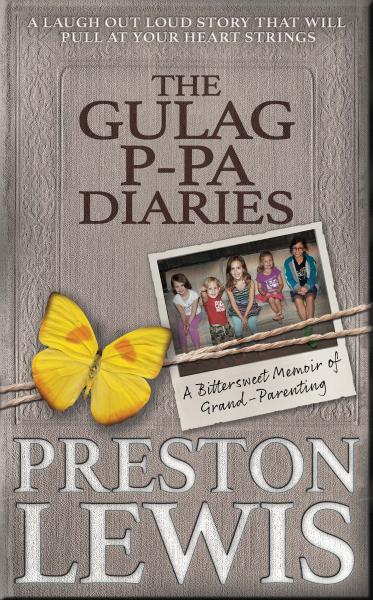 Lewis is known in part for his comic westerns, and that sense of humor takes a different turn in The Gulag P-Pa Diaries (April 22, 2020) where, in alternating chapters, Lewis and his wife Harriett recall the loss of their first grandchild and recount the adventures of their annual "camp" for the subsequent  five grandchildren—four girls and a boy. Harriett, or Mema, does yeoman's work for weeks beforehand planning, sewing, and cooking. But it is Preston, or P-Pa, who brings wry and sometimes dark humor to the camps:
Cora K did a magic trick and made Mema disappear. Now, no one can find her. Panic is setting in. We'll starve to death. Finally, Hannah L found her, cowering in fear behind a bedroom door. What have we gotten into? The inmates are thinking the same thing. Hannah L said to Cora, "Don't make Mema disappear again or we'll all go to Gulag P-Pa. I have a plan to overthrow 'The Condamant.'" (Her pronunciation)
Or,
So, here's the culinary minefield Mema must cross: We have one grandchild who is lactose intolerant. Okay, we can deal with that. Another doesn't like any food that has the letter "B" in its name, peanut butter being the only exception. Anything colored green is off the table, so to speak, for another one. Then we have one that won't eat anything at all and must be fed intravenously. One doesn't like pizza, can you believe that? Another won't eat a hamburger if it has sesame seeds on the bun. Several don't like crusts on bread. Vegetables present their own set of problems and grimaces from several! And to top it off, just because The Grands would eat a dish last year, doesn't mean they'll eat it this year. The list goes on.
Former newspaper reporter and editor turned thriller author Rick Treon will publish the first in his Bartholomew Beck series, Let the Guilty Pay, in July, but to introduce his hero, Treon is offering the novella, Live with the Truth, as a free digital prequel.
Bartholomew Beck is a one-time crime writer whose last book is twenty years in the rearview mirror. In the prequel, he desperately tries to restart his career by agreeing to investigate a dominatrix accused of murder and discovers a much darker situation than he had bargained for.
Treon's other novel is Deep Background, winner of the 2019 Pencraft Award for Literary Excellence in Suspense. It features a reporter who reunites with an ex-lover to work a case—until her kidnapping forces him to change direction and, ultimately, fight to take back control of his life.
If Rick Treon writes about the life he knew as a newspaperman, John Bishop does the same with his physician-hero Dr. Jim Bob Brady of Houston. Bishop, also a Houstonian, has a triple life as an orthopedic surgeon, a musician, and an author. Twenty-some years ago, he wrote four medical thrillers. Frustrated that nothing was published, he put his manuscript disk aside on a shelf.
In 2019, his son offered to try to update the disks into a form usable today, and Bishop agreed. To his surprise, his son had the first book, Act of Murder, published on Amazon. In its pages, Dr. Brady witnesses the 1994 supposed hit-and-run death of a young boy. Suspicious, he enlists his wife and grown son, and they determine to uncover the truth about the tragedy. They find themselves entangled in a mystery that involves one of Houston's major teaching hospitals as well as the elite community and forces that reach all the way to Galveston.
Still to come this year are Act of Deception, in which Brady is sued for malpractice after a mysterious infection necessitates the amputation of a leg, and Act of Revenge, in which a plastic surgeon must deal with his wife's lupus, possibly caused by breast implants, and the cancellation of his malpractice insurance.
Judy Alter, former director of TCU Press, is the prolific author of books, both historical and mysterious, mostly about Texas women. Her most recent book, The Second Battle of the Alamo, tells the story of the two women who saved the Alamo from demolition. Follow Judy at http://www.judyalter.com.