Texas Women of Mystery & Romance
Willis says her books may not change  your life, but they will change your day and that's just as important.
Becki Willis, best known for her Texas Mysteries series, "The Sisters, Texas" has found a successful pattern with two recently introduced series: "Texas General Cozy Cases of Murder" and "Texas Cozy Cases of Romance." First in the murder series is A Case of Murder by Monte Carlo, which sets up a conflict/attraction between ER nurse Laurel Benson and police detective Cade Resnick. A patient under Benson's care is considered by Resnick to be a suspect who must be questioned. The clash between concern for a patient and justice is not a new one, but Willis brings it to life in this mystery set in College Station, Texas.
First in the romance series is A Hand-Me-Down Heart, focused on the rivalry between two sisters that traces back to childhood. Hope was the talented one, Grace the smart one. Grace learned to live with it, even when a high school boy broke her heart. But years later, when he returns to town, Grace decides to fight for him.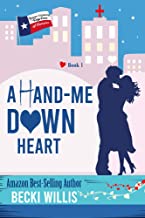 Becki Willis likes to write about believable characters in believable situations—a touch of humor, a touch of romance, and a whole lot of mystery. She says her books may not change  your life, but they will change your day and that's just as important.
Watch for a new one from Lisa Wingate, author of the New York Times bestseller Before We Were Yours (2017). Historical fiction at its best, The Book of Lost Friends is scheduled for April publication. It's a story within a story—in 1987 Benedetta Silva, a beginning teacher, lands in a tiny Mississippi River town and a poor rural schoolhouse. An outsider, she is viewed with suspicion, but she finds a life-changing story and a hidden book about three women who ventured to Texas during Reconstruction—one a pampered heir to a now-ruined plantation, the second her Creole half-sister, and the third a young freed slave who longs to find the family she was sold away from. It's a perilous journey on roads made dangerous by vigilantes and soldiers still fighting for the cause, but the women push on—one looking for her lost inheritance, one looking for her family, and all three financially desperate.
Wingate, who makes her home in North Texas, began writing as a child, her career spurred by a first-grade teacher's prediction she would become an author. Lucky enough to marry into a family of southern storytellers, she herself was called a master storyteller by the group Americans for More Civility, who gave her a National Civies Award. Believing that fiction should inspire and uplift, she says she likes happy endings.
Slightly less sunny in nature is Pensions, Tensions, and Homicide, new from Tricia L. Sanders, noted for cozy mysteries and women's fiction with "class, sass, and a touch of kickass." Formerly a curriculum writer, Sanders likes stories of women on journeys of self-discovery. And she says writing fiction is much more fun than training guides and lesson plans.
Pensions, Tensions, and Homicide is the story of Cece Cavanaugh, newly divorced, who confronts an old friend who once turned her back on Cece when she needed help. Cece, desperate for money to feed her family a Thanksgiving dinner, cleans a flooded school. But in the janitor's workroom, she stumbles on the body of her friend's ex-husband. Enter Detective Case Alder. Cece is determined to avoid his advances but eager to help him by eavesdropping on school faculty. The trouble is, she takes it one step farther and begins questioning people and collecting evidence, putting herself in danger. And then there's the arrival of her elderly mother, who has just left her new husband. This is a mystery solidly in the cozy tradition—you'll have to read it to see how things work out.
Judy Alter, former director of TCU Press, is the prolific author of books, both historical and mysterious, mostly about Texas women. Her most recent book, The Second Battle of the Alamo, tells the story of the two women who saved the Alamo from demolition. Follow Judy at http://www.judyalter.com.