Texas authors write military romance that's so much more
One of the great things about Romance is that they're never just one type of story.
One of the great things about Romance is that they're never just one type of story. Authors often combine several tropes in telling lovers' journey to happily-ever-after. Take for example the featured books this month -- Janalyn Knight's The Cowboy SEAL's Daddy School and Nellie Kraus's Crossing Love Lines. They are both Military Romance and so much more.
Small Town/Second Chance Romance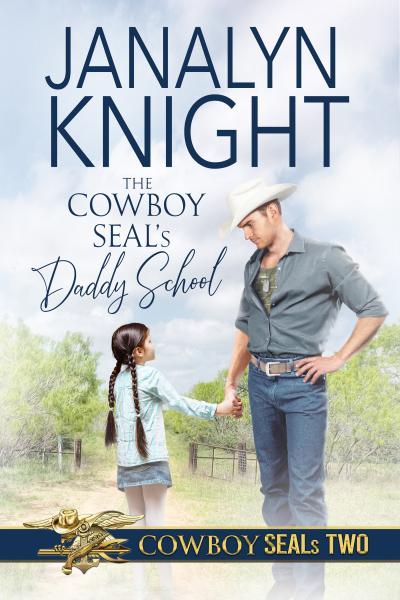 The last thing Slade Williams, the intensely driven, hard-partying Navy SEAL, sees coming is his future as a single father. He already knows he sucks at the daddy part, not that it's really his fault, but a tiny-for-her-age six-year-old daughter now looks to him as the center of her world.
Tina Anderson, the first-grade teacher Slade dated the previous year when he visited his SEAL buddy's cattle ranch and then promptly dumped, wants nothing to do with the outgoing man who so easily forgot her. Her heartbreaking past made this rejection a nearly unbearable experience. Yet, when she hears that Slade will be taking in his grieving daughter, she's ready to offer her help.
But trusting the handsome ex-SEAL is another matter. When passions sizzle, she refuses to give in. It'll take a lot more than good looks and a devastating smile to win this strong woman over.
Has Slade finally met his match? Will Tina find a way to forgive and forget?
If you like your romance to sizzle, get your copy of The Cowboy SEAL's Daddy School from Amazon Kindle Unlimited.
Nobody knows sexy Texas cowboys like Janalyn Knight. She grew up competing in rodeo, later working on a ten-thousand-acre cattle ranch, and these experiences lend authenticity to her characters and stories. Janalyn is an avid supporter of the Hill Country Horse Refuge and absolutely owns the title of wine drinker extraordinaire. When she's not writing spicy cowboy romances, she's living her dream—sharing her twenty acres of Texas Hill Country with her daughters and their families.
Multicultural Romantic Suspense
Racing and scandal are her family's legacy…
Alena Betmunn comes from a high-profile stock car racing family. A competitor's violent attack left her near death and made her front-page news. Serving on a murder trial jury brings up painful memories and throws a wrench into her attempt to hide from the past.
Gabriel DeLeon craves justice for his younger brother, who has been convicted in a sham of a trial. As a Marine, he's used to facing insurmountable odds with courage and determination, but asking Alena to help clear his brother will test his honor. Even in civilian life, there are boundaries that can't be crossed.
When justice and love collide, Gabriel's family loyalty renews Alena's strength to fight for what she believes in, no matter the cost. Marines don't surrender and Alena doesn't believe in losing. In a race stacked against them, can there be two winners at the finish line?
Set in Houston, Crossing Love Lines is a multicultural, romantic suspense with a military hero and a strong, independent heroine. It's now available for purchase from Amazon.
Nellie Krauss currently lives in New Braunfels, Texas and is a Pro member of Romance Writers of America and San Antonio Romance Authors. She writes romantic suspense and contemporary romance with sassy heroines. Her cross-cultural stories are inspired by her time spent living with Native Americans on the Pine Ridge Reservation in South Dakota. The Renaissance Fair is her favorite place to be when she's not in the Black Hills or at the beach. Her biggest thrill is hearing the roar and rumble of her Harley's engine on the open road.
This summer, Maida Malby can be found poolside, under the shade of a large umbrella, sipping half-and-half iced tea while writing Samui Heat, the next sweet and steamy book in her multicultural contemporary romance series Carpe Diem Chronicles. When not writing, Maida is cooking, baking, and taste-testing the dishes and desserts she features in this book with a chef hero and a heroine who can't cook but has strong opinions about food, especially about Filipino food.