It's summer in Texas, and we've got sizzling titles.
Shining a spotlight on our diverse community of Texas-connected romance authors!
Hello, Summer! We all know how hot it can get in Texas during this season. Our advice: keep cool, stay indoors, and let the heat come from the books you're reading. Here are some of our sizzling recommendations:
Romantic Comedy
Mia has had her whole life mapped out since she was 18. She's supposed to follow up her math PhD with a research postdoc, but her 20-year tenure plan takes a surprise deviation when she's forced to settle for a temporary teaching job at a small-town university.
It's not easy adapting to rural life when you're an inveterate city girl, but Mia tries to make the best of it until she can get the heck out of Podunk—er, Crowder, Texas. Things finally start to look up after a run-in with some terrifying local wildlife sends her careening into the arms of a sexy goat farmer/cheesemaker.
Mia finds herself unexpectedly drawn to Josh's gruff cowboy charms, especially after she learns what lies behind the thick walls he's built around his heart. The deeper their connection grows, the more Crowder starts to feel like home.
But Mia can't afford to stay. Not unless she's willing to give up on her dream—or trade it in for a new one.
Elementary Romantic Calculus is a full-length standalone novel and the sixth book in the Chemistry Lessons series of contemporary romances featuring STEM heroines. Each book in the series focuses on a brand-new couple with their own happily ever after and can be read in any order. It's now available from your favorite book retailers.
Susannah Nix is a RITA Award-winning and USA Today bestselling author of contemporary romance. She lives in Texas with her husband, two ornery cats, and a flatulent pit bull. When she's not writing swoony, relatable romances, she enjoys reading, cooking, knitting, and watching British mysteries on TV.
Small Town Romance
While locals know Ido is the most romantic town in Texas, it still has some tough competition from larger, more well-known towns. But when the neighboring town is disqualified from the running, Mayor Lacey Cherish thinks they may finally have a fighting chance…with the right hospitality host, that is. Desperate to save his family farm by garnering more tourism, Jasper Taylor agrees to take on the role. He will do anything it takes to win Ido the title, even if it means catering to a beauty queen's every whim for a month.
When the panel comes to evaluate the town, former beauty queen-turned-reluctant-judge, Delilah Stone, receives a less than perfect welcome. Everything that could possibly go right goes wrong, and Delilah is more convinced than ever that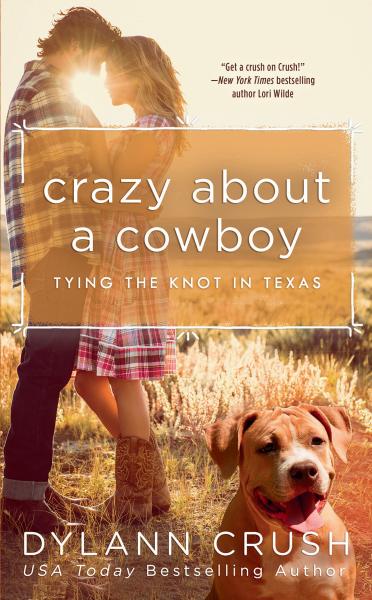 Ido doesn't stand a chance against the competition. While it could just be a series of unlucky coincidences, Jasper thinks the root of their misfortunes may be a figure from his past who he hoped was out of his life for good…
Now it's up to Jasper to show Delilah just how romantic the town of Ido can be, even if it means losing his own heart in the process.
Crazy About a Cowboy, the third book in the Tying the Knot in Texas series, is a mix of suspense and charming opposites-attract Western romance. All three titles are widely available where you buy your books.
Dylann Crush is the author of All American Cowboy and Cowboy Christmas Jubilee. A romantic at heart, she loves her heroines spunky and her heroes super sexy. When she's not dreaming up steamy story lines, she can be found sipping a margarita and searching for the best Tex-Mex food in Minnesota. Although she grew up in Texas, she currently lives in a suburb of Minneapolis/St. Paul with her unflappable husband, three energetic kids, a clumsy Great Dane, a rescue mutt, and a very chill cat. She loves to connect with readers, other authors, and fans of tequila.
Maida Malby was born and raised in the Philippines. She was flying up the corporate ladder in Singapore when romance came into her life in the form of a handsome American airman. She moved to the US to pursue her happy-ever-after, and they settled in West Texas, where she writes stories inspired by her own love life. Her latest book, Global City Tryst, features a high-powered Filipina executive and a US Air Force officer. No, it's not about Maida and her husband. Not really.