A cowboy romance and a multicultural romance ... some of the best ingredients for a perfect Valentine's Day
Saturday, February 12, 2022
While we celebrate love all year round in Romance, the genre is always synonymous with the Love Month of February. Roses, kisses, and Romance books—some of the best ingredients for a perfect Valentine's Day.
Contemporary Cowboy Romance
Lifestyle influencer Jen Green is determined to turn her life around on her own. She absolutely doesn't need help from the handsome cowboy veteran at the ranch next door…
After inadvertently flashing her boobs to the whole internet, Jen Green is attempting to outwait her notoriety by homesteading in Chance County, Texas. She doesn't want—though she might just need—help from the cowboy army veteran who lives down the road.
Opposites attract romance

A cautious cowboy afraid to trust again

A bubbly heroine in need of a fresh start

Adorable puppies galore at Big Chance Dog rescue
Charming Texas Cowboy, Book 3 in the Big Chance Dog Rescue series, is available from major retailers.
When Teri Anne Stanley isn't writing sassy, sexy, love stories from her home near Sugartit, Kentucky (which is, no joke, between Beaver Lick and Rabbit Hash), she's probably doing some sort of artsy-craftsy thing and hanging with Mr. Stanley, her three favorite children, and the dogs. Sometimes she's masquerading as a day job science geek. She's definitely not cooking or cleaning.
Multicultural Romance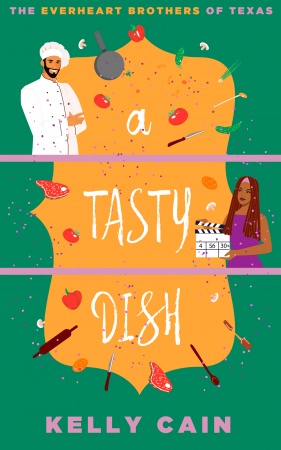 The show must go on…
Kasi Blythewood has spent most of her life in the shadow of her famous film producer father who's deliberately kept her under his thumb with tough love. Ready to make a name for herself, Kasi secretly heads to Austin for a film conference to rustle up some financing for her dream project—an indie series that showcases cuisine from around the world.
When Kasi meets chef Declan Everheart, it's instant lust spiced with an intriguing business opportunity. Declan's father, a Michelin star chef, is interested in funding her film, but there is a sexy string attached—Declan must be a producer on her series. Not ideal. Kasi craves independence, and she knows business and pleasure never mix well, but she's exhausted all other options.
Declan's more than just eye candy and Kasi's not blind. She immediately discovers Declan's not just a natural producer and talented chef, he also shines on camera as the host. Can Kasi convince Declan to break away from his father and build the life he wants…with her?
A Tasty Dish, Book 2 of The Everheart Brothers of Texas series, is available for preorder in eBook, paperback and audio. Out on March 8, 2022.
Kelly Cain is a native Northern Californian but has spent the last couple of decades in Texas, currently residing in the live music capital of the world, Austin. Consequently, most of her books are set somewhere between those two locations.
Kelly writes multicultural romance with determined women directing their own fates, and the swoon-worthy men who adore them. She loves reading most genres but please don't ask her to pick just one.
When she isn't reading or writing, Kelly is most likely using a genealogy site to research her extended family, both old and new. Or cooking/baking something delightful.
Maida Malby is in the deep recesses of her writing cave, determined to meet deadlines for short story anthologies and to finish her series Carpe Diem Chronicles. You'll see her pop up on social media once in a while. Check out her website maidamalby.com for details on what she's currently writing, reading, and reviewing.