A second-chance romance and a Highland historical romance for holiday reading
Sunday, November 28, 2021
It's the most wonderful time of the year. Cooler weather and the holidays are upon us. For many, it's considered the hugging season, the kissing season, the season of love. In Texas Reads Romance, that's every season.
Second Chance Romance
You never get a second chance at a first kiss…or do you?
She's a big-city executive with a cool head for business.
He's a small-town veterinarian with a passion for saving injured wildlife.
As children, they'd been the best of friends, until the day Eve had so determinedly—and somewhat disastrously—kissed Daniel on the lips, just before his family moved back to England.
This December, they're both back in town, and Eve's grandmother is on a mortifyingly obvious matchmaking mission. But Daniel has come back to Masterson to put down roots; Eve will be gone after the bakery's holiday rush. Nothing good could come from falling for the tall, dark, and British version of her childhood sidekick.
Yet the more time they spend together, the harder it is to resist the temptation to take a second chance at that first kiss.
After all, one little kiss before Christmas won't change their lives… will it?
Gingerbread & Jingle Bells, the award-winning novella set in the fictional Texas town of Masterson, is available from major digital book retailers.
Despite a no-nonsense background as a West Point graduate and U.S. Army officer, Caro Carson has always treasured the happily ever after of a good romance novel. After her military service, she worked in the healthcare industry with a Fortune 100 company, talking science with doctors who were rarely handsome bachelor Texans like the doctors in her books.
 Now a USA Today bestselling author and a RITA™ award winner, Caro is delighted to be living her own happily ever after with her husband (who is a handsome Texan) and their two children.
Highland Historical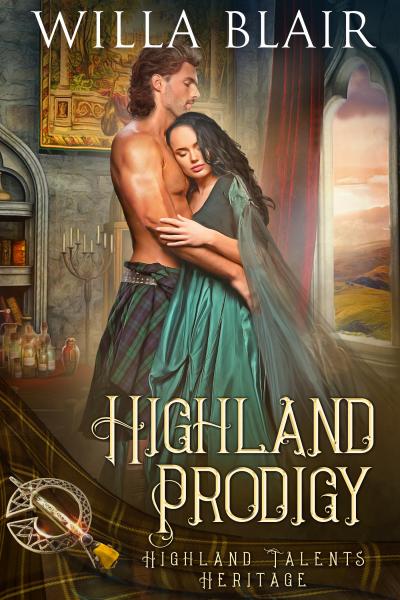 Jamie Lathan is a formidable warrior, yet his life depends not only on his legendary prowess with a sword, but on keeping a dangerous secret. Like his mother, Jamie wields the power of healing magic. From childhood, he knew that those skills, often feared in a woman, would be condemned outright in a man. Discovery could mean imprisonment or death, but Jamie soon learns that denying his compulsion to heal is to deny the very core of himself.
Aftyn Keith desperately tries to fill the role of Healer after her mother dies unexpectedly. Still an apprentice, ill-prepared and hampered by her illegitimate birth, Aftyn knows that her best may not be enough to keep her place as a useful member of the clan. When a handsome Lathan warrior with healing skills far beyond her ken arrives and succeeds in saving his gravely injured kinsman, she begs him to teach her.
Jamie risks everything in choosing to trust Aftyn. But when she unwittingly betrays him, Aftyn is faced with a decision that may gain Jamie's freedom but cost her the only home that she has ever known. In the face of her growing feelings for Jamie, she knows that either decision will leave her heart broken beyond any Healer's mending.
Highland Prodigy, the first book in the Highland Talents Heritage series, is now available from Amazon.
Willa Blair is an author of Scottish historical, light paranormal, and contemporary romance filled with men in kilts, psi talents, and plenty of spice. Her books have won numerous accolades, including being a National Readers Choice Award Finalist, Booksellers' Best Award Finalist, and Readers' Crown Finalist. Willa resides in San Antonio with her retired Army husband who she loves to call Laird Peter. She loves scouting new settings for books, and thinks being an author is the best job she's ever had.
November is Maida Malby's birthday month and she celebrated by writing another story in her Carpe Diem Chronicles series. Three of her books—Boracay Vows, New York Engagement, and Singapore Fling—are part of the Lone Star Lit Holiday Gift Guide 2021.