Discover the Austin Mystery Writers group
Sunday, September 12, 2021
Austin Mystery Writers is a small group dedicated to improving their own and others' writing skills. The membership includes writers with several publications to their credit, but also some who have not been widely discovered by Texas readers.
LAURA OLES is proof that members meet the goal of improving their craft. After a twenty-year history as a photo industry journalist, she turned to crime fiction. Her debut novel, Daughters of Bad Men (2018), was an Agatha Awards nominee for Best First Novel, a Killer Nashville Claymore Award finalist, and a nominee for the Killer Nashville Silver Falchion™ Readers' Choice Award.
Daughters of Bad Men features Jamie Rush, a female sleuth who specializes in finding lost people. Although Jamie does not trust her conniving brother, she is compelled to help search for his daughter. While spinning a tale of suspense, Oles also explores the tangled relationship between siblings and the impact of family history.
Oles returns to those themes in her most recent short story, "Everybody's on the Run," which appeared last February in The Great Filling Station Holdup: Crime Fiction Inspired by the Songs of Jimmy Buffet, edited by Josh Pachter. In this story, Jack Donnamore, though the first-born, reaches out to younger sister Lex when he finds himself in trouble—again. In an essay on how Buffet's song inspired the story, Oles wrote that she wanted to explore how Jack's choices in life had been shaped by his family legacy. He looked to earlier generations for what constituted an acceptable life, taking his cue from their choices. Jack's story, like its Terlingua setting, looks to the past as it confronts the present. Texas mystery author Kaye George describes Oles' story as, "[t]ruly one of the best mystery stories I've read."
*****
Traditional advice to authors is to write what you know. Austin lawyer and mystery writer MANNING WOLFE took that advice seriously when she created her Texas Lady Lawyer Series. The newest in the series, Chinese Wall, launched in July and is the fourth Merit Bridges legal thriller. Lawyer Merit Bridges, who has survived threats, kidnapping, and torture, is once again put in real danger over a case involving the legal ethical barrier known as the Chinese wall, in which confidentiality forbids sharing of information between branches of the same entity. For instance, a lawyer cannot disclose information revealed by a partner in a security firm to another branch of the same firm. It's up to Bridges to determine if the FBI's involvement in the case she is working on is to protect or deceive. Along the way, she may lose her life.
Bridges is a widow who works hard and plays hard, drinks a lot of wine, and shows a cougar-like preference for younger men. Plus, she has a lot of what you might call Texas sass. Wolfe's graphic mysteries are cinematic with a strong visual component. The courtroom drama is balanced against behind-the-scenes action. Wolfe,  who says she was not a litigator but dealt with property and business issues, wanted readers to see the business and strategy side of the law. The first three titles in the series are Dollar Signs, Music Notes, and Green Fees.
Wolfe is also the force behind Bullet Books Speed Reads and co-author of two of the books. Bullet Books are crime fiction for people on the go—eBooks and audiobooks originally intended for travelers, until COVID-19 put a stop to travel. These days, she says they are finding an audience with people who don't want to spend eight hours on one book. The books, particularly popular with commuters and beachgoers, are optimized for mobile devices and can usually be read in about three hours. Wolfe co-authored Killer Set: Drop the Mic with Bill Rodgers and Iron 13 with Billy Kring. Wolfe also posts on the Bullet Books blog and recently filmed a segment to be part of a TV show, where she was presented as an author of legal thrillers (not far off the truth) who goes to the Valley to investigate the notorious Mowbray murder case in Brownsville. The episode, "Between a Copy and a Hard Place," aired September 11 on Oxygen TV.
*****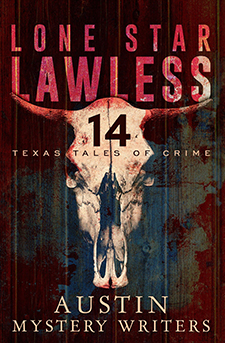 Austin Mystery Writers published a 2017 anthology, Lone State Lawless, which includes fourteen stories by thirteen authors, including Oles and Wolfe. Ranging from historical to noir crimes, the collection presents tales of cowboys and criminals, girlfriends and grifters, morticians, motel clerks, and even some humorous touches. Note: Not all of the contributors are members of the Austin Mystery Writers—they recruited some of their friends.
Judy Alter, former director of TCU Press, is the prolific author of books, both historical and mysterious, mostly about Texas women. Her most recent book, Saving Irene, was published in September. Follow Judy at http://www.judyalter.com.