A memoir with a mystery, an inspirational author in Africa, and the hidden sins of an ancestor
An endorsement from award-winning journalist Dan Rather is a pretty strong recommendation. Of You'll Never Find Us, a memoir of child kidnapping and recovery written by Jeanne Baker Guy, he writes, "This is a book about courage …. A story told with intensity and love."
In 1977, Jeanne's German ex-husband, Klaus, tells her he has a new job and wants to take their three-year-old daughter and six-year-old son away for a long weekend to celebrate. Theirs had been a tumultuous ten-year marriage, and divorce had been followed by difficult encounters, but that one time, Jeanne relents. Klaus never returns and instead sends a letter in which he declares that he has fled to Germany and Jeanne will never see him, or her children, again.
Jeanne spent four months looking for legal support but discovered that Federal kidnapping laws were little help. She finds, instead, that the kidnapping ultimately becomes a doorway to unexpected strength that gives her the courage to find her stolen children—and steal them back.
This compelling story of loss and fear and, finally, recovery is set against the backdrop of the feminist movement. Jeanne Guy had been raised traditionally—the man was the head of the household. Girls and young women changed their behavior according to what men determined they should do and be. She was, she realized, what Gloria Steinem called, "the female impersonator."  Throughout difficult divorce proceedings—a divorce resisted by her soon-to-be ex—she thought if she could just do what he wanted, he would let her go, give her the divorce she knew she needed. Reluctantly, she agreed to everything, even shared custody of the children, even though her heart cried out that children should go with the mother. None of it was enough. Klaus took the ultimate revenge.
Jeanne tells her story with clarity and insight, recognizing her own growth even in the midst of anguish. Losing one's children is every parent's worst nightmare, and Jeanne takes you with her, step by step, page by page, on her desperate journey. Author Sarah Bird wrote, "A universal story of a young mother coming into her own power, regardless of past mistakes, bad judgment, and fears. An emotionally gripping heroine's tale, one too many will relate to."
=+=+=
You know those T-shirts that say, "I wasn't born in Texas, but I got here as soon as I could"? The story's a bit different for award-winning author Lisa Harris: she had two children while living in Texas, which sort of makes her an unofficial Texan, and rumor is she'd like to get back as soon as she can. Meantime, she and family have lived in Mozambique, Africa, as missionaries for over sixteen years and run a small non-profit organization, ECHO, which promotes education, compassion, health, and opportunity.
Lisa carries these values into her inspirational thriller mysteries, which she sees as an extension of her ministry. New this summer is The Chase, second in her US Marshal series, following The Escape, which introduced US Marshal Madison James, a woman in an unusual
profession.
Three months earlier, someone shot Madison. She still doesn't know who, but she does know recuperation is over, and she wants to get back to work. When her partner, Jonas Quinn, learns that a federal warrant has been issued on a man connected to a string of bank robberies, Madison jumps at the chance to get back to work. What she and Jonas find is a bank robbery in progress that's gone wrong.
These are no ordinary bank robbers, in it for the money. They are thrill-seekers, taking risks to get adrenaline rushes. Getting caught is not part of their game. Captured, they escape, and Madison and Jonas set out to hunt them down and bring them to justice before someone else—someone close to them—gets hurt . . . or worse.
Thriller is the right term for this adventure that will take you from Seattle to the San Juan Islands on a nonstop chase where feelings are complicated, and failure isn't an option.
Other books by Harris include the Angels of Mercy Series, with Lynne Gentry, the Love-Inspired Suspense Series, and several stand-alones. See her web site at Books | Lisa Harris Writes.
=+=+=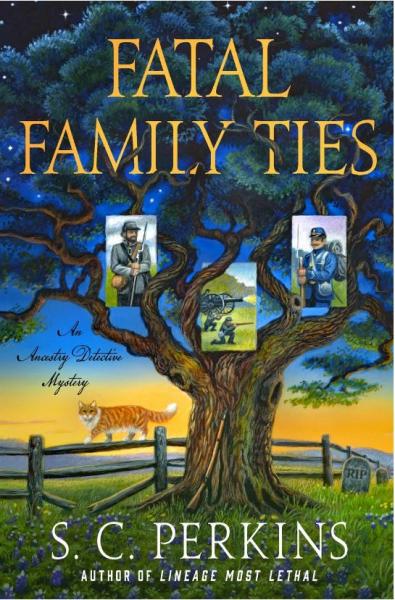 Houston author S. C. Perkins is back with a third title in her Ancestry Detective mystery series. In Fatal Family Ties, a former co-worker, Camilla Braithwaite—not one of genealogist Lucy Lancaster's favorite people—asks Lucy to help her clear the name of an ancestor, a Confederate general with a reputation as a phony and a deserter. Before Lucy can find out much, a member of the large Braithwaite family is murdered and an artifact goes missing. There are lots of suspects among the Braithwaites, including Camilla herself, but Lucy must remember, as she hunts for a killer from Austin to Houston and back, that she never promised Camilla she'd like the outcome of her search. Another good braiding of the past into a contemporary mystery.
Judy Alter, former director of TCU Press, is the prolific author of books, both historical and mysterious, mostly about Texas women. Her most recent book, Saving Irene, was published in September. Follow Judy at http://www.judyalter.com.