All about diversity -- from sheep to mother-daughter duos -- in Texas mysteries
Talk about diversity! Award-winning author Marlene Bell is also an artist and a photographer, with a special interest in—sheep! She and her husband live on a wooded ranch in East Texas with their beloved (and very spoiled) horned Dorset sheep, a huge Italian sheepdog that guards the sheep, and two cats that rule the roost.
Marlene began her art career because she could not find sheep imagery on stationery in catalogs. She designed her own. Her sheep landscapes have been used on the covers of industry magazines such as Sheep!, The Shepherd, Ranch & Rural Living, and Sheep Industry News. And she has a sheep business, Ewephorics, featuring not only live sheep but a whole line of related gift items—clothing, jewelry, paper goods, etc. They may be ordered online at http://www.Texassheep.com. You can also sign up for the Ewephoric newsletter.
Naturally, Bell writes about sheep. Her award-winning Mia and Nattie is a read-aloud picture book for children who love animals. Based on a true story, it tells of Mia's visit to her grandmother's farm where she falls in love with a newborn, orphaned lamb, and names it Nattie. Mia soon discovers that Nattie is different from other lambs and doesn't quite fit in—just the way Mia herself often feels. When Mia's grandmother announces she will sell Nattie to a neighbor, Mia comes up with a plan to show her family just how special the lamb is—and to save her.
But Bell doesn't just write for children. Her Annalisse mysteries feature a New York antiquities expert, Annalisse Drury. In the first book, Stolen Obsession, Annalisse loses her best friend to murder. Convinced that the murder revolves around a magnificent 500-year-old bracelet that carries a curse, Annalisse finds herself tangling with a Greek gallery owner and his playboy son, Alec Zavos. What follows is a tale of romance, kidnapping, and danger that takes Annalisse to Crete.
The second book in the series, Spent Identity, takes Annalisse to farm country more familiar to Bell, although the setting is upstate New York, not Texas. To distract herself from the fizzled relationship with Alec Zavos, Annalisse goes to the farm where she grew up,  whic
h she will one day inherit. Her Aunt Kate lives there now. To her dismay, she finds the farm is for sale—and there's a murdered man's body in the barn. Fearing for their safety, Annalisse and her aunt turn to Alec and shelter at his Catskills estate. But when Kate goes missing and Annalisse searches for her, she uncovers the secrets of her family—and knows someone is willing to kill to see that they remain secret.
You can keep up with Bell's writing—and her sheep—at her blog, MarleneMBell.com/blog.
Fort Worth resident Laura Castoro took time out from graduate studies twenty-six years ago to care for three toddlers at home and try her hand at fiction. She sold her first book, a historical romance titled Silks and Sabers, two years later and decided to see where writing would take her. She never looked back and now has thirty-nine books in such genres as contemporary romance, westerns, sagas, and romantic suspense. The focus of her writing has gradually moved to the difficult and universal issues surrounding race and family in these modern times.
One of her most acclaimed novels, Crossing the Line, will be reprinted by HarperCollins in August. It's the story of a mother and daughter who find their attitudes challenged by everyone around them. As Castoro writes, "It ain't easy being biracial and a trust fund baby, but blue-eyed Jesse Morgan is determined to just be herself at an eastern college—where no one will know who or what she is...unless she chooses to tell them."  Jesse's mother, high-powered attorney Thea Morgan, widowed upon the death of her white husband, is marrying Rev. Xavier Thornton—the former athlete and successful black businessman-turned-pastor she first fell in love with at sixteen. A fair-skinned black woman who cracked the glass ceiling in a Dallas-based law firm by making partner, Thea assumes her identity difficulties are behind her. Like mother, like daughter, Thea and Jesse discover that sometimes to get what you need most, you to have to put everything, even love, on the line.
Castoro followed this novel and its characters with Love on the Line, where readers see both mother and daughter trying to adjust to their new roles. Thea is having difficulty settling in to being the pastor's wife in a congregation where her light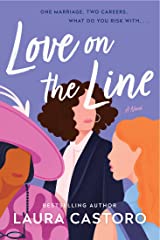 skin and corporate background make her suspect. Jesse, at college, realizes no one will know of her African American heritage if she doesn't tell them. But is that denying her heritage? Other notable titles by Castoro include Icing on the Cake and A New Lu.
Laura Castoro loves to travel. She's been part of ship christening in Norway, gone scuba diving on the Great Barrier Reef, and climbed glaciers on two continents. She's logged miles in England, Ireland, Denmark, Norway, Germany, France, Belgium, Italy, and Australia. The Caribbean, Mexico, and Canada? Of course! Just now, she's trying to finagle a trip to China. She's lived in Washington, D.C., Connecticut, and New Jersey, with long stretches in between under the big sky of Texas. Currently, she's back home in Fort Worth.
Judy Alter, former director of TCU Press, is the prolific author of books, both historical and mysterious, mostly about Texas women. Her most recent book, Saving Irene, was published in September. Follow Judy at http://www.judyalter.com.