Writing in Texas, writing about Texas, and a slim connection
Some authors live in Texas and write about far places; some live afar and set their stories in Texas; and at least one is anxious to claim a slim Texas connection.
Houston native Alicia Richardson calls herself an authorpreneur (that use of combined words is a collocation—my new word for the day). That's because she has so many irons in the fire—and so many names. Once a petroleum technologist and database application developer, she decided to stay home with her children when they were young. A writing career beckoned, and she is now a published author. She also owns her own publishing imprint—Black Mare Books, publishing fiction for children and adults—and volunteers as CFO of the Houston Writers Guild.
Writing under the name of Holly Dey, she is the author of the Possumwood Mysteries, a cozy mystery series set in the fictional town of Possumwood, Texas. Possumwood is a typical small town, a day's drive from Houston, Austin, or San Antonio. Known for its craft brewery, the town holds an annual festival to attract tourists.
PC, the main character, is a retired homicide detective who's staying with her mother to take care of Mom's barnyard menagerie—a flock of chickens, two donkeys, and a three-legged goat. In the first book, Manor of Death, PC, back in Possumwood, is ready to relax and paint landscapes. But murder seems to have followed her. So does the chief of police, once her boyfriend until he dumped her right before prom.
A former high school classmate, now a Hollywood almost-celebrity, is found dead at the Azalea Manor Nursing Home during a Thursday night church service. PC must figure out who the real killer is before the crime gets pinned on her down-and-out brother.
The second book, Death on the Half Shell, highlights the restoration that has changed Possumwood's character. The old icehouse is now a craft brewery, the five-and-dime store an art gallery, and a decaying Victorian mansion has become a fashionable brunch place unfortunately named Happily Ever After. When PC and her family go for an elegant brunch, the guests begin falling on the floor. PC suspects the cause is more than bad oysters.
For children's books, she uses the pen name Artemis Greenleaf, a name that truly puzzled me when it showed up in my email. Her nonfiction children's book, Team Smash, won the Children's Book Award at the EQUUS-NY Film Festival in November 2016. Other titles
include The Magician's Children and Color Me Blackthorne, a fantasy coloring book compiled in cooperation with—you guessed it—Alicia Richardson.
Richardson said she created Black Mare Books because she thought a publisher's name would add a professional look to the copyright page. Asked about the name, she said she once bought a black mustang mare from the Bureau of Land Management. She was black with a white star, and the name Black Mare just seemed right. For now, Richardson publishes only her own work, under various pen names, but she may accept submissions from others in the future.
Watch for a third Possumwood mystery soon: Azalea Trail of Death.
Lori Roberts Herbst lives in a Dallas high-rise with her husband, but a large part of her heart lies in the mountains of Colorado. She has been vacationing there ever since she was a child, and she dreams of living there. "Beaches are lovely, and big cities are fun to explore, but my soul thrives in the mountains."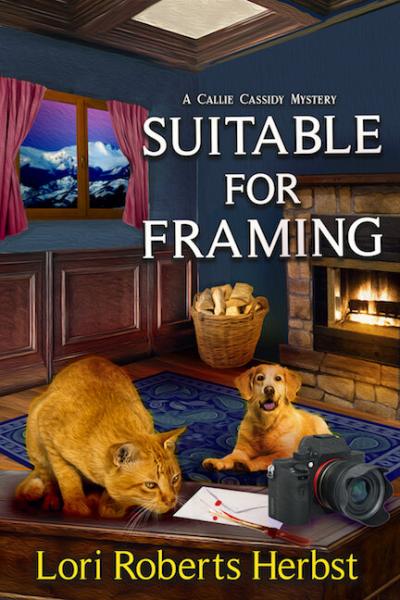 And so she's set her mystery series in fictional Rock Creek Village, Colorado. This way, she can go to the mountains every day. The first Callie Cassidy Mystery, Suitable for Framing, debuted in January and the second, Double Exposure, is just out this past week.
Prize-winning photojournalist Callie Cassidy returns to the Colorado mountainside village where she grew up. She's seen enough dead bodies to last a lifetime and thinks she and her golden retriever, Woody, can settle down to a quiet life of obscurity in a cabin on her parents' ski resort property. Reluctantly, pushed by her mother, she takes a photography gig at a winter ball. But before the first partygoer arrives, Callie stumbles across the body of a former classmate, another classmate crouched above her holding a bloody knife. Open and shut to rookie detective Raul Sanchez, but not to Callie. She sets out to find the real murderer because unless she, Woody, the cat they adopt, and a quirky group of villagers can solve the mystery, Callie's photos won't be the only thing being framed.
In Double Exposure, life is good for Callie. She's bought a townhouse, made friends, and rebooted a romantic relationship with her long-ago boyfriend. Her new photography business is headed for success. So when journalists from her old newspaper come to town for a retreat, she can't wait to show off the gallery at a happy hour. But one of the reporters turns up dead—in Callie's darkroom. Detective Raul Sanchez is on the case, but that doesn't mean Callie won't do a little snooping of her own. Meanwhile, she can't shake the feeling that someone is watching her.
Writing mysteries is a dream come true for Herbst. A retired journalism teacher and school counselor, she has embarked on a journey long in her mind. So far, she says, writing and publishing as an indie has been exciting, frustrating, challenging, and rewarding. She's excited about the road ahead.
And then there's Clara McKenna, who spent four years working as a librarian at Mary Hardin-Baylor University and Texas A&M-Commerce and also vacationed in Texas for ten years. But she moved to the Midwest and set her mysteries in Edwardian England. Should we tell her she's missing some good living and mystery material in Texas?
Judy Alter, former director of TCU Press, is the prolific author of books, both historical and mysterious, mostly about Texas women. Her most recent book, Saving Irene, was published in September. Follow Judy at http://www.judyalter.com.