Texas touches from Chicago and Ireland leave their mark on two new mysteries
Saturday, September 24, 2022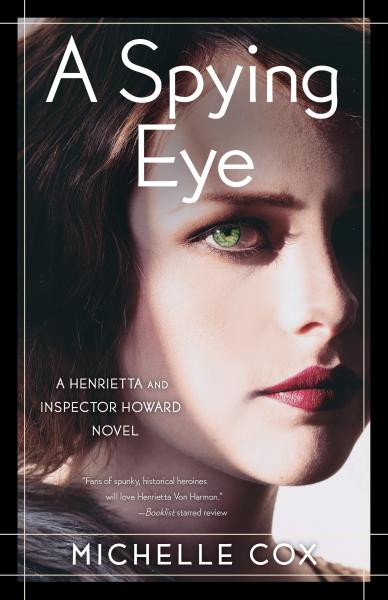 Michelle Cox is thoroughly a Chicagoan—she lives there, blogs about forgotten people in the city's history, and anchors her characters in the Windy City. But why is she in a column about Texas mystery?  
Her forthcoming novel, A Spying Eye, is the sixth outing for Henrietta Von Harmon and Inspector Clive Howard. Their adventures begin in A Girl Like You. The year is 1935, and Henrietta is working as a taxi dancer to support her widowed mother and younger siblings. When the matron of the dance hall is murdered, Inspector Howard arrives to investigate. He persuades Henrietta to go underground to help solve the crime, and a crime-solving partnership blossoms into romance. 
In subsequent books, the two marry over the objections of both families. Clive is the heir to Highbury, a large North Shore estate, and Henrietta's family has wealthy but eccentric relatives in France. The newlyweds attempt to learn how to manage the Howard estate, a burden Clive has avoided, preferring detective work to sitting behind a desk at the company firm. Various mystery cases present themselves, each more dangerous than the last, and several subplots involving a huge cast of characters weave themselves into the action.   
In A Spying Eye, the pair are honeymooning in Europe when asked to help locate a missing piece of Renaissance art, a piece Hitler's men are also looking for. The search leads them to the Von Harmon family home where the arrival of Nazi soldiers forces them to flee. Back in Chicago, there's turmoil in both the Von Harmon and Howard families, mostly over who will marry who and whether Henrietta's grandfather will drop financial support of her family. Who comes to the rescue but wealthy Texas rancher Glenn Forbes, who wants to buy a piece of art held by Clive's family. Clive's sister, Julia, married to a domineering and abusive man of means, is attracted to Forbes and seriously considers his offer to flee to Texas with her two sons, under his protection. And so the mystery ends with two cliffhangers—will Henrietta and Clive escape the Nazis? Will Julia go to Texas? And how did Texas work its way into this complicated plot? 
Lone Star Literary Life publisher Kristine Hall, a big fan of Henrietta and Clive, has confessed she begged Cox to write a Texas angle into a story so we could mention the book in LSLL.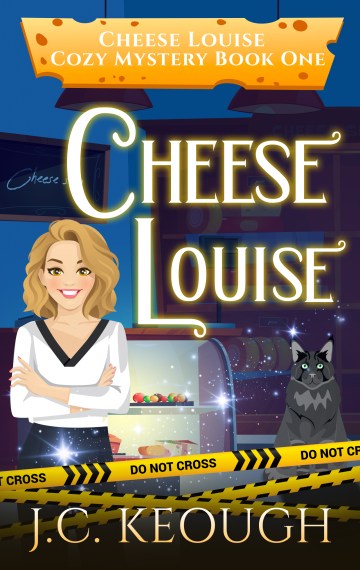 J. C. Keough is a Texas expat who, though living in Ireland, still writes about Texas. Author of the Laramie Harper books, she has launched a new series with a wonderful title: Cheese, Louise. Both series are paranormal, but the Cheese, Louise series has a lighter touch than the Laramie Harper books, which offer vampires, voodoo, dogs, wine, and a noir atmosphere. Cheese, Louise focuses on cheese, wine, and a long-repressed psychic gift. 
Gertie Pratt has hidden her psychic ability for thirty years, grateful to lead a normal life, married to a man she adores and working in a cheese and wine shop. But it all falls apart when her boss, Brie Fisher, goes missing and Gertie is reluctant to use her powers to find her. Then Gertie finds her husband in the arms of another woman, so she dumps him and turns detective—a role she's always longed to play. The deceased's coven keeps getting in her way, the landlord wants to cancel the cheese shop lease, and the cop assigned to the case is, well, let's just say distractingly handsome. This paranormal cozy is billed as full of huge servings of laughs and fascinating characters. Want to read a prequel? Go to http://www.jckeough.com and click on the link for Follow Brie.  
Keough is also still writing new books in the Laramie Harper series, in which thirty-year-old widow Laramie is attacked while celebrating her birthday. Next morning, with a tremendous hangover, she finds the body of a community activist stuffed in the dumbwaiter in the Victorian home she's restoring. Turns out her attackers were werewolves, and Laramie is being turned into a vampire, with only hours left to reverse The Change. She must find the murderer and the vampire who turned her so she can stop the process.  
Keough grew up in a small Texas town and got away to the big city as soon as she could, eventually landing in Dallas where she had a twenty-five-year career in law enforcement. She and her husband, also retired from Dallas law enforcement, took their dogs and moved to Ireland, where they now live in a small town. Keough planned to have Gertie Pratt live in Ireland and travel about, tasting Irish cheeses. But she realized, like herself, Gertie is a Texas girl at heart, and she is where she belongs—in the Lakewood neighborhood in Dallas.  
Keough is also planning a third series: The Texas Tender Mysteries, which will combine beer, boats, murder, and ghosts. Although she's in Ireland, it seems J.C. Keough, like her main characters, remains a Texas girl, even while exploring the paranormal and embracing the small-town life she once fled. 
Judy Alter, former director of TCU Press, is the prolific author of books, both historical and mysterious, mostly about Texas women. Her most recent mystery novel, Irene in Danger, was published in November, 2021.