A romance writer and a physician each write mystery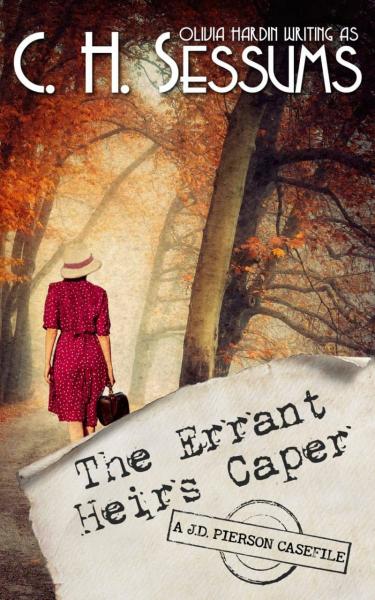 Olivia Hardin is a USA Today best-selling author of several romance series—steamy covers with her name written bold across the top, always a sign of a best-selling author. But when she puts on her other hat as C. H. Sessums, she scribbles mysteries in The J. D. Pierson Case Files series, narrated by a young, female P.I. who operates an agency with her father, despite his tendencies to like the bottle too much. J. D.'s cases take her all over Texas in the 1930s. She finds herself trying to haul her dad out of a speakeasy and visiting an uncle in the penitentiary; her cases introduce her to insurance fraud and mysterious strangers from the past.
First book in the series was the 2020 volume, The Killer Jack Case. J. D.'s uncle, her mother's only brother, has been in the state penitentiary for years on a robbery conviction. But suddenly one night she gets a call that he needs her father's help to get his daughter out of trouble. J.D.'s cousin, Betty, sports a pendant necklace but won't talk about where it comes from. And when she is gunned down, all J.D. knows is that she's looking for a man named Jack. And now, he's not just a thief—he's a murder.
Other books in the series are The Case of the Texas Ranger, in which a former Ranger, an old friend of her father, dies in a hail of bullets; The Doubtful Death Mystery, in which another old friend, this one a colleague, dies in a boating accident. But doubt comes to the front when the insurance agency where the dead man worked reveals that his books came up $50,000 short. J.D. is left to discover if the death was really an accident—and looking for a ghost. The third title is The Christmas Kettle Caper, set at Christmas, the time of year when J.D. worries most about her father's tenuous sobriety. This time a mysterious stranger, another old friend of her father, appears and mistakes J.D. for her dead mother. Her worry is that their lives will be turned upside down by ghosts of Christmas past.
J.D.'s father's drinking is a constant thread throughout the books, and most cases are sparked by an old friend from his past. By book five, coming this fall, he has lost the battle to the bottle. His chair in the office is empty, and J.D. is left to run the agency herself. But she is determined to keep the agency open. (Download the free prequel to The Errant Heirs Caper, The Errant Heirs Caper.)
Hardin/Sessums makes her home in what she describes as beautiful East Texas with her husband and their two rescue dogs. They like to watch old movies and listen to old-time radio.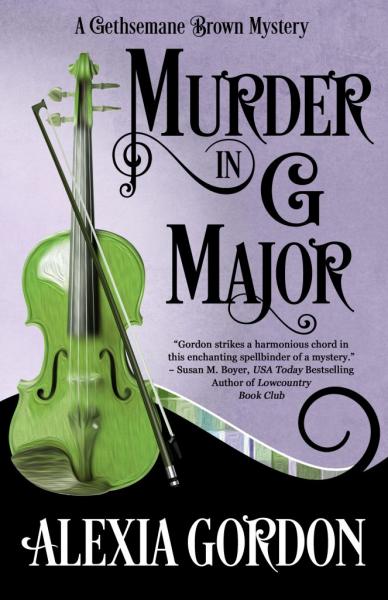 If, as psychologists claim, music soothes the soul, Alexia Gordon, a physician by day and an author at night, has found the perfect combination. Balancing the stresses of a peripatetic career in medicine, she has written five mysteries in her Gethsemane Brown series, each with a gorgeous, music-themed cover.
Gethsemane Brown is an African-American classical musician. The series begins with Murder in G Major, in which Gethsemane is stranded in Ireland by lost luggage. Hoping to find a way back to the States, she accepts a challenge to turn a rowdy boys' school into a champion orchestra. She's even offered a cliffside cottage once occupied by a composer. The hitch is the composer, accused of murder-suicide some twenty-five years earlier, can't rest until his name is cleared. And he wants Gethsemane to help him. Because of the growing friendship with her ghost, Gethsemane agrees—and discovers a killer who's long been quiet. Now the killer's first target, she must uncover the truth to save herself.
Four following volumes prove that the musician did save herself. Unfortunately the ghost has disappeared, presumably at rest. But Gethsemane's life is still not quiet—and she still hasn't gotten back to the States. Instead, she deals with a forgery-theft ring and a charity ball, a developer who wants to demolish her cottage, an angry spirit bent on revenge, a crooked critic, a garden show where bodies keep popping up, and a bridezilla's wedding where members of the wedding party keep turning up dead. Throughout all these twists and turns, Gethsemane must save the day—and frequently her own skin.
The four other Gethsemane Brown titles are: Death in D Minor, Killing in C Sharp, Fatality in F, and Execution in E. Gordon is also a contributor to two anthologies: Writers Crushing Covid-19 and This Time for Sure: Bouchercon Anthology 2021.
Alexia Gordon has written since childhood, but she put writing on hold to attend medical school and take a residency in family medicine. Originally from the Mid-Atlantic area, she now goes around the country working as a traveling physician in Texas and other states—and writing at night. She has been honored with a Lefty Award, Lone Star Blogger's Choice awards, a nomination for an Agatha, as a finalist for a Silver Falchion Award, and as having one of Suspense Magazine's best debuts of 2016. She is a member of Mystery Writers of America, Sisters in Crime, International Thriller Writers, and Crime Writers of Color. She hosts the Cozy Corner with Alexia Gordon podcast and blogs with Miss Demeanors.
Judy Alter, former director of TCU Press, is the prolific author of books, both historical and mysterious, mostly about Texas women. Her most recent mystery novel, Irene in Danger, was published in November, 2021.