From the English countryside to the Hart of Texas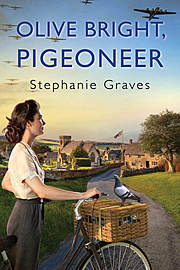 Although born in Arizona, cozy author Stephanie Graves is thoroughly a Texan. She has lived in the Houston area most of her life and is a graduate of the University of Texas (with a degree in electrical engineering, which seems a strange background for the author of cozy mysteries). She married her high school sweetheart and is the mom of two nearly grown boys, all presumably Texan. Graves is a knitter and a voracious reader and—here's the kicker—a self-described connoisseur of British mysteries.
As a transplanted Texan, I think there's so much to write about Texas that I never think much about reading or writing British mysteries (with an apology to Agatha Christie). But Graves is drawn to the country that many see as the cradle of the traditional or cozy mystery (I'm not going to split hairs over those definitions).
She is the author of Olive Bright, Pigeoneer and A Valiant Deceit. These two Olive Bright novels are set in a small Hertfordshire village during World War II. With her fiancé off to fight the war, Olive hopes the British government will use her beloved racing pigeons to deliver messages. But instead of the government, she finds herself entangled in a highly covert spy operation—and a local murder. In the second book, Olive and her pigeons are conscripted into the war effort, and the fiancé has been replaced by a gruff Irish intelligence officer to whom she is attracted. But Olive is still dealing with murders and spy networks and working to keep her pigeons safe—and in this case preventing the devastation of Belgium.
Equally a fan of Agatha Christie and Jane Austen, Graves is also the author of four books written under the pseudonym Alyssa Goodnight: Austensibly Ordinary, Unladylike Pursuits, Austentatious, and Just Say Yes, romances with a dash of mystery that have been praised for their similarity to Austen's original work. Goodnight even has her own web page—alyssagoodnight.com.
For Texan Stephanie Graves, it's all about England. She even writes like an English author, confessing she'd "quite fancy" a research trip to England and a chance to visit the royal pigeon lofts at Sandringham.
For Kaz Delaney, on the other hand, it's all about Texas, as demonstrated by her new Hart of Texas Murder Mysteries. The first, A Bittersweet Murder, launched in March. It will be followed later this spring by Preserving the Evidence and Candy-Coated Conspiracy. In a twenty-five-year career, Delaney has written over seventy books for adults, teens, and young children. Every book has either humor or mystery—or both, so Delaney says it's a mystery that it took her so long to get to the Hart of Texas cozy mysteries. Like many cozy authors, she grew up reading the Bobbsey Twins, Cherry Ames, and Trixie Belden books. She also read her grandmother's romances on the sly because her mother disapproved. As an early teen, she discovered Agatha Christie and began a lifelong love of mystery.
For Delaney, the story itself must come first, and she has fun weaving a path between real clues and red herrings. But her real fascination is with the emotions that sometimes motivate ordinary people to commit crimes—love, greed, lust, jealousy, a desire for power.
Hart of Texas mysteries play on a familiar theme—the outlier status of a newcomer to the small, fictional Texas town of Airlie Falls. Dreams come true when amateur baker Rosie Hart receives a surprise inheritance of the Airlie Falls bakery, a gift from the late Miss Alice. But as the only outsider, Rosie is soon accused of murdering Miss Alice—and then the bodies begin to pile up. She must prove the murders are linked to a sixty-year-old cold case so she can get on with baking—and staying alive.
The second book, Preserving the Evidence, involves an unidentified body, a challenge to the mayor, missing money, and a group of socialites gathered at a mansion on the edge of town. Rosie must prove these odd things are all connected—before there's another body. And in the third book, A Candy-Coated Conspiracy, Rosie's new friends, the Percival sisters who run the Sweet Treat candy store, are shocked by the arrival of a nephew they've never known. But family is family—until he tears up their home looking for something and then is found dead. Even Rosie wonders if the sisters might be hiding something, but as more bodies turn up, she is determined to prove to police that the sisters are not guilty as suspected.
Rosie's background as a baker is no accident. Delaney counts baking, reading and walking as her hobbies—and kayaking when she has the opportunity. Follow her on Twitter @KazDelaneyBooks. She'd love to hear from you.