Cocktails, chocolate, and murder
Is truth really stranger than fiction? Ask Houston author Michelle Hillen Klump who has experience in both areas. She was a news reporter in rural areas of Texas and Arkansas, assigned to stories ranging from natural disasters to crime. Along the way she interviewed presidents, learned to break a car window without hurting herself, and reported on a midnight manhunt in the Ozarks. Now she's turning those experiences and more into mysteries, except with a twist you might not expect: her heroine is a former reporter turned craft cocktail caterer. Want a twist in that Manhattan?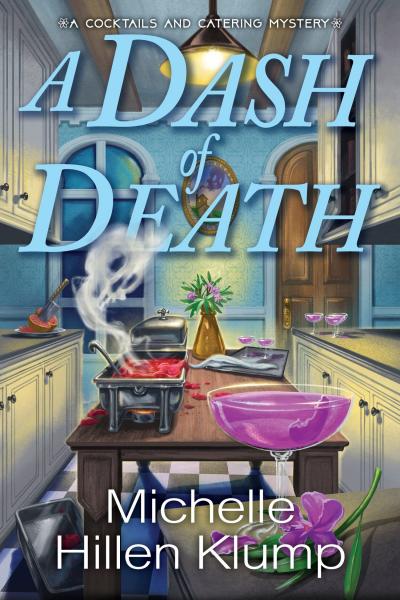 In her first Cocktails and Catering Mystery, A Dash of Death, Samantha Warren survives the quick loss of both her job and fiancé. Planning a new career as a party mixologist, she offers homemade bitters as gifts to those who would have been in her wedding party. But one of the recipients keels over dead after sipping his drink. Sam, who mixed the drink, is the prime suspect. Job hunting, developing her new career, and hanging up on her ex-fiancé don't leave a lot of time for proving her innocence. You'll have to read the book to find out how she does it.
Klump loves to travel but says with the pandemic still uncertain, her travel is pretty much limited to researching cocktails that can transport her, in her imagination, to other lands. On her website, she offers recipes for the Japanese Cocktail—no sake, but a cognac base with lime juice and bitters, of course. It was invented in this country in the nineteenth century to celebrate a treaty of friendship with Japan. Or there's the Champs Elysees cocktail with French brandy and green Chartreuse.
Somehow Klump manages her writing and research while spending lots of time with her husband and daughter. She has a day job, enjoys gardening, hiking, biking, and exploring Houston.
Find out more about Klump at michelleklump.com and sign up for her newsletter and free Cocktails and Catering Bar Guide.
Since we're talking cocktails and crafting, why not move on to chocolate—and murder. Arlington author Amber Royer has two series: Bean to Bar Mysteries and The Chocoverse Books.
In her newest title, Out of Temper, released just this February, Felicity Koerber, owner of a chocolate shop on The Strand in Galveston, jumps at a chance to demonstrate her wares on a cruise ship sailing out of Galveston's harbor. Anticipating long days in the spa and a quiet getaway, she packs her bags. But onboard, she discovers it is a mystery-themed cruise. Of course, there's a real-time murder, and Felicity knows both the victim and the prime suspect. Everyone on board had some connection to the victim, and official help is slow to get to the ship. Felicity is soon swapping chocolate for clues as she tries to keep a friend from being framed. This is a variant on the traditional closed-room murder: the murderer is someone aboard the ship, and Felicity must find them before the ship docks and the cruisegoers disperse. Other titles in this series are Grand Openings Can Be Murder and 70% Dark Intentions.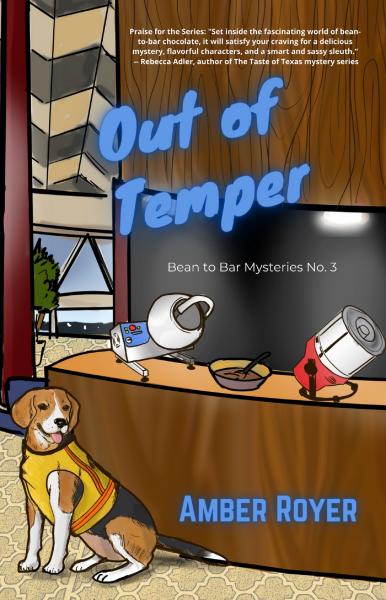 In the Chocoverse Books, Royer takes an unusual approach to culinary mysteries—she mixes chocolate and science fiction in a chocoverse where, as she likes to say, "characters get caught up in sticky problems bigger than themselves." Her stories involve chocolate, aliens, solving murders, saving the galaxy, falling in love, and comedy—the latter to help characters through difficult times. The premise behind the Chocoverse Books is that, in the far future, earth has only one commodity—chocolate—and others (think aliens with hands, paws, and claws) are willing to kill get it.
In the first book, Free Chocolate, Bo Benitez is a Latina culinary student turned fugitive after she is caught stealing a cacao pod. She must hide from her alien boyfriend and the reptilian cop who both want her brought to justice. But it turns out it's not just Bo who's in danger—it's earth itself. Two other titles in the trilogy are Pure Chocolate and Fake Chocolate (wonder if that's like cryptocurrency?)
Royer is a diverse writer with many talents. She teaches the craft of writing in on-credit classes at the University of Texas at Arlington, and she is the author of Story Like a Journalist, which she describes as a writing course in a manual. Some authors use it to prepare for NaNoWriMo  (National Novel Writing Month held annually in November). And no surprise here: she has a cookbook, chocolate of course. There Are Herbs in My Chocolate pairs chocolate and herbs to offer recipes for appetizers, entrees, desserts, even breads and beverages, as well as herbal sauces, pastes, and pastries. The book is a guide to the wide variety of chocolate and herbs available and the central lesson is how to pair the two.
Lavender and rose hot tea, anyone?
Find out more about Royer at http://amberroyer.com/.
Judy Alter, former director of TCU Press, is the prolific author of books, both historical and mysterious, mostly about Texas women. Her most recent mystery novel, Irene in Danger, was published in November, 2021.