Saturday, February 26, 2022
In a few days it will be March, but Texas keeps reminding us: it's still winter. Ditch those blues by curling up in front of the fireplace with a blanket, your favorite beverage, and a good mystery. 
How about whetting your appetite with a pair of new culinary mysteries—A Caterer's Guide to Love and Murder and A Caterer's Guide to Holidays and Homicide, by Austin author Jessica Thompson. When she discovered mysteries with recipes in them, Thompson knew she had found her genre. The books feature Violet, a caterer, and her new husband, Jake, a mystery author.
In the first book, the newlyweds are experiencing the stress and strain of a new marriage, adjusting to each other's schedules and an insecure joint income. They put their problems aside when Violet's good friend asks her to cater her wedding. Jake agrees to help, knowing this is the event that could make or break his new wife's catering career. She must provide an extraordinary experience for the bride, groom, and guests. But it all goes amuck when someone is murdered at the rehearsal dinner, and the florist, Greta (who happens to be Violet's sister), is accused of murder. Violet struggles to clear her sister while catering a smashing meal.
The holiday guide finds Violet and Jake at a friend's mountain retreat where Violet is acting as personal chef to a houseful of guests. This time, the problem the couple is dealing with is infertility, but they can hardly talk about that to the guests. It goes on hold while they serve luscious meals. Of course, there's another murder—Violet attracts them like Jessica Fletcher does—but they are stranded by a snowstorm and can't call in the law. It's up to Violet to find out who committed the murder and tried to frame their hostess.
Culinary phrases abound in these lighthearted books: "But will she be in time before the killer dishes out seconds?" and "Can she sniff out the killer before someone bites the big one?" Each chapter includes the recipes for dishes mentioned.
Originally from California, Thompson is now settled in the Austin suburbs with her husband and young children. Originally trained in horticulture, she is an admitted food geek and home chef who has won cooking competitions and been featured in Taste of Home Magazine. A lifelong reader of mysteries, she's the one to whom friends and family turn with cooking questions and advice. Her website, http://www.jessicathompsonauthor.com, offers samples of recipes from the books. How about caprese salad on a skewer? Or maybe you'd prefer no-bake chocolate crème brulee with that wine or hot chocolate.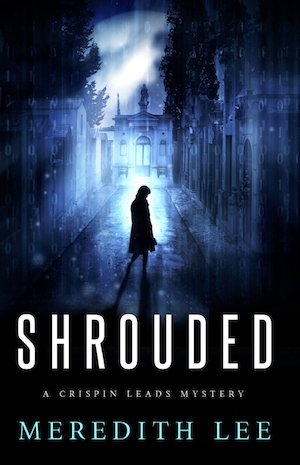 Did you ever meet Austin author Meredith Lee? Probably not, because Meredith Lee is the pen name of a team of two authors: Dixie Lee Evatt and Sue Meredith Cleveland (see what they did with their middle names there?).
Evatt is a former political writer for the Austin American-Stateman. She taught writing at the S. I. Newhouse School of Public Communications, Syracuse University, where she collaborated with colleagues to write Thinking Big, Staying Small, a guide to communications for small companies. Evatt says it was either the snow or academic dullness that drove her to Texas and away from teaching.
Cleveland is an award-winning author of essays, memoir pieces, short stories, and articles, the latter often advocating for childbirth education and humanizing hospital care. She is also an artist whose painting won first place in the nonfunctional category at a prestigious art show in Colorado. Being a nonfunctional winner still makes her chuckle.
The two free spirits teamed up to write mystery over thirty years ago. They sold their first project, a screenplay treatment, to a Hollywood producer, but the movie was never produced. The second screenplay, Wireless, about a Waco teacher imprisoned during World War I because he was German, was a finalist in the 2003 Chesterfield Writer's Film Project. In response to a question about how two writers work together, they published, "Computer Keys for Four Hands: Teaming Up to Write," in the Sisters in Crime: Heart of Texas Chapter newsletter.
Their current project is the Crispin Leads Mysteries series. The first book, Shrouded, won the 2017 Writers' League of Texas Manuscript Contest and was published by their 39 Stars publishing company. Crispin Leads is a young, female graduate student who travels to the Vatican to study burial rituals, accompanied by her friend Sister Lew, historian for the Shroud of Turin. The two have barely arrived at the Vatican when they witness a murder and are drawn into multiple homicides. Digging Up the Dead followed in 2018. The team also writes a blog, Musings from the Graveyard, which features Crispin's musings about burial rites. Follow this dynamic duo, as well as Crispin's blog, at https://meredithlee.net 
Judy Alter, former director of TCU Press, is the prolific author of books, both historical and mysterious, mostly about Texas women. Her most recent mystery novel, Irene in Danger, was published in November, 2021.