A Texas native writes about a sleuthing team and a lawyer investigates murder with a tie to the past
Sunday, December 26, 2021
M. R. Dimond wants readers to know she's not some distant New Yorker writing about small-town Texas. She grew up on the Gulf Coast, both Texas and Louisiana, and when she writes about small-town Texas, she knows whereof she writes. Dimond knew from the age of five she wanted to be a writer, but for reasons she still can't explain she majored in music in college and then played professionally in orchestras. Playing the cello, she says, never paid the bills. She took day jobs and played the cello at night, but the dream of writing persisted. Eventually she went back to college for her MBA and began writing short science fiction.
As a young reader she had devoured Trixie Belden before moving on to Nero Wolfe,  Lord Peter Wimsey, Philip Marlowe, V. I. Warshawsky, Miss Marple, and more. She wanted to write mystery, but she decided against a single sleuth. She would create, instead, a team connected by friendships and old relationships so that somebody would always know somebody who knew about something vital. And they'd have strong ties to the arts, because that's where Dimond's heart is.
The result was the debut work, Birth of the Black Orchids, a pair of novellas that chronicle the team's earliest days, when they decided to stop striving for success individually but join together and settle in Beauchamp, Texas, where they open Black Orchid Enterprises. They are musicians, a lawyer, a veterinarian, and an accountant, each in their twenties and each with school loans to repay, worried parents, and cats. But their Grand Opening is marred by the discovery of a corpse.
In the second story, they are not earning enough to survive. It seems they gave out so many free coupons at the Grand Opening that the town has been using those and not paying the fees. So they offer a new service: eldersitting. And then the challenge is to find the elders who keep running away.
Watch for at least two more books in the Black Orchid series and find out more about Dimond, her science fiction, and the Black Orchid.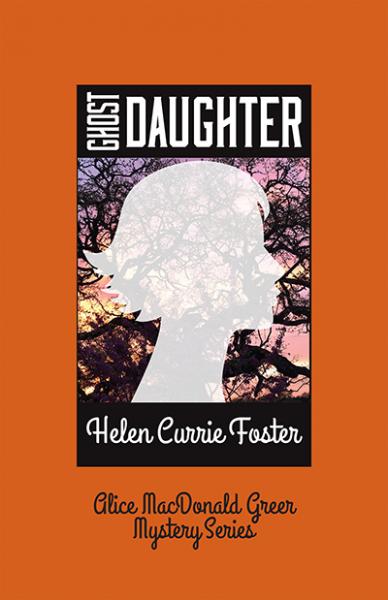 The titles to Helen Currie Foster's novels are a dead giveaway (sorry for the pun) that she's interested in, as she puts it, "the way the past keep crashing the party." All seven novels in the Alice McDonald Greer Mysteries Series have the word "ghost" in the title: Ghost Dog, Ghost Next Door, Ghost Letter, Ghost Dagger, Ghost Cave, Ghost Cat, and the newest, Ghost Daughter.
Foster and her husband live in Central Texas, near Dripping Springs, with three burros for company. She practiced environmental law for thirty years, but when Alice Greer came into her mind, Foster retired to write, and her interest in human history and prehistory became part of her mysteries. Alice, herself a small-town lawyer, investigates murders that always have roots in the past.
In Ghost Daughter, when Alice finds the body of murder victim, Ellie Watson, she knows that trouble is ahead. Ellie was both a client and a friend, and Alice is her executor. Ellie had two feuding sons, but Alice discovers a long-lost daughter neither of the sons knew about and a long-ago lover who has problems of his own without murder. Mix in a collection of valuable art with questionable provenance, intruders, carjackers, and greedy heirs, and Alice finds herself in real danger as she races across Texas and New Mexico to find the murderer. For the foodie reader, there are some great dining experiences along the way.
Foster is a member of the Heart of Texas Sisters in Crime chapter and Austin Shakespeare. She blogs with Austin Mystery Writers and Ink-Stained Wretches. Find more about her and her books at http://www.helencurriefoster.com
And a ho-ho-happy holiday season to all.
 
Judy Alter, former director of TCU Press, is the prolific author of books, both historical and mysterious, mostly about Texas women. Her most recent mystery novel, Irene in Danger, was published in November, 2021. Follow Judy at