Slightly unhinged debutantes, secretive beasts, and Hollywood
Who's your favorite Texas mystery sleuth and/or author? Write Judy at mailto:j.alter@tcu.edu, and she'll see what she can dig up on that sleuth or author.
Austin author Sam Bond moved from her international adventure series, Cousins in Action, for middle-grade readers, to murder in an English village when she published The Puccini Connection last summer. Josie Monroe, a British ex-pat, finds herself accused of a family murder when she returns to her childhood home in the village of Milkwood. She soon links up with Lady Belle, kindly described as a "slightly unhinged debutante" who is also a classical pianist. Together they make a hilarious and highly inept team. There are villains of course—the Witches of Milkwood, a trio of elderly women who are convinced of Josie's guilt; and a romantic interest—Josie's childhood sweetheart, Detective Inspector Adam Ward. There's even a quirky cat named Elgar.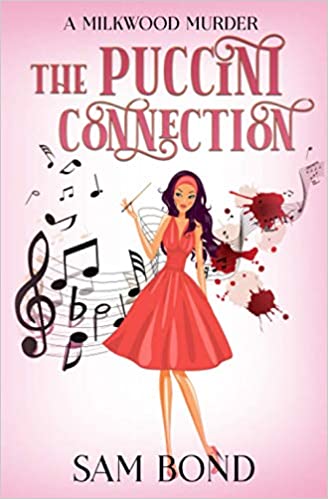 This cozy mystery has won praise—and five-star reviews—for its quirky humor, well-rounded characters, and lots of English lore. It is a classical cozy—no blood nor guts, no sex nor bad language. Just a happy romp through an English murder. Josie has already gotten a following of readers who are anticipating the next book in the Milkwood Murder Series.
Bond was born in England but has lived in the States for twenty-some years, presently in Austin with her two daughters and a dog named Sausage. Her interests beyond writing include classical music (no surprise) and photography, and she's been known, according to her biographical sketch, to make a half-decent shepherd's pie.
The Cousins in Action series features five cousins sent to their grandmother's and anticipating dull times. Instead in each of the four books the cousins find themselves on a new international adventure as they are whisked from Peru to India to Egypt and beyond.
* * *
Thirteen members responded when the Final Twist Writers Society put out a call for original short stories in which animals were active in solving mysteries. The result is Every Beast Has a Secret: An anthology of Texas Mysteries from the Wild Side, published in December. Cash Anthony served as editor of the collection, which includes everything from stingrays to bees.
Final Twist is a Houston-based writers' group dedicated to supporting authors, providing mentors for aspiring writers, and promoting reading. Meetings are free and open to the public. For more information, call the First Colony Branch Library at (281) 238-2800.
* * *  
Want to read about Hollywood? Try Prime Time Murder: A Humorous Cozy Mystery (Hollywood Whodunit #1) by Brittany Brinegar. In this humorous mystery about what happens to a young girl with Hollywood stars in her eyes, Becky Robinson moves to Hollywood in hopes of catching her big break. Instead, on her first day on the set, she finds the body of a famous actress and is accused of murder. The police, including one handsome guy, are convinced she's guilty, but she finds a friend and a dog, and the trio track down the real killer. The blurb begins with this line: She's little. She's feisty. Spoiler alert, she's not the killer.
Brinegar has what may be the funniest story ever about how she came to write mysteries. It seems she was a good student in high school, straight As and all that, but she had a bit of a tardiness problem, and the school assigned her to Saturday morning detention. There she was, a blank, boring four hours looming ahead of her. But her years of devotion to Nancy Drew mysteries nudged her to use the time to craft a mystery. She wrote several chapters that long morning, and those chapters later turned into Enigma of Lake Falls: A Witty Historical Mystery (Spies of Texas 1), in which Jenny and Sawyer race to unmask a Russian spy stirring up trouble in a Texas town so small it has more secrets than people. The time is 1949, and Jenny, a master of disguise, moves to Lake Enigma to build a new life, fleeing a criminal accusation and her father's questionable activities; Sawyer, returning to his hometown, opens a detective agency in a community without crime. At the time, Brinegar described the book as cozy mystery meets espionage thriller. She followed with Undercover Pursuit: A Witty Historical Mystery (Spies of Texas Book 2) which takes the couple to Boston in an effort to clear Jenny's name and find her father, who is then on the FBI's most wanted list. Prime-Time Murder is her third book.
A proud Texan who loves writing about her home state, Brinegar holds a master's in business administration from the University of Texas at Arlington. Besides writing mysteries, she enjoys watching baseball, football, and classic television shows. She says her dogs, Nikki and Penny, are perfect canine writing companions.
Watch for Stand-In Murder (Hollywood Whodunit #2) in February.
Judy Alter, former director of TCU Press, is the prolific author of books, both historical and mysterious, mostly about Texas women. Her most recent book, Saving Irene, was published in September. Follow Judy at http://www.judyalter.com.