Two new dark romantic mysteries to get you in the Halloween spirit
Saturday, October 28, 2023
Welcome to Texas Reads Mysteries, where I get to share my love of books. 
October! 
A time when the ancient Celtics believed the dead walked the earth. A time for magic. A time for ghouls, goblins, ghosts, witches, and all the other things that go bump in the night. A time to curl up in an easy chair and settle back with a spooky, eerie tale.  
Be ready to be thrilled, chilled, and enchanted with these spellbinding stories about very different witches. 
Here … Hold My Broom 
By Carol Kilgore 
A House Witches Mystery 
What if Cinderella were a man and the prince a witch? A wicked good witch.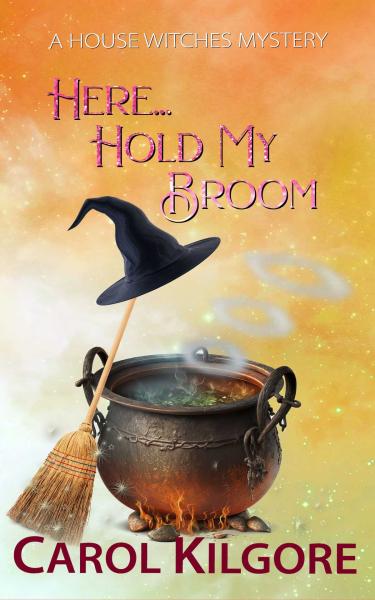 Strange happenings in the magic realm are turning Brielle Quinn's life upside down. She's been told to let things happen on their own and not to interfere. So difficult—and unfair! 
On the night of her neighbor's birthday party, Brielle's drunk a little too much tequila. While on her way back to her home next door, a man calls to her and plants the kiss of a lifetime on her lips. Only thing is, Brielle doesn't have the first clue about who he is. Or what he looks like. Yet she can't get him out of her mind. Or the taste of his kiss off her lips. How is she ever going to find him? 
Add in a cryptic vision, a cigar-smoking messenger, and three newcomers to Satcher Glen, each with a mystery to unravel. Could one of these be the man who had kissed her? And how can she find the answer without interfering with the magic realm?  
About the Author 
Carol Kilgore is the award-winning author of the House Witches Mysteries. The first book in this series is Witches and Fairies and Tacos... Oh My. Like her other books, the House Witches series is set in Texas. 
Carol is also the author of the Amazing Gracie Mysteries, consisting of the three books that make up the Amazing Gracie Trilogy and the standalone Gracie and the Trouble with Pinatas. In addition, she is the author of In Name Only, Solomon's Compass, and Secrets of Honor, three standalone romantic suspense novels. 
Carol is a member of Mystery Writers of America and Sisters in Crime.  She and her husband live northwest of Houston with the sweetest rescue beagle ever, who wishes they dropped more food on the floor. 
The Witches of Bone Hill 
By Ava Morgyn 
Ava Morgyn's The Witches of Bone Hill is a spellbinding, romantic novel about family secrets and two young women who discover they're Nordic witches. 
Cordelia Bone's meticulously crafted life and career in Dallas are crashing down around her thanks to a philandering husband with criminal debts. When her older, carefree sister, Eustace—a cannabis grower in Boulder—calls to inform her that the great aunt they never met has died and they must travel to a small town in Connecticut to deal with the estate, she sees an opportunity to unload the house and save herself. 
But once there, the sisters learn they are getting much more than they bargained for. The Victorian mansion they stand to inherit is bound in a dynasty trust controlled by their late aunt's aging attorney, who insists they retain and inhabit the house but keeps them in the dark about the peculiar rituals of their ancestors. Not to mention a sexy, tattooed groundskeeper with a shrouded past who refuses to leave the carriage house and a crypt full of dead relatives looming at the property line. 
As both women grapple with their current predicament, they come face to face with a haunting family secret, the truth of what happened to their mother, and the enemy that's been stalking them from the shadows for generations. In a twisting torrent of terror and blood, the sisters must uncover the power within them to heal their fractured relationship, reverse their mysteriously declining health, and claim the lineage they wanted to escape but now must embrace if they are to survive at Bone Hill. 
About the Author 
Ava Morgyn is a native Texan who grew up falling in love with all the wrong characters in all the wrong stories. She is a lover of crystals, tarot, and powerful women with bad reputations. She studied English writing & rhetoric at St. Edward's University in Austin and currently resides with her family in Houston, where she lives surrounded by antiques and dog hair and writes a blog on child loss, ForLoveofEvelyn.com. When she isn't at her laptop spinning darkly hypnotic tales, she can be found reading, hunting for delicious vegan recipes, or wandering a forest.  
She is the author of Resurrection Girls and The Salt in Our Blood. 
My kind of books! 
Award-winning author Anita Dickason writes crime thrillers and cozy mysteries. Twenty-two years with the Dallas Police Department provides an unending source of inspiration for her plots and characters.