Two cozy mysteries Linda Pirtle has written for the Magnolia Bluff Crime Chronicles series
Welcome to a new edition of Texas Reads. I'm your host, Anita Dickason. I am excited about the opportunity to be part of Lone Star Literary Life. What fun! I so enjoy talking about books, and not just mine. I hope you will join me each month as I share my love of books: ones that tease, tantalize, and intrigue. 
---------------------------------------------
I can't think of a better way to start than with an exceptional, talented group of Texas authors, The Underground Authors. Even their name excites my imagination. This innovative group created a small fictitious Texas town, Magnolia Bluff. Each author's novel brings a different and unique spin on the inhabitants, characters with secrets, hidden agendas, and dirty, double-dealing skullduggery. There's a lot to like about the Magnolia Bluff Crime Chronicles. To date, I've read four, and I'm still reading. 
Today, I'm sharing two novels from this remarkable series by Texas author Linda Pirtle. What's up with the dogs? Find out in these enthralling cozy mysteries. 
Dewey Decimal Dilemma: Magnolia Bluff Crime Chronicles,  
Book 7 by Linda Pirtle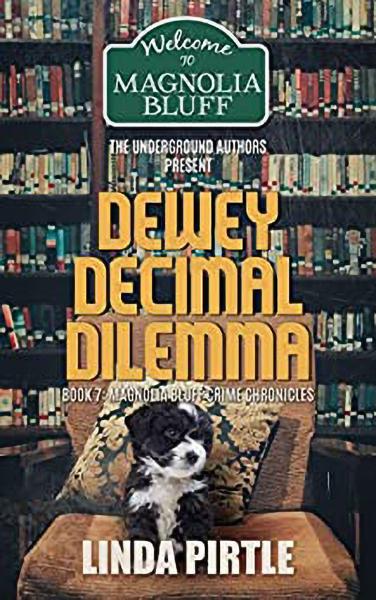 "Magnolia Bluff, Texas, is a typical small town in the heart of the Hill Country. Just because it is small and everybody knows everyone's business, the town isn't insulated from murder and mayhem. Which begs the questions: Who's responsible for breaking into houses? How are poodles, ghosts, drug cartels, and Ponzi schemes connected with a serial killer? 
Caroline McCluskey, the town's librarian, routinely catalogues books using the Dewey Decimal system. When a black and white poodle puppy arrives unannounced, she calls him Dewey. His arrival creates a challenge for Caroline. Now, she must catalogue events to identify a serial killer in her town. No matter how many murders occur, no matter what kinds of mischief the town experiences, some traditions never vary. 
Come Monday morning, the early-morning group sits at the coffee shop's round table to solve the world's problems. Come Thursday, ladies sit in dim lights with their husbands and/or escorts in LouEllen's Lounge and listen to romantic melodies. Come Sunday, all good Christians sit in their pews at either the Presbyterian, Baptist, Methodist, or Catholic sanctuaries to hear the Gospels. The killer may be among them, singing the loudest. Praying the hardest. In Magnolia Bluff, you never can tell." 
The Dog Gone Diamond Dilemma: Magnolia Bluff Crime Chronicles 
Book 10 by Linda Pirtle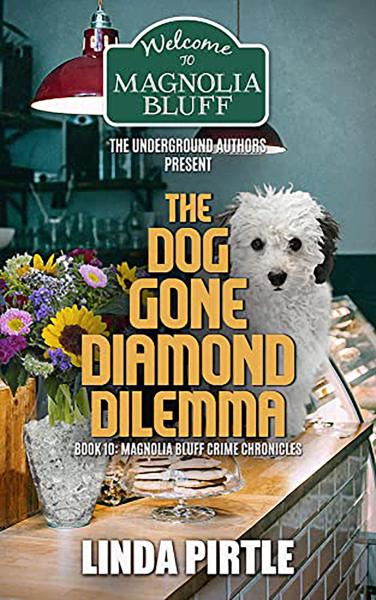 "Caroline, sleuth extraordinaire, has grown weary of waiting for the authorities to solve the disappearance of her friend Esther. She organizes a group of friends and creates a mystery club called The Round Table. Caroline, along with Magnolia Nadine, LouEllen Mueller, and Daphne Leigh, are determined to find their missing friend. 
Looking for clues, the women become cat burglars when they break and enter Esther's house. Their search is interrupted when they hear voices of two men who have also entered the house. The words diamond stock certificates and the words she still won't talk even though we stole her dog for her tells the members of the Round Table that Esther is still alive. 
However, where is she being held and by whom? Why would anyone think that Esther, a retired school teacher, could own stock certificates in a diamond mine? Daphne, owner of the Head Case Salon, gathers an important clue. Alas, someone finds out about it, and Daphne becomes another victim. Will the Round Table members be able to rescue Esther from her captors before they, too, become the next victims?" 
With a background as an English teacher, Texas author Linda Pirtle and her husband, author Caleb Pirtle III, have devoted their time to connecting readers and authors through their website, Here Comes a Mystery. Turning her attention to writing, Linda's infatuation with the kinds of cozy hometown mysteries written by Agatha Christie and Diane Mott Davidson led her to write cozy mysteries—stories where Linda can indulge in her fascination with dastardly murder mysteries, solved by the lady next door who relies on intuition, instinct, and deductive reasoning. 
My kind of book! 
Award-Winning author Anita Dickason writes crime thrillers and cozy mysteries. Twenty-two years with the Dallas Police Department provide an unending source of inspiration for her plots and characters.