Two Texas authors enjoy revived careers -- and a great backlist.
Many wannabe writers think if they could just publish that first book, their careers would take off magically, and they would sell book after book. Truth is, a lot of published writers go through dry spells—long periods of what we call writer's block, when they can't or don't write. Two Texas authors, now enjoying revived careers, are examples—and they offer you a backlist of works to investigate.
Kim Hunt Harris loved storytelling from the time her parents read bedtime stories to her. She knew the world of books was where she belonged. She wrote romances—the market then, as now, was hot. After several manuscripts, she began to win awards and earned high praise from agents and editors—but no contracts. Read her account of her long journey to publication here: The Making of the Trailer Park Princess | Author Kim Hunt Harris. Her account is hilarious and heartfelt.
Her first book was The Middle Finger of Fate, a Trailer Park Princess Christian cozy mystery featuring AA member and well-intentioned but bumbling do-gooder, Salem Grimes. Salem stumbles over a dead body and then must find the killer to prove her ex-husband innocent of the murder. She is assisted by her octogenarian friend, Viv, and her dog, Stump. Harris's books are Christian mysteries, and she is a devout believer, but she is also quite sure God would not approve of the title of her first published work. Critics loved it and called it "hilarious" and "heartfelt."
The fifth and newest title in the series, The Trailer Park Princess is a Dazzling Dumpster Fire, takes Salem, now two years sober and reunited with her husband, back to the past. When a teenage runaway appears, Salem knows who and what she's running from. Can she put the past to rest, or will she go back to old, destructive habits? Critics call this one "the most hilarious and heartfelt" in the series.
Harris lives and writes in Lubbock, Texas, with her husband and two teenagers.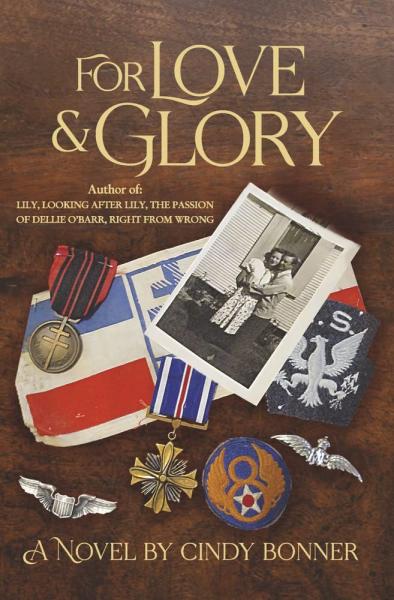 Texas novelist Cindy Bonner is back with her first new title in almost twenty years. Leaving her familiar setting of McDade, Texas, Cindy moves the action in For Love and Glory to the United Kingdom. But wait! The characters are Texans, people Cindy portrays with a sure hand and a fine eye. The year is 1940, and Lange DeLony, a civilian pilot in Texas, has lost his wife in an accident. He has no money, no savings, and in his mind, no luck. The U.S. has not yet entered WWII, so Lange impulsively enrolls in the Royal Air Force and is assigned to a squadron near London. On an overnight train he encounters ferry pilot Mackie McLeod. What starts as a brief fling quickly becomes an intense love affair. But it is wartime, and romances are characterized by long separations and overwhelming fear. No spoilers here, but throughout Lange has one goal: to survive and get back to Mackie.
Cindy Bonner never stopped writing. Her last novel, Right from Wrong, was published in 1999. Between then and now she worked intermittently on what became For Love and Glory, did a world of research, wrote biweekly book reviews, contributed to op-ed pages, and wrote a children's book and a screenplay. Like many novelists, she always wanted to write, but marriage and children got in the way. When her two sons were teens, she went back to it, published some short stories, and, as she says, "wrote a lot of bad novels." Those bad novels helped her polish her craft.
Born and raised in South Texas, where she lives today, Bonner wrote of the land and people she knew best. As she tells it, none of the gunmen in her fictional shoot-outs are very good shots; the soldiers in her war stories drive supply trucks rather than tanks; and the real heroes in her fiction are often the women. Her first published novel was Lily (1992), followed by Looking After Lily in 1994, The Passion of Dellie O'Barr in 1996, and Right from Wrong in 1999—all published by Algonquin, a house noted for its literary quality. Taken together, the four books are historical romances comprising a family saga set in the tiny community of McDade, Texas. By the time she had a new manuscript, her editor had retired—and the new editor was not interested. For a few years, she circulated For Love and Glory, getting rejections and a few almosts. Finally, in 2022 she decided to join the ranks of the indie published and brought the story to print. 
Texas readers will hope her return to writing is a longtime affair.
Judy Alter, former director of TCU Press, is the prolific author of books, both historical and mysterious, mostly about Texas women. Her most recent mystery novel, Irene in Danger, was published in November, 2021.