Mysteries set in American West, urban Texas, Hill Country
Who's your favorite Texas mystery sleuth and/or author? Write me at mailto: j.alter@tcu.edu, and I'll see what I can dig up on that sleuth or author.
Good news never gets old, so even if it's a bit late, I'm delighted to congratulate Ann Weisgarber on the 2020 Willa Literary Award for Historical Fiction from Women Writing the West, an organization of professionals writing about the American West, with an emphasis on the experiences of western women and girls. The Willa Literary Award is named in honor of Pulitzer Prize Winner Willa Cather, whose novels portrayed the life of pioneering women on the Great Plains. The Willa is given for outstanding literature featuring women's stories set in the West, and winners are chosen annually by a panel of professional librarians.
Weisgarber was recognized for her third novel, The Glovemaker, set in the Utah Territories during the winter of 1888. When Deborah Tyler's husband, Samuel, is weeks overdue returning home to their small, isolated Mormon community, Deborah waits and worries, earning a living making work gloves. When a stranger shows up on her doorstep, fleeing from a marshal seeking him on polygamy charges, Deborah must make decisions that question her faith and humanity and jeopardize her future. The Houston Chronicle called it "Compelling historical fiction . . . Part love story, part religious explication, and part mystery . . . A journey you won't forget." The Glovemaker was also a finalist for the 2019 Western Writers of America, Inc., Spur Award for Historical Novel and for the 2019 David J. Langum, Sr., Prize in American Historical Fiction, as well as a finalist for the 2019 Association of Mormon Letters' Novel Prize. 
Weisgarber, who lives in Houston, is also the author of The Promise and The Personal History of Rachel Dupree.
* * * *
The long-anticipated third book in the Seasons Mystery Series from award-winning author Maryann Miller is now available. Desperate Season involves Miller's two female detectives, Angel Johnson and Sarah Kingsly, in a despera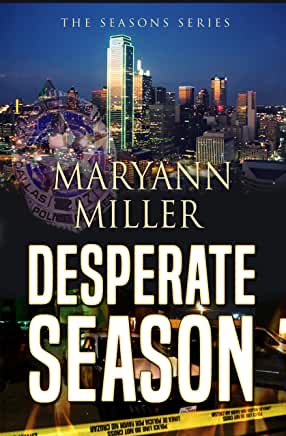 te race to stop the spread of a nasty new street drug that is killing kids. It's every cop's nightmare and makes both women, still figuring out their working relationship, question who owns the streets of Dallas.
Library Journal wrote, "Try this debut mystery by a journalist for its open treatment of current urban problems, clean prose, and realistic depiction of women working together. For readers who enjoy Robin Burcell and fans of police procedurals." Previous titles in the series are Open Season and Stalking Season.
* * * *
The Benevolent Lords of Sometimes Island, the eighth title by award-winning Texas writer Scott Semegran, will take you right back to William Golding's Lord of the Flies, only this time it's a group of middle-school boys stranded on an island in one of Central Texas's small, man-made lakes.
The year is 1986. William and his friends are being mercilessly hounded by high-school bullies, led by one they call "Bloody Billy." William finds Billy's backpack, containing money and marijuana, and he and his buddies escape first to an abandoned lake house, where they find themselves prey to both wild creatures and the high schoolers who will inevitably come looking for them, and then find themselves stranded on an island, without food or water. The boys' desperate situation is lightened by their banter with each other, a touch that justifies Semegran's reputation as a writer of humorous fiction with a dose of heart.
Will the boys survive the adventure when death seems to lurk everywhere? Will they turn on each other?
* * * *
In case you missed it, I was pleased to participate in the virtual Boerne Book & Arts Festival on October 3. Sarah Bird (Daughter of the Daughter of a Queen), Elizabeth Wetmore (Valentine), and I were panelists on the "Strong Women Writing About Strong Women" panel. Watch it here on Zoom or here on YouTube. 
Judy Alter, former director of TCU Press, is the prolific author of books, both historical and mysterious, mostly about Texas women. Her most recent book, Saving Irene, was published in September. Follow Judy at http://www.judyalter.com.