The resilience of perfectly flawed females
"...this tale underscores the changing culture for women and celebrates the resilience of perfectly flawed females"
In anticipation of the centennial of the Nineteenth Amendment to the U. S. Constitution, Arlington resident K. L. Benjamin has released a novel exploring the troubling yet sometimes amusing complexities of female relationships. Songs from the Canary Cage was inspired by an actual journey involving multiple generations, family secrets revealed, and a few peculiar relatives. According to Benjamin, Songs follows two sisters, their mother, and grandmother on a road trip in search of family history. They reunite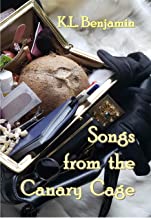 with a fourth-generation member, Aunt Lilith, whose history includes a string of six husbands, five of them dead and the sixth possibly plotting to kill her. Fearless and seasoned, she proceeds to brighten her nieces' worlds by dancing with their inner demons and calling out the obstacles they've constructed for themselves. And then there's kinswoman Opal, possibly guilty of a terrible crime. Set in the 1970s, this tale underscores the changing culture for women and celebrates the resilience of perfectly flawed females.
K. L. Benjamin is a pen name for Kathy Gowdy Mitchell, an award-winning writer whose accolades include a first-place prize in a writing contest for an early draft of Songs from the Canary Cage. She has published numerous articles and short novels under other pen names.
A couple of Texas ex-pats offer some new mysteries this month, set in Texas even if the authors have moved on. Kaye George is already back with Deadly Sweet Tooth, a second entry in her Vintage Sweets
Mysteries series set in Fredericksburg. While Tally Holt, owner of Old Tyme Sweets, is taking one busy Saturday off to host a grand party for her parents, traveling performers who spend most of their time on the road, someone decides to debut a recipe that's lusciously lethal. After a public confrontation with Tally's mother, the town's foul-tempered theater director, Fran Abraham, drops dead. Both Tally's parents are on the suspect list, and she must find the real murder before Fran's death sours everybody on her fledgling shop.
The Vintage Sweets Mysteries debuted in March with Revenge is Sweet. Formerly an Austin resident, Kaye now lives in Kentucky.
Cheryl Garrett's short story, "Brea
th," is about the 1960s tower shootings on the campus of the University of Texas. In her adaptation of that event, the sharpshooter who took out Charles Whitman is a woman who has bested police in local gun competitions. The story is included in the anthology, Crossing Borders, published by the San Diego chapter of Sisters in Crime and edited by Lisa Brackmann and Matt Coyle.
Raised in Lubbock, Cheryl attended TCU where she was on the rifle team and recalls hearing lots of rumors that it was a UT rifle-team member rather than a cop who shot Whitman. She says the story is accurate in every detail except the identity of the person who shot him—that twist is a product of her imagination.
Kathleen Rodgers's The Flying Cutterbucks is pitched as a serving of "Fried Green Tomatoes" set against the 2016 presidential elections and its impact on women of the "Me Too" and "She Persists" generation. At its center is a Gold Star
family of a fighter pilot missing in action in Vietnam and the women he left behind—sister, wife, and daughter. But the focus is on the collateral damage of war—rape, racism toward Latinos, elections, patriarchies, and false patriotism. There's plenty of action as a strong female cast fights against oppression.  The Cutterbuck women—Trudy, Georgia, and Aunt Star long ago swore an oath of silence to hide the violence they'd suffered in their lives. When Trudy returns to help her mother, Jewel, sort out the family home in a small New Mexico town, she stumbles over some hard truths about her family. The story follows her struggle to lay the dead to rest, find her own way, and move through the election.
The Flying Cutterbucks will be a Pulpwood Queens 2021 Book of the Month selection. The author of several novels having to do with the military and aviation, Rodgers was a finalist for the 2019 Military Writers Society of America title, Writer of the Year. Her essays have appeared in Family Circle, Military Times, and several anthologies. She and her husband, now empty-nesters, live in a North Texas suburb.
Judy Alter, former director of TCU Press, is the prolific author of books, both historical and mysterious, mostly about Texas women. Her most recent book, The Second Battle of the Alamo, tells the story of the two women who saved the Alamo from demolition. Follow Judy at http://www.judyalter.com.