New installments in established Texas mystery series
Who's your favorite Texas mystery sleuth and/or author? Write me at j.alter@tcu.edu, and I'll see what I can dig up on that sleuth or author.
Texans who have found Dripping Springs author Helen Currie Foster rejoiced this April when the sixth in her Alice MacDonald Greer mysteries series appeared. In Ghost Cat, lawyer Alice Greer takes on an unscrupulous real estate developer who is muscling his way into the Hill Country community, ignoring threats, abusing immigrant workers, and menacing neighbors. Greer challenges him in court, but one of her clients dies mysteriously and another narrowly escapes death (where but the Hill Country would one nearly suffocate in a wine vat?). It appears Alice has a target on her back. Foster knows whereof she writes—before her mystery career, she practiced environmental law for thirty years. Readers praise the way she captures the landscape and culture of the Hill Country with all its idiosyncrasies.
Ghost Cat follows Ghost Dog, Ghost Cave, Ghost Letter, Ghost Dagger, and The Ghost Next Door.
Teen readers welcomed Mayhem on the Midway, the newest installment in the Hannah and Tamar YA mystery series. In this one, students at Rosedale High are planning an all-school fair at the year-end fundraiser for the junior class. A series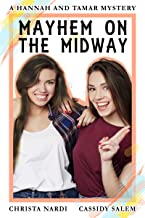 of troubling incidents nearly put a hitch in their plans but led by Hannah and Tamar, they are determined to go ahead and to cooperate with police to keep the midway safe from mayhem—and murder.
The series is a collaboration between two mystery authors with series of their own, sisters Christa Nardi and Cassidy Salem. Nardi, a Texas transplant, writes the Cold Creek series and the Staci Maroni mysteries. Salem is the author of the Adina Donati mysteries. Both authors are members of Sisters in Crime. Previous titles in the Hannah and Tamar series are The Mysterious Package, Mrs. Tedesco's Missing Cookbook, The Misplaced Dog, and Malicious Mischief.
It's a big leap from YA troubling coincidences to a sadistic serial killer, but that's where LynDee Walker takes us with Leave No Stone, the second entry in the Faith McClellan mysteries. McClelland is a Texas Ranger, assigned with her
mentor, veteran Ranger Archie Baxter, to the case of a young mother missing in the Hill Country. Then the bodies begin appearing—a series of unrelated women, each with a cryptic message carved into the corpse. Mystery author Jeff Carson has written that Walker creates a "tight, wonderfully complex plot" and McClellan is "a capable, shining heroine you'll love to root for."  First in this series was Fear No Truth, in which McClellan investigates the murder of a young athlete whose body is found on the shore of Lake Travis.
Walker, who lives in Virginia, is a former award-winning journalist who worked extensively with law enforcement, both in collaboration and in exposing corruption at high levels. Her work has appeared in magazines and newspapers across the country. She is also the author of the Nichelle Clark thrillers featuring a crime reporter. Who knows why she chose Texas for her new series, but she makes effective use of our state.
From New Mexico comes The Enemies of Doves by Shanessa Gluhm, a debut novel spanning the years from World War II to 1991 in Texas.
On a summer night in Carthage, Texas, 1932, twelve-year-old Joel Fitchett wakes to find himself in a hospital, with detectives waiting to talk to him. He and his younger brother, Clancy, had been badly beaten. Both boys claim they have no
memory of what happened, but the truth is that they can't forget, hard as they might try. Thirteen years later, both men still struggle with the aftershocks of that long-ago night and their promise to each other to hide the truth. When they find themselves at the center of a murder investigation, they make a decision that will change everything. A second lie, a second pact, and for a time, a second chance.
College student Garrison Stark hears a rumor that Clancy Fitchett was his biological grandfather. Clancy has been missing since 1946, but Garrison, who is without family, hopes to find in him at least one biological relative. What he doesn't expect to discover is a tangle of secrets spanning sixty years involving Clancy, his brother Joel, and the woman they both loved, Lorraine. One reader wrote that this book, which alternates past and present, "deals with hard topics such as PTSD and child abuse without flinching." Another called it an amazing story with an amazing ending.
As an elementary school student, Shanessa Gluhm was encouraged by a teacher to share a story she wrote, "Piggy the Kid," with her class. Her classmates asked for a sequel, and she obliged. She's been writing stories ever since. Today she is an elementary school librarian. Watch for more from Gluhm, though Enemies of Doves seems to be a stand-alone.
Who's your favorite Texas mystery sleuth and/or author? Write me at j.alter@tcu.edu, and I'll see what I can dig up on that sleuth or author.