Let the simple Amish world come to life before your eyes through books
Saturday, October 29, 2022
Autumn is one of my favorite times of the year here in Texas. There's just a touch of chill in the air each morning, the humidity is almost nonexistent, and the first signs of color are slowly appearing in the trees around our part of the world. Fall is almost here, and with it comes thoughts of pumpkin lattes, warm sweaters on a cool morning, and a welcoming fire to curl up in front of and read.   
What better way to start your fall off right than by grabbing one of these books written by some of the Lone Star State's most talented Amish fiction authors.    
If you're a fan of the simple ways depicted in Amish fiction, then these books are going to be on your "must read" list this fall.  
The Gift of Hope (Unexpected Gifts Book 1) by Kristen McKanagh 
A cheerful giver is twice blessed in this first novel in an Amish series by Kristen McKanagh. 
Hope Beiler needs Aaron Kanagy's help. She is determined to give her sister a beautiful new bed frame as a wedding present, and Aaron is the best carpenter around. Unfortunately, she can't move past something he said when they were younger...and there's unexplained animosity between their fathers that makes interacting difficult. 
Aaron wishes he could spend more time honing his woodworking craft, but his parents need help running their gift shop. When Hope approaches him with a solution that will allow them both to achieve their goals, he accepts. As they work together, Aaron finds himself captivated by Hope and an idea forms.... 
Unfortunately, Hope's already wounded pride means she doesn't give him the answer he expects. At the same time, her father discovers what they've been doing and forbids Hope from seeing the Kanagys anymore. As secrets from the past come to light, will Gotte be able to teach two strong-willed souls—and their families—that pride comes before every fall, but hope helps us rise again? 
Kristen McKanagh writes sweet contemporary romance and Amish romance. She loves plots that warm the heart, feisty heroines with sass, heroes with heart, a dash of snark, and oodles of HEAs! Other titles include wife, mother, Star Wars geek, ex-competitive skydiver, spreadsheet lover, eMBA, organizational guru, Texan, Aggie, and chocoholic. 
Kristen attempted to find a practical career related to her favorite pastime by earning a degree in English Rhetoric (Technical Writing) and an MBA. However, she swiftly discovered that writing without imagination is not nearly as fun as writing with it. 
Kristen currently resides in Austin, Texas, with her own swoon-worthy hero, their amazing kids, who are growing up way too fast, and 2 adorable fur babies. 
Be sure to check out more of Kristen's books on her website: 
https://kristenmckanagh.com/books/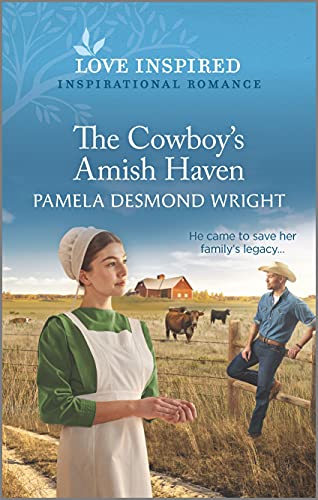 Looking for a sweet uplifting Amish romance set in Texas? Then you don't want to miss The Cowboy's Amish Haven: An Uplifting Inspirational Romance by Pamela Desmond Wright. 
Her home and her heart are on the line… 
On the same day Gail Schroder's faced with losing her Amish family ranch, her old crush Levi Wyse shows up on her doorstep. He doesn't know that when he left ten years ago, he'd taken Gail's heart with him. Now Levi's her only hope of keeping a roof over her head. But can this cowboy teach Gail the ropes in time to save her home? 
Pamela Desmond Wright grew up in a small, dusty Texas town. Her book, The Cowboy's Amish Haven, debuted on the Publishers Weekly Bestseller List.  
Like the Amish, Pamela is a fan of the simple life. Her childhood includes memories of the olden days: old-fashioned oil lamps, cooking over an authentic wood-burning stove and making popcorn over a crackling fire at her grandparents' cabin. She also loves needlepoint and has dozens of projects to work on! Someday, she hopes to move into van life, living on the road as a traveling writer. When she's not working on a new story, Pamela can often be found riding one of her bikes where she sorts through sticky plot problems and character issues while cruising the wide-open roads of Texas. 
Learn more about Pamela here: https://www.pameladesmondwright.com/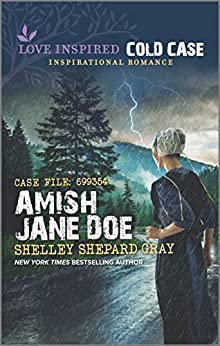 Do you like cold-case stories? Then check out Amish Jane Doe by former Houstonite, Shelley Shepard Gray.  
He left her without a word… 
Now he needs her help to catch a killer. 
Escaping his Amish community as a teen was about survival, but leaving meant breaking LizBeth Troyer's heart. Now Detective Jackson Lapp is working a cold case—and the clue to a murdered Amish girl's identity leads him back to his hometown. Can Jackson and LizBeth rebuild their broken trust and work together to catch a killer before another young Amish woman is murdered?  
Shelley Shepard Gray is a former native of Houston and a New York Times and USA Today bestselling author. She's published over a hundred novels and has over a million books in print. She currently lives in northern Ohio and writes full time. 
Shelley currently writes contemporary romance and Amish fiction for a variety of publishers. When not spending time with her family or writing, she can usually be found walking her two dachshunds. She also bakes a lot, loves coconut cream pie, and will hardly ever pull weeds, mow the yard, or drive in the snow. 
Shelley spends a lot of time online! Please visit her website, https://shelleyshepardgray.com/ 
With a little something for everyone, grab your favorite fall beverage and take a trip to Amish Country. You won't be disappointed.  
All the best. . . 
Mary Alford