TCU Press will publish book documenting national parks tour through poetry, photography
Saturday, February 16, 2019
"Wonder cannot be imported or exported, but it can be captured with words; in our roles as Poets Laureate, we can think of no better treasure to explore and champion than the U.S. national parks"
FORT WORTH—Texas Poets Laureate Karla K. Morton and Alan Birkelbach, both award-winning writers with twelve (Morton) and eleven (Birkelbach) published books of poetry, announced on Monday, February 11, 2019 that TCU Press will publish their forthcoming book that will document their Words of Preservation: A Poets Laureate National Parks Tour. The book will be the first of its kind and is expected to be released in 2020.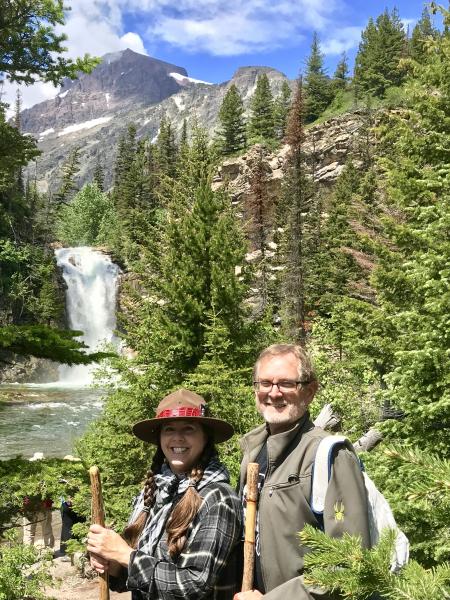 Morton and Birkelbach launched their Words of Preservation National Parks Tour toward the end of 2016 with an NPR Wyoming interview and an inspirational visit to Yellowstone National Park and the Grand Tetons National Park. They have visited thirty-eight National Parks so far on their quest to visit all sixty, with plans to visit the remaining parks in 2019. Along the way, they have documented their journey through poetry and photography and presented at U.S. national park venues and nearby universities, bookstores, and public libraries.
"We are thrilled that TCU Press will be publishing this historic work," said Karla K. Morton. "In our travels to thirty-eight of the sixty National Parks so far—and their visitor centers and bookstores—we have found some beautiful poetry about individual parks, but not a single comprehensive poetry collection that includes and celebrates every single national park."
In the spirit of previous defenders of the outdoors—like Henry David Thoreau, John Muir, Aldo Leopold, and John Graves—Morton and Birkelbach hope to contribute to the exploration, cultural preservation, and protection of our country's precious national parks.
"In this digital age, there is no replacement for the grandeur of Mother Nature. Wonder cannot be imported or exported, but it can be captured with words; in our roles as Poets Laureate, we can think of no better treasure to explore and champion than the U.S. national parks," said Morton.
For updates on Morton and Birkelbach's National Parks Tour, speaking schedule, and forthcoming book, visit www.texaspoetlaureate.com/tour.html, follow along on their blog at www.wordsofpreservation.com, on Facebook, on Instagram, and subscribe to Karla's quarterly e-newsletter.
TCU Press has traditionally published the history and literature of Texas and the American West. As the press has grown steadily in stature and in its ability to bring credit to its parent university over the last sixty years, it has been praised for publishing regional fiction and for discovering and preserving local history.