New bookstores are open for business; Texas booksellers are named to MPIBA's board of directors
Sunday, November 14, 2021

Rustic Moon Bookshop opens in Wimberley
Locally owned and independent Rustic Moon Bookshop has opened in Wimberley to "offer a quality selection of affordable, pre-loved books for customers of all ages and backgrounds."
Located at Olde Towne Plaza (next to The Square), 13709 Ranch Road 12, they are "committed to our mission of fostering connection and community by providing an inclusive and comfortable environment that encourages the healthy exchange of ideas.  We strive to be a haven for those who find comfort and enrichment in books."
They also have a Writing Life Book Club that meets the 1st Wednesday of each month from 5–6:30 p.m. on Zoom (for now!).
Village Books opens in The Woodlands
Village Books opened in The Woodlands on September 10 at 9955 Woodlands Parkway Suite F. As per their website, they "believe the role of every independent bookshop is to support and celebrate its community and serve as an incubator for young readers, new writers, and literary adventures. Our bookshop, located between the Indian Springs and Sterling Ridge villages of The Woodlands, offers new books, distinctive gift items, gift certificates, and a full schedule of events and activities, including multilingual children's story hours, author readings, classes and workshops, and special events.
We are proud to be a part of The Woodlands and surrounding communities. And we want to be your connection to your neighbors, whether you're making a quick stop to pick up the latest bestseller, gathering with friends for a reading or signing by a local author, or just spending a few stolen moments browsing our collection of specially curated books.
We're open seven days a week. Come in to browse, buy, or just say hello, and be sure to let us know what books you're loving right now."
The founder of Village Books, Teresa Kenney, is a local writer and magazine editor. You can find her and Village Book's mascot, Kenney's "purebred mutt adopted from local rescue organization" named Oso, at their store Monday through Saturday 10 a.m.–5 p.m. and Sunday noon–5 p.m.
El Paso's Richard Burges Branch Library Bookstore now open
Located inside the Burges library at 9600 Dyer Street, the bookstore is now open. As per their Facebook page, their selections are "priced to fit every budget". The store is open Tuesdays and Thursdays from 11 a.m.–4:30 p.m.
The branch also underwent renovations and re-opened in March of 2019. More events and information on the library can be found on their website.
Enda's BOOKtique owner on advisory board for Mountain & Plains Independent Booksellers Association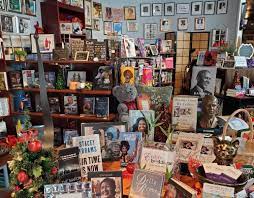 Enda Pemberton's Enda's BOOKtique opened in June of 2020 with a mission to "encourage individuals to read, deliver quality literature and merchandise to customers, nurture our educational and literary programs, and advance support [of] independent authors." Located on 428 North Main Street in Duncanville, they house a "collection of curated books, authors programs, and bookstore events," as well as "space for book signings, special events, lectures, and study sessions for college and graduate students."
Enda's BOOKtique was also selected Best Bookstore by D Magazine and boasts being a bookstore for women, about women, and by women.
They are open Saturdays (November and December) noon–4 p.m.
Pemberton and Consuelo Wilder, of BookPeople in Austin, were just welcomed as two of the four new board directors for the Mountain & Plains Independent Booksellers Association. This established nonprofit's mission is to "support and promote independent bookstores in our region, raise awareness of the value of locally owned businesses in our communities, and celebrate diversity in literary culture, and an open exchange of ideas, as crucial to a free society." Pemberton's leadership role in this organization helps to support the mission, as well as encourage other independent booksellers.