Reverie Books and GCAC bookstore open, Borderlands Texas Poetry Review publishes final issue
Sunday, September 26, 2021
Borderlands Texas Poetry Review Closes
As per the board of Borderlands, "Texas Poetry Review is sad to announce that Issue 53 will be our last. We are grateful for our 30 years of publishing poetry, reviews, and art. While making the decision to close the journal was one of the toughest we have ever made, we also know that we had great luck and, most importantly, support that allowed us to remain an independent publication for that entire time."
We plan to release Issue 53 in mid-November. Because this will be the final edition, we're running a pre-order to help us gauge how many copies we need. Each pre-order purchase comes with a back issue of your choice (based on availability). We know you will love our send-off issue, so reserve your copy now!
If you are still waiting to hear back on your submission for Issue 53, please know that we are still in the process of putting our last issue together. We appreciate your patience. This is a volunteer organization run by practicing poets, so we know firsthand how challenging it is to wait. We are doing our best, and final decisions will come soon.
Thank you to all contributors, readers, and editors past and present. We are grateful for all the support that we have received over the years."
Issue 53 will ship in November 2021.
Guadalupe Cultural Arts Center Bookstore Opening in San Antonio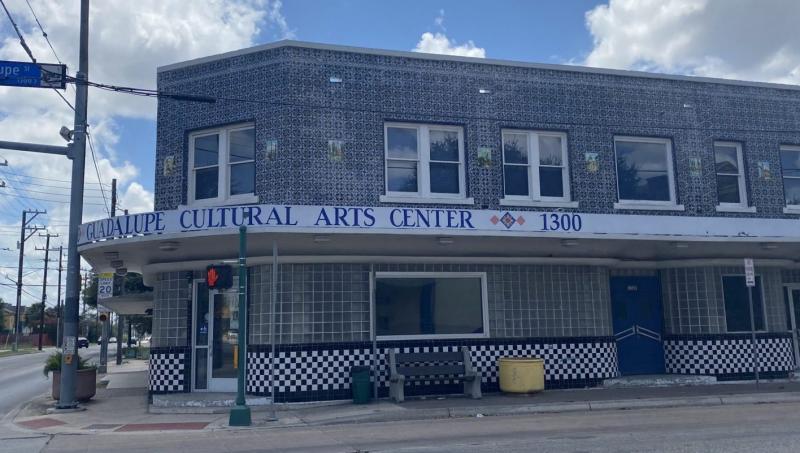 The Guadalupe Cultural Arts Center (GCAC) in San Antonio is opening a new bookstore on October 1. The bookstore "will bind Latino literature with community," My San Antonio reported.
MYSA reports that the "3,000-square-foot shop, located in the former Progreso Pharmacy Building at 1300 Guadalupe Street, will feature "literature written by Texas Latino authors, focusing on Mexican-American studies and Chicano scholars and icons, as well as children's titles."
GCAC Executive Director Cristina Balli explains that the bookstore will cater to an underserved community. "It's economics. The 78207 zip code is one of the poorest zip codes in San Antonio, with a long history of segregation, and economic segregation, that has shaped the forces to be what they are now. The area is underserved in all aspects--food, transportation, infrastructure--not too long ago, there was a big flooding zone. Historically, there's been a lot of neglect of the area. That's the environment that we've been operating in."
As part of the 2012 city bond, the bookstore was funded with the $839,000 GCAC received to renovate the building and add a community art gallery and gift shop. Balli said she added the bookstore concept when she joined in 2016.
There will be a celebration for the opening of the Guadalupe Latino Bookstore & Gift Shop, Visitor Center and Community Gallery and the 30th Anniversary of the Guadalupe Dance Company on Friday, October 1 and Saturday, October 2, 2021 from 1 – 5 p.m. at the Historic Progreso Pharmacy Building (1300 Guadalupe Street). There will be a ribbon cutting at 1 p.m. with light refreshments. It will be open house, and free & open to the public.
Austin's First Indie Bookstore South of the River Now Open
As per a Reverie Books press release:
"Woman-Owned, Queer-Owned Bookstore Creates a Social Justice Space for All
September 10, 2021 – A new bookstore dedicated to community and social justice has opened in Austin's '45 neighborhood. Supported with community funding, Reverie Books is a partnership between longtime friends Thais Perkins and David Schunck. It will be the first indie bookstore south of the river and available to South Austinites.
Like many new businesses, Reverie Books was born out of the pandemic. Owner Perkins found herself leaving her career as a nonprofit executive to be a full-time, 15-month stay-at-home teacher. "Any momentum I had was pretty much destroyed by isolation and drained by online learning," Perkins said. "I was ready for a new act, but I wasn't sure what was coming next."
That's when Perkins ran into old friend Schunck, owner of Good Buy Books in South Austin. He was packing cardboard boxes full of books into his car, ready to give up on the business. "I thought about it for a full 30 seconds before I asked if he wanted to try something different," said Perkins.
It was at that moment, Reverie Books was born. More than just a bookstore, Reverie is focused on social justice, has something for everyone, and is prioritizing local and marginalized voices. Its mission is to:
- Create an inclusive space offering something for everyone (bestsellers, YA, children's lit, sci-fi, science & nature);
- Prioritize social justice and give voice to the experiences of women, LGBTQ+, and marginalized communities;
- Spotlight local authors and poets;
- Give back to Austin through partnerships with area nonprofits; and
- Create a space for coming together through writers' circles and performances/readings by local writers, poets, and songwriters.
"Reverie Books is about learning and enlightenment, but it's also about community and acceptance," says Perkins. "It's a place we need in (South) Austin so badly coming out of the past year."
Perkins credits her wife MaryAnn Cicala with encouraging her to take the leap of faith. Reverie will be the only woman-owned, queer-owned bookstore with a mission that reflects inclusivity. "They say, 'You can't be what you can't see.' We also believe that you can't be what you can't read," said Perkins.  "This is a store for everyone. A place our entire community can come together to learn, grow, and exchange ideas."
You can follow their journey on Instagram @reveriebooks or on Facebook at ReverieBooksAustin.