NEWEST RELEASE: Wildflower Wedding with a Killer Reception
Series: The Sisters, Texas
Genre: Cozy Mystery / Romance / Women Sleuths
Publisher: Clear Creek Publishing
Date of Publication: June 1, 2019
Number of Pages:  284
ABOUT THE BOOK: It's the most anticipated wedding of the year in The Sisters, when Madison Reynolds and Brash deCordova finally tie the knot!
 
Wedding preparations are underway, but the aisle to the altar gets rockier by the minute.
 
Their support is humbling, but the community's enthusiasm soon threatens to hijack the wedding. Squeeze in a suspicious death during a Texas Independence Day celebration, the needy new widow Madison befriends, and an unscrupulous politician trying to unseat Brash as chief of police, and the path seems littered with obstacles. 
Madison will move mountains, however, to marry the man of her dreams. All they really need is each other, their children by their side, and a preacher to make it official. In an effort to please everyone, the couple opts for a private ceremony followed by a public celebration. It's the perfect Wildflower Wedding, but who knew it would end in a killer reception?
 
Cantankerous Nigel Barrett hired In a Pinch Professional Services to find his estranged family, but it takes more than a home DNA test to locate his next of kin. Madison suspects he was searching for an heir, but when the wealthy rancher is killed at their reception, she'll settle for finding someone to attend his funeral.
 
From the author of Forgotten Boxes, Plain Roots, and the Spirits of Texas Cozy Mysteries, enjoy book eight of the award-winning reader favorite The Sisters, Texas Series. 
For maximum enjoyment, follow the series from the beginning. Readers say, "It's like visiting with old friends!"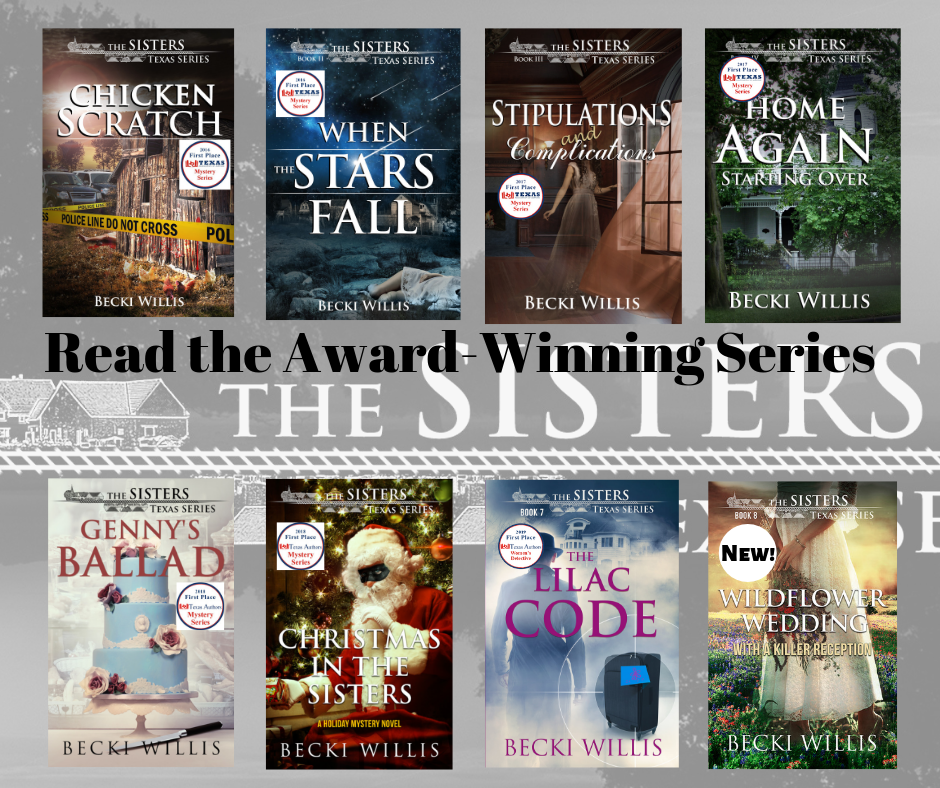 ABOUT THE AUTHOR: Becki Willis, best known for her popular The Sisters, Texas Mystery Series and Forgotten Boxes, always dreamed of being an author. In November of '13, that dream became a reality. 
Since that time, she has published numerous books, won first place honors for Best Mystery Series, Best Suspense Fiction, Best Women's Detective Fiction, and Best Audio Book, won the 2018 RONE Award for Paranormal Fiction, and has introduced her imaginary friends to readers around the world. 
An avid history buff, Becki likes to poke around in old places and learn about the past. Other addictions include reading, writing, junking, unraveling a good mystery, and coffee. She loves to travel but believes coming home to her family and her Texas ranch is the best part of any trip. Becki is a member of the Association of Texas Authors, Writer's League of Texas, Sisters in Crime, the National Association of Professional Women, and the Brazos Writers organization. She attended Texas A&M University and majored in Journalism.
Connect with Becki below. She loves to hear from readers and encourages feedback!
Website ║ Twitter ║ Goodreads  ║ Email  ║ Facebook ║ Instagram║ Pinterest 
LinkedIn ║ BookBub║ Amazon Author Page ║  YouTube
Click for direct links to each tour stop
| | | |
| --- | --- | --- |
| 6/20/19 | Chicken Scratch, #1 | |
| 6/20/19 | When the Stars Fall, #2 | |
| 6/21/19 | Stipulations & Complications, #3 | |
| 6/22/19 | Home Again: Starting Over, #4 | |
| 6/23/19 | Genny's Ballad, #5 | |
| 6/24/19 | Christmas in The Sisters, #6 | |
| 6/25/19 | The Lilac Code, #7 | |
| 6/26/19 | Wildflower Wedding, #8 | |
| 6/26/19 | Wildflower Wedding, #8 | |
| 6/26/19 | BONUS Chicken Scratch, #1 | Reading by Moonlight |
| 6/27/19 | Wildflower Wedding, #8 | |
| 6/27/19 | Wildflower Wedding, #8 | |
| 6/27/19 | BONUS When the Stars Fall #2 | Reading by Moonlight |
| 6/28/19 | Wildflower Wedding, #8 | |
| 6/28/19 | BONUS Stipulations & Complications #3 | Reading by Moonlight |
| 6/28/19 | Wildflower Wedding, #8 | |
| 6/29/19 | Wildflower Wedding, #8 | |
| 6/29/19 | Wildflower Wedding, #8 | |
| 6/29/19 | BONUS Chicken Scratch, #1 | |
| 6/30/19 | BONUS When the Stars Fall, #2 | |
|   |   |   |
Giveaway ended June 30, 2019