October brings chilly mornings and chilling books to add to your TBR
Saturday, October 1, 2022
The month of suspense and surprises brings ghoulishly good reads with witch hunts, Whiskers, and deadly whodunits. Choose your own adventure this month with Lone Star Lit!
James Wade
Beasts of the Earth tells the story of Harlen LeBlanc, a groundskeeper whose carefully maintained routine is overthrown by an act of violence. As the town searches for answers, LeBlanc strikes out on his own to exonerate a friend, while drawing the eyes of the law to himself and fending off unwelcome voices from his traumatic past. Twenty years earlier, young Michael Fischer does his best to survive deep in the swamps of Louisiana where he is on the run from his abusive father. Michael is taken in by a dying poet and his lover, who extract from him a promise: to be a good man, whatever that may require. The novel deftly intertwines these stories, exploring themes of trauma, violence, and morality, while producing a revelatory conclusion that is both beautiful and heartbreaking.
DiAnn Mills
A FAULTY CONSTRUCTION JOB. THE DISCOVERY OF A DEAD BODY. A SINISTER PLOT. FBI Special Agent Marc Wilkins teams up with Avery Elliott, the granddaughter of a Texas senator suspected of murder and embezzlement, hoping to get to the bottom of a sinister plot threatening the whole Brazos River community. While searching for answers, they must decide if they can trust each other or if trust is the most dangerous choice they can make.
For the Minds and Wills of Men
Jeff D. Lanier
A gripping, historical art mystery set in 1950s cold war Manhattan, a story of art, love, and espionage. While recovering a stolen Jackson Pollock for a wealthy client, art insurer Will Oxley falls for the client's daughter, Liz Bower, who leads him deep into the rebellious and seductive world of the abstract expressionist painters. But when Will learns the painting⁠—and Liz⁠—may be hiding communist secrets better left hidden, he finds himself torn between exposing the girl he loves or risking his life by trusting her instead. Realizing nothing is as it seems, Will is caught between communist espionage, secret government programs, and the grip of cold war fear, suspicion, and betrayal where trust is all he has left …
Khattaks
Howdy, Neighbor! showcases Texas and its nearby neighbors, sharing visual and inspirational journeys through small towns and places off the path in New Mexico, Oklahoma, Arkansas and Louisiana.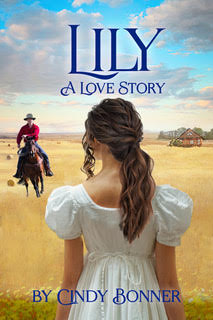 Cindy Bonner
Lily DeLony, fifteen, tells her very one-sided version of events that happened on Christmas Eve night 1883 in the town of McDade, Texas, when a vigilante group made up of ordinary citizens struck against a gang of outlaws. One of the outlaw gang was the love of Lily's young life. One of the vigilantes was her father. Based around a true event, Lily's telling of this tale is characterized by her spirit, her will, her fearlessness, and the endearing gullibility of youth. By the end of the story, Lily had forsaken all she has ever known for the love of Marion "Shot" Beatty and an unknown future – one that includes a pistol in her skirt pocket. 
Diane Vallere
When a local newspaper mistakenly uses interior decorator Madison Night's life story in the obituary of a once in-demand jazz vocalist with a similar name, Madison's live turns upside down. Canceled lines of credit and a swarm of condolences to Madison's loved ones are just the tip of the iceberg, but when the decorator discovers evidence that the real dead woman played a part in an unsolved murder, their identity mix-up gives Madison backstage access to a life of secrets. As parallels between the singer's life and hers become impossible to ignore, Madison questions the price of fame. But Madison isn't the only one to discover the singer's buried secrets, and if she's not careful, the next obituary might be her own.
Steve Adams
REMEMBER THIS is a literary love story following a two-month long love affair in 1988 AIDS-haunted New York City between a single young man from Texas whose buried instincts and talent for creating visual art is starting to break through, and the woman he's in love with, his supervisor in the office where they work - a married mother from Italy with an eighteen-month-old daughter. The book's second storyline tracks the protagonist as a child in New Braunfels, Texas, through the intense relationships he has with his three much older sisters, which marked him in a way that led him to this affair where he uncovers a secret he didn't know he was carrying.
Jan Sikes
Colt Layne owns the Layne Horse Sanctuary. He lives an idyllic life, caring for the animals and playing music with his band. That is until a stranger appears with unreasonable demands. When someone murders the man, Colt is arrested. He's been framed, but by whom and why? He must talk with his deceased grandfather. But that's impossible. Or is it? Sage Coventry is gifted with the ability to communicate with the deceased. Skeptical but desperate Colt consults with her. He gets more than messages from beyond the grave as she breezes into his heart with sweet patchouli fragrance and tempting lips he longs to kiss. The race against time to clear his name and save the ranch launches them on a mission that brings shocking revelations.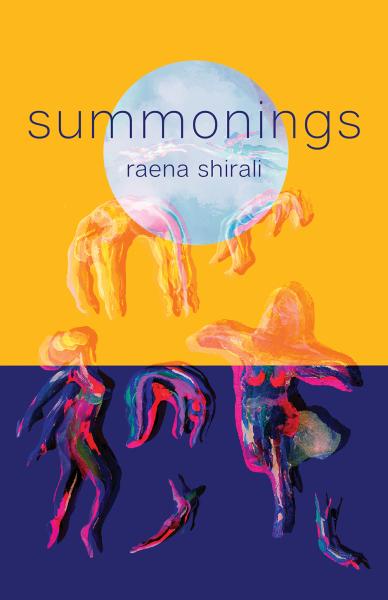 Raena Shirali
In Summonings, Shirali investigates the ongoing practice of witch ("daayan") hunting in India. A timely, important, and powerful work, Summonings is comment on power & patriarchy, on authorial privilege & the shifting role of witness, and ultimately on ethical poetics.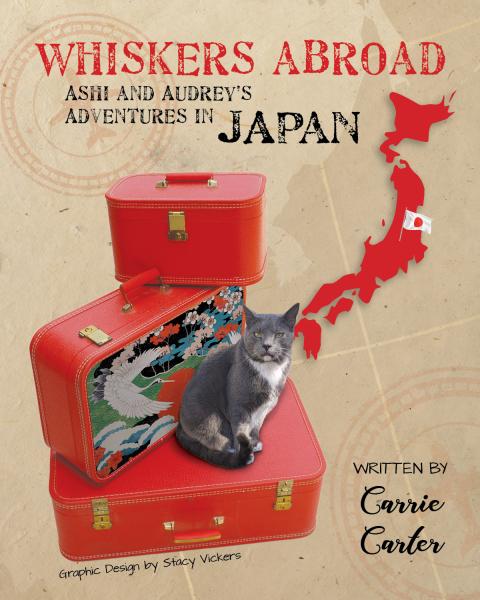 Carrie Carter and Stacy Vickers
Whiskers Abroad  is a lively travelogue featuring a trip to Japan shared by two main characters, Audrey and her cat Ashi, who alternate recounting their versions of events. During a twelve-day trip, the pair visit several cities. Adventures abound. Audrey is still trying to find her place in the universe, while Ashi believes Audrey would sink beneath the waves were he not present to rescue her. Audrey's daily horoscope offers tantalizing clues as to what's in store for the pair. Written by Carrie Carter and designed by Stacy Vickers, Whiskers Abroad  is both an amusing travel story with unforgettable characters and a useful guide for tourists going to Japan. Lavishly designed, Whiskers Abroad will delight both your eyes and your sense of adventure.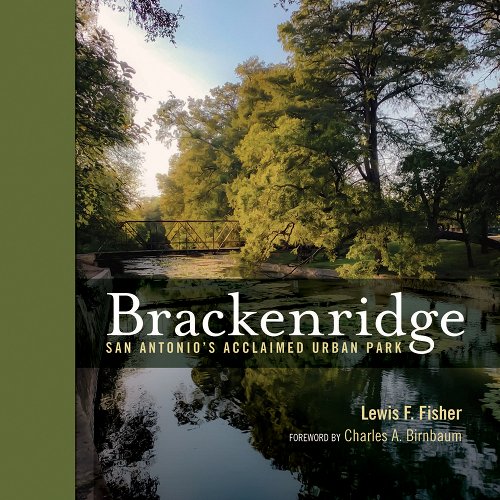 Lewis F. Fisher
Brackenridge Park began its life as a heavily wooded, bucolic driving park at the turn of the twentieth century. Over the next 120 years it evolved into the sprawling, multifaceted jewel San Antonians enjoy today, home to the San Antonio Zoo, the state's first public golf course, the Japanese Tea Garden, the Sunken Garden Theater, and the Witte Museum.
The land that Brackenridge Park occupies, near the San Antonio River headwaters, has been reinvented many times over. People have gathered there since prehistoric times. Following the city's founding in 1718, the land was used to channel river water into town via a system of acequias; its limestone cliffs were quarried for building materials; and it was the site of a Civil War tannery, headquarters for two military camps, a plant nursery, and a racetrack.
The park continues to be a  site of national acclaim even while major sections have fallen into disrepair. The more than 400 acres that constitute San Antonio's flagship urban park are made up of half a dozen parcels stitched together over time to create an uncommon varied landscape. Uniquely San Antonian, Brackenridge is full of romantic wooded walks and whimsical public spaces drawing tourists, locals, wildlife, and waterfowl.
Extensively researched and illustrated with some two hundred archival photographs and vintage postcards, Brackenridge: San Antonio's Acclaimed Urban Park is the first comprehensive look at the fascinating story of this unique park and how its diverse layers evolved to create one of the city's foremost gathering places.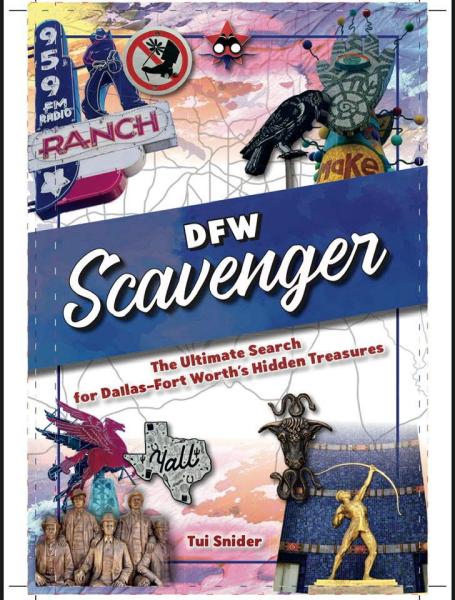 Tui Snider
Looking for a new way to explore the Dallas-Fort Worth Metroplex? Put on your walking shoes and channel your inner Sherlock to solve riddles that will take you on a unique scavenger hunt through 26 neighborhoods in 12 cities. 
Each rhyming clue includes a photo to help you discover intriguing places, many of which are hidden in plain sight. Decoding these hints leads you to everything from hidden time capsules and forgotten fallout shelters, to a barber shop that's operated from the same little storefront since 1892. There's even a modern-day speakeasy. And if you think Venus was birthed on a half-shell, here in North Texas she stands on top of a saguaro cactus. 
Use this book for inspiration when guests visit, to take your family and friends on an adventure, or simply solve clues on your own. Plan a day for each section, then linger to enjoy the shops, restaurants, and parks in each featured area. Along the way you're bound to discover new-to-you places and overlooked history while gaining a deeper appreciation for the many delights to be found in the Metroplex. 
Kathleen Y'Barbo
A a new dog rescue project turns into a three-ring circus of calamities. Trina Potter, Nashville country music star, buys a ranch near her hometown in Brenham, Texas, to help her niece open a rescue facility for dogs. Her presence in town stirs up some old high school rivalries—and romance. Finding property to buy is a challenge, convincing her mother to move there with her is daunting, and navigating a string of strange accidents is perplexing. Sometimes Trina feels like she's purchased her own three ring circus instead of a beautiful piece of land. But her first priority will be figuring out who wants Second Chance Ranch shut down before they even have the grand opening.
Natalie Bright
Destynee Olsen has always heard that her life's destiny is more important than she is. Realizing that the road to stardom means leaving behind a piece of her heart, she must decide what she really wants. Is this her dream or her over-bearing mother's? Travis Olsen promises to support his wife's ambitions and it comes at a great cost. Being a single parent is not the sacrifice he had in mind. There is no question that his wife has an unbelievable talent, but that means their son may grow up without a mother. Will Travis and Destynee end up on the same path? Sometimes it takes courage to speak the truth and stop denying your true heart's desire.
Linda Broday
Christmas? It's nothing to celebrate and brings memories of everything he seeks to forget. When a horrendous accident leaves Jericho Cane disfigured, he retreats to the dark refuge of his childhood home. People label him a monster, a phantom. Only while the town sleeps can he find courage to venture out and seek solace in midnight rides. But who is making mysterious repairs to broken items, leaving food on doorsteps and wooden angels on children's graves? Newly arrived, Irish doctor Kathleen O'Shea, has no fear of Jericho Cane. Armed with determination, she offers hope where he can live again. Still, can he thrive walking in daylight amongst the ones who call him a monster? If she fails, the darkness will consume him for good. 
IT TAKES A WORRIED WOMAN: Essays
Debra Monroe
Debra Monroe has always written about the source of trouble, "that one incident you zero down to and everything bad that happens afterward happens because of it." The illusion that every problem has a clear-cut cause and discernible solution is apparently her gateway drug. It Takes a Worried Woman explores the outer limits of her faith that all past hardship could have been prevented and all future hardship might still be. 
Yet one person's trouble is often a small eddy in the outflow of history, and this book becomes a meditation on the price of effort exerted against fixed circumstances. Dense with history, lyrical, at times darkly funny, these essays explore sexism, racism, hate speech, violence, Monroe's grief about dwindling access to the natural world, and her fears as her daughter's adult life unfolds. Whether depicting the ubiquitous pressure to marry, the search for a shape-shifting familiar old enough to be her mother, or childcare as a game of risk, Monroe takes a measured look at problems that could be solved, problems that may never be, and at all the ways that trouble is big but hope, new strategies, fresh patience, and endurance are eventually big enough.
Jabari Asim and illustrated by AG Ford
A little boy's joyous encounter with his hero, boxing champion and poet Muhammad Ali, is everything he's dreamed of—and more!
Like most of the kids he knows, Langston is a huge fan of boxing champ Muhammad Ali. After all, Ali is the greatest for so many reasons—his speed, his strength, his confidence—and his poetry. Langston loves that Ali can float like a butterfly and sting like a bee, and Ali's words give him confidence to spin his own poems. When Langston hears the champ is coming to the local high school, he's ecstatic—this will be a day that will go down in history for him. When the big day arrives, Langston gets a special haircut, and floats like a butterfly to meet his hero—so imagine his disappointment when a guard tries to stop him at the door, saying the event is just for students. Fortunately, Langston has learned a thing or two about fearlessness from the champ and is quick about not taking "no" for an answer. And just like that, a dream comes true for Langston that leaves him feeling wrapped in a warm glow and chanting I'm quick and I'm strong. I'm Black and I'm free. I'm brave and I'm bold, like Muhammad Ali!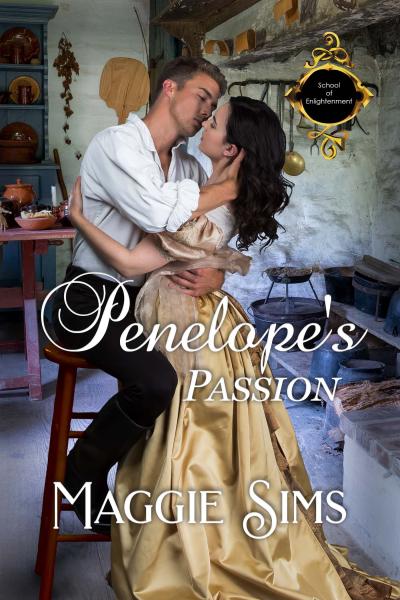 Maggie Sims
Penelope Wood's hope of opening a bakery falls victim to the need to support herself. When retired courtesans present her with a lucrative path back to her dream, she wants to hear more. Attending the School of Enlightenment, participating in a Virgin Auction, and becoming a courtesan all sound feasible. The most important rule--do not fall in love. Lord Michael Slade, heir to the Earl of Mansfield, loves his family above all else, cooks for relaxation, and enjoys his membership to a discreet spanking club. But his father is ill, and his mother wants him to marry. Yet when he meets a dark-haired beauty who doesn't mind a good spanking and discovers she's up for auction, he can't let her go to another man. 
SandyBoy and His Pasture Friend
Cindi Flow
SandyBoy's latest adventure helps children relate to others' needs. Sometimes we feel that our place in the world is not valuable. SandyBoy senses that his pasture friend, Tree, is not doing well. He goes about being a caring friend and encouraging Tree to look at all he does to help others in the pasture. SandyBoy makes a difference in Tree's life and encourages young readers to make a difference in someone's life!
Thomas E Ricks
#1 New York Times bestselling author and Pulitzer Prize winner Thomas E. Ricks offers a new take on the Civil Rights Movement, stressing its unexpected use of military strategy and its lessons for nonviolent resistance around the world.
BUT WAIT, THERE'S MORE!
There are so many Texas-connected books publishing this month that we couldn't feature all of them. The following books also publish in October:
BOOKS FOR YOUNG READERS (Childrens-Young Adult)
Building an Orchestra of Hope by Carmen Oliver
Charlie and the Tire Swing by Diann Floyd Boehm
Dark Room Etiquette by Robin Roe
Diwali in My New Home by Shachi Kaushik author, Aishwarya Tandon Illustrator
Ephemeral Wings by Eva Silverfine
Fire In Her Blood by Erin Bedford
Firmament: Eleftheria by J. Grace Pennington
The Insomniacs by Marit Weisenberg
Lolo's Light by Liz Garton Scanlon
Man Made Monsters by Andrea L Rogers
Nikhil Out Loud by Maulik Pancholy
Perfectly Different by Seehum Isa
Picture Unavailable by Andrew Brandt
The Sweet Skull by Manuel Ruiz
Ten Little Squirrels by Bill Martin
Thistle: The Tumbleweed That Couldn't Roll by Kayla Willis
Unlawful Orders by Barbara Binns
ESSAY, SHORT STORY, AND POETRY
Concerning Those Who Have Fallen Asleep by Adam Soto
Dig by Robert Paul Moreira
It Falls Gently All Around by Ramona Reeves
Markers by Dan K. Utley and Claire Martindale
Seasoned by Karen Betz Mastracchio
We Borrowed Gentleness by J. Estanislao Lopez
NONFICTION
100 Things to Do in Fort Worth Before You Die by Celestina Blok
African American State Volunteers in the New South by John Patrick Blair
All That is Wicked by Kate Winkler Dawson
Arte de Pueblo by Frederick Preston & Carmen Tafolla
Beasley's Vaqueros by Andrés Tijerina
Chip War: The Fight for the World's Most Critical Technology by Chris Miller
Civil War By Other Means: America's Long and Unfinished Fight for Democracy by Jeremi Suri
Dallas: A Texas Star by Carolyn Brown
Eating Up Route 66: Foodways on America's Mother Road by T. Lindsay Baker
Grand Tours and the Great War by Virginia Bernhard
Her Choice by Ann Sloan
Jesus, Love, and Tacos by Carrie Stephens
Liberation Day by George Saunders
Nagasaki: The Forgotten Prisoners by John Willis
The Production and Distribution of Mimbres Pottery by Darrell G. Creel
Rest Your Soul in Jesus by Janice Thompson
The Road to Texas by Mike Roach
The Shift by B. Jamison
Unsolved Mysteries of Texas by W.C. Jameson
Women Across Time by Susan L Roberson
The Writers: Portraits by Laura Wilson
MYSTERY, THRILLER, AND SUSPENSE
A Spoonful of Gunpowder by Katherine H. Brown
A Spying Eye by Michelle Cox
A Trip with Trouble by Diane Kelly
Copper Waters by Marlene M. Bell
Death at Will by Tam May
Death Cracks the Case by Vikki Walton
The Dewey Decimal Murder by Linda Pirtle
Eagle Crossing by Kathleen Kaska
The Enchanted Bungalow by Eva Pohler
Five Days Lost by Luana Ehrlich
Ghost Agents: Retribution by Nita Deborde
It Was Murder by Katharine Branham
Lone Star Jack by Diane Capri
The Mean Reds by Dale Bridges
Moonless Nocturne by Hank Schwaeble
Murder Below the Mistletoe by Kaz Delaney
Nine Lives by D.B. Borton
Vanishing Hour by Laura Griffin
ROMANCE
A Heart's Rescue by Lena Nelson Dooley
A Nanny for the Rancher's Twins by Heidi Main
A Perfect Christmas Reunion by Lori Wilde
A Snowbound Christmas Cowboy by Sasha Summers
Abduction Cold Case by Connie Queen
Bad Boy With Benefits by Cynthia St. Aubin
Cherished By The Agent by Kennedy L. Mitchell
The Christmas Pawdcast by Emily March
Christmas Wishes and Cowboy Kisses (anthology) by Christine Sterling
Christmas Wolf Surprise by Terry Spear
Cinderella Masquerade by LaQuette
Comfort Christmas by Kimberly Fish
The Cowboy Cookie Challenge by Lori Wilde
Cowboy for Penelope by Jovie Grace
Family Christmas on the Ranch by Deb Kastner & Carolyne Aarsen
Highland Essence by C.A. Szarek
His Reluctant Cowboy by A.M. Arthur
It Starts With Us by Colleen Hoover
Just in Time for Christmas by Carolyn Brown
Not Since Ewe by Susannah Nix
On the Hustle by Adriana Herrera
Plush Pink Lips by Mia London
Restoring a Lady's Reputation by Dorothy Sheldon
Second Chance at Silver Springs by Delores Fossen
The Story of Love by Beth Wiseman
Tasting Temptation by Dylann Crush
Texas Betrayal by Susan Gee Heino
OTHER FICTION
Freeway: La Movie translated by Lourdes Molina
The Hero of This Book by Elizabeth McCracken
The High Notes by Danielle Steele
Hunters Island by Gordon L. Rottman
If I Had It to Do Over by Vickie Phelps
Old Cowboys Never Die by William W Johnstone/J.A. Johnstone
Old Scratch by David Viergutz
The Passenger by Cormac McCarthy
Solenoid by Mircea Cartarescu (Author), Sean Cotter (Translator)
'Tis the Season Holiday Anthology