Femmes fatales and poetic pilots and wagoners AND Waggoners (oh my!)
Lucy Maud Montgomery said in Anne of Green Gables, "I'm so glad I live in a world where there are Octobers." We at Lone Star Literary Life couldn't agree more. This month we'll be treated to stories of femmes fatales, poetic pilots, and Waggoners -- but no tricks - we promise! Whether you're in the mood for a spook or a swoon, we have thrillers and romances, horrors and mysteries. Look no further for some gourd reads worthy of carving out some time for enjoying. Most of all, happy fall and happy reading, y'all!
Beyond Haiku: Women Pilots Write Poetry
Captain Linda Pauwels
In this latest book in the Beyond Haiku series, Captain Linda Pauwels captures the adventure and beauty that come with the journey of flying aircraft. From these pages come a thoughtful curation of haiku and short poems by fifty-eight women pilots from ten countries who collectively share their diverse flying backgrounds.
Among these inspiring, characteristically dry, and often amusing poetic insights, Pauwels has woven a selection of profound and previously unpublished poetry written by the greatest aviatrix of all time, Amelia Earhart.
Illustrations by children of pilots bring the richness of the aviators' words even further to life. 
All proceeds from Women Pilots Write Poetry fund aviation scholarships.
Jodi Thomas
A slice of Americana delivered with her characteristic warmth, endearing characters, and authentic Texan flair, the third Honey Creek novel by New York Times and USA Today bestselling author Jodi Thomas takes readers to Clifton Bend, Texas, a small college town where two very different scientists must team up on an experiment on "The Chemistry of Mating." Can these two opposites attract and quantify the science of love?
K.P. Gresham
Pastor Matt Hayden is asked to deliver the Texas Inaugural Ceremony's benediction after the scheduled speaker, Reverend Duff, disappears. Though happy to do a favor for his friend, the new governor, Matt soon discovers that a simple prayer can ignite a world of hate. Matt joins in the hunt for the missing pastor, only to discover two preachers locked in a deadly battle, their families on the brink of destruction, and a national political power grab in the making. When the fight comes to Matt's own family, he must find the truth or risk losing everything, including his life.
Laurie Moore
Sara's husband was a disappointment in life, but she had to agree he was a handsome corpse! It seemed so romantic when Morgan Darnell convinced Sara to marry and join an 1856 "Gone to Texas" wagon train. In a twist of fate, Sara arrives in Dallas a 19-year-old widow--armed with plenty of pluck--determined to open a store in the tiny settlement. She suffers threats, vandalism, even being shot! With the help of friends, is Sara strong enough to accomplish her dream? Failure means being destitute in Dallas!   Not a typical historical novel or Western—Gone to Dallas, The Storekeeper 1856-1861 is salted with historic Texas events and peppered with real people.
 D.A. Olivier
Julienne and Daniel were best friends. Then, things got complicated. Through marriage, miscarriage, divorce, addiction, and death, Her Neighbor follows the bond between Julienne and Daniel and asks, how far can loyalty and love be tested?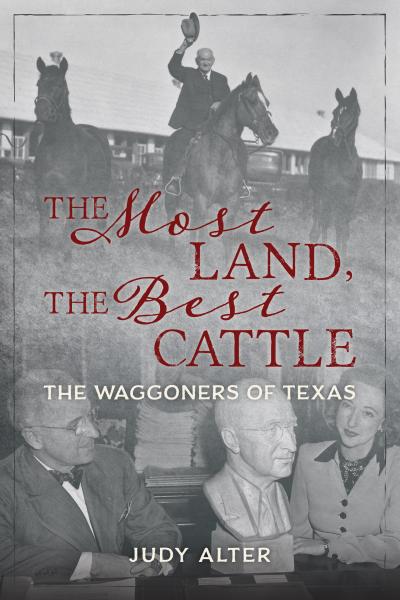 The Most Land, The Best Cattle: The Waggoners of Texas
Judy Alter
In the 19th century, Daniel Waggoner and his son, W.T. (Tom), put together an empire in North Texas that became the largest ranch under one fence in the nation. The 520,000-plus acres or 800 square miles covers six counties and sits on a large oil field in North Texas. Over the years, the estate also owned five banks, three cottonseed oil mills, and a coal company. While the Waggoner men built the empire, their wives and daughters enjoyed the fruits of their labor. This dynasty's love of the land was rivaled only by their love of money and celebrity. This colorful history of one of Texas's most influential ranching families demonstrates that it took strength and determination to survive in the ranching world…and the society it spawned.
James O'Keeffe
In the summer of 1985, XAMO 1530 AM radio is a ramshackle, low-voltage shadow of its "border blaster" heyday. That is, until an enigmatic runaway variously dubbing himself Mark Knopfler, Charlie Sexton, "Strummer," and Asher Rede arrives in Anapra, Mexico, with clandestine plans for righting an old wrong, and falls for an XAMO disc jockey whose own haunted past is about to collide memorably—and musically—with the present.
Elaine Thomas
In this inspiring anthology, 25 rural and small-town Texans bring to life how world events such as the Great Depression, World War II and post-war progress and prosperity played out on the home front. Generously illustrated with vintage photos, these deeply personal narratives unfold through abundant and often surprising anecdotes. The accounts resonate with courage and determination, reminding us to treasure life's great joys and insight on how to weather its great difficulties.
Carsen Taite
Attorney Wren Bishop knew it would be an adjustment to go from her cushy, lucrative career in big law to the public defender's office, but she's completely unprepared for the suspicion from her colleagues and the animus from her adversaries at what was billed as a close-knit courthouse. To top it off, her first case pits her against Lennox Roy, a gorgeous yet fierce prosecutor with a reputation for cajoling juries and breaking hearts.  Lennox has seen firsthand the damage leniency can do, and she has no patience for a softy like Wren Bishop, no matter how sexy and brilliant she might be. But when they face off over a mysterious arson case, their attraction ignites a passion that leads them to question their assumptions about the law, the truth, and each other.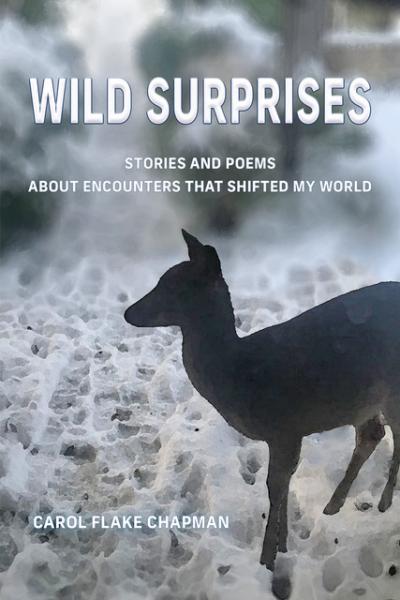 Carol Flake Chapman
In Wild Surprises, Carol Flake Chapman tells the stories of her encounters in the wild that shaped her view of the natural world. Each story is accompanied by a poem that extends her reflections on finding the common ground that connect us to all of life and to the untamed messengers who sometimes arrive unexpectedly.
Aristotle and Dante Dive into the Waters of the World
Benjamin Alire Sáenz
The highly anticipated sequel to the critically acclaimed, multiple award-winning novel Aristotle and Dante Discover the Secrets of the Universe is an achingly romantic, tender tale sure to captivate fans of Adam Silvera and Mary H.K. Choi.
In Aristotle and Dante Discover the Secrets of the Universe, two boys in a border town fell in love. Now, they must discover what it means to stay in love and build a relationship in a world that seems to challenge their very existence.
Ari has spent all of high school burying who he really is, staying silent and invisible. He expected his senior year to be the same. But something in him cracked open when he fell in love with Dante, and he can't go back. Suddenly he finds himself reaching out to new friends, standing up to bullies of all kinds, and making his voice heard. And, always, there is Dante, dreamy, witty Dante, who can get on Ari's nerves and fill him with desire all at once.
The boys are determined to forge a path for themselves in a world that doesn't understand them. But when Ari is faced with a shocking loss, he'll have to fight like never before to create a life that is truthfully, joyfully his own.
Castle of Horror Anthology Volume 6: Femme Fatales
P. J. Hoover, Joy Preble, Christina Berry et al.
The theme is Femme Fatale—that beautiful and seductive temptress who is sure to cause disaster and destruction wherever she chooses to go. This time, for the Castle of Horror, we're taking a dark peek into the mind of the female. These are horror stories from females, about females, edited by a female, each one featuring a clever twist on the femme fatale. Is she the villain or is she the hero? With everything from demons and snakes to taxidermy and strip poker, we've pulled together 16 tales that may leave you looking at your wife, your lover, your best friend, or just your next door neighbor, wondering "what is she really thinking?" Featuring stories from P. J. Hoover, Joy Preble, Christina Berry, Shelli Cornelison, Jessica Lee Anderson, Bernadette Johnson, S. de Freitas, Madeline Smoot, Carmen Gray, Jess Hagemann, Britta Jensen, S. N. Rodriguez, Miracle Austin, Katya de Becerra, M.J. Addy, and Beth Kander.
How to Make a Book (About My Dog)
Chris Barton
How do you make a picture book? Well, you need an author, an illustrator, and . . . a dog?!
Acclaimed author Chris Barton and his trusty pooch Ernie show readers how to make a nonfiction picture book . . . about Ernie! From coming up with ideas, researching, and writing a first draft to finding the perfect illustrator, deciding what goes on the cover, and getting every last wrod―er, word just right, you'll see how a book is made from beginning to end.
From acquisitions and editing to graphic design and dog treats, find out what's required to bring a book to life. This title perfectly blends how-to and humor for an informative look at book publishing. And look, this is part of the marketing step!
Martin Harris
The Watergate scandal was a horror show. What better way to satirize it than with a horror movie? A fascinating minute-by-minute exploration of many uncanny connections between The Texas Chain Saw Massacre and Watergate.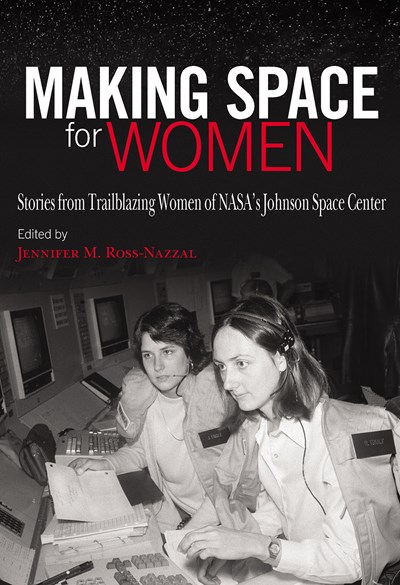 Jennifer M. Ross-Nazzal
From the creation of the Manned Spacecraft Center to the launching of the International Space Station and beyond, Making Space for Women explores how careers for women at Johnson Space Center have changed over the past fifty years as the workforce became more diverse and fields once closed to women—the astronaut corps and flight control—began to open. Jennifer M. Ross-Nazzal has selected twenty-one interviews conducted for the NASA Oral History Projects, including those with astronauts, mathematicians, engineers, secretaries, scientists, trainers, managers, and more. The women featured not only discuss leadership, teamwork, and the experiences of being "the first," but reveal how the role of the working woman in a predominantly white, male, technical agency has evolved.
The narratives highlight the societal and cultural changes these women witnessed and the lessons they learned as they pursued different career paths. Among those included are Joan E. Higginbotham, mission specialist aboard the Space Shuttle Discovery; Natalie V. Saiz, first female director of the Human Resource Office; Kathryn Sullivan, the first American woman to walk in space; Estella Hernández Gillette, the deputy director of the center's External Relations Office; and Carolyn Huntoon, the first woman director of the Johnson Space Center.
Making Space for Women offers a unique view of the history of human spaceflight while also providing a broader understanding of changes in American culture, society, industry, and life for women in the space program. The women featured in this book demonstrate that there are no boundaries or limits to a career at NASA for those who choose to seize the opportunity.
Heath Dollar
Old Country Fiddle orbits around the lives of an eccentric cast of characters from the Texas Hill Country. A roadside flag salesman profits from a neighborhood culture war. A professional congratulator enters a kolache-eating contest to impress a former kolache queen. A closet agnostic tries to dodge going to church with her mother, and the publisher of a Czech-Tex newspaper, using a walker called "the Silver Stallion," delivers papers to the residents at the nursing home where he lives. These stories, which are told with a Texas drawl, cover a wide range of emotional territory and touch on themes that go far beyond the county line.  
Jodi Thomas
A lushly festive Christmas Eve ball is the setting for newfound love in New York Times bestselling author Jodi Thomas's novella. When it comes to love, this Christmas promises to deliver the most unexpected gifts...
Mark Dunn
From 1983 to 1987, author Mark Dunn worked as a court clerk for a justice of the peace in Travis County, Texas, where, he says, "I learned more about human nature . . . than I could have learned in any other job I might have taken up as a bushy-tailed kid from Tennessee." Based on interviews with 200 justices of the peace from all parts of Texas, Texas People's Court promises to take readers on a tour of what it means to be a Texas justice of the peace: an experience that is by turns hilarious, sobering, heart-wrenching, and, from one end to the other, fascinating.
Here in the Texas justice court, wrongs can be righted and lives changed in profound ways. A priceless family necklace might finally be restored to the rightful owner; an occupational driver's license fortuitously granted. A death inquest may become an opportunity for family reflection and valediction, with the attending judge as sympathetic witness.
In each of its chapters, Texas People's Court takes up a different aspect, duty, or area of thought related to the profession of justice of the peace taken from conversations with JPs throughout the state of Texas—from those who serve in its most populous municipalities to rural county JPs—putting a human face on the responsibilities, attitudes, and perspectives that motivate their judgments. The result is a thoroughly entertaining, sympathetic view of what Dunn calls "the day-to-day observation of human conflict in microcosm."
Michael J. Mantel
When a perfect storm of personal, professional, and natural disaster threw Mike Mantel into a dark night of the soul, he embarked on a journey through his own life and around the world to rediscover God's presence through the diverse body of Christ. In Thirsting for Living Water, Mantel invites readers to join him on this adventure and open their eyes to their own stories of God's faithfulness, to see where God is already at work: at home, among neighbors, and to the ends of the earth. A a story of the holistic gospel, driven by compassion, justice, and mercy, with Jesus at the center, it is an inspiring vision of a unified, global church―in which each of us has a vital role to play.
James R Hannibal
The fate of the Dragon Lands are at play
The knights of the Lightraider Order disappeared nearly two generations past. Now, the Keledan have withdrawn behind their barriers, and the Dragon Lands of bordering Tanelethar are overrun with dark oppression. The people are living in disobedience to the Rescuer who freed them long ago.
A shepherd boy, Connor Enarian, and four young initiates rekindle the fires of the Lightraider Order in the hope of striking out across the mountains into Tanelethar to destroy a portal and stop an impending invasion.
Once in the Dragon Lands, Connor learns that the key to success lies with a missing Lightraider spy and his lifelong companion, a talking silver wolf. Can Connor and his friends find the spy before the portal grows too large to destroy? Or will a local young woman—or Connor's own family history—betray them?
The dangers and secrets of Tanelethar test both trust and loyalty, and to save his homeland, Connor may have to sacrifice his innermost dreams.
BUT WAIT, THERE'S MORE!
There are so many Texas-connected books publishing this month that we couldn't feature all of them. The following books also publish in October:
Books for Young Readers (and those young at heart)
A Queen to the Rescue by Nancy Churnin, Illustrated by Yevgenia Nayberg
ABCs of Texas by Sandra Magsamen
Revolutionary Women of Texas and Mexico Coloring Book: A Coloring Book for Kids and Adults by Kathy Sosa
'Twas the Night Before Christmas in Texas by Jo Perry
Mystery
Getaway with Murder by Diane Kelly
Survival : Fallout Series Book One by Lisa Harris
Poetry
Burying the Mountain by Shangyang Fang
Machete by Tomas Q Morin
Romance
Christmas at Colts Creek by Delores Fossen
Second Chance Christmas by Lori Wilde
A Texas Christmas Miracle (The Raffertys of Last Stand Book 2) by Justine Davis
Biography
It'll Rain Someday...Always Does: A Historical Narrative by Carol Henderson
John B. Denton: The Bigger-Than-Life Story of the Fighting Parson and Texas Ranger by Mike Cochran
Captive Warriors: A Vietnam POW's Story by Same Johnson and Jan Winebrenner
Other Nonfiction 
A Heart So Full by Jenessa Wait
Another Year Finds Me in Texas: The Civil War Diary of Lucy Pier Stevens by Vicki Admans Tongate
The Art of David Everett: Another World by Becky Duval Reese
Between Certain Death edited by Mattilda Bernstein SycaMore
Breaking Away: How the Texas A&M University System Changed the Game by Tim Gregg
Mexican American Civil Rights in Texas by Robert Brischetto
Searching for the Republic of the Rio Grande: Northern Mexico and Texas, 1838–1840 by Paul D. Lack
Tales of the Sea Cloud: Luxury Yacht, Integrated Naval Vessel, Legendary Ship by Ken W Sayers
Tejanaland: A Writing Life in Four Acts by Teresa Palomo Acosta
Texas and Texans in World War II: 1941-1945 edited by Christopher B Bean
Times Remembered: The Final Years of the Bill Evans Trio  by Jo La Barbera
Look for your NovemberTexas Books Preview on Sunday, October 31, 2021! 
Make sure your Texas connected title is included by emailing Publicity@LoneStarLiterary.com with the details.