Midnight cowboys and magic eels
Sunday, February 28, 2021
Well. Wow, y'all. This has been a February unlike any other in Texas history. We hope you and yours are well, and we offer comfort, inspiration, or just plain distraction in March's Texas new releases. Whatever your literary needs, you can find them here. We've got new installments in favorite series; mysteries (cozy and definitely not), madness, mountains, midnight cowboys, and magic eels; biography and memoir, including what it's like to approach your centenary and a survivor of six (6!) concentration camps; dead feathers, dire clubs, and dreams; a trove of Texas history; and a plethora of picture books about oceans, marine biologists, and boats.
We at Lone Star Lit wish y'all fair winds and following seas. ¡Salud!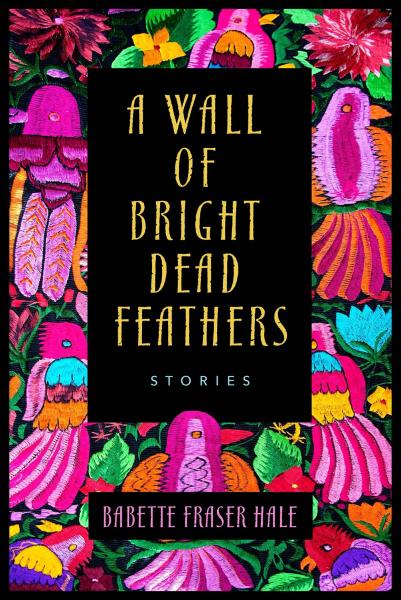 A Wall of Bright Dead Feathers: Stories 
Babette Fraser Hale
When once confirmed city dwellers begin to scour the surrounding countryside for refuge, a new start, or a second home, complications can occur. In A Wall of Bright Dead Feathers by Babette Fraser Hale, we meet an old oilman who gambles on his estranged daughter's integrity; a young family fleeing a scandal like Enron; parents coping with a tragic ranching accident; a displaced New Yorker whose ambivalence about guns fractures two families; a woman whose skill in rescuing damaged objects may not extend to people; and a new widow who must face the difficult truth about her long marriage. The history of the German-Czech region of central Texas anchors the experience of two young artists who make a costly decision in 1862.
Kimberly Packard
Dying isn't just hard on the ones left behind, the regret of unfinished lives weighs heavily on the terminally ill. That's where Dire's Club steps in, a specialty travel agency that takes a small group of dying people on one final adventure—so they can be free of guilt, be more than a diagnosis, and find a way to confront life…and death.
A life coach with a death wish, a rock god, a telenovela star, a grandmother living her life-long dream, and a young tech genius round out this group of strangers facing death together. But when tragedy strikes, their bond is shattered. Lies and fraud surface, forcing the dying to come together to save someone's life. Everybody dies. The lucky ones have fun doing it.
Amanda Cabot
Though she hopes for a quiet, uncomplicated life for herself, Dorothy Clark wants nothing more than to stir others up. Specifically, she dreams of writing something that will challenge people as much as Harriet Beecher Stowe's Uncle Tom's Cabin seems to have done. But in 1850s Mesquite Springs, there are few opportunities for writers—until newspaperman Brandon Holloway arrives, that is. Brandon Holloway has seen the disastrous effects of challenging others and has no intention of repeating that mistake. Instead of following his dreams, he's committed to making a new—and completely uncontroversial—start in the Hill Country. 
As Dorothy's involvement in the fledgling newspaper grows from convenient to essential, the same change seems to be happening in Brandon's heart. But before romance can bloom, Dorothy and Brandon must work together to discover who's determined to divide the town and destroy Brandon's livelihood.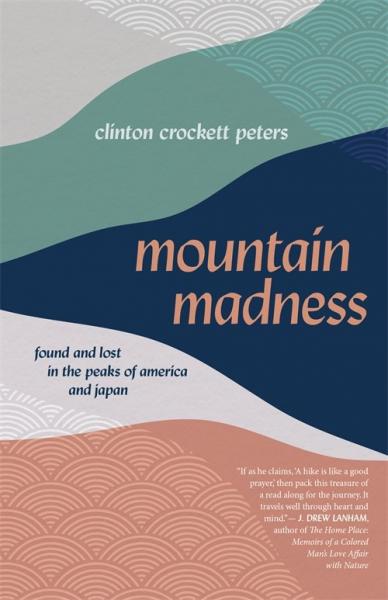 Mountain Madness: Found and Lost in the Peaks of America and Japan 
Clinton Crockett Peters
With Mountain Madness, Clinton Crockett Peters chronicles his travels and personal transformation from a West Texas evangelical to mountain guide-addict to humbled humanist after a near-fatal injury in Japan's Chichibu Mountains. From 2007 to 2010, Peters lived in Kosuge Village (population nine hundred), nestled in central Japan's peaks, where he was the only foreigner in the rugged town.
Using these three years as a frame, this essay collection profiles who he was before Japan, why he became obsessed with mountains, and his fallout from mountain obsession, including an essay on Craig Arnold, the poet who disappeared on a Japanese volcano. Ultimately, the collection asks, how can landscape create and end identities?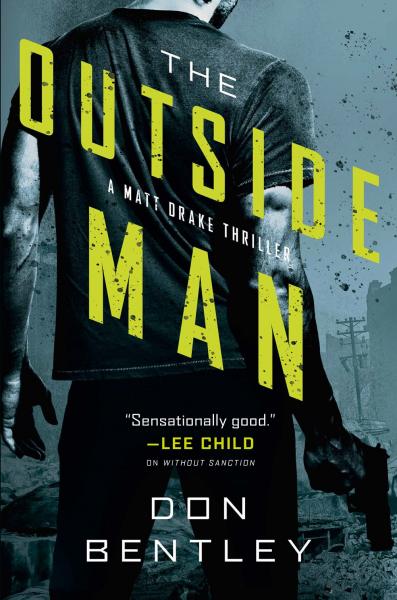 Don Bentley
The fight for freedom has sent DIA agent Matt Drake to some of the world's most dangerous spots. This time the war is coming to his front door. Broad daylight on an Austin, Texas, street and Drake is fighting for his life against a highly trained team of assassins. Who are they? Why do they want him dead? How will he protect those closest to him? 
The answers will take him into some of the most dangerous spots in the Middle East and will put him in the clutches of an old foe known simply as the Devil. It's a world of double crosses, with no boundaries between the guilty and the innocent. It will take all of Drake's wiles to get out alive.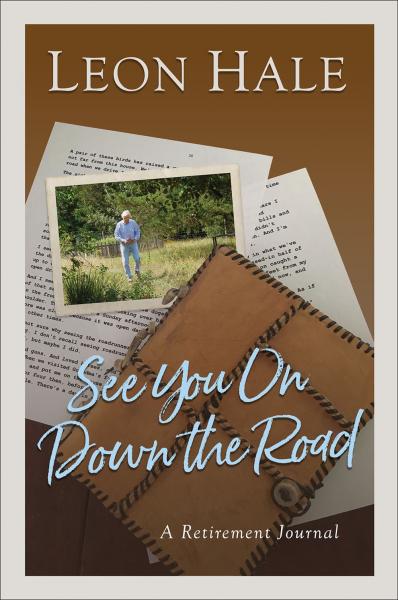 See You On Down the Road: A Retirement Journal
Leon Hale
In his inimitable voice, Leon Hale reveals his personal joys and regrets as he traverses the territory of his nineties, travelling through time and place from his familiar spot on the front porch of the old Winedale farmhouse. For everyone who has wondered what it's like to approach their hundredth birthday, here is one inspiring and honest answer, told with the special sheen of wit and human feeling that we have come to expect from this fine writer. Hale turns 100 in May 2021.
 
Pamela Fagan Hutchins
When a plane crashes at the base of Black Tooth Mountain in a wicked summer storm, Patrick Flint's moral compass leads him away from a trail ride with his family and to the wreckage in a search for survivors. But what he finds may teach him that not everything is what it seems and not every life is worth saving.
Readers who enjoy Yellowstone, Longmire, and Pickett love Patrick Flint. "WOW, WOW, WOW! Exciting thriller from start to finish!" From USA Today bestselling and Silver Falchion winning author Pamela Fagan Hutchins.
Andrew Huff
First he left the CIA. Then he left pastoral ministry. Now John Cross has been imprisoned in one of Great Britain's most infamous prisons. Has he reached the end of his rope? Or is this another move in a dangerous spy game? Christine Lewis, United News Network's rising star television anchor, is determined to find out. But in her pursuit of answers, Christine finds herself at the center of a cyberterrorist plot to alter the balance of power in the world. From the English coastline to the Rocky Mountains, John must partner with the CIA and MI6 in a race against the clock to stop the threat of nuclear war and save the lives of everyone he holds dear. 
The concluding story in the Shepherd Suspense trilogy is a globe-trotting, action-packed adventure with threads of biblical truth woven in. Fans of high-octane thrillers will be on the edge of their seats with Right Cross.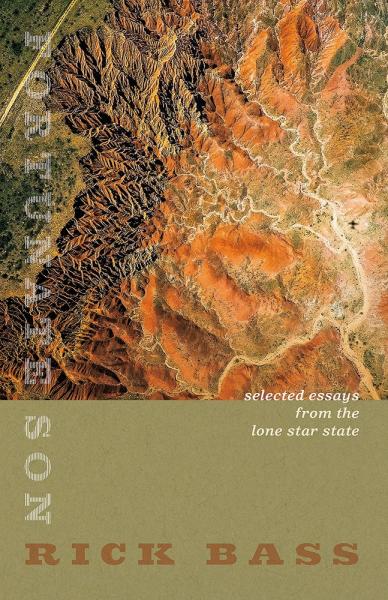 Fortunate Son: Selected Essays from the Lone Star State 
Rick Bass
Rick Bass's Fortunate Son is a literary tour of the Lone Star State by a native Texan of exceptional talent. The essays encompass a Texas that is both lost and found, past and present. The stories reach from Galveston Bay to the Hill Country outside Austin, and from Houston in the 1960s to today. They are bound together by a deep love and a keen eye for the land and its people and by an appreciation for what is given, a ruefulness for what is lost, and a commitment to save what can be saved.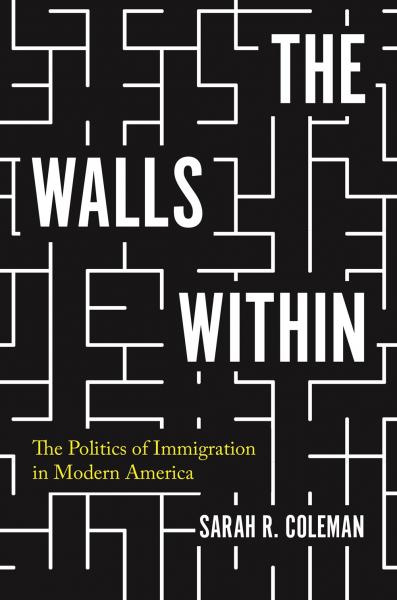 The Walls Within: The Politics of Immigration in Modern America 
Sarah Coleman
The 1965 Hart-Celler Act transformed the American immigration system by abolishing national quotas in favor of a seemingly egalitarian approach. But subsequent demographic shifts resulted in a backlash over the social contract and the rights of citizens versus noncitizens. In The Walls Within, Sarah Coleman explores those political clashes, focusing not on attempts to stop immigration at the border, but on efforts to limit immigrants' rights within the United States through domestic policy. Drawing on new materials from the Carter, Reagan, and Clinton administrations, and immigration and civil rights organizations, Coleman exposes how the politics of immigration control has undermined the idea of citizenship for all.
Rory McConville, Joe Palmer (Artist), Chris O'Halloran (Artist), Declan Shalvey (Artist)
On the eve of their retirement, two hitmen, Cosmo and Arthur Pryce, drive through the Texas countryside with the infamous Little Harkness in the trunk of their car. The brothers are meant to deliver Harkness to their boss, but matters become complicated when Arthur's recklessness jeopardizes Cosmo's retirement plans and puts a target on their backs.
Jarrett Pumphrey, Jerome Pumphrey
Off a small island, a boy and his grandmother set sail in their beloved fishing boat. They ride the waves, dreaming, catching fish, and seeing the wonders of the ocean. But soon the boy is sailing the boat himself, venturing further from shore as the waters grow dirty and polluted. When a storm washes him ashore and wrecks the old boat, he sees home in a new light. He decides to turn the tides of his fortune, cleaning the island's waters and creating a new life with a family to call his own.
The creators of The Old Truck set sail with an old boat and an evocative, intricately crafted exploration of home and family.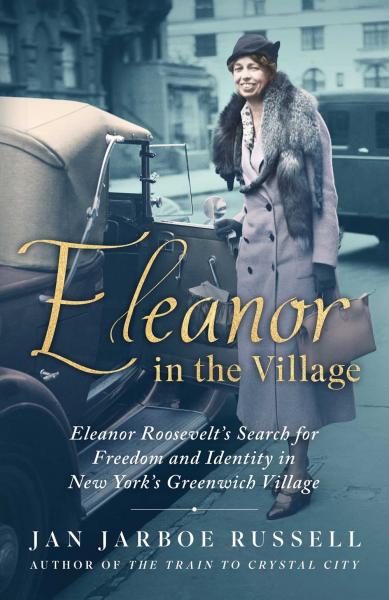 Eleanor in the Village: Eleanor Roosevelt's Search for Freedom and Identity in New York's Greenwich Village 
Jan Jarboe Russell
Hundreds of books have been written about FDR and Eleanor, both together and separately, but yet she remains a compelling and elusive figure. And not much is known about why in 1920, Eleanor suddenly abandoned her duties as a mother of five and moved to Greenwich Village, then the symbol of all forms of transgressive freedom—communism, homosexuality, interracial relationships, and subversive political activity. 
A captivating blend of personal history detailing Eleanor's struggle with issues of marriage, motherhood, financial independence, and femininity, and a vibrant portrait of one of the most famous neighborhoods in the world, this unique work examines the ways that the sensibility, mood, and various inhabitants of the neighborhood influenced the First Lady's perception of herself and shaped her political views over four decades, up to her death in 1962.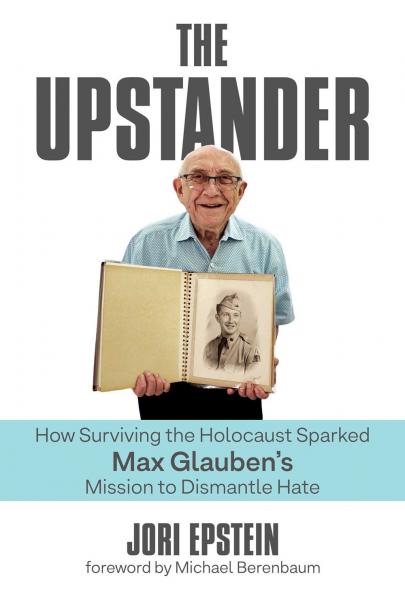 The Upstander: How Surviving the Holocaust Sparked Max Glauben's Mission to Dismantle Hate 
Jori Epstein, Michael Berenbaum (Foreword by)
The stench of decay pierced the air aboard the boxcar of trapped Jews. "Why me?" fifteen-year-old Max asked himself, as a convoy rumbled from the Warsaw Ghetto to Majdanek death camp in May 1943. The Nazis had destroyed the Glauben family's business, upended their rights, and ultimately decimated their neighborhood. The deluge of questions would only intensify after the Nazis murdered Max's mother, father, and brother. Max channeled grit, determination, and a fortuitous knack for airplane pattern making to outlast six horrific concentration camps in his quest to preserve the Glauben name.  
This memoir explores Max's mischievous childhood and teen years as a go-to ghetto smuggler. Max journeys from displaced person to American immigrant. He then reveals how he ached as he dared to court love and rear children. Pain can't be duplicated, he long insisted as he bottled it up. Then he realized: he could transform his pain into purpose. Across the seventy-five years that followed Max's liberation from his sixth and final concentration camp, he's scrapped the question of "Why me?" He instead deliberately asks himself: "What can I do next?"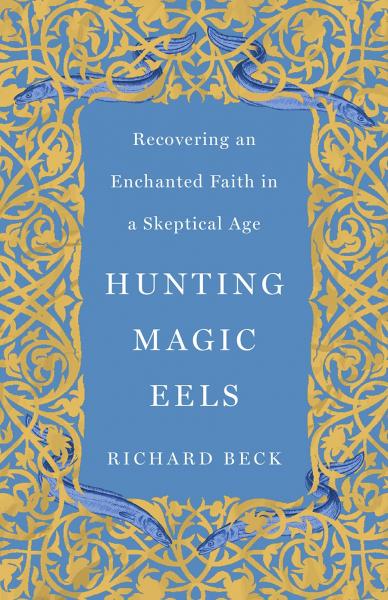 Hunting Magic Eels: Recovering an Enchanted Faith in a Skeptical Age 
Richard Beck
We live in a secular age, a world dominated by science and technology. Increasing numbers don't believe in God anymore. We don't expect miracles. We've grown up and left those fairytales behind, culturally and personally. Yet five hundred years ago the world was very much enchanted. It was a world where God existed and the devil was real. It was a world full of angels and demons. It was a world of holy wells and magical eels. But since the Protestant Reformation and the beginning of the Enlightenment, the world, in the West at least, has become increasingly disenchanted. 
While this might be taken as evidence of a crisis of belief, Richard Beck argues it's actually a crisis of attention. God hasn't gone anywhere, but we've lost our capacity to see God. The rising tide of disenchantment has profoundly changed our religious imaginations and led to a loss of the holy expectation that we can be interrupted by the sacred and divine. But it doesn't have to be this way. With attention and an intentional and cultivated capacity to experience God as a living, vital presence in our lives, Hunting Magic Eels shows we can cultivate an enchanted faith in a skeptical age.
Lisa Fipps
Ever since Ellie wore a whale swimsuit and made a big splash at her fifth birthday party, she's been bullied about her weight. To cope, she tries to live by the Fat Girl Rules—like "no making waves," "avoid eating in public," and "don't move so fast that your body jiggles." And she's found her safe space—her swimming pool—where she feels weightless in a fat-obsessed world. In the water, she can stretch herself out like a starfish and take up all the room she wants. It's also where she can get away from her pushy mom, who thinks criticizing Ellie's weight will motivate her to diet.
Fortunately, Ellie has allies in her dad, her therapist, and her new neighbor, Catalina, who loves Ellie for who she is. With this support buoying her, Ellie might finally be able to cast aside the Fat Girl Rules and be a starfish in real life—by unapologetically being her own fabulous self.
Roni Loren
Everyone knows Miz Poppy, the vibrant reviewer whose commentary brightens the New Orleans nightlife. But no one knows Hollyn, the real face behind the media star, or the fear that keeps her isolated. When her boss tells her she needs to add video to her blog or lose her job, she's forced to rely on an unexpected source to help her face her fears.
When aspiring actor Jasper Deares finds out the shy woman who orders coffee every day is actually Miz Poppy, he realizes he has a golden opportunity to get the media attention his acting career needs. All he has to do is help Hollyn come out of her shell and, through their growing connection, finally find her voice.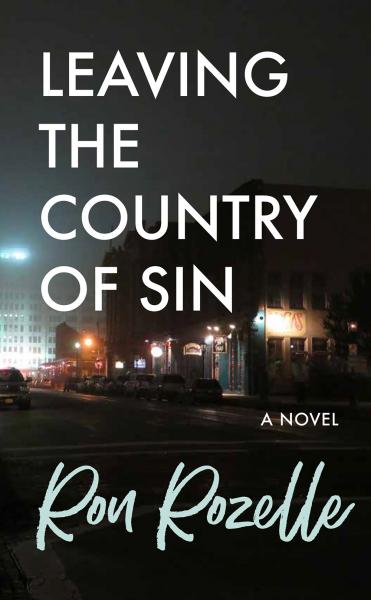 Leaving the Country of Sin: A Novel 
Ron Rozelle
Leaving the Country of Sin is a tale of Rafferty, who was saved as a teenager from a promising career of juvenile delinquency and slapped into a six-year hitch in the army to avoid jail time. Early on his anger and fierce resolve catch the attention of an officer in charge of a small cadre of soldiers who provide unique, subdued solutions to problems that are too sensitive for more obvious snipers or commandos. 
But it is also the story of the inner reckoning the central character faces once his army career is complete. Rafferty, having long determined to retire on Galveston Island, which he had visited as a child with his uncle, hovers between seeing his past deeds as providing a patriotic service and just another form of murder. The dilemma is intensified when his old mentor, the general who pulled him into that world and managed him for two decades, shows up with an assignment that will rid the world of a very evil man whose actions threaten the security of the nation. Thus the story, already an inward journey motif, becomes a real one, sending Rafferty off on what he determines is his last mission, one he wishes hadn't fallen to him.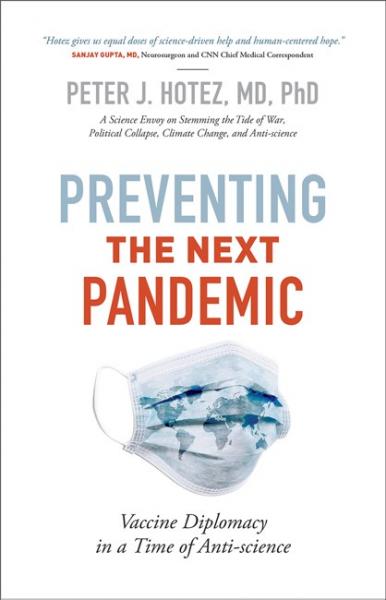 Preventing the Next Pandemic: Vaccine Diplomacy in a Time of Anti-science 
Peter J. Hotez
Modern diseases and viruses have been spurred anew by war and conflict as well as shifting poverty, urbanization, climate change, and a new troubling anti-science/anti-vaccination outlook. From such twenty-first-century forces, we have seen declines in previous global health gains, with sharp increases in vaccine-preventable and neglected diseases on the Arabian Peninsula, in Venezuela, in parts of Africa, and even on the Gulf Coast of the United States.
In Preventing the Next Pandemic, international vaccine scientist and tropical disease and coronavirus expert Peter J. Hotez, MD, PhD, argues that we can—and must—rely on vaccine diplomacy to address this new world order in disease and global health. Detailing his years in the lab developing new vaccines, Hotez also recounts his travels around the world to shape vaccine partnerships with people in countries both rich and poor in an attempt to head off major health problems. Building on the legacy of Dr. Albert Sabin, who developed the oral polio vaccine with Soviet scientists at the height of the Cold War, he explains how he is still working to refresh and redirect vaccine diplomacy toward neglected and newly emerging diseases.
Jessica S. Olson
Isda does not exist, at least not beyond the opulent walls of the opera house. Cast into a well at birth for being one of the magical few who can manipulate memories when people sing, she was saved by Cyril, the opera house's owner. Since that day, he has given her sanctuary from the murderous world outside. All he asks in return is that she use her power to keep ticket sales high—and that she stay out of sight. For if anyone discovers she survived, Isda and Cyril would pay with their lives. 
But Isda breaks Cyril's cardinal rule when she meets Emeric Rodin, a charming boy who throws her quiet, solitary life out of balance. His voice is unlike any she's ever heard, but the real shock comes when she finds in his memories hints of a way to finally break free of her gilded prison. Haunted by this possibility, Isda spends more and more time with Emeric, searching for answers in his music and his past. But the price of freedom is steeper than Isda could ever know. For even as she struggles with her growing feelings for Emeric, she learns that in order to take charge of her own destiny, she must become the monster the world tried to drown in the first place.
Rachel Caine
They're hunting a killer so silent, so invisible, that his unspeakable crimes are the only proof he exists. A car submerged in a remote pond. The bodies of two girls strapped into their seats. The mystery of their mother, vanished without a trace, leads Gwen Proctor and Kezia Claremont into dangerous territory.
On the surface, Gwen's life is good—two children approaching adulthood, a committed partner, and a harrowing past dead and gone. But that past is attracting the attention of someone invisible … and unstoppable. Trouble's just beginning. So is the body count in this backwoods Tennessee town. As threats mount and Gwen's hunted by an enemy who pulls all the strings, Kezia has her back. But working to solve these vicious and unreasonable crimes will expose them both to a killer they can't for the life of them see coming.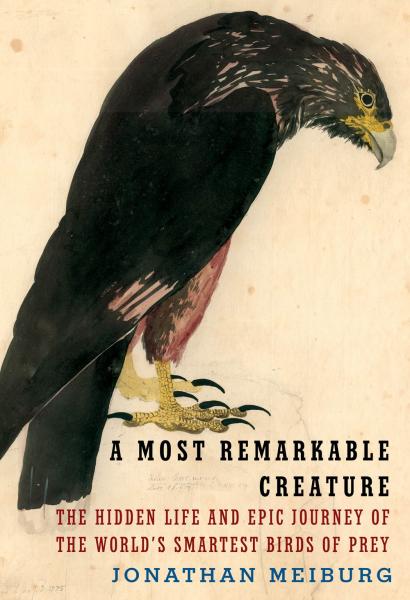 A Most Remarkable Creature: The Hidden Life and Epic Journey of the World's Smartest Birds of Prey 
Jonathan Meiburg
In 1833, Charles Darwin was astonished by an animal he met in the Falkland Islands: handsome, social, and oddly crow-like falcons that were "tame and inquisitive … quarrelsome and passionate," and so insatiably curious that they stole hats, compasses, and other valuables from the crew of the Beagle. Darwin wondered why these birds were confined to remote islands at the tip of South America, sensing a larger story, but he set this mystery aside and never returned to it.
Almost two hundred years later, Jonathan Meiburg takes up this chase. He takes us through South America, from the fog-bound coasts of Tierra del Fuego to the tropical forests of Guyana, in search of these birds: striated caracaras, which still exist, though they're very rare. He reveals the wild, fascinating story of their history, origins, and possible futures. And along the way, he draws us into the life and work of William Henry Hudson, the Victorian writer and naturalist who championed caracaras as an unsung wonder of the natural world, and to falconry parks in the English countryside, where captive caracaras perform incredible feats of memory and problem-solving. A Most Remarkable Creature is a hybrid of science writing, travelogue, and biography, as generous and accessible as it is sophisticated and absolutely riveting.
Deanna Raybourn  
January 1889. As the newest member of the Curiosity Club, an elite society of brilliant, intrepid women, Veronica Speedwell is excited to put her many skills to good use. As she assembles a memorial exhibition for pioneering mountain climber Alice Baker-Greene, Veronica discovers evidence that the recent death was not a tragic climbing accident, but murder. Veronica and her natural historian beau, Stoker, tell the patron of the exhibit, Princess Gisela of Alpenwald, of their findings. With Europe on the verge of war, Gisela's chancellor, Count von Rechstein, does not want to make waves. Before Veronica and Stoker can figure out their next move, the princess disappears.
Having noted Veronica's resemblance to the princess, von Rechstein begs her to pose as Gisela for the sake of the peace treaty that brought the princess to England. Veronica reluctantly agrees to the scheme. She and Stoker must work together to keep the treaty intact while navigating unwelcome advances, assassination attempts, and Veronica's own family—the royalty who has never claimed her.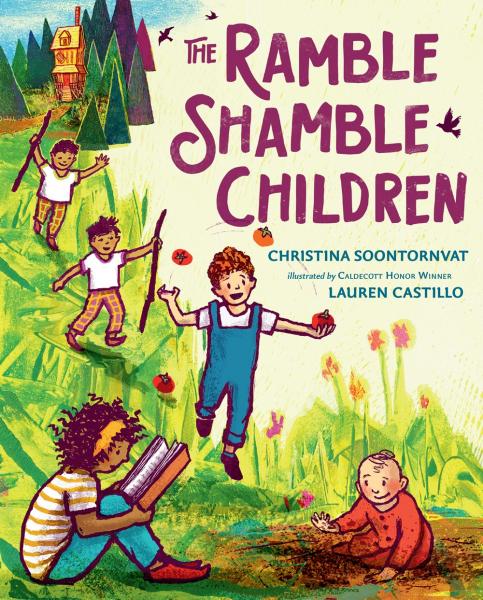 Christina Soontornvat, Lauren Castillo (Illustrator)
Merra, Locky, Roozle, Finn, and little Jory love their ramble shamble house. It's a lot of work taking care of the garden, the chickens, and themselves, but they all pitch in to make it easier--even Jory, who looks after the mud puddles. When they come across a picture of a "proper" house in a book, they start wondering if their own home is good enough. So they get to work "propering up" the garden, the chickens, and even the mud puddles. But the results aren't exactly what they expected, and when their now-proper household's youngest member goes missing, they realize that their ramble shamble home might be just right for their family, after all.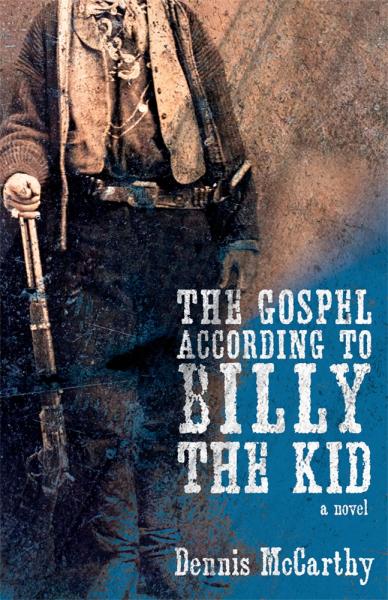 The Gospel According to Billy the Kid: A Novel
Dennis McCarthy
Like many good stories of the old West, this one begins in a saloon. In 1914 in El Paso, Texas, two strangers strike up a conversation at the bar: Bill Roberts, a real-life figure who died in Hico, Texas, in 1950, and a former US Army scout whose brother knew Roberts by another name—Billy the Kid.
So begins The Gospel According to Billy the Kid, a tale of the old New Mexico territory, corrupt lawmen, honest ranchers, murder, betrayal, and the explosive events of the Lincoln County War that sent young Billy off seeking justice, headed toward a bloody rendezvous with a sheriff hired to track him down. In the saloon, Roberts has us imagine another story, told thirty-three years later over shots of whiskey, about a young outlaw given a second chance to find himself, to find peace, and to finally grow up and out from under the shadow of his own infamy.
***
BUT WAIT, THERE'S MORE!
There are so many Texas books publishing in March that we couldn't feature all of them. The following books also publish in March:
Art & Architecture
Shooting Midnight Cowboy: Art, Sex, Loneliness, Liberation, and the Making of a Dark Classic by Glenn Frankel
It Can Be This Way Always: Images from the Kerrville Folk Festival by David Johnson
Rothko Chapel: An Oasis for Reflection by Pamela Smart, Stephen Fox, Christopher Rothko
Metro Music: Celebrating a Century of the Trinity River Groove by Gene Fowler, William Williams
Biography & Memoir
Inside the Texas Revolution: The Enigmatic Memoir of Herman Ehrenberg by James E. Crisp (Editor), Louis E. Brister (Translator)
Lady Bird Johnson: Hiding in Plain Sight: Lady Bird Johnson in the White House by Julia Sweig
Texas Rangers, Ranchers, and Realtors: James Hughes Callahan and the Day Family in the Guadalupe River Basin by Thomas O. McDonald
The Grand Canyon's Uncle Jimmy Owens by Albert L. LeCount
Current Events
Rhetoric and Reality on the U.S.-Mexico Border: Place, Politics, Home by K. Jill Fleuriet
Faith & Inspiration
Outdated: Find Love That Lasts When Dating Has Changed by Jonathan "JP" Pokluda, Kevin McConaghy
Getting Through Grief: Eight Biblical Gifts for Living with Loss and Getting Through Grief for Youth: Eight Biblical Gifts for Living with Loss by Michael Newman
No Pain, No Gaines: The Good Stuff Doesn't Come Easy by Chip Gaines
Fiction
Captain Putnam for the Republic of Texas by James Haley
Back in the Burbs by Avery Flynn, Tracy Wolff
Covet by Tracy Wolff
History
Cacicas: The Indigenous Women Leaders of Spanish America, 1492–1825 by Margarita R. Ochoa, Sara V. Guengerich
Changing Perspectives: Black-Jewish Relations in Houston during the Civil Rights Era by Allison E Schottenstein
By All Accounts: General Stores and Community Life in Texas and Indian Territory by Linda English
The United States Army and the Making of America: From Confederation to Empire, 1775-1903 by Robert Wooster
Lost Restaurants of El Paso by El Paso County Historical Society, Robert Diaz (Editor)
Mystery & Suspense
Bye, Buy Baby (The Sisters, Texas Mystery Series Book 11) by Becki Willis  
Flight by Laura Griffin
No Sin Unpunished: A Faith McClellan Novel by LynDee Walker 
Gambled Dreams by Jim Sanderson
Stiff Lizard (A Spy Shop Mystery, #3) by Lisa Haneberg
Occult
Man and Other Ghostly Tales by Julia Robb
Picture Books
My Friend Ben Won't Share by Charles Beyl Hairy
Where'd My Giggle Go? by Max Lucado, Sarah Jennings (Illustrator)
Old MacDonald Had a Farm in Texas by Christopher Robbins, Mary Sergeeva (Illustrator)
Row, Row, Row Your Boat in Texas by Christopher Robbins, Mary Sergeeva (Illustrator)
Secrets of the Sea: The Story of Jeanne Power, Revolutionary Marine Scientist by Evan Griffith, Joanie Stone (Illustrator)
A Child's Introduction to the Environment: The Air, Earth, and Sea Around Us (Plus Experiments, Projects, and Activities YOU Can Do to Help Our Planet!) by Michael Driscoll, Dennis Driscoll (Illustrator)
Sunday Rain by Rosie J. Pova, Amariah Rauscher (Illustrator)
Duck, Duck, Moose by Mary Sullivan
Romance
What a Tangled Web by Melissa Brayden
Scoundrel of My Heart: A Novel by Lorraine Heath
Sports
The Sports Revolution: How Texas Changed the Culture of American Athletics by Frank Andre Guridy
Travel
Lone Star Vistas: Travel Writing on Texas, 1821-1861 by Astrid Haas
A History Lover's Guide to Austin by Jason Weems
Westerns
Every Mother's Son by William W. Johnstone, J. A. Johnstone
Young Adult
The Cliffs (Five Nights at Freddy's: Fazbear Frights #7) by Scott Cawthon
Look for your March Texas Books Preview on Sunday, April 4!