Lone Star Lit was out and about in Austin at the Texas Book Festival
Sunday, November 10, 2019
(Pictured: Top Left, clockwise: WLT Book Award Winners; Texas Center for the Book's Rebekah Manley and Kristine Hall; Deep Vellum Publishing's Will Evans and Sara Banbilar; Thomas Zigal, Kristine, and Lisa Sandlin; Natalia Sylvester, David Bowles, Carmen Tafolla; University of North Texas Press's Bess Whitby, Kristine, Texas Review Press's Lisa Tremaine & best intern ever; Sergio Troncoso, Cameron Dezen Hammon, Monica Muñoz Martinez; Chris Cander, Dominic Smith, Michelle Newby Lancaster. )
The downpours of Thursday and Friday washed Austin clean, and Saturday, October 26, the first day of the 2019 Texas Book Festival, dawned clear and bright and dry. This year's festival boasted more than three hundred authors and approximately a hundred panels and author signings.  
The Lone Star Lit team was able to find that Texas connection its always seeking in a number of panels, many happening in the Texas Tent (of course!), but also other tents and in the Capitol extension rooms. Our list:
"Texas Institute of Letters Presents: Loss, Death and Borders" with Natalia Sylvester (Everyone Knows You Go Home), David Bowles (They Call Me Güero: A Border Kid's Poems), and Tarfia Faizullah (Registers of Illuminated Villages: Poems), who grew up in Midland and recited a poem, "West Texas Nocturne," from her newest collection.
"PEN America Presents: Writing in a World of Borders and Bonds" with Jennine Capó Crucet (My Time Among the Whites), whose new book had been burned at a college in Georgia the week before, and Margaret Wilkerson Sexton (The Revisioners). 
"Writers' League of Texas: Obsessed with Texas," for a fascinating conversation on archival silence and place, featuring Monica Muñoz Martinez (The Injustice Never Leaves You), Cameron Dezen Hammon (This Is My Body), and Sergio Troncoso (A Peculiar Kind of Immigrant's Son), moderated by the WLT's Becka Oliver.
 "Texas Music Legends: Janis Joplin and Stevie Ray Vaughan" with Alan Paul and Andy Aledort (Texas Flood) and Holly George-Warren (Janis), moderated by Austin's own rock 'n' roll historian Ed Ward.
"Sunrise/Sunset: Remembering the Life and Work of Bill Wittliff." Wittliff passed away earlier this year, and Bill Broyles, Elizabeth Crook, Stephen Harrigan (who told a great story about water-witching with Bill), John Spong, and Steven Davis gathered to remember him. Reid Wittliff, Bill's son, was an unexpected treat, reading from his father's last work, a book of solar photography, Sunrise/Sunset.
James Magnuson's conversation with Tim O'Brien about Dad's Maybe Book. O'Brien owned the place and eyes may have leaked.
(A couple of sessions were attended purely for fangirl purposes: U.N. Ambassador and Pulitzer Prize-winner Samantha Power (The Education of an Idealist) and bestselling author Andrew McCall Smith (To the Land of Long Lost Friends).)
In addition to observing the sessions, the Lone Star Lit team also had the honor of actively participating as moderators. Owner/Publisher Kristine Hall started the Sunday sessions as moderator of "Buried Truths: New Thrills and Suspense in Investigative Crime Fiction," featuring Lisa Sandlin (The Bird Boys) and Thomas Zigal (Outcry Witness) for a darkly atmospheric start to the day.  Managing Editor Michelle Newby Lancaster ended the day as moderator a panel called "Pianos Keys and Film Reels: The Art Object as Plot Device" with Chris Cander (The Weight of a Piano) and Dominic Smith (The Electric Hotel), during which it was decided that art does change the world.
The Texas Book Festival offered much more than the sessions, and the Lone Star Lit team took it all in, including plenty of time in the exhibitor tents and maybe a few visits to the food trucks. There was a champagne toast to the Writers' League of Texas Book Award winners, first time face-to-face meetings with familiar and new people and publishers and booksellers, and an obscene number of books were purchased (had to be done -- it's a fundraiser, after all).  The event was definitely… one for the books.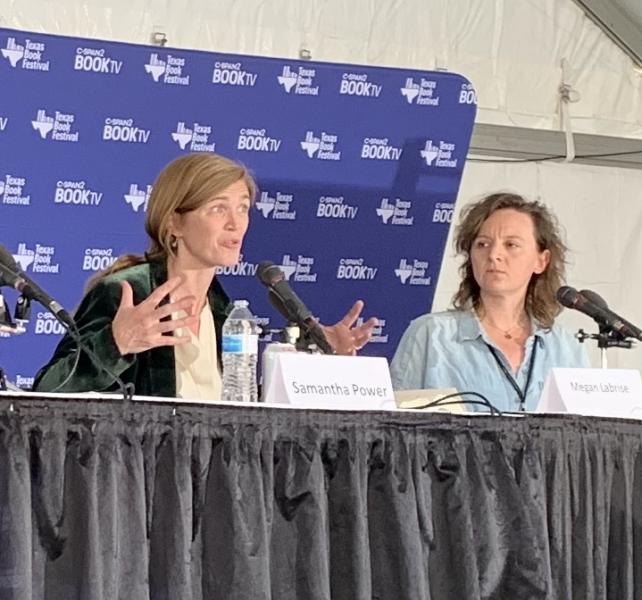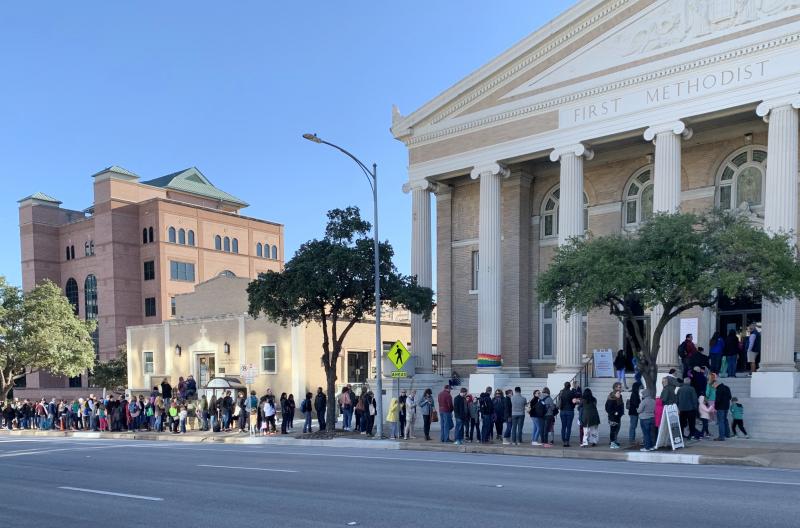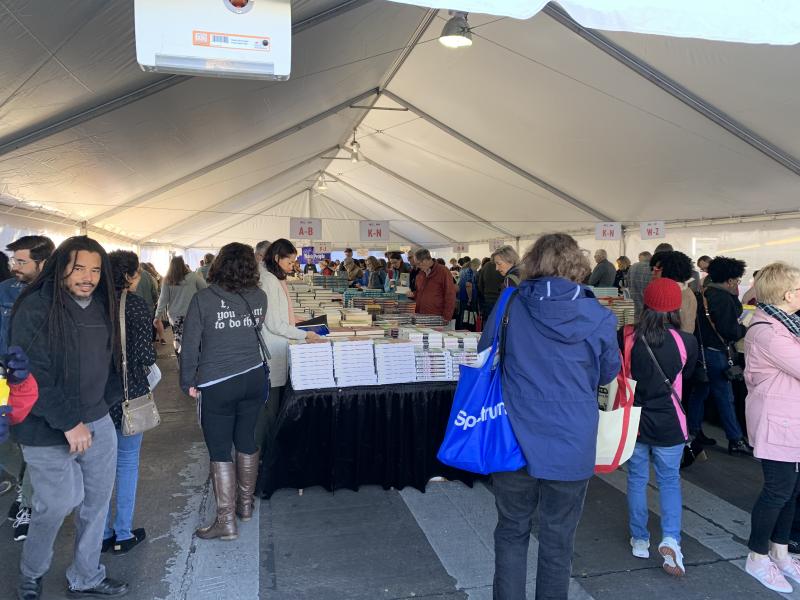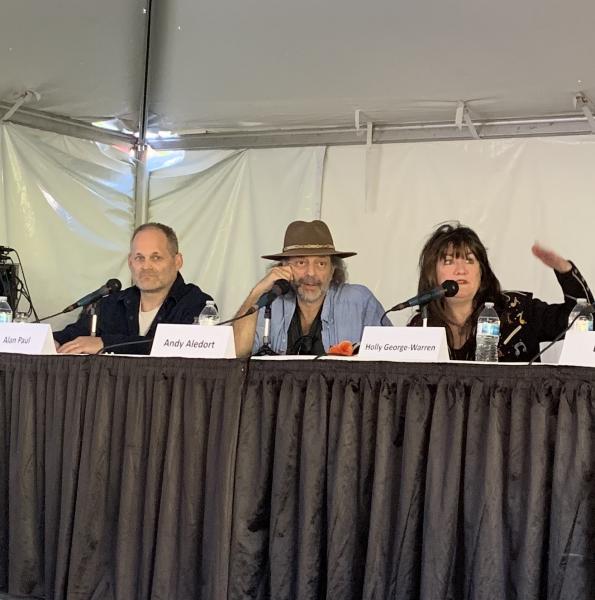 (ABOVE, Left to Right: Ambassador Samantha Power;  line for Great New Graphic Novels for Young Readers; inside the BookPeople's book buying tent; the Capitol; Texas Music Legends panel)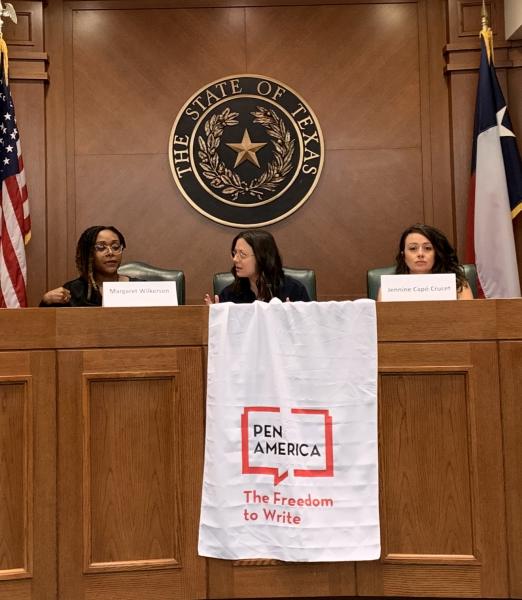 (ABOVE, Left to Right: LSLL Kristine Hall with author Shelton Williams; Robin Labounty of Blue Cubicle Press; Andrew McCall Smith; Kristine and TTU Press's John Brock; PEN America: Writing in a World of Borders and Bond)
The Texas Book Festival (TBF) began with a simple purpose: to bring authors and readers together in a celebration of literature and literacy. Founded in 1995 by Laura Bush (a former librarian and then First Lady of Texas), Mary Margaret Farabee, and a dedicated group of volunteers, the TBF set out to honor Texas authors, promote the joys of reading, and benefit the state's public libraries. The first Festival took place in November 1996 and is now one of the nation's premier annual literary events, featuring 300 authors of the year's best books and drawing 50,000 book lovers.