This mother-daughter team creates the Hitchin' Post series of picture books 
The mother-daughter team of Carolyn Altman (illustrator) and Julie Barker (author) has written two books in their Hitchin' Post children's book series, and they have a third in the works. A heritage of wide-open spaces and the beauty of farming and ranching have always been a part of their lives and continue to influence them in their creative outlets.  For this Mother's Day issue, Lone Star Lit caught up with them via email to find out about their collaborations.
Lone Star Lit: You're creating childrens' books together today, but take us back a bit and share with us when you first started creating things together. Julie, did you want to be an artist like your mom? What are your earliest memories? Carolyn, did Julie's story-telling side show early-on?
Julie Barker: For as long as I can remember, Mom has been painting or sketching.  I can remember specifically when we were living out on the farm and she gave my sister and me our first art lesson.  I did a charcoal sketch of some ballerina slippers.  Mom framed it for me and everything.  She was always being artistic with us and would paint on everything from our lunch boxes to our hairbrushes; everything always had a pretty picture on it!  Though I never felt I had her artistic talent, she always encouraged us to find our own special niche where we excelled.  I feel very blessed that I was able to bring my talent of writing together with her love of drawing to create Hitchin' Post.
Carolyn Altman: I knew when Julie got an "A+ 'Moovelous Job'" on a short story she wrote in high school that she was a talented author.  Julie titled the story "Shady Pastures Buttercup Association."  Illustrations are in the works by Carolyn!
Julie, where did the idea for Hitchin' Post come from? How did you decide he'd be a rabbit?
JB:  I cannot take credit for the idea of Hitchin' Post.  That again was from the awesome creative mind of my mother.  She just called me up one day and suggested that I write a children's book about a jackrabbit that lived on a ranch.  I must've thought it was a great idea because I took her seriously and followed through with that suggestion.
Carolyn, from the outside looking in, that seems a little random. Where did this idea come from?
CA: While working for the Waggoner Ranch, there was a drought for a few years.  Although this is a large ranch, the grass was dying, and the cattle were shipped north for a time. I always loved the history of the ranch and the fact that it was and still is a working ranch with real cowboys.  It has beautiful horses and many oil rigs pumping every day.  I just pictured a little jackrabbit being in awe of the owners, their families, the cowboys, cattle and horses.  I thought it would be so much fun to have my daughter write the book and I illustrate it for her.  I ran the idea by Julie, and she loved it.
I know that as a mother, I agonize sometimes over doing things just right for my kids – especially when it's something important to them. Carolyn, do you think that being Julie's mom made it easier or harder to illustrate Hitch and the story? 
CA: I am very fortunate to have the daughters that I have. I know they both have high standards when it comes to doing something and doing it correctly, but the three of us have always worked well together.  Julie was easy to work it.  She gave me ideas on some of my illustrations, but mostly she seemed to trust that I would come up with the illustrations that would fit her story.  Sometimes I procrastinate on her books and set it aside to fulfill orders for other clients.   I know I did that because she is my daughter!  She never complains. ☺ 
Flip side of that question – Julie, with your illustrator being your mother, did that make it easier or harder for you to give constructive criticism? 
JB:  I feel like we both work together very well.  There occasionally may be times where I hold back in saying what I might want or what I might like to change, but it always seems to work out…probably because she and I are so much alike, and we have a lot of the same ideas.  So far it has been a very easy process!
Julie, when we first met (electronically) in 2017, I remember thinking what a wonderful experience it must have been to see your mother bring a face and style to your character, Hitchin' Post. What was that like to see Hitch evolve on paper?
JB:  When I finished the first book, I was so completely proud of myself and could not wait until I could get it into readers' hands.  I couldn't wait for my family to read it and of course I had visualized all that time what Hitch would look like.  When the illustrations started being sent to me one by one, it made the whole process feel complete.  I knew that we had created something together that was pretty special, and the illustrations just brought everything to life. It was very exciting seeing the whole book coming together.  The second page of the book says that Hitch's "ears are so tall if they were to fall, they'd hang all the way to his knees."  This line gave Mom a starting point and just like that, his long ears were his signature feature.
Julie, you have three young children, and Carolyn, you have your business. Can y'all share with readers how your process worked in creating the Hitchin' Post books? How long did it take from concept to publication?
JB: When I first began writing Hitchin' Post, my youngest child was about a year old.  I have three children, and so my writing often took a backseat.  I started taking my iPad with me places and would type in the Notes app whenever I would have an idea.  Most of my writing occurred at night after everyone went to bed, and this is still the case today.  I often run my ideas by my children though, because they are, after all, my target audience.  They love giving me ideas!  In fact, in the second book there is a scene where Hitch's brothers are driving a four-wheeler.  This particular scene was inspired by my oldest son Brady.  We were driving down the highway one day, and he said it would be funny if Hitchin' Post and some other rabbits rode on a four-wheeler.  He gave details of one rabbit steering, another in charge of the brakes, and another in charge of the throttle.  As soon as he started giving me his ideas, I could just picture it!  That turned out to be one of my favorite scenes to write in the book.  The first book took around two years to complete.  That sounds like forever, but again, with three young children my writing often takes a backseat.  The Tornado Twistin' 4th of July Celebration took a lot less time as I think we were anxious to get it finished and out to readers. 
CA: When Julie told me of Brady's idea of the four- wheeler, I could immediately see the illustration in my mind.  I can still look at it and smile.  I love adding a little humor in my illustrations (when fitting), but mostly I like to be able to put meaning and feelings in each.  I am an early riser and a lot of my inspiration comes when I am sipping on a cup of hot coffee.  Oh, by the way – I think there is a painting of ole' Hitch drinking a cup of coffee on the open range.
What was the hardest part of working together as a mother-daughter team? Any times when you had just a little too much quality time?
JB:  I am not just saying this because she is my mom but honestly, I can't think of anything that has been hard for us.  I think we both know that there is no time crunch or pressure for either one of us, and we have both taken a laid-back approach when it comes to getting the books completed and published.  We only live thirty minutes from one another, but we only see each other about every other week; therefore, there is not often a chance for too much quality time.  In fact, I feel like we scramble to find time to all get together. Life is so busy. 
CA: I agree with everything she said.
Hitchin' Post and the Tornado Twistin' 4th of July Celebration is the second book in the Hitchin' Post series. Can you share with readers a little about the book? Is any of the story based on real events either of you've witnessed? Or real characters?
JB:  Hitchin' Post and the Tornado Twistin' 4th of July Celebration is based around a celebration that was always so dear to me as a child.  My early years were spent growing up in the small west Texas town of Clarendon.  I remember those years so fondly, and especially the 4th of July celebration in Clarendon.  The community would gather around the courthouse square where you could shop, eat, play games, and watch the annual turtle race.  There was a rodeo for three nights with a dance on Friday and Saturday nights.  I remember the music was usually old western swing, and whenever I hear a Bob Wills song, my mind quickly drifts back to those "good old days."    Those are times that are forever in my memory, making it very easy to write about and share.  In the book, it is evident that this celebration is important to Hitchin' Post and his brothers as well.  When I decided to write Hitch's brothers into this story, I immediately wanted to name them after my uncles.  My dad has three brothers, Stevie, Terry, and Timmy, and my mom has one brother Tommy and a brother-in-law Mitchell.  I think this makes my dad old Hitch, right? He would be a great man to base this hero of a character on.
What's next for Hitch and the gang? Julie, any chance we'll be seeing a coordinated effort between you and any of your children? Or Carolyn, between you and your grandchildren?
JA:  I have written a third book for the series though I'm not sure of a title for it yet.  It is funny that you should ask that about coordinating with my children on one because they are all three in the next one.  Of course, it's their favorite by far.  I'm not sure when it will be coming out.  Whenever anyone asks me, I always make the joke that I'm waiting on my illustrator! 
CA: What, you have a third story, Julie????? Just kidding; the illustrations are coming along nicely.  How fortunate I am to not only illustrate for my daughter but to also illustrate my grandchildren in the book!
Finally, since it is Mother's Day, will you each share what's the best part of being a mom? What's the greatest gift you could get on Mother's Day?
JB:  The best part about being a mom to me is the deep bond that you share with each of your children.  All three of my children are so different with three distinct personalities, and I am so blessed to have a special bond with each of them.  Throughout my whole life, my parents always showed unconditional love to my sister and me, and that is something that I will never take for granted -- and most importantly, something that I want to pass down to my children.  I just hope that I will do as good of a job as my own mom and dad did.  I think with this fast-paced life that we live, the best gift that I could get for Mother's Day would be a nice quiet day at home.  We are constantly on the move and a day at home sounds amazing right now.
CA: Julie mentions wanting a nice quiet day at home for Mother's Day.  What she didn't mention is that she invited us to her house that day because she is cooking a Mother's Day lunch.  My husband and I could not ask for better children.  They made raising them easy.  I feel like bringing up a child is kind of like creating a work of art.  The canvas is blank at the beginning of their lives; each stroke of the brush is like each day.  The more time spent on each brush stroke and effort put into a painting is kind of like the effort and love put into spending time teaching and enjoying your child.  There are challenges in both, but the outcome can be so rewarding.  I can't wait to see what Julie has for lunch on Mother's Day.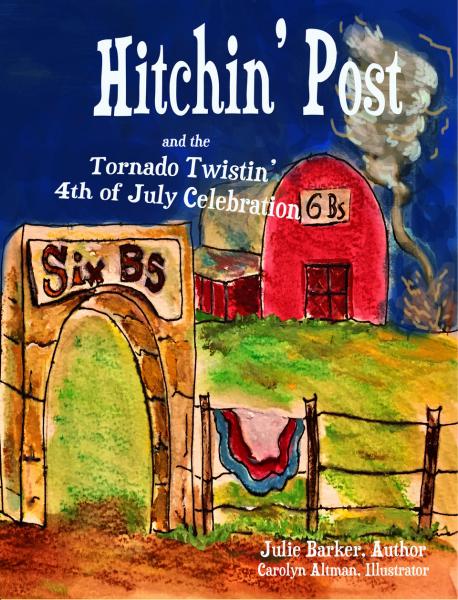 Hitchin' Post and the Tornado Twistin' 4th of July Celebration will be featured on Lone Star Book Blog Tours starting May 29, 2019.