Join us on Book Blog Tour!
GONE TO DALLAS:
THE STOREKEEPER,
1856 - 1861
by LAURIE MOORE - MOORE
Genre: Historical Fiction / Texas Pioneers / Civil War
Publisher: Goat Mountain Press
Date of Publication: October 4, 2021
Number of Pages: 348 pages 
ABOUT THE BOOK: Climb aboard an 1856 Dallas-bound wagon train and join a plucky female protagonist for the journey of a lifetime in Laurie Moore-Moore's richly entertaining new book, Gone to Dallas, The Storekeeper 1856-1861. Far from your average historical novel or western, Gone to Dallas is a compelling tale of migration, betrayal, death and dreams—peppered with real people, places, and events. With a cast of interesting characters and more bumps and hazards than a wagon trail, Gone to Dallas tells the unforgettable story of a formidable frontier woman in the context of true Texas history. 
It had seemed so romantic when Morgan Darnell courted Sara in Tennessee, finally convincing her they should marry and join an 1856 "Gone to Texas" wagon train traveling along the "Trail of Tears," through Indian territory, and across the Red River into Texas. 
In a twist of fate, Sara arrives in Dallas a 19-year-old widow, armed with plenty of pluck, and determined to open a general store in the tiny settlement of log cabins on the Trinity River. Standing in her way as a young woman alone are a host of challenges. Can Sara (with the help of her friends) pull herself up by the bootstraps and overcome uncertainty, vandalism, threats, and even being shot?
Follow Sara as she strives to create her store while living Dallas' true history — from the beginnings of La Réunion (the European colony across the Trinity) to a mud and muck circus, a grand ball and the mighty fire that burns Dallas to the ground. Dallas is a challenging place, especially with the Civil War looming.  
Even with the friendship of a retired Texas Ranger and Dallas's most important citizen — another woman — is Sara strong enough to meet the challenge? The risks are high. Failure means being destitute in Dallas!
In Gone to Dallas, The Storekeeper 1856-1861, author Laurie Moore-Moore spins a page-turner of a tale salted with historically accurate Texas events and populated with real characters. It's Portis's True Grit meets Texas history.
CLICK TO PURCHASE!
│ Amazon│ Barnes and Noble │Smashwords│Kobo│
ABOUT THE AUTHOR: From the author: "My husband, Roger, and I have been blessed with many adventures in life—from trekking across India's Thar desert on a camel (and sleeping in the sand on our camel blankets) to repeating marriage vows in a remote Maasi village in Kenya (my dowery was one cow and one goat). My favorite adventure? As a fifth generation Texan, it is discovering more and more Texas history and writing about it!  
We live in Dallas, Texas but sneak away when possible, to a mountain-top cabin overlooking a lake in former Indian Territory (the Oklahoma Ozark Mountains) The cabin is unique—there is a nine foot chainsaw bear in our entry hall. The house was built around it. Never thought I'd own a piece of chainsaw art, much less a nine-foot bear. Life is full of surprises. . . just like a good historical novel."  
Laurie Moore-Moore is a retired entrepreneur who has built and sold multiple businesses and served on the Board of Directors of an international corporation.
◆ FACEBOOK  ◆ AMAZON  ◆  GOODREADS  ◆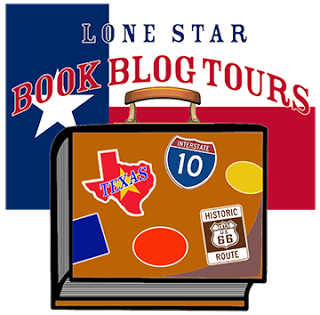 Click the blog names for direct links to book reviews & special features.
| | | |
| --- | --- | --- |
| 10/26/21 | Scrapbook Page | |
| 10/26/21 | Review | |
| 10/27/21 | Review | |
| 10/27/21 | BONUS Promo | |
| 10/28/21 | Excerpt | |
| 10/28/21 | Review | |
| 10/29/21 | Review | |
| 10/30/21 | Review | |
| 10/31/21 | Author Interview | |
| 11/1/21 | Character Spotlight | |
| 11/1/21 | Review | |
| 11/2/21 | Review | |
| 11/3/21 | Review | |
| 11/3/21 | Guest Post | |
| 11/4/21 | Review | |
| 11/4/21 | Review | |
Giveaway runs October 26-midnight, CDT, November 5, 2021