Inspiring women to embrace the strength and power of their story
Saturday, November 26, 2022
Books make the best gifts! Award-winning Austin author Stephanie Raffelock's books are available on Indiebound, or on Amazon, plus Creatrix Rising and A Delightful Little Book on Aging are both available on Audible. 
ART IN THE TIME OF UNBEARABLE CRISIS
Art keeps good alive in the worst of times. In the face of ugliness, pain, and death, it's art that has the power to open us all to a healing imagining of new possibility; it's art that whispers to the collective that even in the ashes of loss, life always grows again. That's why right now, in this tumultuous time of war and pandemic, we need poets more than we need politicians.  
The collection of essays, poetry and art in this book are meant to feed and nourish our hearts and minds.  It's what women do – we feed people.  To that end, the proceeds from this work will be donated to the non-profit World Central Kitchen, an organization conceived by chef José Andrés as a way to feed people affected by natural disasters and war. 
CREATRIX RISING:  UNLOCKING THE POWER OF MIDLIFE WOMEN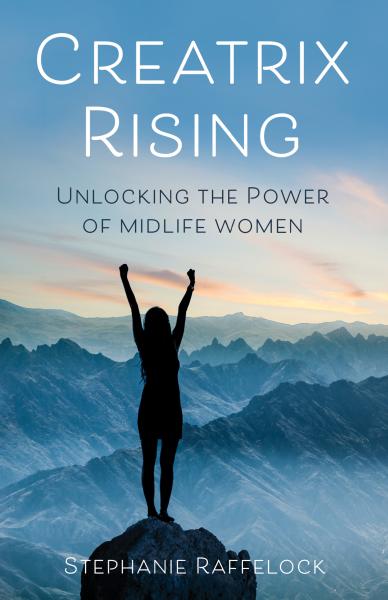 Ever since Eve was banned from the garden, women have endured the oft times painful and inaccurate definitions foisted upon them by the patriarchy.  Maid, Mother, Crone, representing the three stages assigned to a woman's life cycle, have been the limiting categories of both ancient and modern (neo-pagan) mythology.  For midlife women, those past childbearing age, one label in particular rankles: Crone. The word conjures a wizened hag, useless for the most part, marginalized by appearance and ability.  Useless.  Used up. 
None of us has ever truly fit the old Crone image, an identity better assigned to the shadows as an aspect of femininity that is dark and mysterious, but also powerful and wise.  For today's midlife women, a new archetype emerges, a newly birthed creative spirit, a powerful more fitting than Crone. Her qualities are called the Creatrix. 
What's it like to live from such wholeness, such creative power?  In Creatrix Rising: Unlocking the Power of Mid-life Women, Stephanie Raffelock lays out through personal stories and essays the highlights of the past fifty years in which women went from quiet strength to a resounding voice. She invites us along her own transformational journey by providing probing questions for reflection, so we can flesh out and bring to life this new archetype within ourselves. 
​ 
Written in the spirit of Women Who Run With the Wolves, Creatrix Rising gives context in which to place the great, creative surge that women of later years are experiencing personally and collectively. The Crone is replaced by the new archetype of Creatrix, now morphed from the ugly old witch of the forest into the shining inner guide of Creatrices everywhere.  
If what the Dalai Lama has predicted proves true, that women will save the world, then for certain, the Creatrix will be out front, leading the pack. 
A DELIGHTFUL LITTLE BOOK ON AGING 
All around us older women flourish in industry, entertainment and politics. Do they know something that we don't, or are they just trying to figure it out, too?  So many of us feel in our hearts and minds that we are still twenty-something young women who can take on the world. But every day, we have to rise above the creaky joints and achy knees just to move through the world with a modicum of grace.  Yet we do rise, because it's a privilege to grow old, and every single day is a gift. This book is an invitation to celebrate whatever age you are with a sense of joy and purpose and a spirit of gratitude. 
A graduate of Naropa University's program in Writing and Poetics, Stephanie Raffelock was a contributor to The Rogue Valley Messenger in Oregon. She has blogged for Nexus Magazine, Omaha Lifestyles, Care2.com, as well as SixtyandMe.com. A former i-Heart Radio host, she is now a popular guest on podcasts, where she inspires women to embrace the strength and passion of their personal story. Stephanie continues to build her speaker's resume by giving presentations for groups like The Ashland Literary Arts Festival, Breaking the Glass, WINS at Charles Schwab and Southern Oregon University, Friends of the Hannon Library. Her commitment to uplift women extends to teaching personal development classes for incarcerated women and non-profits, including Dress for Success, Austin. 
A recent transplant to Austin, Texas Stephanie enjoys an active life with her husband, Dean and their Labrador retriever, Mickey Mantel Raffelock.
| Website | Instagram | Facebook |
| Goodreads |