February is not supposed to blow in like a lion—that's March; but hopefully the January snow will stop the Rolling Plains from blowing away. Meanwhile, also blowing in on the February winds of love (sorry!) is a big, long list of new Texas books. We've got cowboys, crucibles, and cozies; sisters, mothers and daughters, and a first lady; galaxies far, far away; a plethora of picture books, a little poetry, translated fiction from the Americas and Romania, some innovative Cajun cooking, and some very bad habits.
These February books make it easy to love your Lone Star Lit. ¡Salud!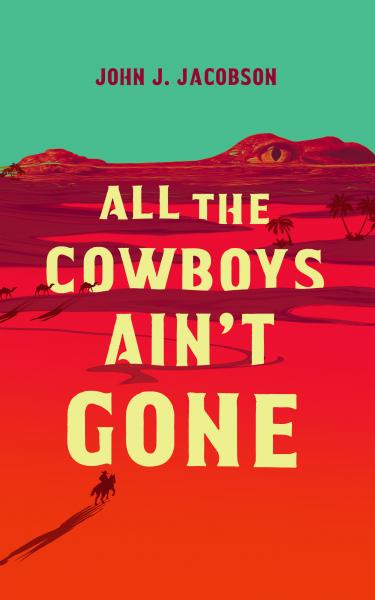 John J. Jacobson
All the Cowboys Ain't Gone is the rollicking adventure story of Lincoln Smith, a young Texan living at the beginning of the twentieth century, who thinks of himself as the last true cowboy. He longs for the days of the Old West, when men like his father, a famous Texas Ranger, lived by the chivalric code. Lincoln finds himself hopelessly out of time and place in the fast-changing United States of the new century. When he gets his heart broken by a sweetheart who doesn't appreciate his anachronistic tendencies, he does what any sensible young romantic would do: he joins the French Foreign Legion.
On his way to an ancient and exotic country at the edge of the Sahara, Lincoln encounters a number of curious characters and strange adventures, from a desert hermit who can slow up time to a battle with a crocodile cult that worships the god of death. He meets them all with his own charming brand of courage and resourcefulness.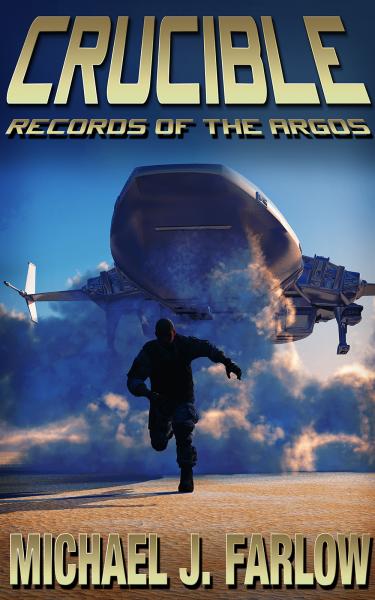 Crucible: Records of the Argos
Michael J. Farlow
The Arkon war is over and gone. Nick Hall and his small crew are tasked by Consortium intelligence to investigate the inner regions of the old Arkon empire and learn why ships are disappearing. They travel in a crappy-looking, old cargo ship called the Argos. Except the Argos is not what she appears. On the inside, she was redesigned to have an assortment of advanced capabilities to both assist and protect her on her voyage.
Early in her undertaking, she and the weird AI who assists the crew both undergo a mysterious change caused by something unknown. What happens takes the ship, the crew, and their AI on an adventure they were not prepared for.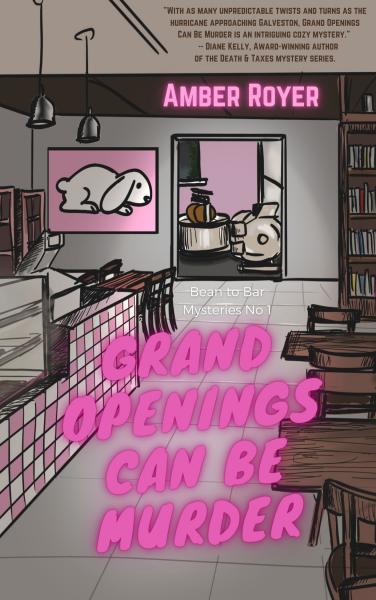 Amber Royer
Felicity Koerber has had a rough year. She's moving back to Galveston Island and opening a bean-to-bar chocolate factory, fulfilling a dream she and her late husband, Kevin, had shared. She thinks trouble has walked into her carefully rebuilt world when puddle-jump pilot Logan Hanlon shows up at her grand opening. Then one of her employees drops dead at the party, and Felicity's ex-boyfriend, who's now a cop, thinks Felicity is a suspect.
Felicity realizes that if she's going to clear her name, she might need Logan's help. Though she's not sure if she's ready to let anyone into her life - even if it is to protect her from being the killer's next victim. For Felicity, Galveston is all about history and a love-hate relationship with the ocean, which keeps threatening to deliver another hurricane—right into the middle of her investigation. Can she figure it out before all the clues get washed away?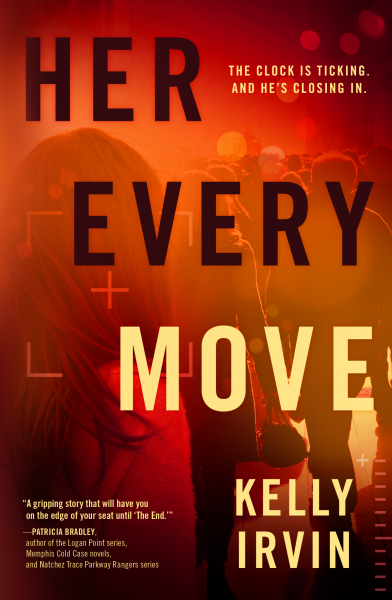 Kelly Irvin
When a bomb explodes at an event planned by librarian Jackie Santoro and kills her best friend, a team of dedicated law enforcement agents puts her personal life under a microscope. A woman with her own checkered past, Jackie quickly becomes a suspect in what could be a revenge plot to even the score for her father's suicide.
Homicide Detective Avery Wick has doubts about Jackie's innocence, but he struggles to ignore his attraction to the librarian. As more bombs go off around their city and the investigation deepens, the list of suspects only grows, and he fears he can't keep anyone safe. In a breathless race against the clock, the two form an uneasy alliance to hunt down a killer and save lives.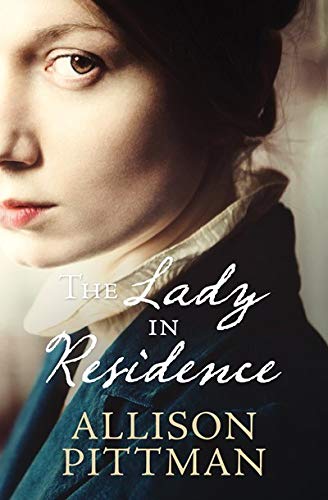 Allison Pittman
Young widow Hedda Krause checks into the Menger Hotel in 1915 hoping to find a new, rich husband. Her plans are derailed when a ghostly apparition lures her into a long, dark hallway, and Hedda returns to her room to find her precious jewelry has been stolen. While she falls under suspicion for perpetrating a hoax, she also falls under the spell of the handsome detective pursuing the truth. 
In 2017, Dini Blackstone, a fifth-generation magician, gives ghost-walk tours, narrating the more-tragic historical events of San Antonio with familial affection. And she is obsessed with the story of Hedda Krause. When she meets Quinn Carmichael, great-great-grandson of that charming detective, his box of clues will help to solve the century-old mystery and rekindle the long-lost romance.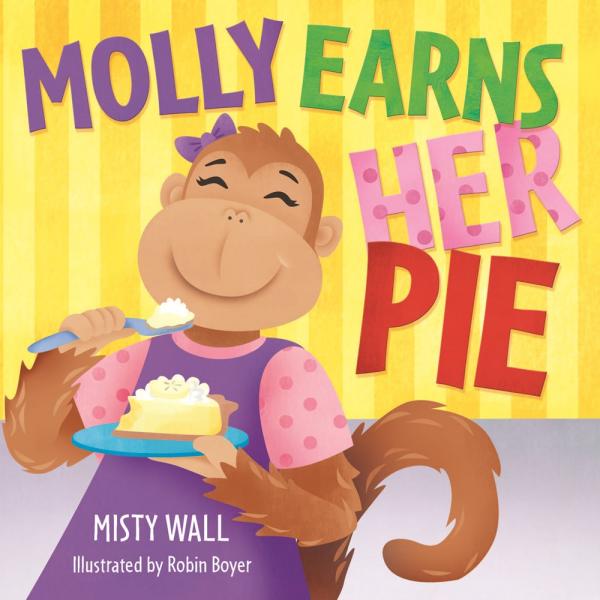 Misty Wall, Robin Boyer (illustrator)
Molly Monkey wants to bake herself a banana pie but doesn't have any money to buy the ingredients. Where will she get the money? Molly learns the best way is to earn the money! And she discovers that earning it through hard work is the most rewarding! With Molly, your kids will learn how fun it can be to earn their pie—and eat it, too!
"A playful children's book that introduces young children to the fundamental lesson that money must be EARNED!"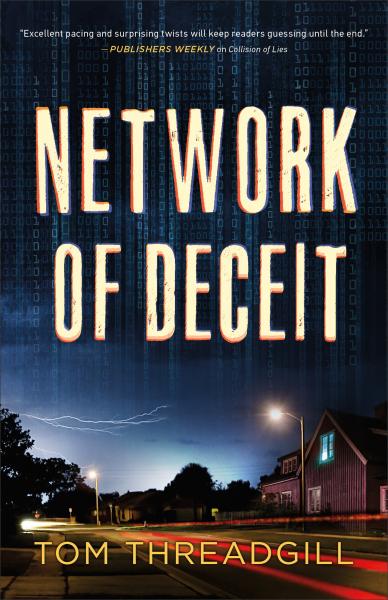 Tom Threadgill
After her rescue of nearly fifty kidnapped children made international headlines, Amara Alvarez gets what she's worked for: a transfer to San Antonio's Homicide Division. Reality sets in quickly, though, as her first case, the suspicious death of a teenager at a crowded local water park, brings chaos to her personal life. 
As the investigation moves forward and she increases the pressure on the suspects, Amara finds herself under attack by cybercriminals. Her every move is potentially being watched online, and she's forced to resort to unconventional methods to find the killer. With few leads, she fights to keep her first murder investigation from ending up in the cold case files.
(The Halo Trilogy Book 2) 
Kathleen McFall, Clark Hays
The year is 2188 and the Earth—long-ago abandoned for Mars by the plutocrats—is scorched by poverty, disease, and environmental collapse. Meanwhile, the red planet is a flourishing playground for the Five Families who, thanks to Halo—an advanced AI—control everything and everyone on Earth, including Crucial Larsen, a disillusioned labor cop. On his last trip up-universe, Crucial stumbled onto a secret that could destroy them. Despite fervent pleas from his sister (a leader in the resistance), Crucial believes fighting back against the Five Families is a fool's game destined for failure—or worse.
Then Melinda, his long-lost love and a staff scientist on Mars, begs for his help clearing her fiancée of a murder charge. Crucial jumps on the next quantum rocket, hoping maybe this time he can patch things up with Mel. His investigation ultimately leads back to Earth's radiation-blasted sunbelt, where cannibal lizard-people hold the key to a different future, if only Crucial can stay alive long enough to unlock it.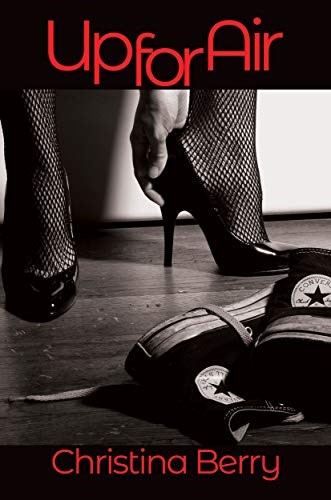 (Lost in Austin) 
Christina Berry  
At a funeral on her twenty-ninth birthday, Ari takes stock of her life and comes to a startling conclusion: she's not happy. Mired in a relationship that's gone stale, she approaches her husband, Greg, about opening their marriage. To her shock, he agrees.
Ari throws herself headlong into an adventure through the bars and bedrooms of Austin. For the first time in her life she's living in the moment—sex and kink, karaoke and drink—new friends, new lovers, new boundaries to cross. It's all just innocent, no-strings fun . . . until she meets Alex.
Alex changes everything. While Ari and Greg grapple with their changing relationship, Ari struggles to control her heart. During hedonistic self-discovery, has she stumbled across love?
J D Wilburn
Detective Bo Alexander knows the perils of drugs and alcohol all too well, and she's made it her mission to keep people safe. Cass Halliburton grew up in the Bandidos, the most ruthless motorcycle outlaw club in the world, and she's in Galveston Island to watch over the national expansion of her "business." 
Bo's assigned to the task force looking to take her down, and Cass plans on making sure Bo keeps her nose out of club business. But the clues aren't adding up, and the attraction surging between them only makes things more dangerous. Bo and Cass are on opposite sides of the law, and their battle of wills may not only decide their chances at love, but also their fate.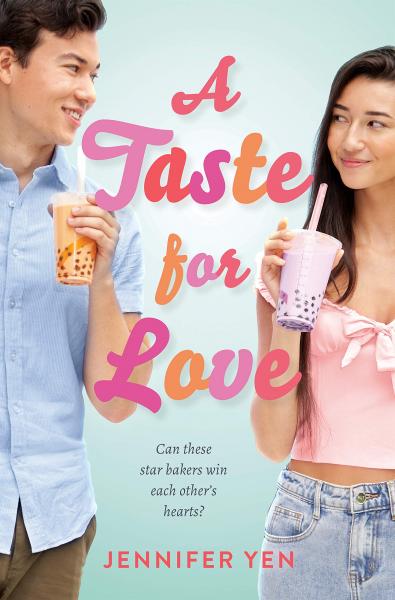 Jennifer Yen
To her friends, high school senior Liza Yang is nearly perfect. Smart, kind, and pretty, she dreams big and never shies away from a challenge. But to her mom, Liza is anything but. Compared to her older sister Jeannie, Liza is stubborn, rebellious, and worst of all, determined to push back against all of Mrs. Yang's traditional values, especially when it comes to dating. 
The one thing mother and daughter do agree on is their love of baking. Mrs. Yang is the owner of Houston's popular Yin & Yang Bakery. With college just around the corner, Liza agrees to help out at the bakery's annual junior competition to prove to her mom that she's more than her rebellious tendencies. But when Liza arrives on the first day of the bake-off, she realizes there's a catch: all of the contestants are young Asian American men her mother has handpicked for Liza to date.
Magda Carneci, Sean Cotter (Translator)
In this modern classic of global feminist literature, the only novel by one of Romania's most heralded poets, styled as a long letter addressed to the man she is ready to leave, a woman meanders through a cosmic retelling of her life from childhood to adulthood with visionary language and visceral detail. Like a contemporary Scheherazade, she spins captivating tales that create space in the cosmos for the female experience. Through a dreamlike thread of strange images and passing characters from the small incidents of their lives together to the intimate narrative of her relationship to womanhood, her stories invite the reader into a fantastical vision of love, loss, and femininity.
LaQuette
Jackson Dean doesn't trust love. He made the mistake of following his heart once and all he'd gotten was pain and a sullied reputation. But when city-slicking, do-gooder Aja Everett needs his help, he can't stay away—and she may be just the thing needed to restore trust in the heart of this Texas Ranger. 
Aja Everett will get herself into trouble if she's not careful dealing with the ex-cons she's hired to work Restoration Ranch. At least that's what the ruggedly handsome ranger keeps telling her. But as the threats keep coming, things heat up between the two, and Aja realizes Jackson has her heart in a whole new kind of trouble.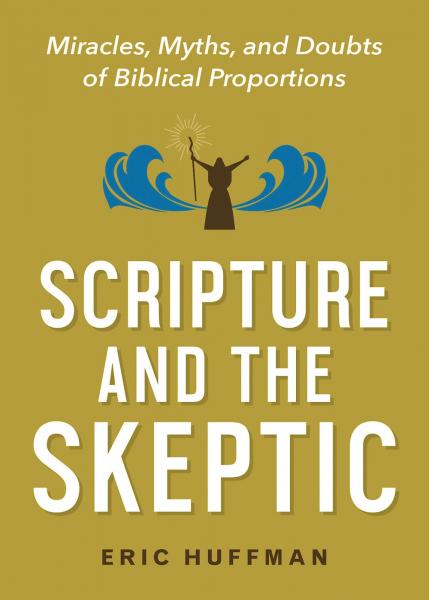 Scripture and the Skeptic: Miracles, Myths, and Doubts of Biblical Proportions
Eric Huffman
The Bible is the best-selling, most widely read, and most quoted book in history. It is also misunderstood, misquoted, and fiercely debated. If, as Christians believe, the Bible is the Word of God, why is it so complex and difficult to interpret in parts, yet simple enough for even children to understand in others?
In Scripture and the Skeptic, Eric Huffman helps readers understand and cope with confusion about the Bible and provides answers to questions by reframing it as a perfect and seamless story. Huffman illustrates how the Bible, even the parts some consider ungodly, presents the beautiful story that God intended to tell. Through storytelling from his own experiences and his take on Bible stories, Huffman helps readers understand the Bible by interpreting the entire book through the lens of Jesus's life, death, and resurrection.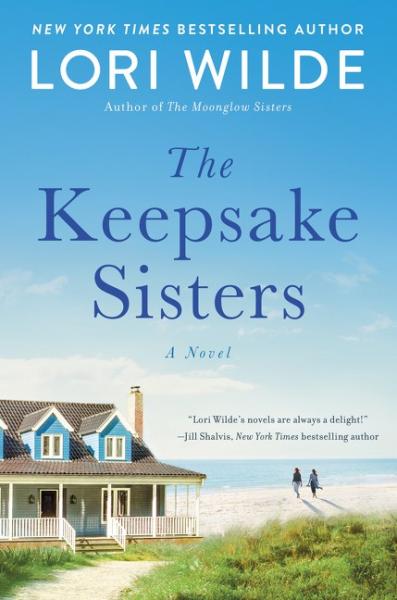 Lori Wilde
It was a story that couldn't possibly be true: identical twins, separated at birth. Anna Drury wouldn't have believed it, but the woman standing before her was physically like her in every way and held in her hands a keepsake baby bracelet, the same as Anna had. How could it be?
Anna—with her tall, strong husband and two adorable children, grew up loved and secure, and she freely opens her heart to others, so she embraces the idea of her new-found sister, Amelia. Everyone tells Anna to tread carefully, but Amelia is family, she sees it in the other woman's face and knows it in the depth of her soul. And family should always be welcome.
Once the shock settles and the dust clears, the sisters learn about each other as they unravel the secrets of their past and separation. Anna wants to believe that life with her new-found sister will be perfect, but just as they are bonding in a special way, Amelia reveals the true reason for their reunion. Her kidneys are failing, and Anna could be her perfect match.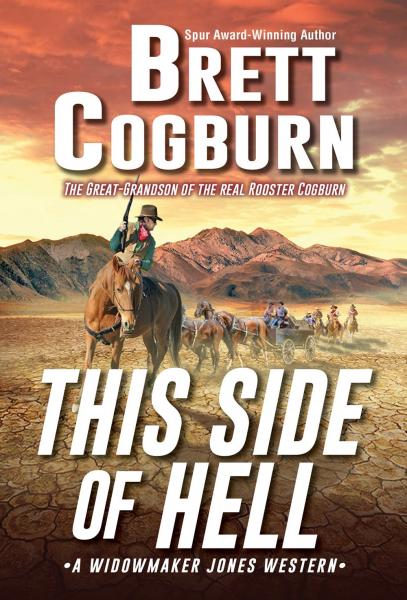 Brett Cogburn
Card player extraordinaire Poker Alice knows when to hold 'em, when to fold 'em, and when to team up with master gunman Newt "Widowmaker" Jones. She's betting on Jones to protect her—and her money—on a treasure hunt in the California desert. Legend has it that a shipwreck is buried in the Salton sands. Some say it's a Spanish galleon that got stuck when the sea ran dry. Other says it's a Chinese junk full of pearls or a Viking ship filled with Aztec treasure. Either way, a lot of very mean and dangerously violent folks would kill to find it. Which is why Poker Annie needs the Widowmaker. In this game, it's winner takes all. Losers die.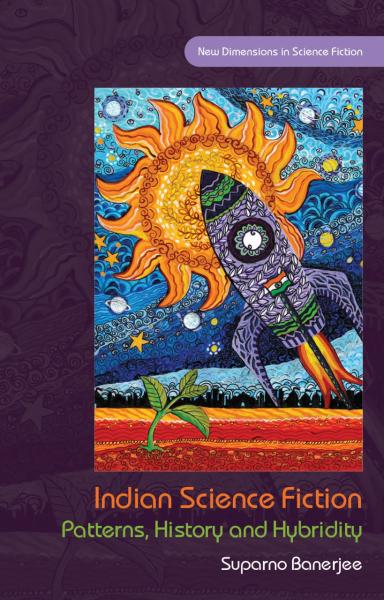 Indian Science Fiction: Patterns, History and Hybridity
Suparno Banerjee
Indian Science Fiction draws on postcolonial theory, science-fiction criticism, utopian studies, genre theory, Western and Indian philosophy, and history to argue that Indian science fiction functions at the intersection of Indian and Western cultures. Suparno Banerjee deploys a comparative approach in examining the multilingual science-fiction traditions of India in order to trace the overarching evolutions of the genre. He complements this study with an analysis of specific patterns of hybridity in the genre's formal and thematic elements.
The book analyzes Indian science fiction's use of alterity in its deployment of time, space, and characters, as well as the epistemologies that ground its world-building, and ultimately Banerjee shows that, in all of these intrinsic elements, Indian science fiction reveals inherent cultural intersectionality, mostly between India and the West, but also among the diverse cultures of India itself. Indian Science Fiction demonstrates that, despite the linguistic and cultural diversity of the Indian science-fiction traditions, larger patterns and connections are visible and can offer valuable insights.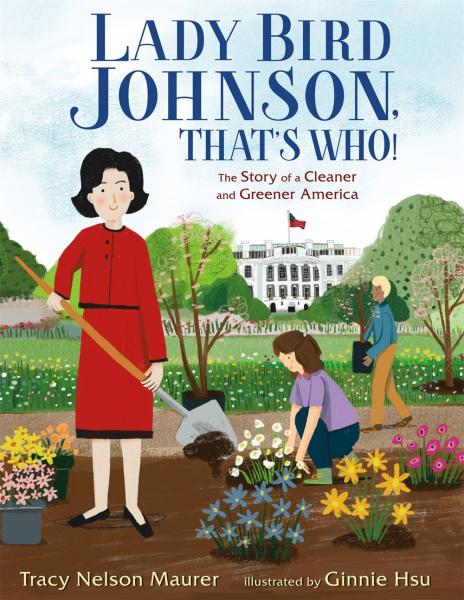 Lady Bird Johnson, That's Who!: The Story of a Cleaner and Greener America
Tracy Nelson Maurer, Ginnie Hsu (illustrator)
Who fought to stop pollution? Who helped make America cleaner and greener? Lady Bird Johnson, That's Who! 
Claudia Alta Taylor was a lonely girl, shy as a butterfly, growing up in Texas. She never dreamed she'd blossom into a visionary leader whose love for wildflowers, beautiful landscapes, and building community compelled her to lead the effort to combat pollution in the United States. A lifelong environmentalist, Lady Bird Johnson embraced her platform as first lady to promote policy that beautified America's roadways, waterways, and parks, inspiring people to take pride in the places they live.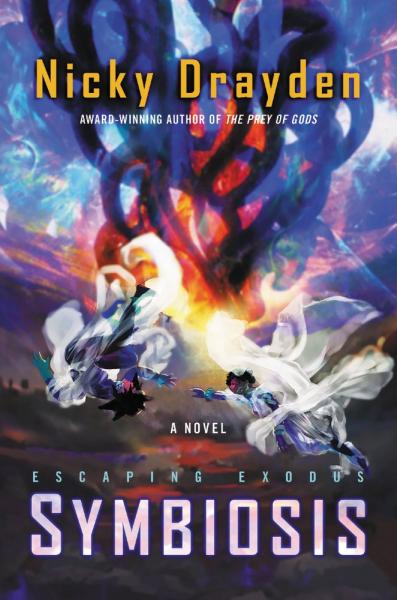 Escaping Exodus: Symbiosis: A Novel
Nicky Drayden
Nearly a thousand years removed from Earth, the remnants of humanity cling to existence inside giant, space-faring creatures known as the Zenzee. Abused and exploited by humans for generations, these majestic animals nearly went extinct, but under the command of its newly minted ruler, Doka Kaleigh, life in the Parados I has flourished. Thanks to careful oversight and sacrifice by all of its crew, they are now on the brink of utopia, and yet Doka's rivals feel threatened by that success.
The Senate allowed Doka to lead their people believing he'd fail spectacularly—a disaster that would cement the legitimacy of their long-standing matriarchy. Despite vocal opposition and blatant attacks on his authority, Doka has continued to handle his position with grace and intelligence; he knows a single misstep means disaster. When a cataclysmic event on another Zenzee world forces Doka and his people to accept thousands of refugees, a culture clash erupts, revealing secrets from the past that could endanger their future. For Doka, the stakes are bigger and more personal than ever before—and could cost him his reign and his heart. He has fallen for the one woman he is forbidden to love: his wife, Seske.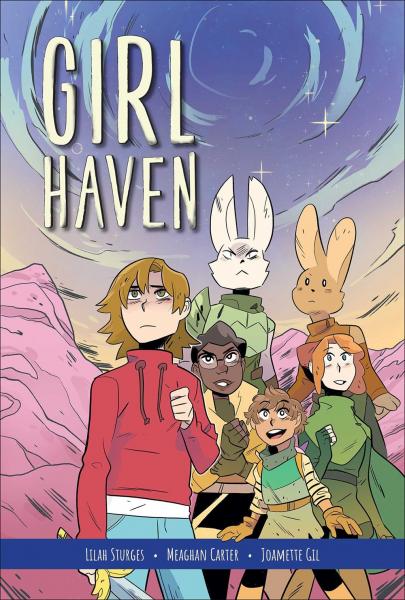 Lilah Sturges, Meaghan Carter (illustrator)
Three years ago, Ash's mom left home and never returned, leaving behind a husband and child and a shed full of mystical curiosities related to the all-girl fantasy world she'd created as a child—Koretris. One day Ash invites a new group of friends from Pride Club over, and they try one of the spells to enter Koretris. To their amazement, they're all transported to a magical realm filled with human-sized, talking animals who are fiercely protective of their world and are ready to fight to protect it. But if Koretris is real, why is Ash there? Everyone has always called Ash a boy—shouldn't the spell have kept Ash out? And what does it mean if it let Ash in?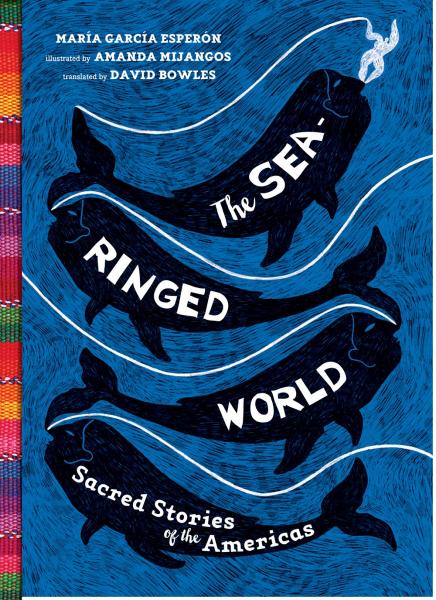 The SeaRinged World: Sacred Stories of the Americas
Maria Garcia Esperon, Amanda Mijangos (illustrator), David Bowles (translator)
Fifteen thousand years before Europeans stepped foot in the Americas, people had already spread from tip to tip and coast to coast. Like all humans, these Native Americans sought to understand their place in the universe, the nature of their relationship with the divine, and the origin of the world into which their ancestors had emerged. The answers lay in their sacred stories.
 
Author María García Esperón, illustrator Amanda Mijangos, and translator David Bowles have woven this collection of stories from nations and cultures across our two continents—the Sea-Ringed World, as the Aztecs called it—from the edge of Argentina all the way up to Alaska.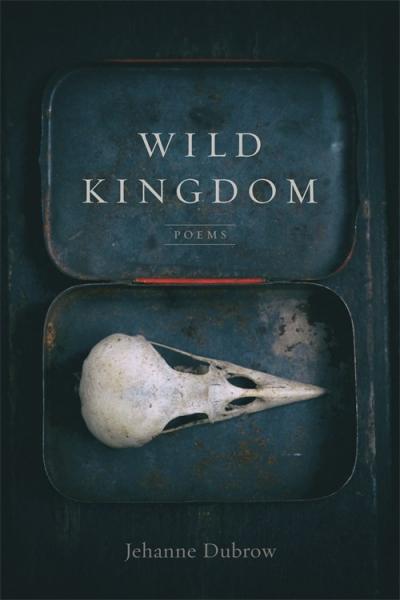 Jehanne Dubrow
Wild Kingdom explores the world of academia, examining this strange landscape populated by faculty, administrators, and students. Using what she calls "received academic forms," Dubrow crafts poems that recall the language of academic documents such as syllabi, grading rubrics, and departmental minutes. "Honor Board Hearing," a series of prose poems, depicts challenges frequently faced by undergraduates, offering fictionalized accounts of cases involving plagiarism, theft, sexual assault, and substance abuse.
 
As a rejoinder to the famous dictum that "academic politics is the most vicious and bitter form of politics, because the stakes are so low," Dubrow maintains that, given the current moment, the stakes could not be higher. Even as it acknowledges the cruelty that exists within the academy, Wild Kingdom asks how scholars and educators can work to ensure that institutions of higher learning continue to nurture students and remain places of rigorous critical thinking.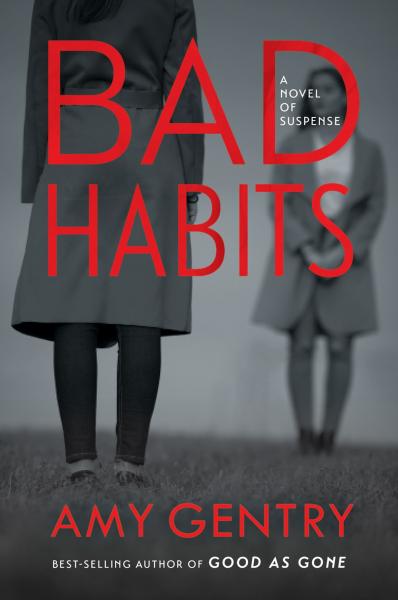 Amy Gentry
Claire "Mac" Woods, a professor enjoying her newfound hotshot status at an academic conference, finally has the acceptance and admiration she has long craved. But at the conference's hotel bar, Mac is surprised to run into a face from a past she'd rather forget: the moneyed, effortlessly perfect Gwendolyn Whitney, Mac's foil, rival, and former best friend.
 
When Gwen moved to town in high school, Claire, then known as Mac, a poor kid from a troubled family who had too much on her plate, saw what it meant to have money, sophistication, culture—the very blueprints to success. Mac had almost nothing, except the will to change. Change she did, habitually grinding herself to work as hard as straight-A Gwen, even eventually getting admitted into the same elite graduate program as Gwen. But then Mac and Gwen became entangled with the department's power-couple professors and compete head-to-head for a life-changing fellowship. The more twisted the track toward success becomes, the more Mac has to contort herself to stay one step ahead. Which deception signals the point of no return?
 
Jack-knifing between Mac's world-expanding graduate days and the crucible of the hotel and its unexpected guests, Bad Habits follows Mac's reckoning between her hardscrabble past and tenuous present. What, exactly, did Mac do to get what she has today? And what will she do to keep it?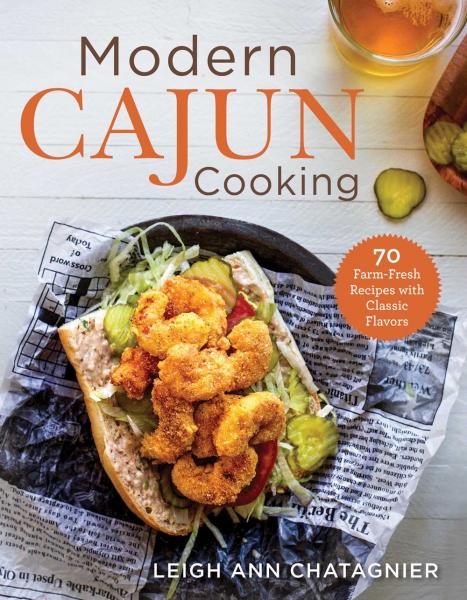 Modern Cajun Cooking: 85 Farm-Fresh Recipes with Classic Flavors
Leigh Ann Chatagnier
You don't have to live down South to enjoy some of your favorite Louisiana and New Orleans-inspired delicacies! This is a cookbook that draws inspiration from classic recipes down in the bayou and transforms them into modern-day dishes for all to enjoy. With a touch of nostalgia and using fresh ingredients that can be found anywhere, all are easy enough for anyone to make at home.
Whether you're a beginner in the kitchen or an old pro, you will love whipping up new takes on tradition. Divided into fun, modern chapters such as Everyday Dish, Small Bites, Date Night, and Happy Hour, recipes include shrimp-étouffée stuffed potatoes, crawfish-butternut-squash mac n' cheese, smoky-bacon-and-crawfish flatbread, pecan-praline cinnamon rolls, mango-bourbon smash, and many more.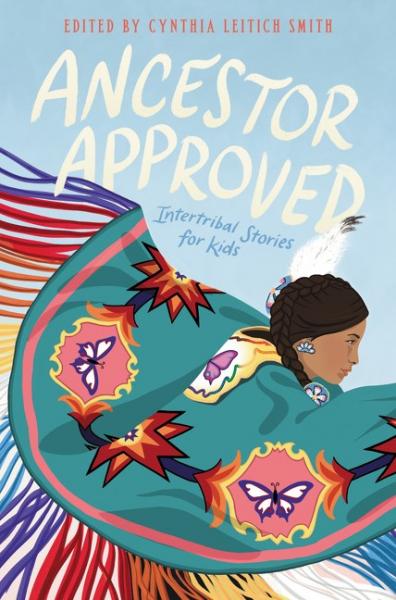 Ancestor Approved: Intertribal Stories for Kids
Cynthia Leitich Smith
Featuring the voices of new and veteran Native writers and edited by best-selling author Cynthia Leitich Smith, this collection of intersecting stories set at the same powwow bursts with hope, joy, resilience, the strength of community, and Native pride. Each story can be read individually, but read as a whole, the stories play off one another and intersect, providing a cohesive story.
Native families from Nations across the continent gather at the Dance for Mother Earth Powwow in Ann Arbor, Michigan. In a high school gym full of color and song, people dance, sell beadwork and books, and celebrate friendship and heritage. Young protagonists will meet relatives from faraway, shadowy spirits, and sometimes one another (plus one scrappy rez dog). They are the heroes of their own stories.
***
BUT WAIT, THERE'S MORE!
There are so many Texas books publishing in February that we couldn't feature all of them. The following books also publish in February:
Art
Ancestral Caddo Ceramic Traditions by Duncan P. McKinnon (editor), Jeffrey S. Girard (photographer)
Biography & Memoir
Calhoun: American Heretic by Robert Elder
The Girl Who Dared to Defy: Jane Street and the Rebel Maids of Denver by Jane Little Botkin
The Many Faces of Grief: Stories of Love, Loss, and Hope From a Hospital Chaplain by Maryann Miller
Fantasy
The Russian Cage by Charlaine Harris
Government & Politics
America's Covert Border War: The Untold Story of the Nation's Battle to Prevent Jihadist Infiltration by Todd Bensman
Graphic Novels
That Full Moon Feeling by Ashley Robin Franklin
History
Violence in the Hill Country: The Texas Frontier in the Civil War Era by Nicholas Keefauver Roland
Fort Worth Stories by Richard F. Selcer
Literary Fiction
The Four Winds: A Novel by Kristin Hannah
Lone Stars by Justin Deabler
We Can Only Save Ourselves: A Novel by Alison Wisdom
West With Giraffes by Lynda Rutledge
Middle Grade
Rome Reframed by Amy Bearce
Mystery & Thriller
Murder With A View (A House-Flipper Mystery #3) by Diane Kelly
Stand-In Murder: A Humorous Cozy Mystery (Hollywood Whodunit Book 2) by Brittany E. Brinegar 
A Simple Murder: A Kate Burkholder Short Story Collection by Linda Castillo
Runaway Justice by Chad Zunker
Picture Books
CH is the Most Challenging Sound by Cynthia Marlow, Michelle McKee Marlow, Megan Skeels (illustrator)
We Really, Really Want a Dog! by Susan Holt Kralovansky
I See You See by Richard Jackson, Patrice Barton (illustrator)
Goodnight, Astronaut by Scott Kelly, Izzy Burton (illustrator)
Romance
Tempting in Texas by Delores Fossen 
Spirit of the Law by Carsen Taite
Western
A Quiet, Little Town by William W. Johnstone, J.A. Johnstone
Young Adult
Amelia Unabridged: A Novel by Ashley Schumacher
Look for your March Texas Books Preview on Sunday, February 28!