Fall in love with some fresh, Texas-connected titles
Saturday, February 5, 2022
February is for lovers -- booklovers, that is!  Whether it's history or mystery, westerns or sci-fi that tickle your fancy, read on to fall in love with some new books.
K.S. Jones
A headstrong heroine struggles to make a new life for herself in a rough California gold camp called Fortune.
Carmen Tafolla
"A touching picture book that addresses separation anxiety with heart, humor, and heroic flair." —Kirkus Reviews  When a mother goes out to work and her daughter stays behind, Mom reassures her child that nothing can keep her from coming back home again. Mom promises that she would even ride on a whale or fight off a passel of bears, if that's what it takes to return to her child! This humorous and touching book reminds young readers that distance cannot diminish love. Perfect for children struggling with separation anxiety or a change in family life, this book represents a parent's promise that they will be back, no matter what! Reassuring rhyme and amusing illustrations create a story to cherish for children ages 4-8.
Kathleen McFall, Clark Hays
What happens after the plutocrats colonize Mars? An interplanetary mystery series and a searing critique of the billionaire quest for Mars. Funny, irreverent, a bit hopeful. Plus, giraffes. The year is (still) 2188 and just as Crucial Larsen's set to head back to his beloved Earth, meteors crash into the orbital platforms of Mars, ravage the luxury domes and knock Halo—the powerful AI running Mars and Earth—offline. And this is no random cosmic event. An invading force has the technology to redirect space rocks at will. Their first act? Put a bounty on missing Staff Scientist Melinda Hopwire, Crucial's ex-lover. Mars Adrift, the final book in The Halo Trilogy, brings the award-winning story to a dramatic close.
Amber Royer
Felicity Koerber's bean to bar chocolate shop on Galveston's historic Strand has been the scene of two murders - both of which she has been instrumental in helping solve. So, when she gets invited to demo her chocolate skills aboard a cruise ship sailing out of the local port, she's excited at the chance to get away from the shop long enough to regain her equilibrium. She even brings her best friend along, and makes plans for time at the spa. Only it doesn't take long before there's a real murder on the cruise, and someone Felicity knows becomes the prime suspect. When said suspect asks her for help, she can't exactly say no, can she?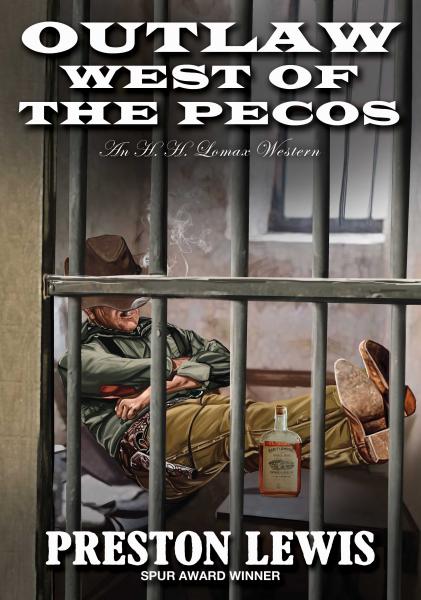 Preston Lewis
Accused of cheating at cards, frontier vagabond H.H. Lomax finds himself at the mercy of the unpredictable justice of Judge Roy Bean, who calls himself "Law West of the Pecos" and sees Lomax as someone who can help him get a book published about his life.  Against a backdrop of a pending world heavyweight championship bout, Lomax heads to El Paso to find a publisher for the judge. To succeed and survive, Lomax must outlast vicious Texas killer John Wesley Hardin, outfight corrupt constable John Selman and outwit a crooked El Paso newsboy.  With only his Texas Ranger brother and his landlady as allies, Lomax uses his Judge Roy Bean connections to forestall his enemies and pull off the oddest prizefight in heavyweight history.
Bill Briscoe
When Jim finds a musty German Olympic jacket and an old journal in his attic, he stumbles onto a gripping pre-World War II story of a cousin he knows nothing about.  After a career-ending injury forces Hans Pepperman to lose his spot on the 1936 Olympic boxing team, he trades his athletic aspirations for a degree in mechanical engineering and secures a job working for Willy Messerschmitt. Tasked to solve the stalling issues of the BF109 fighter plane engine, Hans finds himself in the middle of the Abwher Intelligence Service's radar and becomes a suspect of espionage and murder. Unsure who to trust, he must unravel a tangle of lies before he falls prey to the Nazi agenda slowly taking over his country.         
Rowdy: Wild and Mean, Sharp and Keen
Chris Mullen
Thrust to the mercy of the Mississippi, thirteen-year-old Rowdy drifts away from his burning farmhouse, dead father, and gang of murderous bandits. His journey of survival begins on the riverboat Delilah where he learns to stand up and fight for himself and his friends. At age sixteen, he travels to Dodge City, leaving the river and a slew of dead pirates in his wake. Rowdy acquires a horse that would change his life forever from Dodge City's most powerful rancher, Patrick Byrne. Under Rowdy's care, the horse grows healthy and strong, and now Byrne will do anything to get it back. Rowdy escapes to Lincoln, New Mexico, but has been tracked by hired guns and is forced to take what could be a final stand.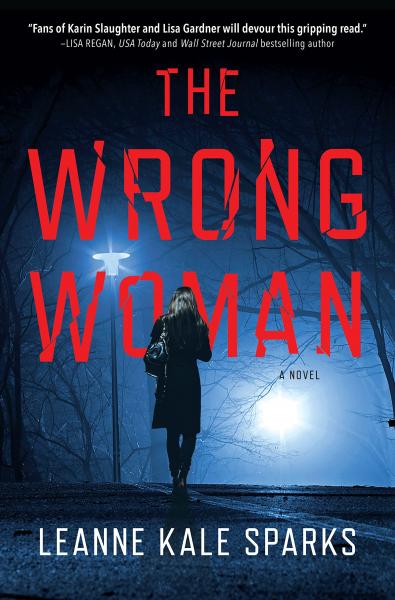 Leanne Kale Sparks
Called a "killer of a novel" by her crime-writing colleagues, former criminal lawyer, Leanne Kale Sparks presents a string of murders that threaten to unleash long-buried secrets in this pulse-pounding thriller for fans of Melinda Leigh and T. R. Ragan. With the majestic Colorado Rocky mountains of Sparks' former home state for a backdrop, buckle up for this deliciously twisted plot filled with compelling characters in a crisp writing style. 
Colin Holmes
In 1947, the first stop wreckage from Roswell made was the Fort Worth Air Base. The next day an Army Major vanished from his Top Secret job there, owing a sizeable gambling debt to a local mobster. Down-on-his-luck former Ranger Jefferson Sharp is hired to find the Major and collect. Together with his gal-pal, the vivacious Roni Arquette, Sharp searches from the hideaway poker rooms of Thunder Road to the Nevada desert. They confront murderous operatives and dead-ends until an otherworldly clue reveals a conspiracy between a new Central Intelligence Agency, the newly christened Air Force, and the Chicago mob. Together they're covering up an interplanetary secret that will change Sharp and Roni's lives and may determine how long their lives may be.
Kelly Irvin
When her best friend is murdered the same way her brother was, who can Delaney Broward possibly trust? In this gripping romantic suspense, Kelly Irvin plumbs the complexity of broken trust in the people we love—and in God—and whether either can be mended.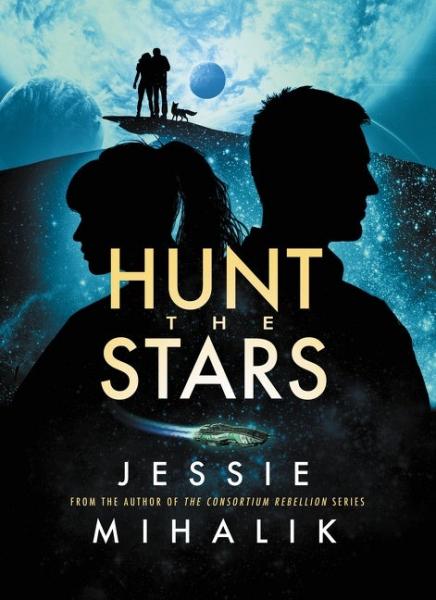 Jessie Mihalik
Octavia Zarola would do anything to keep her tiny, close-knit bounty hunting crew together—even if it means accepting a job from Torran Fletcher, a ruthless former general and her sworn enemy. When Torran offers her enough credits to not only keep her crew afloat but also hire someone to fix her ship, Tavi knows that she can't refuse—no matter how much she'd like to.
With so much money on the line, Torran and his crew insist on joining the hunt. Tavi reluctantly agrees because while the handsome, stoic leader pushes all of her buttons—for both anger and desire—she's endured worse, and the massive bonus payment he's promised for a completed job is reason enough to shut up and deal.
But when they uncover a deeper plot that threatens the delicate peace between humans and Valoffs, Tavi suspects that Torran has been using her as the impetus for a new war. With the fate of her crew balanced on a knife's edge, Tavi must decide where her loyalties lie—with the quiet Valoff who's been lying to her, or with the human leaders who left her squad to die on the battlefield. And this time, she's put her heart on the line.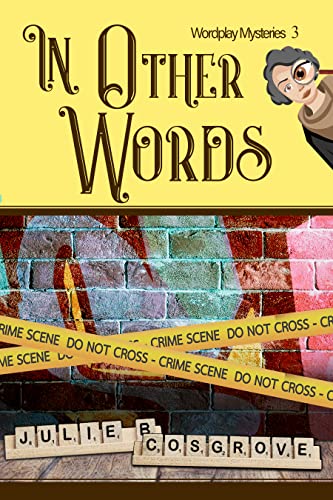 Julie Cosgrove
"Mom," "pop," and "stressed desserts" are all spelled the same backward and forward. So what type of vandal uses phrases like these in graffiti? What do these messages mean?
And since when does simple vandalism explode into violence and even murder?
Wanda Warner is at it again, attempting to protect her small town while making her nephew, the police officer, look good. But mostly, solving the puzzles that she undeniably loves.
Judgment Day & Other White Lies
Mike Hilbig
Judgment Day & Other White Lies is a short fiction collection that deconstructs whiteness by retelling versions of Greek, Roman, and Christian myths, concepts, and characters through a contemporary lens that reads whiteness into history as a force of destruction for white characters (in addition to those they oppress). From an alternative biblical Genesis about apes having orgies while on magic mushrooms to create western civilization (as told by the kinds of philosophers who have to be stoned themselves), to a retelling of the Oresteia where the white heavy metal musician Orestes is helping his aging mother Dawn commit suicide, to a white graffiti writer, magician, and cultural mis-appropriator named Per-C who fundamentally alters reality by painting fantastical 'Dusa portraits all over the city of Houston to the eponymous story Judgment Day that primarily concerns the mind-altering-collapsing effects of a hallucinogenic on a Christlike white man who has two sets of memories stuck in his head, these stories show the tragicomic consequences of what happens when white people identify with the white lie of an identity that lives a fiction to maintain power.
Rick L Campise
Rye, a twenty-two-year-old veteran of the Texas Revolution, returns to the Republic of Texas in 1839 after three years of wandering. While traveling through Lost Maples Canyon he discovers a gold mine filled with rattlesnakes.
After filing claim to the land, Rye sends word to his friend Kel, brother Darryl, and cousin Dennis who help him build the Lost Maples Ranch and operate the Rattlesnake Gold Mine. The four young cowboys become befuddled but enthusiastic fathers to Kara, a three-year-old Karankawa girl orphaned by the Comanche and rescue Heidi, a seventeen-year-old German immigrant who witnessed her family's massacre.
Outlaws try to take the mine and the Comanche just want to kill everyone. When outlaws can't steal the gold, crooked politicians step in to steal the mine. Captain Eldridge, the head of the Texas Rangers, and General Sam Houston offer assistance to combat the crooks.
Native Host Plants for Texas Moths
Lynne Weber & Jim Weber
While day-flying butterflies have long captured the attention of nature enthusiasts, moth species outnumber butterfly species by about fifteen to one, with many being overlooked due to their mostly nocturnal habits. Although they are far less noticeable to us, moths are essential to many other species, including the plants they pollinate and the animals they nourish. In their caterpillar or larval form they provide a primary source of sustenance for birds, and as adults they feed everything from tiny bats to large mammals.
Native plants are of utmost importance for moths, as they evolved alongside them, and they are the principal factor for dictating moth species range and distribution. Like butterflies, moths require native plant species they recognize in order to lay their eggs. This user-friendly, heavily illustrated follow-up to Lynne and Jim Weber's highly successful Native Host Plants for Texas Butterflies describes over 100 native, larval host plants for moths in Texas. More than 150 moth species are illustrated in the book, both larval and adult phases, with one to two species for each of the larval host plants
Reyes Ramirez
What do a family of luchadores, a teen on the run, a rideshare driver, a lucid dreamer, a migrant worker in space, a mecha soldier, and a zombie-and-neo-Nazi fighter have in common?

Reyes Ramirez's dynamic short story collection follows new lineages of Mexican and Salvadoran diasporas traversing life in Houston, across borders, and even on Mars. Themes of wandering weave throughout each story, bringing feelings of unease and liberation as characters navigate cultural, physical, and psychological separation and loss from one generation to the next in a tumultuous nation.

The Book of Wanderers deeply explores Houston, a Gulf Coast metropolis that incorporates Southern, Western, and Southwestern identities near the borderlands with a connection to the cosmos. As such, each story becomes increasingly further removed from our lived reality, engaging numerous genres from emotionally touching realist fiction to action-packed speculative fiction, as well as hallucinatory realism, magical realism, noir, and science fiction.  
The Covey Jencks Mysteries: Love and Murder Deep in the Heart of Texas
Shelton L. Wiliams
All the Covey Jencks Mysteries in one volume, newly formatted and with a new foreword .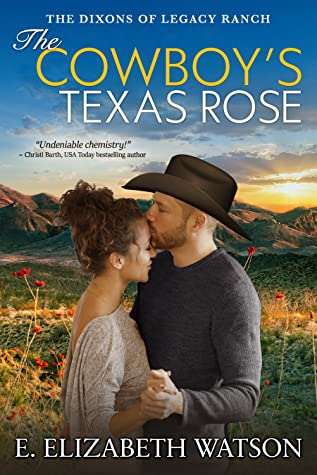 E. Elizabeth Watson
Archaeologist Rosalinda Morales is focused more on what's in the soil and caves of the famed Legacy Ranch, rather than what's on it—the sexy and charismatic cowboy heir. As a single mom to her special needs son, she knows what it's like to struggle, so even though Toby Dixon has charm pulsing through his veins, she's determined to resist.
Despite trying to mend bridges, Toby Dixon's brothers have no interest in coming home, so he's taken the reins of his family's historic cattle ranch. Having vowed to his dying mother to settle down, he's still considering how to move the company forward when Dr. Morales, armed with a sense of humor, a keen intellect and love for adventure, arrives with her team of students. Suddenly Toby begins to see more possibilities for his family's ancient land and his future.
Toby can't flirt his way into Rose's life. He'll need to up his game and earn the trust of the woman who isn't just excavating his soil, but digging into his heart.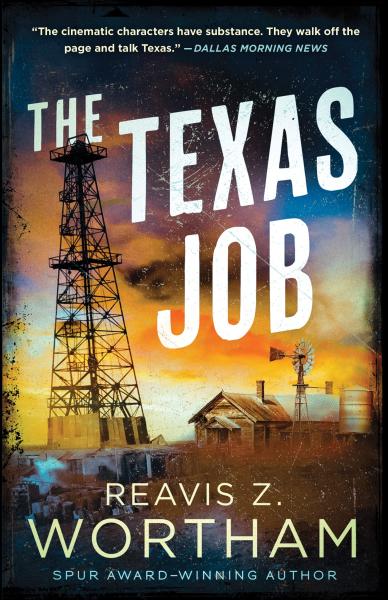 Reavis Wortham
Texas Ranger Tom Bell is simply tracking a fugitive killer in 1931 when he rides into Kilgore, a hastily erected shanty town crawling with rough and desperate men--oil drillers who've come by the thousands in search of work. The sheriff of the boomtown is overwhelmed and offers no help, nor are any of the roughnecks inclined to assist the young Ranger in his search for the wanted man.
In fact, it soon becomes apparent that the lawman's presence has irritated the wrong people, and when two failed attempts are made on his life, Bell knows he's getting closer to finding out who is responsible for cheating and murdering local landowners to access the rich oil fields flowing beneath their farms. When they ambush him for a third time, they make the fatal mistake of killing someone close to him and leaving the Ranger alive.
Armed with his trademark 1911 Colt .45 and the Browning automatic he liberated from a gangster's corpse, Tom Bell cuts a swath of devastation through the heart of East Texas in search of the consortium behind the lethal land-grab scheme.
Mark Dunn
From 1983 to 1987, author Mark Dunn worked as a court clerk for a justice of the peace in Travis County, Texas, where, he says, "I learned more about human nature . . . than I could have learned in any other job I might have taken up as a bushy-tailed kid from Tennessee." Based on interviews with 200 justices of the peace from all parts of Texas, Texas People's Court promises to take readers on a tour of what it means to be a Texas justice of the peace: an experience that is by turns hilarious, sobering, heart-wrenching, and, from one end to the other, fascinating.
Here in the Texas justice court, wrongs can be righted and lives changed in profound ways. A priceless family necklace might finally be restored to the rightful owner; an occupational driver's license fortuitously granted. A death inquest may become an opportunity for family reflection and valediction, with the attending judge as a sympathetic witness.
In each of its chapters, Texas People's Court takes up a different aspect, duty, or area of thought related to the profession of justice of the peace taken from conversations with JPs throughout the state of Texas—from those who serve in its most populous municipalities to rural county JPs—putting a human face on the responsibilities, attitudes, and perspectives that motivate their judgments. The result is a thoroughly entertaining, sympathetic view of what Dunn calls "the day-to-day observation of human conflict in microcosm."
BUT WAIT, THERE'S MORE!
There are so many Texas-connected books publishing this month that we couldn't feature all of them. The following books also publish in February:
Books for Young Readers & Interactive
Coloring Texas: A Texas History Coloring Book by Center for Texas Studies at TCU
Jackrabbit Jewel and the Longhorn Cattle Drive by Trey Armstrong
The Scary Storm with Big Bunny and Little Bunny by Bob May
Sing Me Forgotten by Jessica S. Olsen
Stranger in the Mushroom Patch by Amanda M. Thrasher
Welcome To Texas: A Little Engine That Could Road Trip by Watty Piper, Jill Holwart
Nonfiction
The Architecture of Hunting by Ashley Lemke
Child of Many by Suzanne Courtney
The Haunted Southwest  by Cordelia E. Barrera
The Historic Fort Worth Stockyards by J'Nell Pate
Queen of the West by Richard Bruce Winders
Texas Natural History in the 21st Century by David J. Schmidly, Robert D. Bradley and Lisa C. Bradley
To Be Honest Voices on Donald Trump's Muslim Ban by Sarah Beth Kaufman, William G. Christ and Habiba Noor
Viva Texas Rivers by Steven L. Davis
Write Your Own Quest: The Ultimate Guide to Writing Your Own Interactive Adventure by P.J. Hoover
Poetry
Dear Mama: An Immigrant's Secret Cry by Shailja Sharma
The World That the Shooter Left Us by Cyrus Cassells
Mystery & Suspense
A Dash of Death by Michelle Hillen Klump
The Night She Went Missing by Kristen Bird
Shadows of Pecan Hollow by Caroline Frost
Jagged Feathers by Jan Sikes
Romance
Alpha Shifters Furever: A Paranormal Romance & Urban Fantasy Anthology by Erzabet Bishop (and others)
Anyone But a Fortune by Judy Duarte
Danger at Clearwater Crossing by Colleen Thompson
The Gary Glitch by Randi Devilkin
Last Duke Standing by Julia London
Model Behavior by Tricia Lynne
The Rebel's Return by Nadine Gonzalez
Shipwreck Girl by Jacqueline E. Smith
Survive (The Houston Defiance MC Series, #8) by K E Osborne
To Trust a Cowboy by Sasha Summers
The Wrangler Rides Again by Stella Bagwell
Western
Death & Texas by William Johnstone & J.Al. Johnstone
Too Proud to Run by Brett Cogburn
Wild Salvation by Alfred Stifsim
Make sure your Texas-connected title is included by emailing Publicity@LoneStarLiterary.com with the details. Listings are always free, but Boost your title ($35/$60) for even more exposure.