Forthcoming titles to spark nostalgia -- or need for change
December is a time to be nostalgic about the year behind us or maybe instead to ask, "wasn't it just March?" In the titles this month, we look backward to the creation of Neiman Marcus, we join Maybelle and Stella as they visit the oldest Texas town, and we meditate on archeology in Texas. If the past isn't your fancy, we wish for future peace in A Song for Peace or contemplate change for the better in Peace by Piece. Whatever you're looking for this holiday season, here at Lone Star Literary Life, we're sure you can find it in a book. Seasons greetings and happy readings!
Micki R. Pettit
Smart-mouthed Maggie Moore is instantly smitten with the laid back, sometimes infuriating Bucky. Too bad he has eyes for her best friend Melinda. Their triangle of friendship and emerging romance is easily eclipsed by the free-spirited adventures of childhood, but when the turmoil of adolescence stirs unresolved feelings, and doing the right thing means betraying her own heart, Maggie must grapple with a moral dilemma that impacts them all.
With a supporting cast of unforgettable characters, and set against the backdrop of rural Wyoming during the cultural upheaval of the 1960s, Micki R. Pettit gracefully weaves an endearing and humorous tale of first experiences that cuts to the heart of sacrificial love.
Diann Floyd Boehm & Judy Gaudet Illustrator
This story is about a little boy who wishes for worldwide peace.  Tommy leaps off the merry go round and starts singing  Peace over and over. Soon others around the world join the chorus.  When you learn why he sings, you will too!
Natalie Bright and Denise F. McAllister
Carli is determined to host the Christmas traditions her grandparents began. But her time is torn between the sudden responsibility of two nephews, her husband's ex-girlfriend, and a newly discovered birth father. Lank isn't sure she can pull it all off. Mandy Milam wants to forget the heartache and mistakes and Lank has always been there. She almost misses the man of her future while focusing on the past. Taylor Miller hopes to make up for the time lost with the daughter he never knew, but will his family ever accept Carli? Broken dreams, broken hearts, and even broken bones heal and come together to celebrate the season. A heartwarming Christmas story of faith, community, and the discovery of what God's love can mean.
Dianne Smithwick-Braden
Book 4 of the Wilbarger County Series finds Sheriff Wade Adams and his team investigating the death of a young FBI agent from Las Vegas. Her fellow agents believe they have the winning hand when it comes to outwitting the small-town Sheriff's department.  The stakes are raised when Lizzie Fletcher and members of her family are threatened. The deck seems to be stacked against solving the case before Wade and Lizzie's wedding day.
Michael Sirois
Nine Characters + One Butterfly = Chaos Theory. In Chrysalis, the first book in the If a Butterfly series, nine people embark on a variety of odd journeys. Some of the journeys involve actually traveling from point to point, while other treks are of the psychological variety. These individuals are just trying to live their lives, and a Monarch butterfly is just trying to fly from Canada to Mexico during its annual epic migration. When its flight is accidentally interrupted by two of those people, that interaction will ultimately alter the lives and goals of all nine individuals.
Michael Sirois
Nine Characters + One Butterfly = Chaos Theory. In Emergence, the second book in the If a Butterfly series, some of our travelers resume their journeys. A few of them, worse off than when they started, continue on their original path anyway, intent on finishing what they began. Others, sensing the need for a change, set off in new directions. For some, the alterations they make yield positive results; but others, unable to make those changes, continue down unwise paths. There are also some unexpected surprises, hints that even the smallest of gestures can touch another life, sometimes – but not always – in a good way. Ultimately, anything could happen.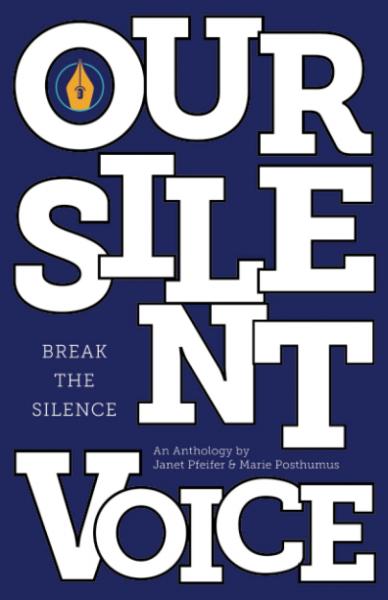 Janet Pfeifer and Marie Posthumus
This is an anthology of stories submitted by survivors of sexual assault, harassment, and domestic violence. It's a means to speak out about what many endure in silence. Our mission is to break that silence and create something fierce and relevant. In this book you will enter the world of survivors. The terrain is uneven and rocky. The journey from victim to survivor has formed a community of writers who are fearless in sharing their experiences.
Hilah Roscoe
Hilah Roscoe's The Sweet Shrub Inn is an unforgettable tale of love, loss, family, and Southern charm. In one day, Cora Graham is dumped by her boyfriend in Chicago and receives a call that her estranged father in Mississippi is suffering from Alzheimer's. Her father isn't the only reason she's reluctant to go home. Two years earlier, at her best friend's wedding, she made her feelings known for Jensen Mabry, only to be turned down. Cora must renovate and sell her father's old Sweet Shrub Inn to pay for his medical costs. When Jensen offers to loan the money, something feels amiss. What is the reason for his kindness? As she navigates renewed passions and her father's terrifying illness, Cora faces her heart's ultimate dilemma: should she return to Chicago, or stay and learn to love again?
Tiffany Sunday
If you could change your life and live how you want to live, would you dare do it? Often, we feel stuck, trapped within the demands of others and their constant flood of controlling messages. Unable to move, a voice within us wonders, "Do I have the strength to be who I seek to be?" Can I make the difficult decision to initiate change, or will I allow fear to keep me in place?" These soul-searching questions were the catalyst for this thought-provoking and inspiring book, To Be Human – Always: A Collection of Poetry and Writings by Tiffany Sunday. In her third poetry collection, Sunday ponders these questions in search of her authentic self while retaining her humanity from the invasive actions of digital technology.  
Ed. by Mandy Haynes
Have you ever finished a book and wondered, "What made the author think of that?" Or wondered if there was a chapter in the original manuscript that didn't make it through the final edits? Maybe you'd like to get a sneak peek at what an author is currently working on. Work In Progress includes sixty excerpts from some talented authors' works in progress in different stages of the writing process, followed up with the story behind the story of the piece, and the story behind the author who wrote it. Where did the idea come from? What were they thinking during the writing process? Why did they delete a chapter, or change a character?  Find out the answers to these questions and more inside…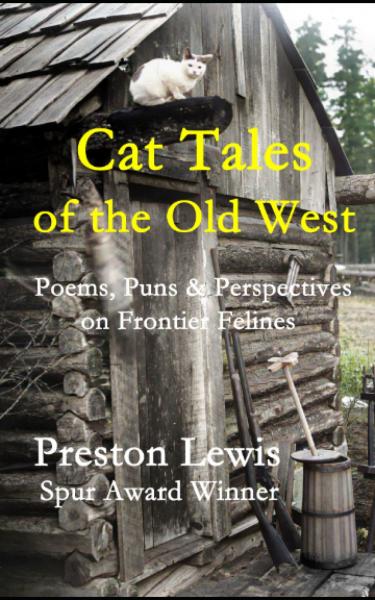 by Preston Lewis
The Cat-astrophic Old West
No animal in the Old West was more revered nor more reviled than the domestic cat. Sought for their rodent control, but despised for their nocturnal noisemaking, cats lived a schizophrenic existence on the American frontier. In Cat Tales of the Old West Spur Award-winning author Preston Lewis brings frontier felines into the light of the 21st century with a collection of amusing and eclectic excerpts from dozens of 19th century frontier newspapers reporting on pussycats west of the Mississippi River.
 

Through a selection of poems, puns and articles from period news journals, Cat Tales of the Old West provides an entertaining, enlightening and sometimes alarming take on kitties, both feral and domestic, in the American West. The 24,000-word Cat Tales highlights cats as noisemakers, victims of violence, value lessons for children, sources of fable and history, and topics of humor. Cat Tales of the Old West is both engaging and educational for lovers of cats and Old West history.
The Comfortable Kitchen: 105 Laid Back Healthy and Wholesome Recipes
by Alex Snodgrass
It's comfort food—redefined! Here are healthy meals the whole family can enjoy, night after night . . .
What does comfort mean in The Comfortable Kitchen? For Alex Snodgrass, New York Times bestselling author of The Defined Dish, bringing her family around the table to share a home-cooked meal is a favorite way to show love. Her recipes are designed to bring joy into that display of affection, from your own comfort cooking to your loved ones' delight at the delicious flavors, to knowing that you're caring for your family's nutrition with each bite.
Though many of her meals are fully paleo compliant, or at the very least paleo-ish, there are plenty of other recipes with simple, flexible ingredient swaps for a cleaner meal when desired—perfect for people who are enjoying their "food freedom" stage of their health journey. And for those who have dietary restrictions, Alex clearly marks each recipe as gluten-free, dairy-free, grain-free, and paleo, as appropriate.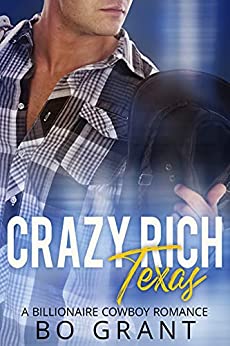 Crazy Rich Texas: Sweet Cowboy Romance
by Bo Grant
This time of year, Gretchen's life revolves around her family's gala now that she's in charge. With the days counting down to the big event, all she can think about is how this will be the best one yet.

That is until a good-looking cowboy shows up at the venue and throws all of her self-made plans off kilter.

With his father sick, Tex has to run the family ranch. It's no easy feat, and after a run in with the Decker's high-society daughter, Gretchen who kicked him out when trying to view one of the gala's auction items at his father's request for his dirty boots, he's happy his life has nothing to do with women or parties. The last thing he expects is that same spoiled city girl to show up on family property insisting she speak to him. He isn't gong to waste his time on a girl like her, not again.

Will this pair of opposites find common ground in their attraction or will their differences send them dashing back to what they have always known?
A Girl Named Carrie (Story of Neiman Marcus)
by Jerrie Marcus Smith
Jerrie Marcus Smith remembers her great aunt Carrie as a humorless woman who always wore black and who, Jerrie says, "scared me to death." Only as an adult did Jerrie grasp the impact of Carrie Marcus Neiman. Along with her brother, Herbert Marcus Sr., and her husband A.L. Neiman, Carrie co-founded in 1907 the famed Neiman Marcus department store in Dallas, Texas.

Carrie played an integral role in the store's success, despite having three strikes against her: she was a woman, she was Jewish, and (after her husband's illicit relationship with a second-floor saleswoman) she was divorced. Yet with impeccable taste and exemplary manners, she traveled as a buyer to New York in the 1920s (without a man!) and, as Jerrie says, "was nobody's pushover."

Carrie was self-taught and never attended college. Her only pregnancy ended in miscarriage; she worked at Neiman Marcus until her death at age 66. Yet through memories shared by her father, the late Neiman Marcus legend Stanley Marcus, as well as through spellbinding interviews with long retired salespeople, Jerrie has felt inextricably tied to Carrie. Each recollection of Aunt Carrie, each remembrance, each detail melted away Jerrie's childhood fear of the stern woman in black, leaving in its place a colorful portrait of a person to be admired, to be loved and—perhaps most of all—to be shared.
 
Maybelle and Stella Visit the Oldest Town in Texas
by Kimberly Verhines
The mischievous pug sisters, in Kimberly Verhines's Stella and Maybelle Explore the Oldest Town in Texas, take a fascinating romp around the historic sites of Nacogdoches and meet interesting people along the way.  The girls, Stella and Maybelle, lead their owner Dr. Buggles up and down the brick streets and celebrate blueberries and bluegrass music, joining in the festivities while banjoes and harmonicas take us back to olden days.  Stella and Maybelle discover that this town was home to the Caddos, the French, the Spanish, and early settlers involved in the revolution of the Texas Republic.  They explore what used to be the opera house where the Marx Brothers performed, and they find themselves on the steps of the Old University and the at the Stone Fort.  Davy Crocket and other heroes of the Alamo made their way through Nacogdoches, and Stella and Maybelle pretend that they're at the Sterne-Hoya House just before the men make their fateful trip.  And they spend a spooky night in a house that just might be haunted—because, as stories go, Nacogdoches is one of the most haunted towns in Texas.  Then, next day, Stella and Maybelle play hide and seek from Dr. Buggles among the azaleas in Nacogdoches's beautiful gardens.  Who do you think they might find there?
Peace by Piece: Unlearning Racial Bias
by Querida Duncalfe
The summer of 2020 brought righteous furor from Black Americans and allies, who masked up and took to the streets to demand justice. Reverberations spanned the globe, stretching even into small towns where such topics as racism are generally not discussed in public, let alone confronted.
 
Amid this backdrop of resistance, and in an effort to steer well-intentioned allies' energy toward laying a foundation of lasting change, Querida Duncalfe began writing Peace by Piece: Unlearning Racial Bias.
 
This interactive book seeks to create lasting change for marginalized people groups, especially Black Americans, by engaging allies who want to push progress forward. Peace by Piece: Unlearning Racial Bias invites readers to listen, read, act, and watch by suggesting resources that will facilitate healing and conciliatory dialogue.

By thoughtfully contemplating each essay and the accompanying reflective questions, allies will begin constructing more peaceful homes and communities.
by Jonathan Norton
penny candy: a confection, which had its acclaimed premiere at the Dallas Theater Center in 2019, follows one family as they seek to balance their responsibilities to their community and to one another. Growing up in a candy house sounds like every kid's dream. But for 12-year-old Jon-Jon, helping his father run Paw Paw's Candy Tree out of their run-down one-bedroom apartment isn't quite a dream come true. As their neighborhood of Pleasant Grove, Dallas sees a surge of violence fueled by epidemic drug use and increasing racial tensions, the business begins to fail and danger looms immediately outside the family's front door.
Porch Talk: A Conversation About Archeology in Texas
by John R. Erickson and Douglas K Boyd
When John Erickson, author of the Hank the Cowdog book series, saved up and purchased a tract of Panhandle property near Perryton, it set off a chain of discovery. Who lived in Texas over a thousand years ago? In Porch Talk, John Erickson and his archaeologist friend Doug Boyd investigate this question while explaining the art and science of archaeology for middle readers.
On the Perryton ranch, John and his friends unearthed a ghost town that dated back to around 1300 CE. They found a sprawl of widely spaced pit houses occupying an area of 300 acres in John's West Pasture. It is unclear how many people lived there, but it was a place where babies were born and the elderly died and were buried. Women nursed children, made cornmeal in stone metates, and stitched clothes of leather while the men hunted bison using arrows tipped with points made from Alibates flint.
Porch Talk features the kind of conversation John and Doug might have on the porch after a day of work in the field. For more than twenty years, they worked together on this and other prehistoric sites, sharing a fascination for the ancient people who occupied the area. How did these people work, play, and survive?
Purty Dang Good: From Bartender to Barbecue Tender, A True Story
by Steve Burney
This is the heartwarming, inspirational, (perhaps cautionary) true story about a man starting over in midlife by opening a small, family business. This uplifting memoir will have you rooting for the underdog. Through his inspiring and against the odds story, you'll be reminded that dreams in fact, can come true.

If you enjoy Texas barbecue, Tennessee charm, and Seattle bars and restaurants, this adventurous tale of a hotel bartender starting a family business in about six months without having any previous experience is going to leave you shaking your head and laughing at the sheer audacity of it all.

With no experience, Steve Burney dared to take his life in a whole new direction when he was turning 50 years old. He had no practical background with owning, operating, or even working in a barbecue restaurant, but a series of events and inner reflections propelled him towards an epiphany he simply could not ignore.

This is an inspirational tale about believing that anything can be accomplished if one stays truly committed to acting, one step at a time, to make dreams turn into reality. Steve Burney honestly shares how his background was checkered with missteps, disappointments, and heartbreaks. He shows us that there was nothing about him or his life that would have indicated any certainty of success. He operated only on faith, both spiritual and from a loving family, that he steadfastly leaned on to keep him getting up after each time he was knocked down.

This story is for the underdogs. It's for all the barbecue loving Americans who never give up on their aspirations, no matter the obstacles or adversity. This story is for you.
Wild Focus: Twenty-five Years of Texas Parks & Wildlife Photography
by Earl Nottingham
In Wild Focus, Earl Nottingham, chief photographer for the Texas Parks & Wildlife Department and its magazine, provides a unique perspective on Texas featuring images of the woods, waters, and wildlife of the Lone Star landscape. Nottingham's engaging photography—landscape, nature, and wildlife; environmental portraiture of people; photojournalistic coverage of events, including natural disasters—provides a cohesive overview of biodiversity and the state of conservation in Texas.
The nearly 200 stunning photographs collected here encompass the expansive mission of TPWD, presenting traditional landscape images from state and national parks as well as from vast private lands. Cultural and historic sites are included along with environmental portraits of the people associated with those sites. From the state's wildlife, both great and small, to nature shown in not only its beauty but also its fury—wildfires, hurricanes, and floods—Earl Nottingham offers a visual compendium of events, people, places, and things that have shaped the face of natural Texas.
The author logged untold miles and wore through many sets of tires to offer timely stories that would "inform, educate, entertain, and empower" readers about the outdoors. These images that capture the richness and diversity of wild Texas inspire a greater appreciation for the state's beauty and promote a sense of stewardship for its natural treasures.
BUT WAIT, THERE'S MORE!
There are so many Texas-connected books publishing this month that we couldn't feature all of them. The following books also publish in December:
Romance
Cloak and Danger by Brittany E Brinegar
Cowboy Heat Wave by Kim Redford
Married by Contract by Yvonne LindsayThe Wrong Cowboy by Sasha Summers
Red River Deep by Carolyn Brown
Their New Years Beginning by Michelle Major
Without a Hitch by Mary Hollis Huddleston and Asher Fogle Paul 
The Wrong Cowboy: A Clean Romance by Sasha Summers
Other Fiction
All for Summer by Parman Reynolds 
Like Dust I Rise by Ginny Rorby
Seeking Felicity: A Katie Connell Carribbean Mystery by Pamela Fagan Hutchins
The Sunshine Club by Carolyn Brown
Tough Customer by Sandra Brown
Texas Ranch Refuge by Liz Shoaf
Biography
The Bell Ringer by Victor Rodriguez
The Bigger-Than-Life Story of the Fighting Parson and Texas Ranger (Volume 6) (Texas Local Series) by Mike Cochran 
Beyond Bubba by Sam Wyly
Guided Journal
Grandma's Story by Korie Herold 
Grandpa's Story by Korie Herold 
Greenlights: Your Journal Your Journey by Matthew McConaughey
History
Blood ties: how a Texas Prison Gang Became a Mexican Cartel Proxy by Joseph Kolb
Bold Crossings by Lance Elliot Osborne
Country of the Cursed and the Driven: Slavery and the Texas Borderlands by Paul Barbra
Queen of the West by Richard Bruce Winders 
Standing Ready: The Golden Era of Texas Aggie Football and the Beginning of 12th Man Tradition by John A. Adams
Nature Nonfiction
Barrier to the Bays: the Islands of the Coastal Bend and Their Pass by Mary Jo O'Rear
Trees of Texas Field Guide by Stan Tekiela
Walking Near Water by Sue Benner
Other Nonfiction
A New Beginning: My Photographic Adventure During the Return of Live Music to Austin by Michael Wright      
A Private in the Texas Army: At War in Italy, France, and Germany with the 111th Engineers, 36th Division, in World War II by John A. Pearce
Beneath Fort Worth Skies: Original Poetry by Members of the Fort Worth Poetry Society
Paths To Excellence: The Dell Medical School and Medical Education in Texas by Kenneth I Shine, Amy Shaw Thomas
To Be Honest: Islam from Politics to Theater in the United States by Sarah Beth Kaufman, William G. Christ, Habiba Noor