Largest literary meeting in North America open to local readers and writers March 4-7
"San Antonio is a great city to inaugurate such outreach because it's such a warm city and culture," Sheila Black said. "This time we're bringing the community into this literary ecosystem. And it's good for AWP members to interact with writers and readers from a city of such rich cultural heritage."
San Antonio writers and readers are invited to join some ten thousand writers at what is being billed as "the must attend literary event of the year"—a conference offering more than five hundred readings, panels, and craft lectures by two thousand presenters, including local writers, in locations throughout the city. As the largest literary conference in North America, the annual conference of the  Association of Writers & Writing Programs provides unrivaled access to influential organizations and opinion-makers in contemporary literature.
The event will take place March 4 through 7 at the Henry B. Gonzalez Convention Center and off-site at local bookstores, cafes, and bars. The conference schedule may be found at awpwriter.org.
The keynote speaker is award-winning novelist Helena María Viramontes, co-coordinator of the Los Angeles Latino Writers Association and literary editor of ChismeArte Magazine. 
Registration is open to the public. Students can gain full admittance for $70, and seniors for $95. A Saturday Day-Pass is available for $45. Register or find other non-member pricing at AWP's website under Registration.
BOOKFAIR 2020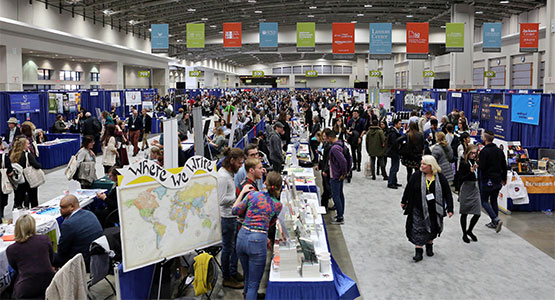 Local lit-lovers also are invited to attend the 2020 Bookfair on Saturday, March 7, at the convention center. More than seven hundred presses, journals, and literary organizations from around the world will form the largest marketplace of contemporary literary arts in the nation. Live local music and spoken-word poetry performances will add to the celebration. Tickets for this are $5, payable in cash at the door.
Among the writers presenting panels during the conference are National Book Award-winning novelists Alice McDermott (1998) and Louise Erdrich (2012). The featured events are sponsored by literary partners and feature Sarah Broom, Jake Skeets, Naomi Shihab Nye, and many more.

LOCAL WRITERS, STUDENTS AND ORGANIZATIONS GET INVOLVED
AWP Development Director and part-time San Antonian Sheila Black said this year the AWP is increasing its reach into the local community.
"San Antonio is a great city to inaugurate such outreach because it's such a warm city and culture," she said. "This time we're bringing the community into this literary ecosystem. And it's good for AWP members to interact with writers and readers from a city of such rich cultural heritage."
For the first time, the AWP organized a host committee of local organizations and influencers. Committee members are Nan Cuba of Our Lady of the Lake University and founder of Gemini Ink; Cristina Ballí, executive director of the Guadalupe Cultural Arts Center; Ed Conroy of the Southwest School of Art; philanthropist Valerie Finch; Lilly Gonzalez, executive director of the San Antonio Book Festival; Anne Messbarger-Equia of Culinary Health Education for Families; Patricia Portales of San Antonio College; musician Juan Tejeda, editor and publisher of Aztlan Libre Press; Viktoria Valenzuela of San Antonio for 100,000 Poets for Change; and Alexandra van de Kamp, executive director of Gemini Ink.
The host committee has taken the lead in coordinating "Spotlight San Antonio & South Texas," a community fair highlighting local literary small presses and non-profits as part of the Saturday Bookfair. Spoken word and music by local poets and performers are planned, including Andrea "Vocab" Sanderson performing with Edward Viduarre and poets from FlowerSong Books.
As a sponsor, the City of San Antonio Department of Arts and Culture is working to attract local writers and poets to the conference. DACA also will host a reception for keynote speaker Viramontes and other conference partners at Centro de Arts.
SERVICE PROJECTS BENEFIT LOCAL GROUPS
Each year through its #WritersServe project, AWP involves conference participants in a community service project in the host city. 
"Our attendees look forward to taking part in the service project," said Diane Zinna, executive co-director of AWP, who started #WritersServe in 2017. "It allows us all to leave something meaningful behind in the city we have gotten to know so well."
This year the service project will serve two local organizations. AWP will conduct a book drive to benefit Fiesta Youth, collecting LGTBQ-positive fiction and poetry for youth and teens that will be donated to local libraries. To benefit the immigrant rights organization RAICES, AWP will encourage its members to donate toiletry items at a special collection area in the bookfair.
In other community activities, AWP is hosting a free High School Day which offers programing on literary arts careers, including a poetry workshop with youth poetry mentor, poet, and activist Ekiwah Adler-Beléndez. Born with cerebral palsy, Beléndez experienced multiple life-saving surgeries out of which he has written numerous books of poetry published in Mexico and the US and has become renowned for his work teaching writing workshops to young people with disabilities. Winner of the 2019 George Garrett Award for Community Service to Literature, Adler-Beléndez will teach poetry and speak to young writers about how literature changes lives and offers vital career paths.
OTHER LOCAL CONNECTIONS, INDIGENOUS AND LITERARY
The conference will open with a land acknowledgment statement recognizing San Antonio's roots with indigenous people. Poet Margo Tamez, of Lipan Apache and Jumano Apache heritage, will read the statement and present a poetry reading.  
The statement was coordinated with the AWP Indigenous Aboriginal Writers Caucus, AWP Host Committee members Juan Tejeda and Viktoria Valenzuela, and American Indians of Texas.
Local literary organizations Gemini Ink Literary Arts Center and the Macondo Writers Workshop will present San Antonio-based writers Gregg Barrios, John Philip Santos, Norma E. Cantú, Luis J. Rodriguez, and Liliana Valenzuela in a panel discussion March 7 at 3:20 p.m. in the Convention Center Ballroom C3.
The City of San Antonio will join Gemini Ink in presenting "Laureates for the Pueblo on a River." San Antonio Poet Laureate Octavio Quintanilla and previous laureates Carmen Tafolla and Jenny Browne will discuss the city's visionary laureate program, begun in 2012. Local poet and teacher Jim LaVilla-Havelin will moderate.
EVENTS AT LOCAL VENUES
Various events around San Antonio are listed on the AWP website under Offsite Events.
These events are not produced, moderated, or curated by AWP, and AWP is not responsible for their quality or accessibility services. Questions or concerns should be addressed to the event organizers.
AWP, founded in 1967, provides support, advocacy, resources, and community to nearly fifty thousand writers, five hundred college and university creative writing programs, and 125 writers' conferences and centers. Its mission is to foster literary achievement, advance the art of writing as essential to a good education, and serve the makers, teachers, students, and readers of contemporary writing.